Abstract
The objective of this study was to manipulate the intracellular pools of sucrose by differentially expressing exogenous sucrose phosphate synthase (SPS) and investigating its role in regulating plant growth and fibre development. Tobacco (Nicotiana tabacum cv. Xanthi) plants were transformed with an arabidopsis SPS gene under the regulation of the ubiquitously expressed tandem repeat of the 35S cauliflower mosaic virus promoter, and subject to growth trials and fibre characterization. It was apparent that over-expression of SPS resulted in substantially elevated concentrations of sink sucrose pools compared to wild-type plants, while source tissue sucrose pools remained the same. All transformed plants had significantly increased stem height, which was ascribed to internode elongation, and greater stem diameters, longer fibers and increased total dry biomass relative to the control plants. Difference in the chemical composition of either the storage or structural carbohydrates of the wild-type and SPS transgenic lines were only minor. The correlation between increased stem sucrose content and plant phenotypes with elevated SPS gene expression confirm a role for sucrose availability in controlling plant growth and fibre elongation.
Access options
Buy single article
Instant access to the full article PDF.
USD 39.95
Price excludes VAT (USA)
Tax calculation will be finalised during checkout.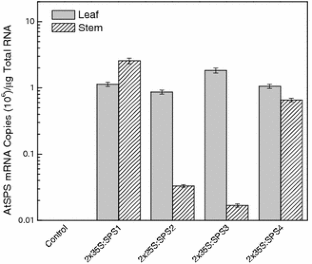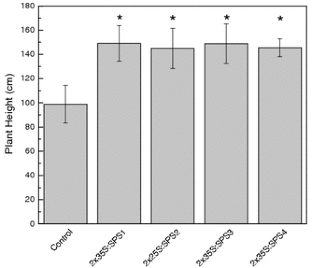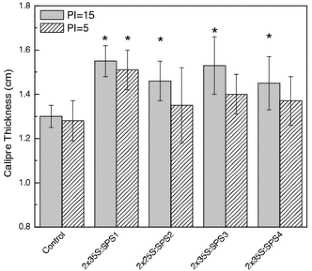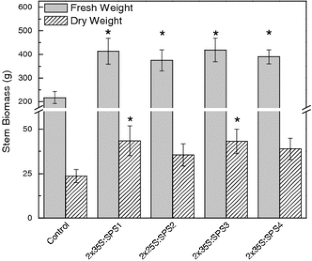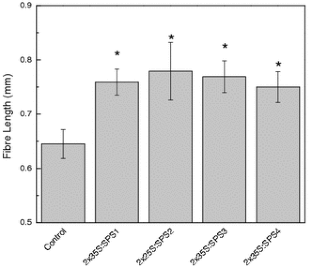 References
Babb VM, Haigler CH (2000) Exploration of a role for sucrose phosphate synthase in cellulose synthesis during secondary cell wall deposition. In: Proceedings of Plant Biology 15–19 July, San Diego, CA. American Society of Plant Physiologists, Rockville, MD. Abstract 319. http://www.aspp.org/annual-meeting/pb-2000/2000.html

Baxter CJ, Foyer CH, Turner J, Rolfe SA, Quick WP (2003) Elevated sucrose phosphate synthase activity in transgenic tobacco sustains photosynthesis in older leaves and alters development. J Exp Botany 54:1813–1820

Braford MM (1976) A rapid and sensitive method for the quantitation of microgram quantities of protein utilizing the principle of protein-dye binding. Anal Biochem 72:248–254

Castleden CK, Aoki N, Gillespie VJ, MacRae EA, Quick WP, Buchner P, Foyer CH, Furbank RT, Lunn JE (2004) Evolution and function of the sucrose-phosphate synthase gene families in wheat and other grasses. Plant Physiol 135:1753–1764

Chen S, Hajirezaei M, Börnke F (2005) Differential expression of sucrose-phosphate synthase isoenzymes in tobacco reflects their functional specialization during dark-governed starch mobilization in source leaves. Plant Physiol 139:1163–1174

Coleman HD, Ellis DD, Gilbert M, Mansfield SD (2006) Up-regulation of sucrose and UDP-glucose pyrophosphroylase impacts plant growth and metabolism. Plant Biotechnol J 4:87–101

Dalta RSS, Bekkaoui F, Hammerlindl JK, Pilate G, Dunstan DI, Crosby WL (1993) Improved high-level constitutive foreign gene expression in plants using an AMV RNA4 untranslated leader sequence. Plant Sci 94:139–149

Delmer DP (1999) Cellulose biosynthesis: Exciting times for a difficult field of study. Annu Rev Plant Physiol Plant Molec Biol 50:245–276

Ferrario-Méry S, Murchie E, Galtier N, Quick WP, Foyer CH (1997) Manipulation of the pathways of sucrose biosynthesis on nitrogen assimilation in transformed plants to improve photosynthesis and productivity. In: Foyer CH, Quick WP (eds) A molecular approach to primary metabolism in higher plants. Taylor and Francis, London, pp 125–153

Fung RWM, Langenkämper G, Gardner RC, MacRae EA (2003) Differential expression within an SPS gene family. Plant Sci 164:459–470

Galtier N, Foyer CH, Huber J, Voelker TA, Huber SC (1993) Effects of elevated sucrose phosphate synthase activity on photosynthesis assimilate partitioning, and growth in tomato (Lycopersicon esculentum var UC83B). Plant Physiol 101:535–543

Geigenberger P, Reimholz R, Deiting U, Sonnewald U, Stitt M (1999) Decreased expression of sucrose phosphate synthase strongly inhibits the water stress-induced synthesis of sucrose in growing potato tubers. The Plant J 19:119–129

Geigenberger P, Reimholz R, Geiger M, Merio L, Canale V, Stitt M (1997) Regulation of sucrose and starch metabolism in potato tubers in response to short-term water deficit. Planta 201:502–518

Haigler CH, Holaday AS, Wu C, Wyatt BG, Jividen GJ, Gannaway JG, Cai WX, Hequet EF, Jaradat TT, Krieg DR, Martin LK, Strauss RE, Nagarur S and Tummala J (2000) Transgenic cotton over-expressing sucrose phosphate synthase produces higher quality fibres with increased cellulose content and has enhanced seedcotton yield. In: Proceedings of Plant Biology, 15–19 July, San Diego, CA. American Society of Plant Physiologists, Rockville, MD. Abstract 477. http://www.aspp.org/annual-meeting/pb-2000/2000.htm

Haigler CH, Ivanova-Datcheva M, Hogan PS, Salnikov VV, Hwang S, Martin K, Delmer DP (2001) Carbon partitioning to cellulose synthesis. Plant Molec Biol 47:29–51

Hood EE, Gelvin SB, Melcher LS, Hoekema A (1993) New agrobacterium helper plasmids for gene-transfer to plants. Transg Res 2:208–218

Horsch RB, Fry JE, Hoffmann NL, Eicoltz D, Rogers SG, Fraley RT (1985) A simple and general method for transferring genes into plants. Science 227:1229–1231

Huber SC, Huber JL (1996) Role and regulation of sucrose phosphate synthase in higher plants. Annu Rev Plant Physiol Plant Molec Biol 47:431–444

Huntley SK, Ellis D, Gilbert M, Chapple C, Mansfield SD (2003) Significant increases in pulping efficiency in C4H-F5H-transformed poplars: improved chemical savings and reduced environmental toxins. J Agric Food Chem 51:6178–6183

Im KH (2004) Expression of sucrose-phosphate synthase (SPS) in non-photosynthetic tissues of maize. Molec Cells 3:404–409

Iraqi D, Tremblay FM (2001) Analysis of carbohydrate metabolism enzyme and cellular contents of sugars and proteins during spruce somatic embryogenesis suggests a regulatory role of exogenous sucrose in embryo development. J Exp Botany 52:2301–2311

Kutschera U, Heiderich A (2002) Sucrose metabolism and cellulose biosynthesis in sunflower hypocotyls. Physiol Plantarum 114:372–379

Langenkämper G, Fung RWM, Newcomb RD, Atkinson RG, Gardner RC, MacRae EA (2002) Sucrose phosphate synthase genes in plants belong to three different families. J Molec Evol 54:322–332

Laporte MM, Galagan JA, Prasch AL, Vanderveer PJ, Hanson DT, Shewmaker CK, Sharkey TD (2001) Promoter strength and tissue specificity effects on growth of tomato plants transformed with maize sucrose phosphate synthase. Planta 212:817–822

Laporte MM, Galagan JA, Shapiro JA, Boersig MR, Shewmaker CK, Shakey TD (1997) Sucrose phosphate synthase activity and yield analysis of tomato plants transformed with maize sucrose phosphate synthase. Planta 203:253–259

Lunn JE, MacRae EA (2003) New complexities in the synthesis of sucrose. Curr Opin Plant Biol 6:208–214

Micallef BJ, Haskin KA, Vanderveer PJ, Roth K-S, Shewmaker CK, Sharkey TD (1995) Altered photosynthesis, flowering and fruiting in transgenic tomato plants that have an increased capacity for sucrose synthesis. Planta 196:327–334

Murchie EH, Sarrobert C, Contard P, Betsche T, Foyer CH, Galtier N (1999) Overexpression of sucrose-phosphate synthase in tomato plants grown with CO2 enrichment leads to decreased foliar carbohydrate accumulation relative to untransformed controls. Plant Physiol Biochem 3:251–260

Murashige T, Skoog F (1962) A revised medium for rapid growth and biomass with tobacco tissue cultures. Physiol Plantarum 15:473–479

Salnikov VV, Grimson MJ, Delmer DP, Haigler CH (2001) Sucrose synthase localizes to cellulose synthesis sites in tracheary elements. Phytochemistry 57:823–833

Signora L, Galtier N, Skot L, Lucas H, Foyer CH (1998) Overexpression of sucrose-phosphate synthase in arabidopsis thaliana results in increased foliar sucrose/starch ratios and favours decreased foliar carbohydrate accumulation in plants after prolonged growth with CO2 enrichment. J Exp Botany 49:669–680

Stitt M, Wilke I, Feil R, Heldt HW (1998) Coarse control of sucrose phosphate synthase in leaves: alterations of the kinetic properties in response to the rate of photosynthesis and the accumulation of sucrose. Planta 174:217–230

Strand Å, Zrenner R, Trevanion S, Stitt M, Gustafsson P (2001) Decreased expression of two key enzymes in the sucrose biosynthesis pathway, cytosolic fructose-1,6-bisphophatase and sucrose phosphate synthase, had remarkably different consequences for photosynthetic carbon metabolism in transgenic Arabidopsis thaliana. The Plant J 23:759–770

Sturm A (1999) Invertases. Primary structures, functions, and roles in plant development and sucrose partitioning. Plant Physiol 121:1–7

Worrell AC, Bruneau JM, Summerfelt K, Boersig M, Voelker TA (1991) Expression of a maize sucrose phosphate synthase in tomato alters leaf carbohydrate partitioning. The Plant Cell 3:1121–1130

van Engelen FA, Molthoff JW, Conner AJ, Nap JP, Pereira A, Stiekema WJ (1995) pBINPLUS: An improved plant transformation vector based on pBIN19. Transg Res 4:288–290

Zhu YJ, Komor E, Moore PH (1997) Sucrose accumulation in the sugarcane stem is regulated by the difference between the activities of soluble acid invertase and sucrose synthase. Plant Physiol 115:609–616
Acknowledgements
The authors gratefully acknowledge funding from the NSERC partnership program, and sponsor organizations CFS and CellFor Inc. for this project.
About this article
Cite this article
Park, JY., Canam, T., Kang, KY. et al. Over-expression of an arabidopsis family A sucrose phosphate synthase (SPS) gene alters plant growth and fibre development. Transgenic Res 17, 181–192 (2008). https://doi.org/10.1007/s11248-007-9090-2
Received:

Accepted:

Published:

Issue Date:

DOI: https://doi.org/10.1007/s11248-007-9090-2
Keywords
Sucrose phosphate synthase (SPS)

Carbohydrate metabolism

Plant growth

Plant metabolism

Soluble carbohydrates

Sucrose

Tobacco

Fibre development