Abstract
Evidence-based medicine (EBM) makes use of explicit procedures for grading evidence for causal claims. Normally, these procedures categorise evidence of correlation produced by statistical trials as better evidence for a causal claim than evidence of mechanisms produced by other methods. We argue, in contrast, that evidence of mechanisms needs to be viewed as complementary to, rather than inferior to, evidence of correlation. In this paper we first set out the case for treating evidence of mechanisms alongside evidence of correlation in explicit protocols for evaluating evidence. Next we provide case studies which exemplify the ways in which evidence of mechanisms complements evidence of correlation in practice. Finally, we put forward some general considerations as to how the two sorts of evidence can be more closely integrated by EBM.
Access options
Buy single article
Instant access to the full article PDF.
USD 39.95
Price excludes VAT (USA)
Tax calculation will be finalised during checkout.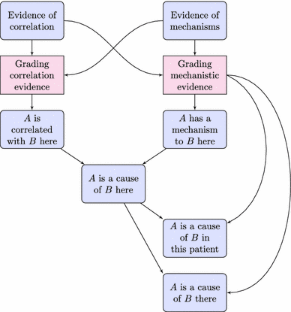 Similar content being viewed by others
Notes
We recognise that hierarchies are capable of playing other roles in facilitating medical decision making too, such as providing safeguards against litigation, or simplifying prescription practices (Timmermans and Berg 2003). However, our focus here is firmly on their epistemological role.

'Mechanism-based reasoning' seems to refer roughly to what we call evidence of mechanisms. Howick writes 'Mechanistic reasoning is an inferential chain (or web) linking the intervention (such as HRT) with a patient-relevant outcome, via relevant mechanisms.' (Howick 2011, p. 929).

The International Agency for Research on Cancer (IARC) is one of the few agencies that now tries to systematically consider evidence of mechanisms (IARC 2006, \((\S B.4)\) ). One way it does this is by formulating a two dimensional hierarchy that considers evidence obtained in experimental studies on animals along one dimension and evidence obtained on humans along the other. However, on each dimension the emphasis is still on evidence obtained from statistical trials.

The remainder of this section will deal with the reference class problem as applied to trial design. However, as the epidemiological terminology differs significantly between trial design and interpretation of trial data, it's worth making a few brief remarks here regarding the problem as it affects interpretation, particularly the practice of stratification. Stratification involves dividing up trial results to examine outcomes in partitions of the trial population thought to be interestingly different from the general population. For instance, a trial of an antihypertensive agent might stratify the trial population into age groups at the data analysis stage, to see if the drug response differs. This kind of practice is limited by various kinds of information bias, including the sparse data problem: the smaller the strata, the greater the variability of apportionment ratios (Rothman et al. 2008), and the lower the precision of any resulting causal claims. In short, the problem is identical in either trial design or interpretation.

And see the literature on sample size calculation for examples of this (Rothman et al. 2008, pp. 149ff).

Howick (2011) provides other examples of such compelling stories and how they led to the development of EBM.

In a sense, we follow up the suggestion of Solomon (2011) that EBM largely ignores basic science, particularly mechanisms, and we offer an account of how to integrate grading evidence of mechanisms and grading evidence of correlation.
References
Bassler D, Briel M, Montori VM, Lane M, Glasziou P, Zhou Q, Heels-Ansdell D, Walter SD, Guyatt GH, Flynn DN et al (2010) Stopping randomized trials early for benefit and estimation of treatment effects. J Am Med Assoc 303(12):1180–1187

Bechtel W (2008) Mental mechanisms: philosophical perspectives on cognitive neuroscience. Routledge, Oxford

Bell G (2008) Selection: the mechanism of evolution, 2nd edn. OUP

Bem DJ (2011) Feeling the future: experimental evidence for anomalous retroactive influences on cognition and affect. J Pers Soc Psychol 100:407–425

Bernard C (1856) An introduction to the study of experimental medicine. Macmillan, New York (1927 edition)

Bradford Hill A (1965) The environment and disease: association or causation? Proc R Soc Med 58:295–300

Bradford Hill A (1990) Memories of the British streptomycin trial. Controlled Clin Trials 2:77–79

Broadbent A (2011) Inferring causation in epidemiology: mechanisms, black boxes, and contrasts. In: Illari P, Russo F, Williamson J (eds) Causality in the sciences. Oxford University Press, Oxford, pp 45–69

Brock TD (1988) Robert Koch: a life in medicine and bacteriology, 2 edn. ASM Press

Campaner R (2011) Understanding mechanisms in the health sciences. Theor Med Bioethics 32:5–17

Campaner R, Galavotti MC (2012) Evidence and the assessment of causal relations in the health sciences. Int Stud Philos Sci 26(1):27–45

Carter KC (2012) The decline of therapeutic bloodletting and the collapse of traditional medicine. Transaction Publishers, New Brunswick

Cartwright N (2007) Causal powers: what are they? why do we need them? what can be done with them and what cannot? LSE discussion paper. http://www.lse.ac.uk/CPNSS/projects/CoreResearchProjects/ContingencyDissentInScience/DP/CausalPowersMonographCartwrightPrint%20Numbers%20Corrected.pdf

Cartwright N (2010) What are randomised controlled trials good for? Philos Stud 147:59–70

Cartwright N, Hardie J (2012) Evidence based policy: a practical guide to doing it better. OUP, USA

Cartwright N, Munro E (2010) The limitations of randomized controlled trials in predicting effectiveness. J Eval Clin Pract 16:260–266

Clarke B (2011a) Causality in medicine with particular reference to the viral causation of cancers. PhD thesis. Department of Science and Technology Studies, University College London, London

Clarke B (2011b) Causation and melanoma classification. Theor Med Bioethics 32:19–32

Clarke B, Gillies D, Illari P, Russo F, Williamson J (2013) The evidence that evidence-based medicine omits. Prev Med. doi:10.1016/j.ypmed.2012.10.020

Claveau F (2012) The Russo–Williamson theses in the social sciences: causal inference drawing on two types of evidence. Stud Hist Philos Biol Biomed Sci 43(4):806–813

Cook T, Campbell D (1979) Quasi-experimentation: design and analysis issues for field settings. Rand MacNally, Chicago

Craver C (2007) Explaining the brain. Clarendon Press, Oxford

Cucherat M, Haugh MC, Gooch M, Boissel J-P (2000) Evidence of clinical efficacy of homeopathy: a meta-analysis of clinical trials. Eur J Clin Pharmacol 56:27–33

Daniels M, Bradford Hill A (1952) Chemotherapy of pulmonary tuberculosis in young adults. An analysis of the combined results of three medical research council trials. Br Med J 1162–1168

Darby G, Williamson J (2011) Imaging technology and the philosophy of causality. Philos Technol 24(2):115–136

Darden L (2006) Reasoning in biological discoveries. Cambridge University Press, Cambridge

Debré P (1994) Louis Pasteur. The John Hopkins University Press. English translation by Elborg Forster, 1998

Demeulenaere P (ed) (2011) Analytical sociology and social mechanisms. Cambridge University Press, Cambridge

Dragulinescu S (2012) On 'stabilising' medical mechanisms, truth-makers and epistemic causality: a critique to Williamson and Russo's approach. Synthese 187(2):785–800

Fayad ZA, Mani V, Woodward M, Kallend D, Abt M, Burgess T, Fuster V, Ballantyne CM, Stein EA, Tardif J-C, Rudd JHF, Farkouh ME, Tawakol A (2011) Safety and efficacy of dalcetrapib on atherosclerotic disease using novel non-invasive multimodality imaging (dal-PLAQUE): a randomised clinical trial. Lancet 378(9802):1547–1559

Florey ME (1961) The clinical application of antibiotics. Streptomycin and other antibiotics active Against tuberculosis. vol 2, Oxford University Press, London

Fox W, Ellard G, Mitchison D (1999) Studies on the treatment of tuberculosis undertaken by the british medical research council tuberculosis units, 1946–1986, with relevant subsequent publications. Int J Tuberc Lung Dis 3(10s2):S231–S279

Gillies DA (2011) The Russo–Williamson thesis and the question of whether smoking causes heart disease. In: Illari PM, Russo F, Williamson J (eds) Causality in the sciences, Oxford University Press, Oxford, pp 110–125

Hedström P, Swedberg R (1988) Social mechanism: an analytical approach to social theory. Cambridge University Press, Cambridge

Hitchcock C (2001) A tale of two effects. Philos Rev 110(3):361–396

Howick J (2011) Exposing the vanities—and a qualified defence—of mechanistic evidence in clinical decision-making. Philos Sci 78(5):926–940. Proceedings of the Biennial PSA 2010

IARC (2006) IARC monographs on the evaluation of carcinogenic risks to humans: preamble. Int Agency Res Cancer, http://monographs.iarc.fr/ENG/Preamble/CurrentPreamble.pdf

Illari PM (2011) Mechanistic evidence: disambiguating the Russo–Williamson thesis. Int Stud Philos Sci 25:139–157

Illari PM, Williamson J (2012) What is a mechanism? thinking about mechanisms across the sciences. Eur J Philos Sci 2:119–135

Kshirsagar AV, Carpenter M, Bang H, Wyatt SB, Colindres RE (2006) Blood pressure usually considered normal is associated with an elevated risk of cardiovascular disease. Am J Med 119(2):133–141

La Caze A (2008) Evidence-based medicine can't be …. Soc Epistemol 22(4):353–370

La Caze A (2009) Evidence-based medicine must be …. J Med Philos 34:509–527

La Caze A (2011) The role of basic science in evidence-based medicine. Biol Philos 26(1):81–98

La Caze A, Djulbegovic B, Senn S (2012) What does randomisation achieve?. Evid Med 17:1–2

Leibovici L (2001) Effects of remote, retroactive intercessory prayer on outcomes in patients with bloodstream infection: randomised controlled trial. Br Med J 323:1450–1451

Lucas R (1976) Econometric policy evaluation. In: Brunner K, Meltzer A (eds) The Phillips curve and labor markets, volume 1 of Carnegie–Rochester conference series on public policy. North-Holland, Amsterdam, pp 161–168

Machamer P, Darden L, Craver C (2000) Thinking about mechanisms. Philos Sci 67:1–25

McLaren L, Ghali LM, Lorenzetti D, Rockl M (2006) Out of context? Translating evidence from the North Karelia project over place and time. Health Educ Res 22(3):414–424

MRC (1948) Streptomycin treatment of pulmonary tuberculosis. Br Med J 769–782

MRC (1949) Treatment of pulmonary tuberculosis with para-aminosalicylic acid and streptomycin: preliminary report. Br Med J 1521

MRC (1950) Treatment of pulmonary tuberculosis with streptomycin and para-amino-salicylic acid. Br Med J 1073–1085

Munro SA, Lewin SA, Smith HJ, Engel ME, Fretheim A, Volmink J (2007) Patient adherence to tuberculosis treatment: a systematic review of qualitative research. PLoS Med 4(7):e238

NICE (2006) The guidelines manual. National Institute for Health and Clinical Excellence, London. Available from: http://www.nice.org.uk

NICE (2009) The guidelines manual. National Institute for Health and Clinical Excellence, London. Available from: http://www.nice.org.uk

NICE (2011a) CG117: tuberculosis. National Institute for Health and Clinical Excellence, London. Available from: http://www.nice.org.uk

NICE (2011b) CG127: hypertension: full guideline. National Institute for Health and Clinical Excellence, London. Available from: http://www.nice.org.uk

NICE (2011c) CG127: hypertension: quick reference guide. National Institute for Health and Clinical Excellence, London. Available from: http://www.nice.org.uk

Northcott R (2012) How necessary are randomized controlled trials? In: Munson R (ed) Intervention and reflection: basic issues in medical ethics, 9th edn. Thomson Wadsworth, pp 187–191

OCEBM Levels of Evidence Working Group (2011) The Oxford 2011 levels of evidence. Oxford Centre for Evidence-Based Medicine, http://www.cebm.net/index.aspx?o=5653

Papineau D (1994) The virtues of randomization. Br J Philos Sci 45:437–450

Puska P, Vartiaine E, Laatikainen T, Jousilahti P, Paavola M (eds) (2009) The North Karelia Project: from North Karelia to national action. National Institute for Health and Welfare

Reichenbach H (1949) The theory of probability: an inquiry into the logical and mathematical foundations of the calculus of probability. University of California Press, Berkeley, CA

Rothman K, Greenland S, Lash T (2008) Modern epidemiology. Lippincott Williams & Wilkins, Philadelphia, PA

Russo F, Williamson J (2007) Interpreting causality in the health sciences. Int Stud Philos Sci 21(2):157–170

Russo F, Williamson J (2011a) Epistemic causality and evidence-based medicine. History Philos Life Sci 33(4):563–582

Russo F, Williamson J (2011b) Generic versus single-case causality: the case of autopsy. Eur J Philos Sci 1(1):47–69

Russo F, Williamson J (2012) EnviroGenomarkers: the interplay between mechanisms and difference making in establishing causal claims. Med Stud 3(4):249–262

Sackett DL, Rosenberg WMC, Gray JAM, Haynes RB, Richardson WS (1996) Evidence based medicine: what it is and what it isn't. Br Med J 312(7023):71–72

Salmon WC (1977) Objectively homogeneous reference classes. Synthese 36(4):399–414

Salmon WC, Jeffrey RC, Greeno JG (1971) Statistical explanation and statistical relevance. University of Pittsburgh Press, Pittsburgh, PA

Schwartz GG, Olsson AG, Abt M, Ballantyne CM, Barter PJ, Brumm J, Chaitman BR, Holme IM, Kallend D, Leiter LA, Leitersdorf E, McMurray JJ, Mundl H, Nicholls SJ, Shah PK, Tardif J-C, Wright RS (2012) Effects of dalcetrapib in patients with a recent acute coronary syndrome. N Engl J Med 367(22):2089–2099. PMID: 23126252

Sober E (1988) The principle of the common cause. In: Fetzer JH (ed) Probability and causality: essays in honour of Wesley C. Salmon. Reidel, Dordrecht, pp 211–228

Solomon M (2011) Just a paradigm: evidence-based medicine in epistemological context. Eur J Philos Sci 1:451–466

Steel D (2008) Across the boundaries: extrapolation in biology and social science. Oxford University Press, Oxford

Stegenga J (2011) Is meta-analysis the platinum standard of evidence. Stud History Philos Biol Biomed Sci 42:497–507

Stein EA, Roth EM, Rhyne JM, Burgess T, Kallend D, Robinson JG (2010) Safety and tolerability of dalcetrapib (RO4607381/JTT-705): results from a 48-week trial. Eur Heart J 31(4):480–488

Thompson RP (2011) Causality, theories and medicine. In: Illari PM, Russo F, Williamson J (eds) Causality in the sciences. Oxford University Press, Oxford, pp 25–44

Timmermans S, Berg M (2003) The gold standard: the challenge of evidence-based medicine and standardization in health care. Temple University Press, Philadelphia

Victora CG, Habicht J-P, Bryce J (2004) Evidence-based public health: moving beyond randomized trials. Am J Public Health 94:400–405

Wagner EH (1982) The North Karelia Project: what it tells us about the prevention of cardiovascular disease. Am J Public Health 72(1):51–53

Weber E (2009) How probabilistic causation can account for the use of mechanistic evidence. Int Stud Philos Sci 23(3):277–295

Williamson J (2005) Bayesian nets and causality: philosophical and computational foundations. Oxford University Press, Oxford

Williamson J (2013) How can causal explanations explain? Erkenntnis. doi:10.1007/s10670-013-9512-x

Worrall J (2002) What evidence in evidence-based medicine. Philos Sci 69:S316–S330

Worrall J (2007) Why there's no cause to randomize. Br J Philos Sci 58:451–488

Worrall J (2010) Evidence: philosophy of science meets medicine. J Eval Clin Pract 16:356–362
Acknowledgments
We thank the UK Arts and Humanities Research Council for supporting this research. F. Russo also acknowledges financial support from the FWO-Flanders (2012–2013) as Pegasus Marie Curie Fellow. We are extremely grateful to the very many people who came to various events we organised during 2012, and participated in the discussions that allowed us to develop these ideas. We owe particular thanks to Ian McKay, Barbara Osimani, Jacob Stegenga and David Teira for extensive comments leading to significant improvements to the paper.
About this article
Cite this article
Clarke, B., Gillies, D., Illari, P. et al. Mechanisms and the Evidence Hierarchy. Topoi 33, 339–360 (2014). https://doi.org/10.1007/s11245-013-9220-9
Published:

Issue Date:

DOI: https://doi.org/10.1007/s11245-013-9220-9
Keywords