Abstract
The ethanol dehydration and subsequent ethylene oligomerization to short-chain olefins using catalysts based on ZSM-5 zeolite was studied in detail. P, Fe, and Ni were added by incipient wetness impregnation on zeolites with two SiO2/Al2O3 molar ratios (50 and 80). The catalysts were characterized by N2 adsorption–desorption, XRD, SEM–EDX, FTIR spectroscopy of adsorbed pyridine, and XPS techniques, while the catalytic activity was evaluated using an isothermal fixed-bed reactor. The impregnation of P, Fe, and Ni significantly improved the formation of the desired C3+ olefins (olefins having three or more C atoms). Particularly, the zeolite with SiO2/Al2O3 molar ratio = 50 and impregnated with P, exhibited the highest selectivity (C3+ olefins > 45 wt% at TOS = 5 h) in comparison with the rest of the evaluated catalysts. On the contrary, catalysts with SiO2/Al2O3 molar ratio = 80 showed lower selectivity to C3+ olefins, producing more side products (i.e. paraffins, aromatics and diethyl-ether).
Access options
Buy single article
Instant access to the full article PDF.
USD 39.95
Price excludes VAT (USA)
Tax calculation will be finalised during checkout.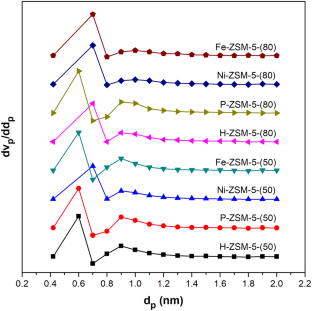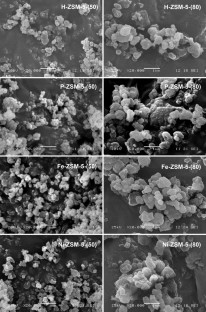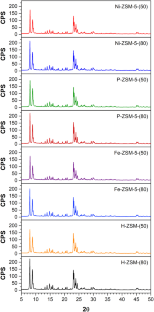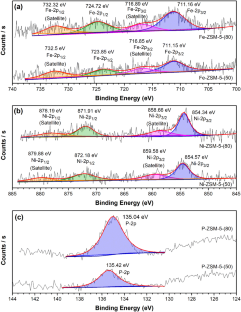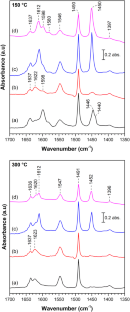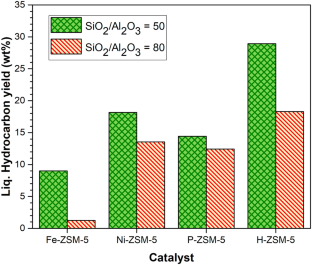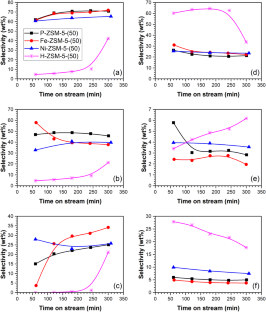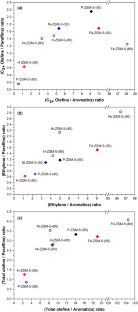 Acknowledgements
To National Council of Science and Technology (CONACYT) for the scholarship No. 221945 granted to Ricardo Gil for his doctoral studies. To the BIOTURBOSINA cluster, under support from CONACYT-SENER project No. 248090, for the resources granted to carry out this research. To National Laboratory of Nano and Biomaterials (LANNBIO), CINVESTAV-Mérida, under founding from projects FOMIX Yucatán 2008–108160 CONACYT LAB-2009–01-123913, 292692, 294643, for the facilities to perform the BET and XPS characterization analysis. To UNICAT-FQ-UNAM for the facilities to perform the FTIR acidity characterization. To Tanit Toledano Thompson (UER-CICY) for her technical assistance in SEM–EDX measurements.
Ethics declarations
Conflict of interest
The authors declare no conflict of interest.
Additional information
Publisher's Note
Springer Nature remains neutral with regard to jurisdictional claims in published maps and institutional affiliations.
Electronic supplementary material
Below is the link to the electronic supplementary material.
About this article
Cite this article
Gil-Horán, R.H., Chavarría-Hernández, J.C., Quintana-Owen, P. et al. Ethanol Conversion to Short-Chain Olefins Over ZSM-5 Zeolite Catalysts Enhanced with P, Fe, and Ni. Top Catal 63, 414–427 (2020). https://doi.org/10.1007/s11244-020-01229-8
Published:

Issue Date:

DOI: https://doi.org/10.1007/s11244-020-01229-8
Keywords
Ethanol to hydrocarbons

ZSM-5 zeolite

Short-chain olefins

Phosphorus

Iron

Nickel