Abstract
Natural gas is an alternative fuel to replace partly conventional liquid fuels like diesel or gasoline to improve fuel economy (less CO2) and decrease pollutants (particulates). Mixed stoichiometric–lean combustion has been introduced as a potential way to manage without secondary diesel fuel. This study focused on catalytic methods to oxidize methane, HCs, CO and NO in lean-stoichiometric NG and lean diesel–NG exhaust gases in heavy-duty applications. Lean methane oxidation is the most challenging condition and only methane oxidation catalyst (MOC) developed for lean conditions was able to reach low methane light-off temperatures. MOC was almost as good as three-way catalyst (TWC) in stoichiometric conditions but the heavier ageing and λ oscillating conditions cause problems for MOC (no oxygen storage materials). Diesel oxidation catalysts (DOC) were very poor in TWC reactions but Pt-rich DOC is important to reach in lean higher NO2 utilized in DPF regeneration and SCR. In TWC + MOC, DOC + MOC combinations, the MOC part dominated methane oxidations due to that significant difference in their base activity for methane oxidation. The combinatory systems showed also in deactivation–regeneration cycles promising and interesting results, which can be utilized in transient, heterogeneous exhaust conditions.
Access options
Buy single article
Instant access to the full article PDF.
USD 39.95
Price excludes VAT (USA)
Tax calculation will be finalised during checkout.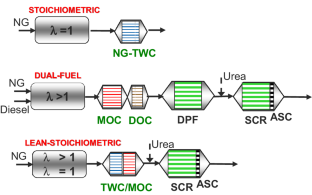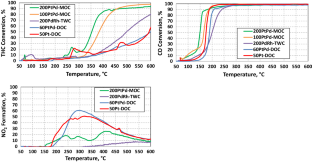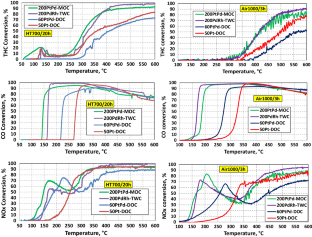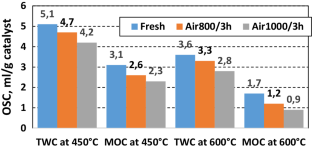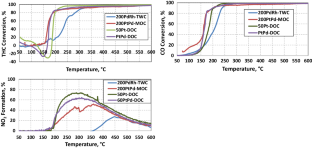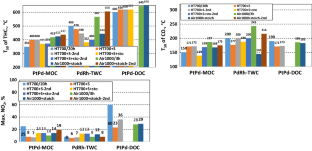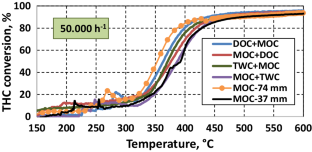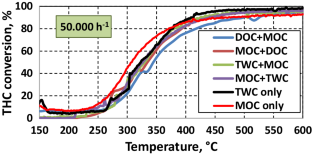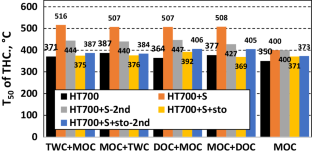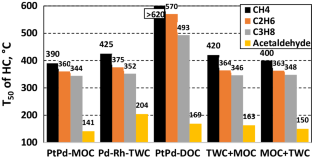 References
http://www.dieselnet.com/standards. Accessed Sept 15 2018

Maunula T (2013) SAE technical paper 2013-01-0530

Lampert JK, Shahjahan Kazi M, Farrauto RJ (1997) Appl Catal B 14:211–223

Gélin P, Primet M (2002) Appl Catal B 39:1–37

Gélin P, Urfels L, Primet M, Tena E (2003) Catal Today 83:45–57

Kinnunen N, Kallinen K, Kinnunen T SAE Paper 2013-24-0155

Lapisardi G, Urfels L, Gélin P, Primet M, Kaddouri A, Garbowski E, Toppi S, Tena E (2006) Catal Today 117:564–568

Escandón LS, Ordóñez S, Vega A, Díez FV (2005) Chemosphere 58:9–17

Kinnunen NM, Hirvi JT, Suvanto M, Pakkanen TA (2012) J Mol Catal A 356:20–28

Satsuma A, Tojo T, Okuda K, Yamamoto Y, Arai S, Oyama (2015) J Catal Today 242:308–314

Muller CA, Maciejewski M, Koeppel RA, Baiker A (1999) Catal Today 47:245

Ordóñez S, Hurtado P, Díez FV (2005) Catal Lett 100:27–34

Maunula T, Kallinen K, Savimäki A, Wolff T (2016) Topics Catal 59(10/12):1049–1053

Kinnunen N, Hirvi J, Kallinen K, Maunula T, Keenan M, Suvanto M (2017) Appl Catal B 207:114 15

Maunula T, Vakkilainen A, Lievonen A, Torkkell K, Niskanen K, Härkönen M (1999) SAE paper 1999-01-3625

Maunula T, Suopanki A, Torkkell K, Härkönen M (2004) SAE paper 2004-01-3021

Maunula T, Savimäki A, Wolff T (2016) SAE paper 2016-01-0926

Nissinen V, Kinnunen NM, Suvanto M (2018) Appl Catal B 237:110–115

Kinnunen NM, Keenan M, Kallinen K, Maunula T, Suvanto M (2018) ChemCatChem 10:1556–1560

Maunula T, Härkönen M, Kivioja M, Slotte T (1993) Oral presentation, ACS meeting, Denver, 28.3.1993–2.4.1993
Acknowledgements
The research leading to these results has received funding from the European Community's Horizon 2020 Programme under Grant Agreement No. 653391 (HDGAS) and from Business Finland project funding under Agreement No. 964/31/2016 (Newgas).
About this article
Cite this article
Maunula, T., Kallinen, K., Kinnunen, N. et al. Methane Abatement and Catalyst Durability in Heterogeneous Lean-Rich and Dual-Fuel Conditions. Top Catal 62, 315–323 (2019). https://doi.org/10.1007/s11244-018-1123-y
Published:

Issue Date:

DOI: https://doi.org/10.1007/s11244-018-1123-y
Keywords
Natural gas

Methane

Oxidation

Catalysts

Nitrogen oxides