Abstract
A dual-bed catalytic system has been developed for the complex after treatment of diesel engine exhaust gases comprising nitrogen oxides, CO, hydrocarbons, and residual NH3 (NH3-slip) within wide temperature range. The system demonstrates effective NOx abatement at 200–500 °C. The upstream bed (FeBeta) is responsible for the selective catalytic reduction of NOx by ammonia (NH3-SCR) above ~ 300 °C, while the downstream bed ([Mn–Ce/CeO2–ZrO2 + FeBeta] combined catalyst) provides effective NOx abatement below 300 °C and total oxidation of CO, hydrocarbons, and NH3-slip.
This is a preview of subscription content, log in to check access.
Access options
Buy single article
Instant access to the full article PDF.
US$ 39.95
Price includes VAT for USA
Subscribe to journal
Immediate online access to all issues from 2019. Subscription will auto renew annually.
US$ 199
This is the net price. Taxes to be calculated in checkout.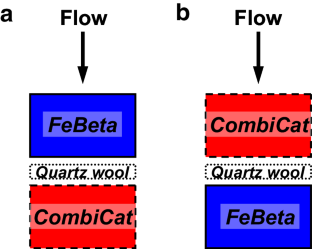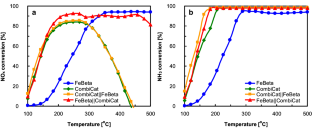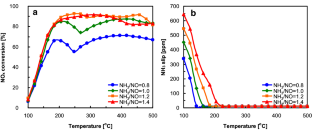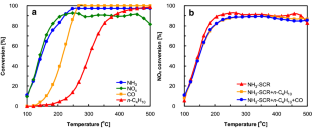 References
1.

Boningari T, Smirniotis PG (2016) Curr Opin Chem Eng 13:133–141

2.

Tsinoglou DN, Koltsakis GC, Peyton Jones JC (2002) Ind Eng Chem Res 41(5):1152–1165

3.

Kureti S, Weisweiler W, Hizbullah K (2003) Appl Catal B 43(3):281–291

4.

Dhal GC, Mohana D, Prasad R (2017) Catal Sci Technol 7(9):1803–1825

5.

Parks JE (2010) Science 327(5973):1584–1585

6.

Yoshida K, Makino S, Sumiya S, Muramatsu G, Helferich R (1989) SAE Technical Paper 892046

7.

Matarrese R, Morandi S, Castoldi L, Villa P, Lietti L (2017) Appl Catal B 201:318–330

8.

Bueno-López A, Lozano-Castelló D, McCue AJ, Anderson JA (2016) Appl Catal B 198:266–275

9.

Castoldi L, Matarrese R, Lietti L, Forzatti P (2006) Appl Catal B 64(1–2):25–34

10.

Teraoka Y, Nakano K, Kagawa S, Shangguan WF (1995) Appl Catal B 5(3):L181–L185

11.

Fino D, Fino P, Saracco G, Specchia V (2003) Appl Catal B 43(3):243–259

12.

Li Q, Meng M, Tsubaki N, Li X, Li Z, Xie Y, Hu T, Zhang J (2009) Appl Catal B 91(1–2):406–415

13.

Shangguan WF, Teraoka Y, Kagawa S (1998) Appl Catal B 16(2):149–154

14.

Atribak I, Bueno-López A, García-García A (2008) J Catal 259(1):123–132

15.

Teraoka Y, Kanada K, Furukawa H, Moriguchi I, Kagawa S (2001) Chem Lett 30(7):604–605

16.

Stakheev A Yu, Baeva GN, Bragina GO, Teleguina NS, Kustov AL, Grill M, Thøgersen JR (2013) Top Catal 56(1–8):427–433

17.

Stakheev A Yu, Bokarev DA, Mytareva AI, Parsapur RK, Selvam P (2014) Mendeleev Commun 24(5):313–315

18.

Stakheev A Yu, Mytareva AI, Bokarev DA, Baeva GN, Krivoruchenko DS, Kustov AL, Grill M, Thøgersen JR (2015) Catal Today 258(Part I):183–189

19.

Kröcher O, Elsener M (2008) Ing Eng Chem Res 47(22):8588–8593

20.

Metkar PS, Harold MP, Balakotaiah V (2012) Appl Catal B 111–112:67–80

21.

Krivoruchenko DS, Telegina NS, Bokarev DA, Stakheev AYu (2015) Kinet Catal 56(6):741–746

22.

Sjövall H, Blint RJ, Gopinath A, Olsson LA (2009) Ind Eng Chem Res 49(1):39–52

23.

Schuler A, Votsmeier M, Kiwic P, Gieshoff J, Hautpmann W, Drochner A, Vogel H (2009) Chem Eng J 154(1–3):333–340

24.

Nedyalkova R, Kamasamudram K, Currier NW, Li J, Yezerets A, Olsson L (2013) J Catal 299:101–108
About this article
Cite this article
Mytareva, A.I., Bokarev, D.A., Baeva, G.N. et al. FeBeta||[Mn–Ce/Ce0.75Zr0.25O2 + FeBeta] Dual-Bed Catalyst for the Efficient Synergistic Removal of NOx, CO, C4H10, and NH3-Slip. Top Catal 62, 192–197 (2019). https://doi.org/10.1007/s11244-018-1106-z
Keywords
NH3-SCR
NH3-slip oxidation

CO oxidation

Hydrocarbon oxidation

Dual-bed catalyst

Ceria–zirconia

FeBeta