Abstract
The liquid-phase oxidation of glycerol was studied to obtain glycolic acid as a value-added molecule. The effect of metal addition to silver based catalyst was investigated under strong basic condition. The best catalytic performance was obtained over silver catalyst promoted with a small amount of platinum Ag95–Pt5/CeO2. Namely, the conversion close to 54% was reached after 5 h of reaction at 60 °C, with the selectivity to glycolic acid of 51%. Further increase in the amount of promotor (up to 50%) changed the reaction mechanism to product selectively the glyceric acid.
Graphical Abstract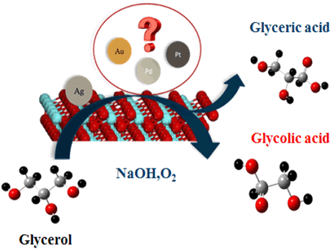 Access options
Buy single article
Instant access to the full article PDF.
US$ 39.95
Tax calculation will be finalised during checkout.
Subscribe to journal
Immediate online access to all issues from 2019. Subscription will auto renew annually.
US$ 119
Tax calculation will be finalised during checkout.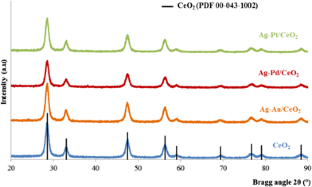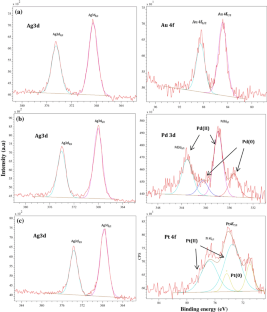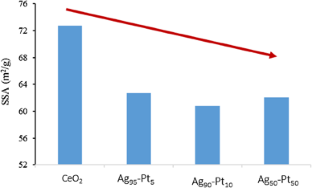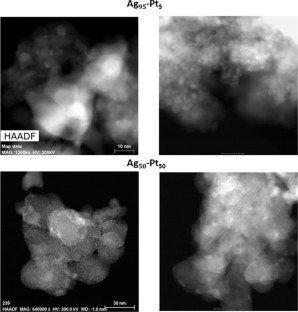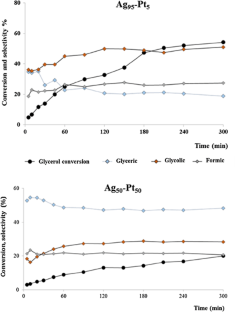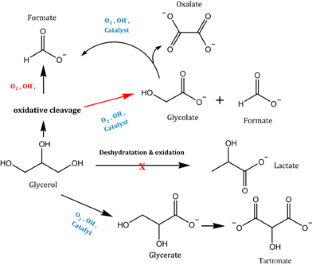 References
1.

Bozell J, Petersen GR (2010) Technology development for the production of biobased products from biorefinery carbohydrates - The US department of Energy's "Top 10" revisited. Green Chem 12:539–554

2.

Katryniok B, Kimura H, Skrzyńska E, Girardon J-S, Fongarland P, Capron M, Ducoulombier R, Mimura N, Paul S, Dumeignil F (2011) Selective catalytic oxidation of glycerol: perspectives for high value chemicals. Green Chem 13:1960–1979

3.

Skrzyńska E, Zaid S, Girardon J-S, Capron M, Dumeignil F (2015) Catalytic behaviour of four different supported noble metals in the crude glycerol oxidation. Appl Catal A 499:89–100

4.

Bianchi CL, Canton P, Dimitratos N, Porta F, Prati L (2005) Selective oxidation of glycerol with oxygen using mono and bimetallic catalysts based on Au, Pd and Pt metals. Catal Today 102–103:203–212

5.

Mallat T, Baiker A (2004) Oxidation of alcohols with molecular oxygen on solid catalysts. Chem Rev 104:3037–3058

6.

Duhamel L, Fang W, Paul S, Dumeignil F (2014) Method Prod Hydrogen FR3000737(A1)

7.

Skrzyńska E, Zaid S, Addad A, Girardon J.-S, Capron M, Dumeignil F (2016) Performance of Ag/Al2O3 catalysts in the liquid phase oxidation of glycerol—effect of preparation method and reaction conditions. Catal Sci Technol 6:3182–3196

8.

Mott D, Mai NT, Thuy NTB, Sakata T, Higashimine K, Koyano M, Maenosono S (2011) Elucidation of the complex structure of nanoparticles composed of bismuth, antimony, and tellurium using scanning transmission microscopy. J Phys Chem C 11:17334–17340

9.

Skrzyńska E, Wondołowska-Grabowska A, Capron M, Dumeignil F (2014) Crude glycerol as a raw material for the liquid phase oxidation reaction. Appl Catal A 482:245–257

10.

Pelletier F (2012) Synthèse et étude de nanomatériaux hybrides magnétiques à base Fer-Bismuth. Thése de doctorat de l'université de Toulouse

11.

Sankar M, Dimitratos N, Miedziak PJ, Wells PP, Kiely CJ, Hutchings GJ (2012) Designing bimetallic catalysts for a green and sustainable future. Chem Soc Rev 41:8099–8139

12.

Skrzyńska E, Ftouni J, Mamede A-S, Addad A, Trentesaux M, Girardon J-S, Capron M, Dumeignil F (2014) Glycerol oxidation over gold supported catalysts—"Two faces" of sulphur based anchoring agent. J Mol Catal A 382:71–78

13.

Dimitratos N, Porta F, Prati L (2005) Au, Pd (mono and bimetallic) catalysts supported on graphite using the immobilisation method: synthesis and catalytic testing for liquid phase oxidation of glycerol. Appl Catal A 291:210–214

14.

Cook MM, Lander JA (1979) Use of Sodium borohydride to control heavy metal discharge in the photographic industry. J Appl Photogr Eng 5:144–147

15.

Ding RG, Yan ZF (2002) Adsorption properties studies of the nickel catalysts for carbon dioxide reforming of methane. Fuel Chem Div Preprints 47:103–105.

16.

Stathatos E, Lianos P, Falaras P, Siokou A (2000) Photocatalytically deposited silver nanoparticles on mesoporous TiO2 films. Langmuir 16:2398–2400

17.

Zhang G, Du M, Li Q, Li X, Huang J, Jianga X, Sun D (2013) Green synthesis of Au–Ag alloy nanoparticles using Cacumen platycladi extract. RSC Adv 3:1878–1884

18.

Kiinig U, Marksteiner P, Redinger J, Weinberger P (1986) A theoretical study of X-Ray photoemission spectra (XPS) of some noble metal alloys: Au/Pt, Ag/Au, Ag/Pt and Au/Ni. Z Phys B 65:139–114

19.

Nascente PA, de Castro SG, Landers R, Kleiman GG (1991) X-ray photoemission and Auger energy shifts in some gold-palladium alloys. Phys Rev B 43:4659–4666

20.

NIST X-ray Photoelectron Spectroscopy Database: http://srdata.nist.gov/xps/XPSDetailPage.aspx? AllDataNo = 30927.

21.

Zhou X, Zheng L, Li R, Li B, Pillai S, Xu P, Zhang Y (2012) Biotemplated fabrication of size controlled palladium nanoparticle chains. J Mater Chem 22:8862–8867

22.

Yue B, Ma Y, Tao H, Yu L, Jian G, Wang X, Wang X, Lu Y, Hu Z (2008) CNx nanotubes as catalyst support to immobilize platinum nanoparticles for methanol oxidation. J Mater Chem 18:1747–1750

23.

Xu J, Liu X, Chen Y, Zhou Y, Lu T, Tang Y (2012) Tang. Platinum–Cobalt alloy networks for methanol oxidation electrocatalysis. J Mater Chem 22:23659–23667

24.

Lu Z, Yang Z (2010) Interfacial properties of NM/CeO2 (111) (NM = noble metal atoms or clusters of Pd, Pt and Rh): a first principles study. J Phys Condens Matter 22:p. 475003-1-10
Acknowledgements
This work was performed, in partnership with the SAS PIVERT, within the frame of the French Institute for the Energy Transition (Institut pour la Transition Energétique (ITE) P.I.V.E.R.T. (http://www.institut-pivert.com) selected as an Investment for the Future ("Investissements d'Avenir"). This work was supported, as part of the Investments for the Future, by the French Government under the reference ANR-001-01.
Electronic supplementary material
Below is the link to the electronic supplementary material.
Supplementary material 1 (PDF 717 KB)
About this article
Cite this article
Zaid, S., Skrzyńska, E., Addad, A. et al. Development of Silver Based Catalysts Promoted by Noble Metal M (M = Au, Pd or Pt) for Glycerol Oxidation in Liquid Phase. Top Catal 60, 1072–1081 (2017). https://doi.org/10.1007/s11244-017-0800-6
Keywords
glycerol oxidation

silver based catalysts

glycolic acid