Abstract
The chemistry of benzoquinone (BQ) on TiO2(110) was examined using temperature programmed desorption (TPD), electron energy loss spectroscopy (EELS) and Auger electron spectroscopy (AES). BQ adsorbs mostly molecularly on the clean surface, although EELS demonstrates that electrons from surface Ti3+ at oxygen vacancy sites (VO) are readily oxidized by the molecule. In contrast, when the surface is covered with water, subsequently adsorbed BQ molecules that scavenge surface electrons also abstract H from surface bridging OH (OHb) groups to form hydroquinone (HQ), which desorbs at ~450 K. The ability of BQ to scavenge electrons from TiO2 also accounts for the formation of coupling products that accumulate on the surface as very stable carbon deposits, likely as polymerized aromatics.
This is a preview of subscription content, log in to check access.
Access options
Buy single article
Instant access to the full article PDF.
US$ 39.95
Price includes VAT for USA
Subscribe to journal
Immediate online access to all issues from 2019. Subscription will auto renew annually.
US$ 199
This is the net price. Taxes to be calculated in checkout.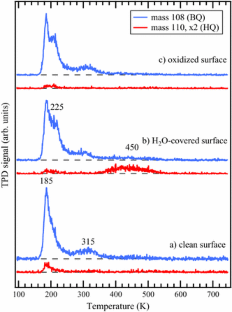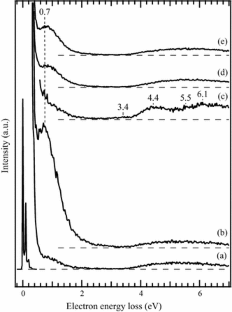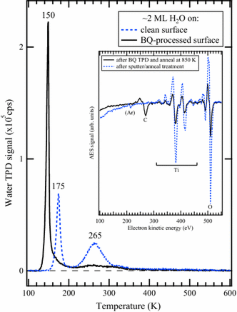 References
1.

Henderson MA (2011) Surf Sci Rep 66:185

2.

Carp O, Huisman CL, Reller A (2004) Prog Solid State Chem 32:33

3.

Tatsuma T, Tachibana S, Fujishima A (2001) J Phys Chem B 105:6987

4.

Mills A, Hodgen S, Lee SK (2005) Res Chem Intermed 31:295

5.

Theurich J, Lindner M, Bahnemann DW (1996) Langmuir 12:6368

6.

Yamazaki S, Fujiwara Y, Yabuno S, Adachi K, Honda K (2012) Appl Catal B-Environ 121:148

7.

Silva AMT, Silva CG, Drazic G, Faria JL (2009) Catal Today 144:13

8.

Richard C, Boule P (1994) New J Chem 18:547

9.

Al-Sayyed G, D'Oliveira J-C, Pichat P (1991) J Photochem Photobiol A 58:99

10.

Mills A, Morris S, Davies R (1993) J Photochem Photobiol 70:183

11.

Sobczynski A, Duczmal L, Zmudzinski W (2004) J Mol Catal 213:225

12.

Wang XQ, So L, Su R, Wendt S, Hald P, Mamakhel A, Yang CX, Huang YD, Iversen BB, Besenbacher F (2014) J Catal 310:100

13.

Ilisz I, Dombi A (1999) Appl Catal 180:35

14.

Pelizzetti E, Minero C, Borgarello E, Tinucci L, Serpone N (1993) Langmuir 9:2995

15.

Teoh WY, Madler L, Amal R (2007) J Catal 251:271

16.

d'Hennezel O, Pichat P, Ollis DF (1998) J Photochem Photobiol 118:197

17.

Fu QA, Yang JL, Wang XB (2011) J Phys Chem A 115:3201

18.

Cooper CD, Naff WT, Compton RN (1975) J Chem Phys 63:2752

19.

Holroyd RA (1982) J Phys Chem 86:3541

20.

Heinis T, Chowdhury S, Scott SL, Kebarle P (1988) J Am Chem Soc 110:400

21.

Chowdhury S, Heinis T, Grimsrud EP, Kebarle P (1986) J Phys Chem 90:2747

22.

Richard C (1994) New J Chem 18:443

23.

Makhal A, Sarkar S, Bora T, Baruah S, Dutta J, Raychaudhuri AK, Pal SK (2010) J Phys Chem C 114:10390

24.

Idriss H, Barteau MA (1994) Langmuir 10:3693

25.

Henderson MA, Epling WS, Peden CHF, Perkins CL (2003) J Chem B 107:534

26.

Zehr RT, Henderson MA (2008) Surf Sci 602:1507

27.

Diebold U (2003) Surf Sci Rep 48:53

28.

Stanton JF, Sattelmeyer KW, Gauss J, Allan M, Skalicky T, Bally T (2001) J Chem Phys 115:1

29.

Li SC, Wang JG, Jacobson P, Gong XQ, Selloni A, Diebold U (2009) J Am Chem Soc 131:980

30.

Henderson MA, White JM, Uetsuka H, Onishi H (2003) J Am Chem Soc 125:14974

31.

Henderson MA, Shen MM, Wang ZT, Lyubinetsky I (2013) J Phys Chem C 117:5774

32.

Allan M (1984) Chem Phys 84:311

33.

Bigelow RW (1978) J Chem Phys 68:5086

34.

Trommsdorff HP (1967) Chem Phys Lett 1:214

35.

Terhorst G, Kommandeur J (1979) Chem Phys 44:287

36.

Trommsdorff HP (1971) Chem Phys Lett 10:176

37.

Trommsdorff HP (1972) J Chem Phys 56:5358

38.

Pou-Amerigo R, Merchan M, Orti E (1999) J Chem Phys 110:9536

39.

Honda Y, Hada M, Ehara M, Nakatsuji H (2002) J Phys Chem A 106:3838

40.

Zhao XJ, Imahori H, Zhan CG, Sakata Y, Iwata S, Kitagawa T (1997) J Phys Chem A 101:622

41.

Zamadar M, Cook AR, Lewandowska-Andralojc A, Holroyd R, Jiang Y, Bikalis J, Miller JR (2013) J Phys Chem A 117:8360

42.

Barone V, Improta R, Morelli G, Santoro F (2007) Theoret Chem Acc 118:143

43.

Cheng HY, Huang YS (2014) Phys Chem Chem Phys 16:26306

44.

Szczepankiewicz SH, Moss JA, Hoffmann MR (2002) J Phys Chem B 106:2922

45.

Szczepankiewicz SH, Moss JA, Hoffmann MR (2002) J Phys Chem B 106:7654

46.

Kimmel GA, Petrik NG (2008) Phys Rev Lett 100:196102

47.

Epling WS, Peden CHF, Henderson MA, Diebold U (1998) Surf Sci 412(13):333

48.

Henderson MA, Epling WS, Perkins CL, Peden CHF, Diebold U (1999) J Phys Chem B 103:5328

49.

Shen MM, Henderson MA (2012) J Phys Chem C 116:18788

50.

Henderson MA (1996) Surf Sci 355:151
Acknowledgments
This work was supported by the US Department of Energy, Office of Science, Office of Basic Energy Sciences, Division of Chemical Sciences, Geosciences & Biosciences. Pacific Northwest National Laboratory (PNNL) is a multiprogram national laboratory operated for DOE by Battelle. The research was performed using the Environmental Molecular Sciences Laboratory (EMSL), a national scientific user facility sponsored by the Department of Energy's Office of Biological and Environmental Research and located at Pacific Northwest National Laboratory.
About this article
Cite this article
Henderson, M.A., Shen, M. Electron-Scavenging Chemistry of Benzoquinone on TiO2(110). Top Catal 60, 440–445 (2017). https://doi.org/10.1007/s11244-016-0707-7
Keywords
Benzoquinone

Rutile TiO2(110)

Temperature programmed desorption

Electron scavenging

Photocatalysis