Abstract
Today there are many types of transition-metal-catalyzed carbon–carbon bond-forming reactions. Of these, the olefin metathesis has made possible a wide range of transformations with commercially available and easily handled catalysts. Olefin metathesis is widely considered as one of the most powerful synthetic tool in organic chemistry. During the last 20 years many new catalysts with excellent selectivity and efficiency have been developed, also to be used in solid phase organic chemistry protocols. The understanding of the mechanisms and interactions between the catalyst and substrate has resulted that an increasing number of research groups have employed these reactions in multistep procedures and in the synthesis of active pharmaceutical ingredients and natural products. Although the olefin metathesis reaction still proceeds better in homogeneous phase, some structural modifications of the catalyst and new approaches for immobilization have provided interesting possibilities towards more efficient use also in heterogeneous phase. To celebrate 10 years since the Nobel Prize in Chemistry given to Yves Chauvin, Richard Schrock and Robert Grubbs for the "development of the metathesis method in organic synthesis" and to summarize recent results obtained in the field of solid phase metathesis chemistry this short review was written.
This is a preview of subscription content, log in to check access.
Access options
Buy single article
Instant access to the full article PDF.
US$ 39.95
Price includes VAT for USA
Subscribe to journal
Immediate online access to all issues from 2019. Subscription will auto renew annually.
US$ 199
This is the net price. Taxes to be calculated in checkout.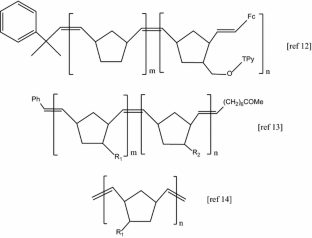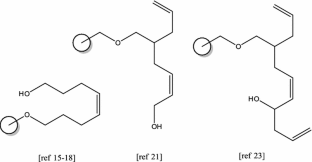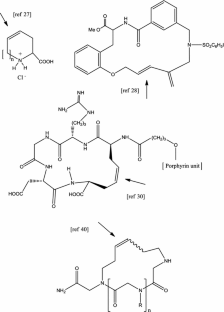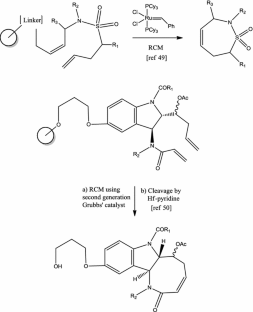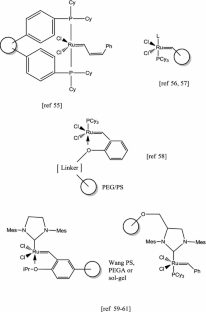 References
1.

van Maarseveen JH, den Hartog JAH, Engelen V, Finner E, Visser G, Kruse CG (1996) Tetrahedron Lett 37:8249–8252

2.

Schwab P, France MB, Ziller JW, Grubbs RH (1995) Angew Chem Int Ed Engl 34:2039–2041

3.

Schwab P, Grubbs RH, Ziller JW (1996) J Am Chem Soc 118:100–110

4.

Grubbs RH, Miller SJ, Fu GC (1995) Acc Chem Res 28:446–452

5.

Veerman JJN, van Maarseveen JH, Visser GM, Kruse CG, Shoemaker HE, Hiemstra H, Rutjes FPJT (1998) Eur J Org Chem 11:2583–2589

6.

Piscopio AD, Miller JF, Koch K (1999) Tetrahedron 55:8189–8198

7.

Liu F, Stephen AG, Waheed AA, Freed EO, Fisher RJ, Burke TR (2010) Bioorg Med Chem Lett 20:318–321

8.

Cuny GD, Cao J, Hauske JR (1997) Tetrahedron Lett 38:5237–5240

9.

Maughon BR, Grubbs RH (1997) Macromolecules 30:3459–3469

10.

Scholl M, Ding S, Lee CW, Grubbs RH (2000) Org Lett 1:953–956

11.

Chang S, Jones L, Wang CM, Henling LM, Grubbs RH (1998) Organometallics 17:3460–3465

12.

Glatz I, Mayr M, Hoogenboom R, Schubert US, Buchmeiser MR (2003) J Chromat A 1015:65–71

13.

Lee BS, Mahajan S, Clapham B, Janda KD (2004) J Org Chem 69:3319–3329

14.

Pontrello JK, Allen MJ, Underbakke ES, Kiessling LL (2005) J Am Chem Soc 127:14536–14537

15.

Andrade RB, Plante OJ, Melean LG, Seeberger PH (1999) Org Lett 1:1811–1814

16.

Melean LG, Haase W-C, Seeberger PH (2000) Tetrahedron Lett 41:4329–4333

17.

Kanemitsu T, Seeberger PH (2003) Org Lett 5:4541–4544

18.

Palmacci ER, Plante OJ, Hewitt MC, Seeberger PH (2003) Helv Chim Acta 86:3975–3989

19.

Knerr L, Schmidt RR (1999) Synlett 11:1802–1804

20.

Tang Q, Wareing JR (2001) Tetrahedron Lett 42:1399–1401

21.

Knerr L, Schmidt RR (2000) Eur J Org Chem. 15:2803–2808

22.

Timmer MSM, Verdoes M, Sliedregt LAJM, van der Marel GA, van Boom JH, Overkleeft HS (2003) J Org Chem 68:9406–9411

23.

de Jong AR, Volbeda AG, Hagen B, van den Elst H, Overkleeft HS, van der Marel GA, Codée JDC (2013) Eur J Org Chem 29:6644–6655

24.

Conde-Frieboes K, Andersen S, Breinholt J (2000) Tetrahedron Lett 41:9153–9156

25.

Blackwell HE, Clemons PA, Schreiber SL (2001) Org Lett 3:1185–1188

26.

Liao Y, Fathi R, Yang Z (2003) J Comb Chem 5:79–81

27.

Varray S, Lazaro R, Martinez J, Lamaty F (2002) Eur J Org Chem 14:2308–2316

28.

Barrett AGM, Henessy AJ, Vezouet R, Procopiou PA, Seale PW, Stefaniak S, Upron RJ, White JP, Williams DJ (2004) J Org Chem 69:1028–1037

29.

Barrett AGM, Bibal B, Hopkins BT, Köbberling J, Love AC, Tedeschi L (2005) Tetrahedron 61:12033–12041

30.

Chaleix V, Sol V, Guilloton M, Granet R, Krausz P (2004) Tetrahedron Lett 45:5295–5299

31.

Sol V, Chaleix V, Granet R, Brausz P (2008) Tetrahedron 64:364–371

32.

Dimartino G, Wang D, Chapman RN, Arora PS (2005) Org Lett 7:2389–2392

33.

Concalves M, Estieu-Gionnet K, Lain G, Bayle M, Betz N (2005) Gerard Deleris Tetrahedron 61:7789–7795

34.

Risseeuw MDP, Grotenberg GM, Witte MD, Tuin AW, Leeuwenburgh MA, Van der Marel GA, Overkleeft HS, Overhand M (2006) Eur J Org Chem 17:3877–3886

35.

Pattabiraman VR, Stymiest JL, Derksen DJ, Martin NIM, Vederas JC (2007) Org Lett 9:699–702

36.

Brouwer AJ, Elgersma RC, Jagodzinska M, Rijkers DTS, Liskamp RMJ (2008) Bioorg Med Chem Lett 18:78–84

37.

Bergman YE, Del Borgo MP, Gopalan RD, Jalal S, Unabia SE, Ciampini M, Clayton DJ, Fletcher JM, Mulder RJ, Wilce JA, Aguilar M-I, Perlmutter P (2009) Org Lett 11:4438–4440

38.

Fang W-J, Cui Y, Murray TF, Aldrich JV (2009) J Med Chem 52:5619–5625

39.

Marcaurelle LA, Comer E, Dandapani S, Duvall JR, Gerard B, Kesavan S, Lee MD, Liu H, Lowe JT, Marie J-C, Mulrooney CA, Pandya BA, Rowley A, Ryba TD, Suh B-C, Wei J, Young DW, Akella LB, Ross NT, Zhang Y-L, Fass DM, Reis SA, Zhao W-N, Haggarty SJ, Palmer M, Foley MA (2010) J Am Chem Soc 132:16962–16976

40.

Khan SN, Kim A, Grubbs RH, Kwon Y-U (2011) Org Lett 13:1582–1585

41.

Baron A, Verdie P, Martinez J, Lamaty F (2011) J Org Chem 76:766–772

42.

Garcia-Aranda MI, Marrero P, Gautier B, Martin-Martinez M, Inguimbert N, Vidal M, Garzia-Lopez MT, Jimenez MA, Gonzalez-Muniz R, de Vega MJP (2011) Bioorgan Med. Chem. 19:1978–1986

43.

Khan SN, Kim A, Grubbs RH, Kwon Y-U (2012) Org Lett 12:2952–2955

44.

Jida M, Betti C, Schiller PW, Tourwe D, Ballet S (2014) ACS Comb Sci 16:342–351

45.

Cohrt AE, Nielsen TE (2014) ACS Com. Sci. 16:71–77

46.

Chang S, Na Y, Shin HJ, Choi E, Jeong LS (2002) Tetrahedron Lett 43:7445–7448

47.

Garner AL, Koide K (2007) Org Lett 9:5235–5238

48.

Mendez L, Mata EG (2014) ACS Comb Sci 17:81–86

49.

Brown RCD, Castro JL, Moriggi J-D (2000) Tetrahedron Lett 41:3681–3685

50.

Reddy PT, Quevillon S, Gan Z, Forbes N, Leek DM, Arya P (2006) J Comb Chem 8:856–871

51.

Testero SA, Mata EG (2006) Org Lett 8:4783–4786

52.

Leach SG, Cordier CJ, Morton D, McKiernan GJ, Warriner S, Nelson A (2008) J Org Chem 73:2753–2759

53.

Poeylaut-Palena AA, Mata EG (2009) J Comb Chem 11:791–794

54.

Hill-Cousins JT, Salim SS, Bakar YM, Bellinham RK, Light ME, Brown RCD (2014) Tetrahedron 70:3700–3706

55.

Hamad FB, Kai C, Cai Y, Xie Y, Lu Y, Ding F, Sun Y, Verpoort F (2013) Curr Org Chem 17:2592–2608

56.

Monfette S, Eyholzer M, Roberge DM, Fogg DE (2010) Chem Eur J 16:11720–11725

57.

Skowerski K, Pastva J, Czarnocki SJ, Janoscova J (2015) Org Process Res Dev 19:872–877

58.

Pastva J, Skowerski K, Czarnocki SJ, Zilkova N, Cejka J, Bastl Z, Balcar H (2014) ACS Catal 4:3227–3236

59.

Nguyen ST, Grubbs RH (1995) J Organomet Chem 497:195–200

60.

Ahmed M, Barrett AGM, Braddock DC, Cramp PA (1999) Procopiou Tetrahedron Lett 40:8657–8662

61.

Ahmed M, Arnauld T, Barrett AGM, Braddock DC, Procopiou PA (2000) Synlett 7:1007–1009

62.

Jafarpour L, Nolan SP (2000) Org Lett 2:4075–4078

63.

Jafarpour L, Heck M-P, Baylon C, Lee HM, Mioskowski S, Nolan SP (2002) Organometallics 21:671–679

64.

Dowden J, Savovic J (2001) Chem Commun 1:37–38

65.

Randl S, Buschmann N, Connon SJ, Blechert S (2001) Synlett 10:1547–1550

66.

Connon SJ, Blechert S (2002) Bioorgan Med Chem Lett 12:1873–1876

67.

Kingsbury JS, Garber SB, Giftos JM, Gray BL, Okamoto MM, Farrer RA, Fourkas JT, Hoveyda AH (2001) Angew Chem Int Ed 40:4251–4256

68.

Yao Q (2000) Angew Chem Int Ed 39:3896–3898

69.

Connon SJ, Dunne AM, Blechert S (2002) Angew Chem Int Ed 41:3835–3838

70.

Connon SJ, Blechert S (2003) Angew Chem Int Ed 42:1900–1923

71.

Grela K, Tryznowski M, Bieniek M (2002) Tetrahedron Lett 43:9055–9059

72.

Hultzsch KC, Jernelius JA, Hoveyda AH, Schrock RR (2002) Angew Chem Int Ed 41:589–593

73.

Michrowska A, Mennecke K, Kunz U, Kirschning A, Grela K (2006) J Am Chem Soc 128:13261–13267

74.

Skowerski K, Czarnocki SK, Knakiewicz P (2014) ChemSusChem 7:536–542
Additional information
This paper is dedicated to the memory of Dr. Igor Busygin.
About this article
Cite this article
Franzen, R.G. Metathesis Reactions on Solid-Phase: Towards New Synthesis Challenges. Top Catal 59, 1143–1150 (2016). https://doi.org/10.1007/s11244-016-0635-6
Keywords
Olefin metathesis

Heterogeneous catalysis

Solid supported catalyst

Carbon–carbon bonds