Abstract
The ageing conditions were analyzed with gasoline, diesel and natural gas (NG) catalysts to find the simplified, rapid thermal and chemical (sulfur) ageing methods for catalyst development. Rich-stoichiometric conditions prevented the deactivation of TWCs in gasoline and NG applications. Active metals and support are sintered thermally during short lean periods by increasing deactivation as a function of oxygen concentration. Air ageing for 3–10 h is an appropriate rapid ageing method for TWCs. Active regeneration conditions for DPF with a higher carbon concentration deactivated DOCs less than normal diesel exhaust conditions at 700 °C. Natural gas oxidation catalysts were sulfated in use conditions but almost complete recovery was possible above 600 °C with higher methane feeds at lean. In addition to sulfur, other chemical poisoning was also included in the rapid ageing methods by fittings to the diesel and NG field aged catalysts.
Access options
Buy single article
Instant access to the full article PDF.
USD 39.95
Price excludes VAT (USA)
Tax calculation will be finalised during checkout.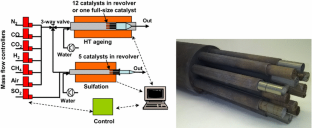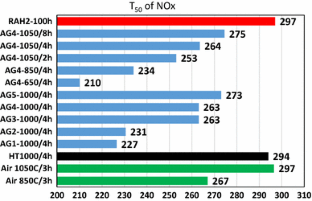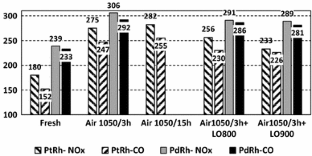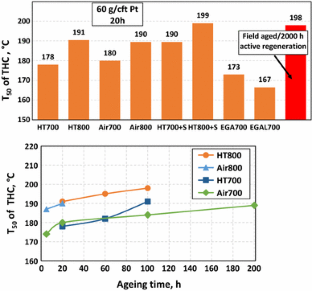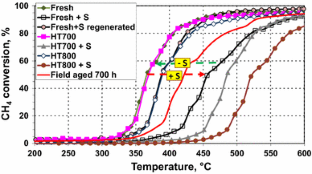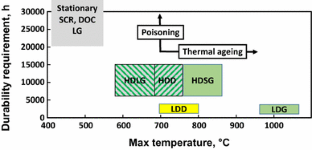 Abbreviations
ATS:

After-treatment system

CPF:

Catalyzed particulate fliter

DOC:

Diesel oxidation catalyst

DPF:

Diesel particulate filter

EGA:

Exhaust gas ageing

EGAL:

Exhaust gas ageing-low HC

FSCR:

Filter with SCR coating

HC:

Hydrocarbons

HDD:

Heavy-duty diesel

HDLG:

Heavy-duty lean gas

HDSG:

Heavy-duty stoichiometric gas

HTx:

Hydrothermal ageing at x °C, where x = 700–900

LDD:

Light-duty diesel

LDG:

Light-duty gasoline/gas

LG:

Lean gas

LNT:

Lean NOx trap

MOC:

Methane oxidation catalyst

NG:

Natural gas

RAH2:

Rapid ageing with two parallel converters

PGM:

Platinum group metals like platinum, palladium and rhodium

PM:

Particulate matter

+S:

Sulfation

−S:

Desulfation

SCR:

Selective catalytic reduction

SV:

Space velocity, exhaust gas flow rate/catalyst volume, h−1

THC:

Total hydrocarbons

TWC:

Three-way catalyst
References
Brisley RJ, O'Sullivan RD, Wilkins AJJ (1991) SAE Paper 910175

Muraki H, Shinjoh H, Fujitani Y (1986) Appl Catal 27:325

Rohe R, Pitchon V, Maire G (1998) CAPOC IV Stud Surf Sci Catal 116:147

Schlatter JC, Sinkevitch R, Mitchell PJ (1983) Ind Eng Chem Prod Res Dev 22:51

Maunula T, Savimäki A, Viitanen A, Kinnunen T, Kanniainen K (2013) SAE Paper 2013-01-0796

Maunula T, Matilainen P, Louhelainen M, Juvonen P, Kinnunen T (2007) SAE Paper 2007-01-0041

Maunula T, Suopanki A, Torkkell K, Härkönen M (2004) SAE Paper 2004-01-3021

Kallinen K, Moreno A, Savimäki A, Kinnunen T-JJ (2009) SAE Paper 2009-26-018

Maunula T, Vakkilainen A, Lievonen A, Torkkell K, Niskanen K, Härkönen M (1999) SAE Paper 1999-01-3625

Kallinen K, Suopanki A, Härkönen M (2005) Catal Today 100:223

Gonzalez-Marcos M, Pereda B, LaTorre U, Gonzalez-Velasco J (2013) Topics Catal 56(1–8):352

Liu DR, Park JS (1993) Appl Catal B 2:49

Lambert JK, Shahjahan KM, Farrauto RJ (1997) Appl Catal B 14:211

Mowery DL, McCormick RL (2001) Appl Catal B 34:287

Kinnunen N, Kinnunen T, Kallinen K (2013) SAE Paper 2013-24-0155
About this article
Cite this article
Maunula, T., Kallinen, K., Savimäki, A. et al. Durability Evaluations and Rapid Ageing Methods in Commercial Emission Catalyst Development for Diesel, Natural Gas and Gasoline Applications. Top Catal 59, 1049–1053 (2016). https://doi.org/10.1007/s11244-016-0588-9
Published:

Issue Date:

DOI: https://doi.org/10.1007/s11244-016-0588-9
Keywords
Emissions

Catalysts

Deactivation

TWC

DOC

SCR

DPF