Abstract
Phosphorus is found to have a deactivating effect on the catalytic activity of the studied natural-gas-oxidation catalyst. Accelerated laboratory-scale phosphorus treatment was done to the PtPd/Al2O3 natural gas oxidation catalyst. The effect of phosphorus after low (0.065 M) and high (0.13 M) phosphorus concentration treatments was studied by using an inductively coupled plasma optical emission spectroscopy, N2 physisorption, X-ray diffraction, field emission scanning electron microscopy, transmission electron microscopy, and X-ray photoelectron spectroscopy. In addition, the behavior of the catalyst was studied by a Gasmet FT-IR gas analyzer. Based on the received results it can be concluded that phosphorus was adsorbed on the surface by chemical bonds forming phosphates (PO4). In addition, the partial transformation of PdO to Pd was observed. Due to the phosphorus adsorption both the CO and CH4 oxidation activities were lower after the phosphorus treatments compared with the fresh catalyst.
This is a preview of subscription content, log in to check access.
Access options
Buy single article
Instant unlimited access to the full article PDF.
US$ 39.95
Price includes VAT for USA
Subscribe to journal
Immediate online access to all issues from 2019. Subscription will auto renew annually.
US$ 199
This is the net price. Taxes to be calculated in checkout.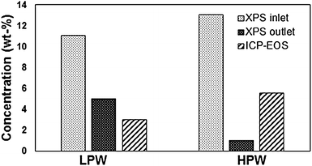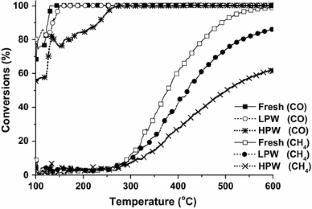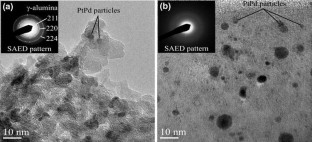 References
1.

Klingstedt F, Neyestanaki AK, Byggningsbacka R, Lindfors L-E, Lundén M, Petersson M, Tengström P (2008) Appl Catal A 209:301

2.

Cho HM, He BQ (2007) Eng Convers Manag 48:608

3.

Gelin P, Urfels L, Primet M, Tena E (2003) Catal Today 83:45

4.

Korakiantis T, Namasivayam AM, Crookes RJ (2011) Prog Energy Combust Sci 37:89

5.

Gelin P, Primet M (2002) Appl Catal B 39:1

6.

Zanoletti M, Klvana D, Kirchnerova J, Perrier M, Guy C (2009) Chem Eng Sci 64:945

7.

Gholami R, Smith KJ (2015) Appl Catal A 168–169:156

8.

Yao YFY (1980) Ind Eng Chem Prod Res Dev 19:293

9.

Oh SH, Mitchell PJ, Siewert RM (1991) J Catal 132:287

10.

Lampert JK, Kazi MS, Farrauto RJ (1997) Appl Catal B 14:211

11.

Mowery DL, Graboski MS, Ohno TR, Mc Cormick RL (1999) Appl Catal B 21:157

12.

Colussi S, Arosio F, Montanari T, Busca G, Groppi G, Trovarelli A (2010) Catal Today 155:59

13.

Narui K, Yata H, Furuta K, Nishida A, Kohtoku Y, Matsuzaki T (1999) Appl Catal A 179:165

14.

Pieck CL, Vera CR, Peirotti EM, Yor JC (2002) Appl Catal A 226:281

15.

Persson K, Jansson K, Järås SG (2007) J Catal 245:401

16.

Honkanen M, Kärkkäinen M, Viitanen V, Jiang H, Kallinen K, Huuhtanen M, Vippola M, Lahtinen J, Keiski RL, Lepistö T (2013) Top Catal 56:576

17.

Matam SK, Otal EH, Aguirre MH, Winkler A, Ulrich A, Rentsch D, Weidenkaff A, Ferri D (2012) Catal Today 184:23

18.

Wiebenga MH, Kim CH, Schmieg SJ, Oh SH, Brown DB, Kim DH, Lee J-H, Peden CHF (2012) Catal Today 184:197

19.

Lanzerath P, Guethenke A, Massner A, Gaertner U (2007) Catal Today 147:S265

20.

Kärkkäinen M, Kolli T, Honkanen M, Heikkinen O, Huuhtanen M, Kallinen K, Vippola M, Lepistö T, Lahtinen J, Keiski RL (2015) Top Catal 58:961

21.

Honkanen M, Kärkkäinen M, Heikkinen O, Kolli T, Huuhtanen M, Kallinen K, Lahtinen J, Keiski RL, Lepistö T, Vippola M (2015) Top Catal 58:971–976

22.

PDF-2 Powder Diffraction File Database International Centre of Diffraction Data, 12 Campus Boulevard Newton Square, PA 19073-3273, USA [PDF cards: 70-4689 (AlPO4), 43-1024 (PdO) and 65-6174 (Pd)]

23.

Zhou Y, Wang Z, Liu C (2015) Catal Sci Technol 5:69

24.

Naumkin AV, Kraut-Vass A, Gaarenstroom SW, Powell CJ (2012) NIST X-ray photoelectron spectroscopy database, National Institute of Standards and Technology. srdata.nist.gov/xps

25.

Shyu JZ, Otto K (1988) Appl Surf Sci 32:246

26.

Moulder JF, Stickle WF, Sobol PE, Bomben KD (1992) Handbook of X-ray photoelectron spectroscopy. Perkin-Elmer Corporation, Eden Prairie
Acknowledgments
Financial support from the Academy of Finland (Project 139187) is gratefully acknowledged. F. Cumming is acknowledged for his contributions to the experimental work.
About this article
Cite this article
Kärkkäinen, M., Kolli, T., Honkanen, M. et al. The Influence of Phosphorus Exposure on a Natural-Gas-Oxidation Catalyst. Top Catal 59, 1044–1048 (2016) doi:10.1007/s11244-016-0587-x
Keywords
Methane degradation

Palladium

Platinum

Poisoning