Abstract
This work describes the synthesis of molybdenum complexes immobilized on a silica support and their performance in the epoxidation reaction of cyclohexene using tert-butylhydroperoxide as the oxidizing agent. The catalyst synthesis included solubilization of variable amounts of bis-oxomolybdenum (VI) acetylacetonate precursor in different solvents such as tetrahydrofuran (THF), ethanol, THF/water and ethanol/water mixtures and contact with the silica support. Characterization techniques demonstrated that the nature of the incorporated molybdenum species depends markedly on the solvent employed. If the solvent employed is an ethanol:water mixture, physical adsorption of the Mo-species onto the support surface occurs; however, when THF is used as the solvent (THF catalyst series), molybdenum is grafted on the silica surface via chemical bonding with the surface hydroxyl groups of silica. Specifically, these latter catalysts show similar performance to that of the homogeneous catalyst, although long-term experiments showed deactivation by leaching of the active phase.
This is a preview of subscription content, log in to check access.
Access options
Buy single article
Instant access to the full article PDF.
US$ 39.95
Price includes VAT for USA
Subscribe to journal
Immediate online access to all issues from 2019. Subscription will auto renew annually.
US$ 199
This is the net price. Taxes to be calculated in checkout.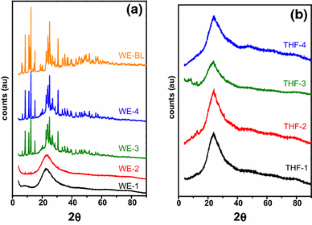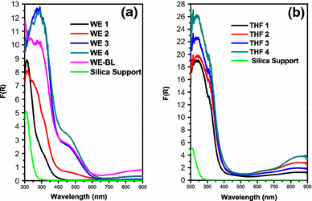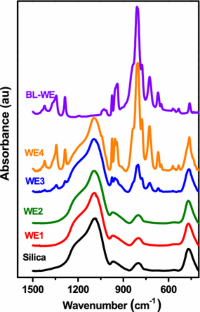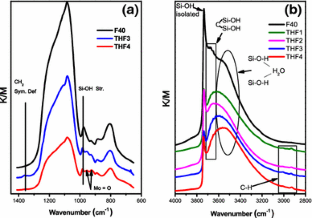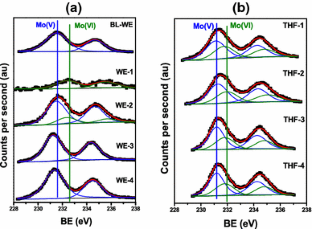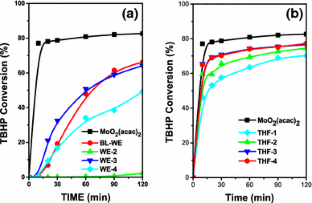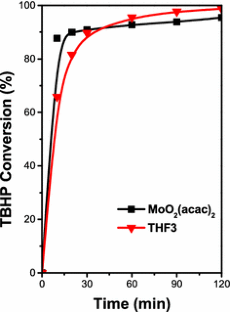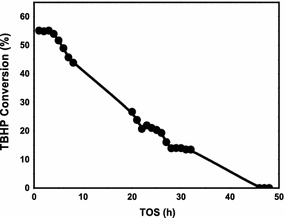 References
1.

Nijhuis TA, Makkee M, Moulijn JA, Weckhuysen BM (2006) The production of propene oxide: catalytic processes and recent developments. Ind Eng Chem Res 45(10):3447–3459

2.

Kobe JM, Evans WE, June RL, Lemanski MF (2002) Epoxidation—industrial. In: István T. Horváth (ed) Encyclopedia of catalysis, John Wiley & Sons, Inc., New York

3.

Merlau ML, Borg-Breen CC, Nguyen ST (2002) Epoxidation—homogeneous. In: István T. Horváth (ed) Encyclopedia of catalysis, John Wiley & Sons, Inc., New York

4.

Sheldon RA, Van Doorn JA (1973) Metal-catalyzed epoxidation of olefins with organic hydroperoxides : I. A comparison of various metal catalysts. J Catal 31(3):427–437

5.

Sheldon RA, Van Doorn JA, Schram CWA, De Jong AJ (1973) Metal-catalyzed epoxidation of olefins with organic hydroperoxides. II. The effect of solvent and hydroperoxide structure. J Catal 31(3):438–443

6.

Buijink JKF, van Vlaanderen JJM, Crocker M, Niele FGM (2004) Propylene epoxidation over titanium-on-silica catalyst—the heart of the SMPO process. Catal Today 93–95:199–204

7.

Sherrington DC (2000) Polymer-supported metal complex alkene epoxidation catalysts. Catal Today 57(1–2):87–104

8.

Mohammed ML, Patel D, Mbeleck R, Niyogi D, Sherrington DC, Saha B (2013) Optimisation of alkene epoxidation catalysed by polymer supported Mo(VI) complexes and application of artificial neural network for the prediction of catalytic performances. Appl Catal A 466:142–152

9.

Sohn JR, Lunsford JH (1985) Internal activity of moy zeolites in epoxidation of cyclohexene: evidence from shape-selective poisoning. J Mol Catal 32(3):325–332

10.

Moreno J, Iglesias J, Melero JA, Sherrington DC (2011) Synthesis and characterisation of (hydroxypropyl)-2-aminomethyl pyridine containing hybrid polymer-silica SBA-15 materials supporting Mo(vi) centres and their use as heterogeneous catalysts for oct-1-ene epoxidation. J Mater Chem 21(18):6725–6735

11.

Barrio L, Campos-Martín JM, De Frutos MP, Fierro JLG (2008) Alkene epoxidation with ethylbenzene hydroperoxides using molybdenum heterogeneous catalysts. Ind Eng Chem Res 47(21):8016–8024

12.

Piquemal JY, Manoli JM, Beaunier P, Ensuque A, Tougne P, Legrand AP, Brégeault JM (1999) Using inorganic silicate precursor/molybdenum peroxo complexes/onium salt interfaces in aqueous acidic media to design mesoporous silica with high molybdenum content and high dispersion. Microporous Mesoporous Mater 29(3):291–304

13.

Célestin Bakala P, Briot E, Salles L, Brégeault JM (2006) Comparison of liquid-phase olefin epoxidation over MoOx inserted within mesoporous silica (MCM-41, SBA-15) and grafted onto silica. Appl Catal A 300(2):91–99

14.

Bigi F, Piscopo CG, Predieri G, Sartori G, Scotti R, Zanoni R, Maggi R (2014) Molybdenum-MCM-41 silica as heterogeneous catalyst for olefin epoxidation. J Mol Catal A 386:108–113

15.

Bagherzadeh M, Zare M, Salemnoush T, Özkar S, Akbayrak S (2014) Immobilization of dioxomolybdenum(VI) complex bearing salicylidene 2-picoloyl hydrazone on chloropropyl functionalized SBA-15: A highly active, selective and reusable catalyst in olefin epoxidation. Appl Catal A 475:55–62

16.

Vaz PD, Nunes CD (2012) The versatility of immobilized mo complexes in organic transformations—epoxidation and metathesis reactions. Curr Org Chem 16(1):89–114

17.

Masteri-Farahani M, Abednatanzi S (2014) Molybdenum complex tethered to the surface of activated carbon as a new recoverable catalyst for the epoxidation of olefins. Appl Catal A 478:211–218

18.

Martos Calvente R, Campos-Martin JM, Fierro JLG (2002) Effective homogeneous molybdenum catalyst for linear terminal alkenes epoxidation with organic hydroperoxide. Catal Commun 3(6):247–251

19.

Sing KSW, Everet DH, Haul RAW, Moscou L, Pieroti RA, Rouquerol J, Siemieniewska T (1985) Reporting physisorption data for gas/solid siystems with special reference to the determination of surface area and porosity. Int Union Pure Appl Chem 57(4):603–619

20.

Adam F, Iqbal A (2011) Silica supported amorphous molybdenum catalysts prepared via sol–gel method and its catalytic activity. Microporous Mesoporous Mater 141:119–127

21.

Capel-Sanchez MC, Campos-Martin JM, Fierro JLG (2003) Influence of solvent in the synthesis steps of titanium-supported amorphous silica epoxidation catalysts. J Catal 217(1):195–202

22.

Šoptrajanov B, Nikolovski A, Petrov I (1968) Infra-red spectra of dioxobis(acetylacetonato) tungsten (VI) and dioxobis(acetylacetonato) molybdenum (VI). Spectrochim Acta Part A 24(10):1617–1621

23.

Rocchiccioli-Deltcheff C, Fournier M, Franck R, Thouvenot R (1983) Vibrational investigations of polyoxometalates. 2. Evidence for anion-anion interactions in molybdenum(VI) and tungsten(VI) compounds related to the Keggin structure. Inorg Chem 22(2):207–216

24.

Seguin L, Figlarz M, Cavagnat R, Lassègues JC (1995) Infrared and Raman spectra of MoO3 molybdenum trioxides and MoO3 & #xB7; xH2O molybdenum trioxide hydrates. Spectrochim Acta Part A Mol Biomol Spectrosc 51(8):1323–1344

25.

Misono M, Mizuno N, Katamura K, Kasai A, Konishi Y, Sakata K, Okuhara T, Yoneda Y (1982) Catalysis by heteropoly compounds. III. The structure and properties of 12-heteropolyacids of molybdenum and tungsten (H3PMo12-xWxO40) and their salts pertinent to heterogeneous catalysis. Bull Chem Soc Jpn 55(2):400–406

26.

El Shafei GMS, Mokhtar MM (1995) Interaction between molybdena and silica: FT-IR/PA studies of surface hydroxyl groups and pore structure assessment. Colloids Surf A 94(2–3):267–277

27.

Capel-Sanchez MC, Barrio L, Campos-Martin JM, Fierro JLG (2004) Silylation and surface properties of chemically grafted hydrophobic silica. J Colloid Interface Sci 277(1):146–153

28.

Ikari S, Sasaki Y, Nagasawa A, Kabuto C, Ito T (1989) A new mixed molybdenum-tungsten dinuclear complex, bis(μ-oxo)(μ-ethylenediaminetetraacetato-N, N′)oxomolybdenum(V) oxotungstate(V). Inorg Chem 28(7):1248–1254

29.

Grim SO, Matienzo LJ (1975) X-Ray photoelectron spectroscopy of inorganic and organometallic compounds of molybdenum. Inorg Chem 14(5):1014–1018

30.

Sherrington DC, Simpson S (1991) Polymer-supported Mo and V cyclohexene epoxidation catalysts: activation, activity, and stability. J Catal 131(1):115–126

31.

Sherrington DC, Simpson S (1993) Polymer-supported Mo alkene epoxidation catalysts. React Polym 19(1–2):13–25

32.

Sheldon RA, Wallau M, Arends IWCE, Schuchardt U (1998) Heterogeneous catalysts for liquid-phase oxidations: Philosophers' stones or Trojan horses? Acc Chem Res 31(8):485–493
About this article
Cite this article
Morales-delaRosa, S., Campos-Martin, J.M., Terreros, P. et al. Catalytic Epoxidation of Cyclohexene with Tert-butylhydroperoxide Using an Immobilized Molybdenum Catalyst. Top Catal 58, 325–333 (2015). https://doi.org/10.1007/s11244-015-0373-1
Keywords
Epoxidation

Molybdenum

Immobilized catalysts

Tert-butylhydroperoxide