Hydrogenation Processes at the Surface of Ruthenium Nanoparticles: A NMR Study
Abstract
The reactivity of ruthenium nanoparticles stabilized by 4-(3-phenylpropyl)pyridine in hydrogen transfer and hydrogenation processes was monitored by NMR spectroscopy. Unsaturated substrates such as styrene, 4-vinylpyridine and 4-phenyl-but-3-en-2-one were used as model molecules to investigate the surface properties of nanoparticles by a combination of NMR studies. Interestingly, the hydrides present at the metallic surface after nanoparticles synthesis are selectively transferred to vinylic groups without reducing the aromatic rings, under dihydrogen-free atmosphere. DOSY and NOE NMR experiments permitted to propose a way of interaction of the organic compounds at the metallic surface. In particular, the coordination of the substrate could be evidenced for 4-vinylpyridine and 4-ethylpyridine but not for styrene derivatives.
Graphical Abstract
Curved double arrows represent magnetization exchanges. Straight arrows represent adsorption/desorption phenomena.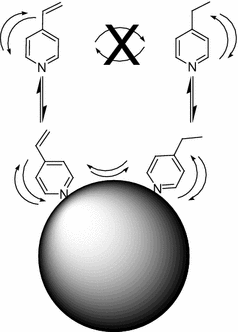 Keywords
Ruthenium 
Nanoparticles 
Surface reactivity 
DOSY NMR 
NOE effects 
Hydrogen transfer 
Hydrogenation 
Arenes 
Notes
Acknowledgments
This work was financially supported by the Centre National de la Recherche Scientifique (CNRS), the Université Paul Sabatier and the Institut de Chimie de Toulouse. I.F. and P.L. are grateful to the Université Paul Sabatier for a funded project (AO1 2012).
Copyright information
© Springer Science+Business Media New York 2013