Abstract
We intent to present an overview of the available catalysts for the carbon–carbon cross-coupling reactions based on supported palladium (Pd) nanoparticles (NPs). We begin this perspective with a brief introduction about the cross-coupling reactions and the mechanistic implications of using Pd NPs as catalyst, i.e. heterogeneous versus homogeneous catalysis, then we summarize some of the most versatile Pd supported catalysts as a function of its nature. The supported catalysts have been classified in inorganic, organic and hybrid supports. Finally we outline the perspectives for the development of new Pd supported catalysts.
Access options
Buy single article
Instant access to the full article PDF.
US$ 39.95
Tax calculation will be finalised during checkout.
Subscribe to journal
Immediate online access to all issues from 2019. Subscription will auto renew annually.
US$ 119
Tax calculation will be finalised during checkout.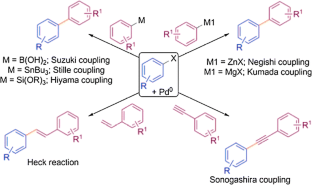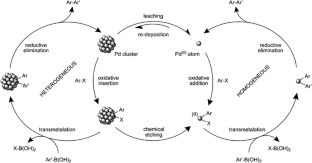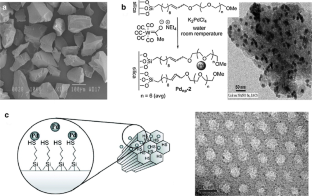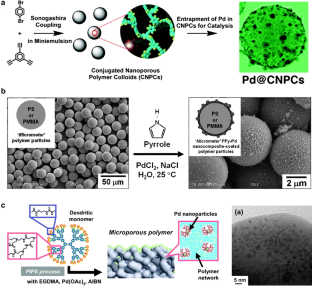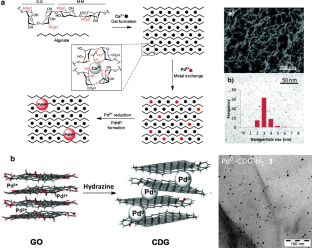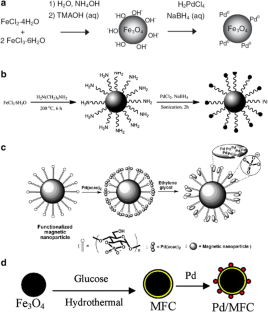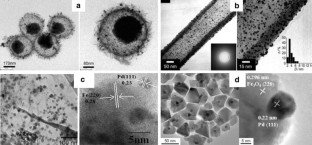 References
1.

Yin L, Liebscher J (2007) Chem Rev 107:133–173

2.

Molnár Á (2011) Chem Rev 111:2251–2320

3.

Balanta A, Godard C, Claver C (2011) Chem Soc Rev 40:4973–4985

4.

Fihri A, Bouhrara M, Nekoueishahraki B, Basset JM, Polshettiwar V (2011) Chem Soc Rev 40:5181–5203

5.

Pérez-Lorenzo M (2012) J Phys Chem Lett 3:167–174

6.

Pagliaro M, Pandarus V, Ciriminna R, Béland F, Carà PD (2012) ChemCatChem 4:432–445

7.

Narayanan R (2010) Molecules 15:2124–2138

8.

Djakovitch L, Koehler K, de Vries JG (2008) Nanoparticles and catalysis. Wiley-VCH, Weinheim, pp 303–348

9.

Wu XF, Anbarasan P, Neumann H, Beller M (2010) Angew Chem Int Ed 49:9047–9050

10.

Astruc D (2007) Inorg Chem 46:1884–1894

11.

Ananikov VP, Beletskaya IP (2012) Organometallics 31:1595–1604

12.

Phan NTS, Van Der Sluys M, Jones CW (2006) Adv Synth Catal 348:609–679

13.

Farina V (2004) Adv Synth Catal 346:1553–1582

14.

Sheldon RA, Wallau M, Arends IWCE, Schuchardt U (1998) Acc Chem Res 31:485–493

15.

Rebek J, Gavina F (1974) J Am Chem Soc 96:7112–7114

16.

Rebek J, Brown D, Zimmerman S (1975) J Am Chem Soc 97:454–455

17.

Crudden CM, Sateesh M, Lewis R (2005) J Am Chem Soc 127:10045–10050

18.

Anton DR, Crabtree RH (1983) Organometallics 2:855–859

19.

Foley P, Dicosimo R, Whitesides GM (1980) J Am Chem Soc 102:6713–6725

20.

Richardson JM, Jones CW (2006) Adv Synth Catal 348:1207–1216

21.

Pagliaro M, Pandarus V, Béland F, Ciriminna R, Palmisano G, Cará PD (2011) Catal Sci Technol 1:736–739

22.

Ciriminna R, Pandarus V, Gingras G, Béland F, Cará PD, Pagliaro M (2012) RSC Adv 2:10798–10804

23.

Muñoz JM, Alcázar J, de la Hoz A, Díaz-Ortiz A (2012) Adv Synth Catal 354:3456–3460

24.

Dutta P, Sarkar A (2011) Adv Synth Catal 353:2814–2822

25.

Saffarzadeh-Matin S, Kerton FM, Lynama JM, Raynerc CM (2006) Green Chem 8(965):971

26.

Bernini R, Cacchi S, Fabrizi G, Forte G, Petrucci F, Prastaro A, Niembro S, Shafird A, Vallribera A (2010) Green Chem 12:150–158

27.

Hoffmann F, Cornelius M, Morell J, Fröba M (2006) Angew Chem Int Ed 45:3216–3251

28.

Erathodiyil N, Ooi S, Seayad AM, Han Y, Lee SS, Ying JY (2008) Chem Eur J 14:3118–3125

29.

Mehnert CP, Ying JY (1997) Chem Commun 2215–2216

30.

Mehnert CP, Weaver DW, Ying JY (1998) J Am Chem Soc 120:12289–12296

31.

Wang P, Lu Q, Li J (2010) Mater Res Bull 45:129–134

32.

Wang P, Zheng X (2011) Powder Technol 210:115–121

33.

Wang P, Lu Q, Li J (2009) Catal Lett 131:444–450

34.

Djakovitch L, Koehler K (2001) J Am Chem Soc 123:5990–5999

35.

Durap F, Rakap M, Aydemira M, Zkar S (2010) Appl Catal A 382:339–344

36.

Trifiro F, Vaccari A (1996) Comprehensive supramolecular chemistry, vol 7. Pergamon/Elsevier Science, Oxford, p 251

37.

Choudary BM, Madhi S, Chowdari NS, Kantam ML, Sreedhar B (2002) J Am Chem Soc 124:14127–14136

38.

Kogan V, Aizenshtat Z, Popovitz-Biro R, Neumann R (2002) Org Lett 20(3529):3532

39.

Kantam ML, Roy S, Roy M, Sreedhar B, Choudary BM (2005) Adv Synth Catal 347:2002–2008

40.

Wagner M, Köhler K, Djakovitch L, Weinkauf S, Hagen V, Muhler M (2000) Top Catal 13:319–326

41.

Panziera N, Pertici P, Barazzone L, Caporusso AM, Vitulli G, Salvadori P, Borsacchi S, Geppi M, Veracini CA, Martra G, Bertinetti L (2007) J Catal 246:351–361

42.

Zhang P, Weng Z, Guo J, Wang C (2011) Chem Mater 23:5243–5249

43.

Wen F, Zhang W, Wei G, Wang Y, Zhang J, Zhang M, Shi L (2008) Chem Mater 20:2144–2150

44.

Fujii S, Matsuzawa S, Hamasaki H, Nakamura Y, Bouleghlimat A, Buurma NJ (2012) Langmuir 28:2436–2447

45.

Ogasawara S, Kato S (2010) J Am Chem Soc 132:4608–4613

46.

Park CM, Kwon MS, Park J (2006) Synthesis 22:3790–3794

47.

Li S, Wang J, Kou Y, Zhang S (2010) Chem Eur J 16:1812–1818

48.

Tamami B, Ghasemi S (2010) J Mol Catal A 332:98–105

49.

Mondal J, Modak A, Bhaumik A (2011) J Mol Catal A 350:40–48

50.

Yuan B, Pan Y, Li Y, Yin B, Jiang H (2010) Angew Chem Int Ed 49:4054–4058

51.

Desforges A, Backov R, Deleuze H, Mondain-Monval O (2005) Adv Funct Mater 15:1695–1698

52.

Primo A, Liebel M, Quignard F (2009) Chem Mater 21:621–627

53.

Chtchigrovsky M, Lin Y, Ouchaou K, Chaumontet M, Robitzer M, Quignard F, Taran F (2012) Chem Mater 24:1505–1510

54.

Skjak-Braek G, Grasdalen H, Smidsod O (1989) Carbohydr Polym 10:31–34

55.

Scheuermann GM, Rumi L, Steurer P, Bannwarth W, Mülhaupt R (2009) J Am Chem Soc 131:8262–8270

56.

Hariprasad E, Radhakrishnan TP (2012) ACS Catal 2:1179–1186

57.

Gallon BJ, Kojima RW, Kaner RB, Diaconescu PL (2007) Angew Chem Int Ed 46:7251–7254

58.

Laska U, Frost CG, Price GJ, Plucinski PK (2009) J Catal 268:318–328

59.

Zhou S, Johnson M, Veinot JGC (2010) Chem Commun 46:2411–2413

60.

Zhang F, Jin J, Zhong X, Li S, Niu J, Li R, Ma J (2011) Green Chem 13:1238–1243

61.

Amali AJ, Rana RK (2009) Green Chem 11:1781–1786

62.

Yinghuai Z, Peng SC, Emi A, Zhenshun S, Monalisa Z, Kempd RA (2007) Adv Synth Catal 349:1917–1922

63.

Li R, Zhang P, Huang Y, Zhang P, Zhong H, Chen Q (2012) J Mater Chem 22:22750–22755

64.

Zhu M, Diao G (2011) J Phys Chem C 115:24743–24749

65.

Zhang L, Li P, Li H, Wang L (2012) Catal Sci Technol 2:1859–1864

66.

Du Q, Zhang W, Ma H, Zheng J, Zhou B, Li Y (2012) Tetrahedron 68:3577–3584

67.

Zhang Q, Su H, Luo J, Wei Y (2013) Catal Sci Technol 3:235–243

68.

Gao Z, Feng Y, Cui F, Hua Z, Zhou J, Zhu Y, Shi J (2011) J Mol Catal A 336:51–57

69.

Xuan S, Jiang W, Gonga X (2011) Dalton Trans 40:7827–7830

70.

Ko S, Jang Y (2006) Angew Chem Int Ed 45:7564–7567

71.

Hu J, Wang Y, Han M, Zhou Y, Jiang X, Sun P (2012) Catal Sci Technol 2:2332–2340

72.

Jang Y, Chung J, Kim S, Jun SW, Kim BH, Lee DW, Kim BM, Hyeon T (2011) Phys Chem Chem Phys 13:2512–2516

73.

Wan Y, Wang H, Zhao Q, Klingstedt M, Terasaki O, Zhao D (2009) J Am Chem Soc 131:4541–4550
Acknowledgments
This work has been funded by the Spanish MINECO/FEDER (MAT2010-15374 and CTQ2010-16390) and by the Xunta de Galicia/FEDER (10PXIB314218PR).
About this article
Cite this article
Taladriz-Blanco, P., Hervés, P. & Pérez-Juste, J. Supported Pd Nanoparticles for Carbon–Carbon Coupling Reactions. Top Catal 56, 1154–1170 (2013). https://doi.org/10.1007/s11244-013-0082-6
Keywords
Pd nanoparticles

Supported catalyst

Cross-coupling

Carbon–carbon bond formation