Abstract
The stability of a Pt/γ-Al2O3 catalyst in liquid water and aqueous solutions of 5 wt% glycerol or sorbitol at 225 °C is examined using a variety of physicochemical methods. It is demonstrated that the presence of glycerol and sorbitol significantly reduces the hydration of γ-Al2O3 to form boehmite as compared to treatment in pure water. The stability against hydration increases with increasing carbon chain length. Treatment with polyol solutions also results in reduced agglomeration of supported metal particles. The prevention of boehmite formation and agglomeration of metal particles are attributed to the formation of carbonaceous species on the surface. In addition to these effects, the deposits block a considerable portion of active metal surface area. IR spectroscopic analysis indicates that dehydration reactions play an important role in the formation of the carbonaceous deposits. The present results illustrate that water and dissolved biomass compounds can strongly affect the stability of heterogeneous catalysts under reaction conditions.
Access options
Buy single article
Instant access to the full article PDF.
US$ 39.95
Tax calculation will be finalised during checkout.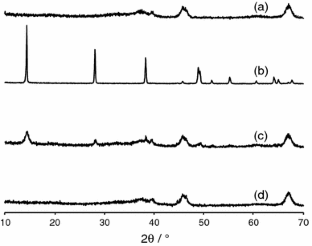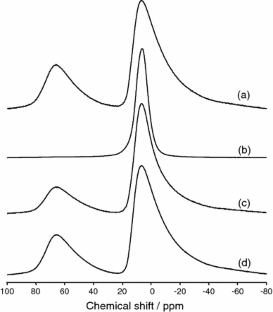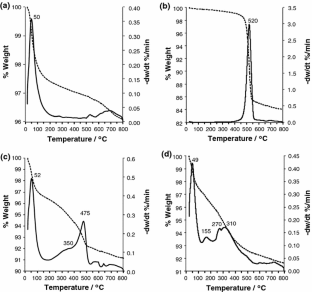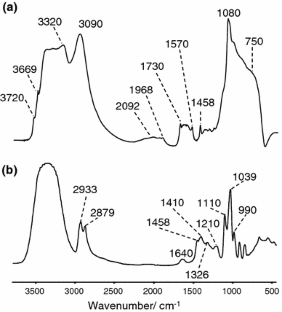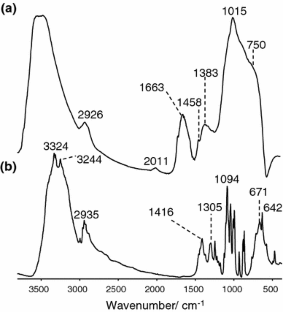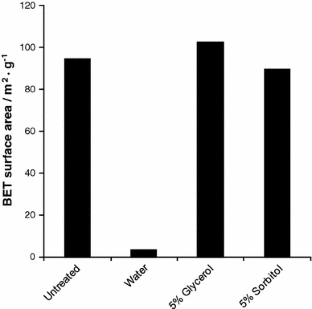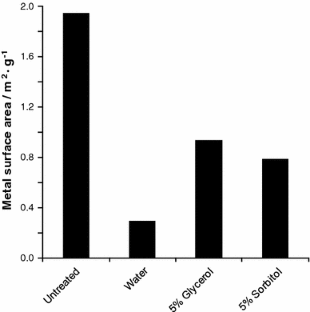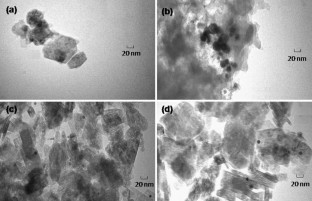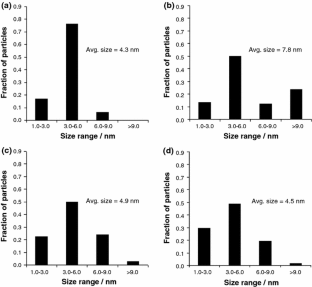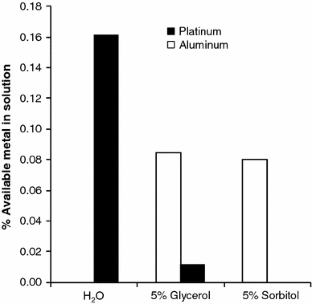 References
1.

Huber GW, NSF (2008) Breaking the chemical and engineering barriers to lignocellulosic biofuels: next generation hydrocarbon biorefineries. National Science Foundation

2.

Yan W, Suppes GJ (2008) J Chem Eng Data 53:2033

3.

Huber GW, Shabaker JW, Dumesic JA (2003) Science 300:2075

4.

Huber GW, Shabaker JW, Evans ST, Dumesic JA (2006) Appl Catal B Environ 62:226

5.

Davda RR, Shabaker JW, Huber GW, Cortright RD, Dumesic JA (2003) Appl Catal B Environ 43:13

6.

Wen G, Xu Y, Ma H, Xu Z, Tian Z (2008) Int J Hydrogen Energy 33:6657

7.

Kirilin AV, Tokarev AV, Murzina EV, Kustov LM, Mikkola JP, Murzin DY (2010) ChemSusChem 3:708

8.

Davda RR, Dumesic JA (2004) Chem Commun 36

9.

Roman-Leshkov Y, Chheda JN, Dumesic JA (2006) Science 312:1933

10.

Nikolla E, Román-Leshkov Y, Moliner M, Davis ME (2011) ACS Catal 1:408

11.

Crisci AJ, Tucker MH, Lee M-Y, Jang SG, Dumesic JA, Scott SL (2011) ACS Catal 1:719

12.

Barrett CJ, Chheda JN, Huber GW, Dumesic JA (2006) Appl Catal B Environ 66:111

13.

Chheda JN, Dumesic JA (2007) Catal Today 123:59

14.

Chia M, Pagán-Torres YJ, Hibbitts D, Tan Q, Pham HN, Datye AK, Neurock M, Davis RJ, Dumesic JA (2011) J Am Chem Soc 133:12675

15.

Ravenelle RM, Schüßler F, D'Amico A, Danilina N, van Bokhoven JA, Lercher JA, Jones CW, Sievers C (2010) J Phys Chem C 114:19582

16.

Ravenelle RM, Copeland JR, Kim WG, Crittenden JC, Sievers C (2011) ACS Catal 1:552

17.

Ketchie WC, Maris EP, Davis RJ (2007) Chem Mater 19:3406

18.

Ravenelle RM, Diallo FZ, Crittenden JC, Sievers C (2011) ChemCatChem 4:492

19.

Pagan-Torres YJ, Gallo JMR, Wang D, Pham HN, Libera JA, Marshall CL, Elam JW, Datye AK, Dumesic JA (2011) ACS Catal 1:1234

20.

Pham HN, Pagan-Torres YJ, Serrano-Ruiz JC, Wang D, Dumesic JA, Datye AK (2011) Appl Catal A Gen 397:153

21.

Holleman AF, Wiberg E (2001) Inorganic chemistry, 34th edn. Academic Press, San Diego

22.

MacDonald DD, Butler P (1973) Corros Sci 13:259

23.

Luo N, Fu X, Cao F, Xiao T, Edwards PP (2008) Fuel 87:3483

24.

Loh J, Brodie G, Naim F (2010). In: 115th Annual meeting on light metals, New Orleans, p 215

25.

Helen W (2000) Hydrometallurgy 55:289

26.

Paulaime A-M, Seyssiecq I, Veesler S (2003) Powder Technol 130:345

27.

van Bronswijk W, Watling HR, Yu Z (1999) Colloid Surf A 157:85

28.

Luo N-J, Wang J-A, Xiao T-C, Cao F-H, Fang D-Y (2011) Catal Today 166:123

29.

Iriondo A, Cambra JF, Barrio VL, Guemez MB, Arias PL, Sanchez-Sanchez MC, Navarro RM, Fierro JLG (2011) Appl Catal B Environ 106:83

30.

Kim M-Y, Park J-H, Shin C-H, Han S-W, Seo G (2009) Catal Lett 133:288

31.

Benson JE, Boudart M (1965) J Catal 4:704

32.

Delannay F (ed) (1984) Characterization of heterogeneous catalysts. Marcel Dekker, New York

33.

Wefers K, Misra C (1987) Alcoa Technical Paper, 19. Revised, Aluminum Company of America, Alcoa, pp 54–58

34.

Linsen BG, Fortuin JMH, Okkerse C, Steggerda JJ (eds) (1970) Pysical and chemical aspects of adsorbents and catalysts. Academic Press, New York

35.

Pecharroman C, Sobrados I, Iglesias JE, Gonzalez-Carreno T, Sanz J (1999) J Phys Chem B 103:6160

36.

Urretavizcaya G, Cavalieri AL, López JMP, Sobrados I, Sanz J (1998) J Mater Synth Process 6:1

37.

Knözinger H, Ratnasamy P (1978) Catal Rev 17:31

38.

Li H, Xu Y, Gao C, Zhao Y (2010) Catal Today 158:475

39.

Eisenbach D, Gallei E (1979) J Catal 56:377

40.

Cerqueira HS, Sievers C, Joly G, Magnoux P, Lercher JA (2005) Ind Eng Chem Res 44:2069

41.

Kataoka Y, Kitadai N, Hisatomi O, Nakashima S (2011) Appl Spectrosc 65:436

42.

Colthup NB, Daly LH, Wiberley SE (1990) Introduction to infrared and Raman spectroscopy, 3rd edn. Academic Press, San Diego

43.

NIST Chemistry WebBook (2009). http://webbook.nist.gov/chemistry/. Accessed Nov 7, 2009

44.

Liu X, Truitt RE (1997) J Am Chem Soc 119:9856

45.

Williams MF, Fonfe B, Sievers C, Abraham A, van Bokhoven JA, Jentys A, van Veen JAR, Lercher JA (2007) J Catal 251:485

46.

Morterra C, Magnacca G (1996) Catal Today 27:497

47.

Zhou Y, Fu H, Zheng X, Li R, Chen H, Li X (2009) Catal Commun 11:137

48.

Massa P, Ivorra F, Haure P, Fenoglio R (2009) Catal Commun 10:1706

49.

Ravenelle RM, Diallo FZ, Copeland JR, Lupini A, Su R, Crittenden JC, Sievers C (In preparation)

50.

Gyurcsik B, Nagy L (2000) Coord Chem Rev 203:81

51.

Hartinger CG, Nazarov AA, Ashraf SM, Dyson PJ, Keppler BK (2008) Curr Med Chem 15:2574

52.

Wang Y, Ren J, Deng K, Gui L, Tang Y (2000) Chem Mater 12:1622

53.

Safavi A, Momeni S, Saghir N (2009) J Hazard Mater 162:333

54.

Guisnet M, Magnoux P (1989) Appl Catal 54:1

55.

Wang W, Buchholz A, Seiler M, Hunger M (2003) J Am Chem Soc 125:15260

56.

Hill IM, Al Hashimi S, Bhan A (2011) J Catal 285:115

57.

Bartholomew CH (2001) Appl Catal A Gen 212:17

58.

Augustine SM, Alameddin GN, Sachtler WMH (1989) J Catal 115:217

59.

Weingarten R, Tompsett GA, Conner WC Jr, Huber GW (2011) J Catal 279:174

60.

Sievers C, Valenzuela-Olarte MB, Marzialetti T, Musin D, Agrawal PK, Jones CW (2009) Ind Eng Chem Res 48:1277

61.

Zhang H, Cheng Y-T, Vispute TP, Xiao R, Huber GW (2011) Energy Environ Sci 4:2297

62.

Huber GW, Cortright RD, Dumesic JA (2004) Angew Chem Int Ed 43:1549

63.

Teixeira ACSC, Giudici R (1999) Chem Eng Sci 54:3609

64.

Bett JAS, Kinoshita K, Stonehart P (1976) J Catal 41:124

65.

Douidah A, Marécot P, Barbier J (2002) Appl Catal A Gen 225:11

66.

Connolly JF, Flannery RJ, Meyers BL (1967) J Electrochem Soc 114:241

67.

Maris EP, Ketchie WC, Oleshko V, Davis RJ (2006) J Phys Chem B 110:7869
Acknowledgments
We thank Sarah McNew, Jessica Ewbank, Jared McGrath, Abiola Shitta and Johannes Leisen for experimental support. The authors would also like to recognize financial support provided by the Brook Byers Institute for Sustainable Systems, the Hightower Chair and the Georgia Research Alliance. Access to analytical instruments provided by Sankar Nair and Christopher W. Jones is gratefully acknowledged.
About this article
Cite this article
Ravenelle, R.M., Copeland, J.R., Van Pelt, A.H. et al. Stability of Pt/γ-Al2O3 Catalysts in Model Biomass Solutions. Top Catal 55, 162–174 (2012). https://doi.org/10.1007/s11244-012-9785-3
Keywords
Hydrothermal stability

Coking

Carbonaceous deposits

Boehmite

Aqueous phase reforming