Abstract
The influences of gas compositions on the rates of coke formation over a Pt–Sn/Al2O3 catalyst are studied. The coke formed on the catalyst is characterized by thermal gravimetric analysis, IR spectroscopy, Raman spectroscopy and elemental analysis. Two kinds of coke are identified from the TPO profiles and assigned to the coke on the metal and the coke on the support, respectively. The coke formed on the metal is softer (containing more hydrogen) than that formed on the support. The rate of coke formation on the metal is weakly dependent on the propylene and hydrogen pressures but increasing with the propane pressure, while the rate of coke formation on the support is increasing with the propane and propylene pressures and decreasing with the hydrogen pressure. Based on the kinetic analysis, a mechanism for the coke formation on the Pt–Sn/Al2O3 catalyst is proposed, and the dimerization of adsorbed C3H6 is identified to be the kinetic relevant step for coke formation on the metal.
Access options
Buy single article
Instant access to the full article PDF.
USD 39.95
Price excludes VAT (USA)
Tax calculation will be finalised during checkout.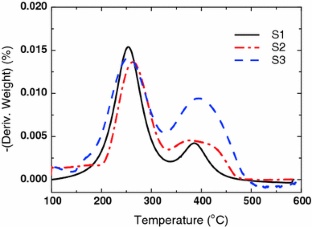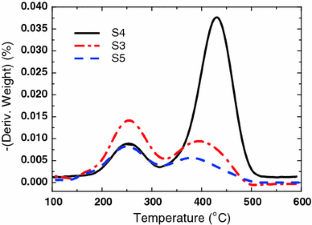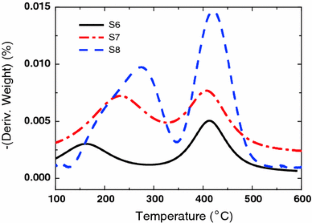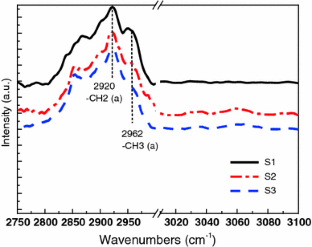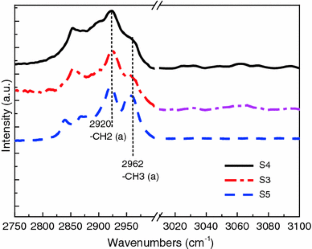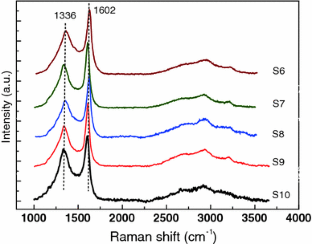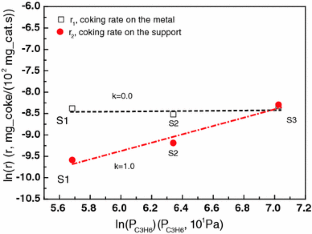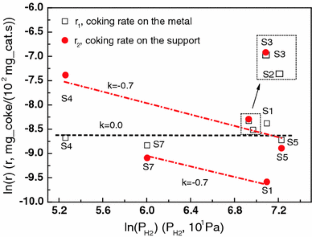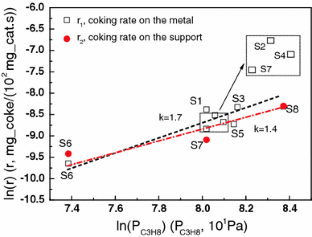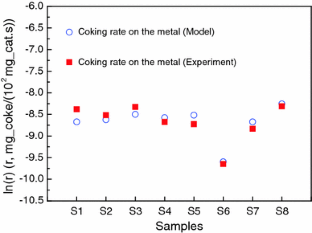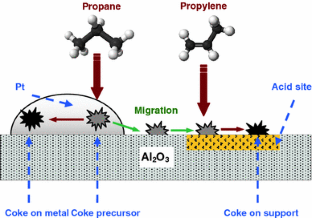 References
Galvita V, Siddiqi G, Sun P, Bell AT (2010) J Catal 271:209

Liu H, Zhang L, Li X, Huang S, Liu S, Xin W, Xie S, Xu L (2009) J Nat Gas Chem 18:331

Sun K (2004) Petrochem Des 21:25

Cosyns J, Chodorge J, Commereuc D, Torck B (1998) Hydrocarb Process 77:61

Praserthdam P, Mongkhonsi T, Kunatippapong S, Jaikaew B, Lim N (1997) Stud Surf Sci Catal 111:153

Santhosh Kumar M, Holmen A, Chen D (2009) Microporous Mesoporous Mater 126:152

Larsson M, Hultén M, Blekkan EA, Andersson B (1996) J Catal 164:44

Rebo HP, Chen D, Blekkan EA, Holmen A (1998) Stud Surf Sci Catal 119:617

Yang JL, Stansberry PG, Zondlo JW, Stiller AH (2002) Fuel Process Technol 79:207

Eisenbach D, Gallei E (1979) J Catal 56:377

Van Doorn J, Moulijn JA (1990) Fuel Process Technol 26:39

Cerqueira HS, Sievers C, Joly G, Magnoux P, Lercher JA (2005) Ind Eng Chem Res 44:2069

Geach A (1996) Wear Check Afr Tech Bull 2:1

Wolthuis E, Bossenbroek B, DeWall G, Geels E, Leegwater A (1963) J Org Chem 28:148

Sato K, Ikeda S, Iida M, Oshima A, Tabata Y, Washio M (2003) Nucl Instrum Methods Phys Res Sect B 208:424

Matsushita K, Hauser A, Marafi A, Koide R, Stanislaus A (2004) Fuel 83:1031

Jong SJ, Pradhan AR, Wu JF, Tsai TC, Liu SB (1998) J Catal 174:210

Guichard B, Roy-Auberger M, Devers E, Rebours B, Quoineaud AA, Digne M (2009) Appl Catal A 367:1

Korhonen ST, Airaksinen SMK, Bañares MA, Krause AOI (2007) Appl Catal A 333:30

Zeng Z, Natesan K (2003) Chem Mater 15:872

Airaksinen SMK, Bañares MA, Krause AOI (2005) J Catal 230:507

Chua YT, Stair PC (2003) J Catal 213:39

Dumont M, Chollon G, Dourges M, Pailler R, Bourrat X, Naslain R, Bruneel JL, Couzi M (2002) Carbon 40:1475

Li J, Naga K, Ohzawa Y, Nakajima T, Shames AP, Panich AI (2005) J Fluor Chem 126:265

Santhosh Kumar M, Chen D, Holmen A, Walmsley JC (2009) Catal Today 142:17

Yang Z, Zhang Y, Wang X, Zhang Y, Lu X, Ding W (2010) Energy Fuels 24:785

Sun L, Guo X, Liu M, Wang X (2010) Ind Eng Chem Res 49:506

Li X, Zhang W, Li X, Liu S, Huang H, Han X, Xu L, Bao X (2009) J Phys Chem C 113:8228

Duprez D, Hadj-Aissa M, Barbier J (1989) Appl Catal 49:67

Liwu L, Tao Z, Jingling Z, Zhusheng X (1990) Appl Catal 67:11

Tao Z, Jingling Z, Liwu L (1991) Stud Surf Sci Catal 68:143

Srihiranpullop S, Praserthdam P, Mongkhonsi T (2000) Korean J Chem Eng 17:548

Novokshonova LA, Tsvetkova VI, Chirkov NM (1963) Russ Chem Bull 12:1077

Soga K, Siono T (1982) Polym Bull 8:261

Li Q, Sui Z, Zhou X, Chen D (2011) Appl Catal A 398:18

Azzam KG, Jacobs G, Shafer WD, Davis BH (2010) Appl Catal A 390:264

Biloen P, Dautzenberg FM, Sachtler WMH (1977) J Catal 50:77

Liu K, Fung SC, Ho TC, Rumschitzki TC (2003) Ind Eng Chem Res 42:1543

Caeiro G, Carvalho RH, Wang X, Lemos MAND, Guisnet M, Ramôa Ribeiro F (2006) J Mol Catal A 255:131

Lieske H, Sárkány A, Völter J (1987) Appl Catal 30:69
Acknowledgment
This work is supported by Natural Science Foundation of China (No. 20736011)
About this article
Cite this article
Li, Q., Sui, Z., Zhou, X. et al. Coke Formation on Pt–Sn/Al2O3 Catalyst in Propane Dehydrogenation: Coke Characterization and Kinetic Study. Top Catal 54, 888 (2011). https://doi.org/10.1007/s11244-011-9708-8
Published:

DOI: https://doi.org/10.1007/s11244-011-9708-8
Keywords