Abstract
The electrochemical promotion of Rh/YSZ catalysts for C2H4 oxidation was investigated together with the mechanism of electrochemical promotion via the use of AC impedance spectroscopy. The impedance response consists of two distinct semicircles and provides strong support for the sacrificial promoter mechanism of electrochemical promotion. The impedance analysis of the low frequency part of all spectra show the existence of a finite length Gerischer impedance which corresponds to the effective double layer formed by the spillover of promoting anionic oxygen from the YSZ support to the rhodium/gas interface and its slow consumption there by adsorbed hydrocarbon fragments. AC impedance analysis provides values both for the rate of consumption of the promoting spillover oxygen species as well as for the stability and capacitance the catalyst/gas double layer in various gaseous environments and temperatures.
This is a preview of subscription content, log in to check access.
Access options
Buy single article
Instant access to the full article PDF.
US$ 39.95
Price includes VAT for USA
Subscribe to journal
Immediate online access to all issues from 2019. Subscription will auto renew annually.
US$ 199
This is the net price. Taxes to be calculated in checkout.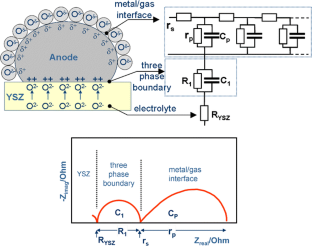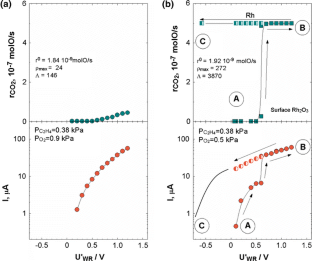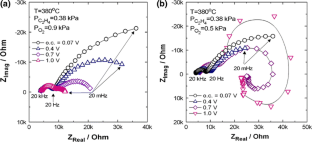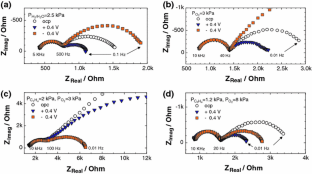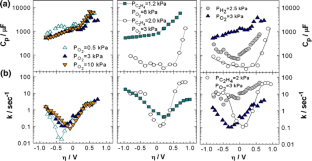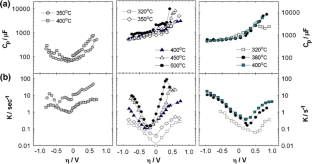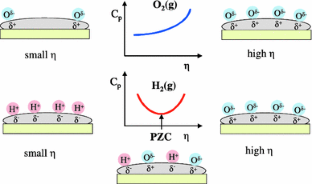 References
1.

Göpel W (1994) Sens Actuators B 18–19:1–21

2.

Mandelis A, Christofides C (1993) Solid state gas sensor devices. Wiley, New York

3.

Maier J (2000) Solids—defects and function: principles in the physical chemistry of solid state chemistry. B.G Teubner, Leipzig

4.

Singhal SC (2000) Solid State Ionics 135:305–313

5.

Kalhammer FR (2000) Solid State Ionics 135:315–323

6.

Wieckowski A, Savinova E, Vayenas CG (eds) (2003) Catalysis and electrocatalysis at nanoparticles. Marcel Dekker, Inc, New York

7.

Di Cosimo R, Burrington JD, Grasselli RK (1986) J Catal 102:234–239

8.

Haller GL (2003) J Catal 216:12–22

9.

Vayenas CG, Brosda S, Pliangos C (2003) J Catal 216:487–504

10.

Vayenas CG, Bebelis S, Ladas S (1990) Nature 343:625–627

11.

Vayenas CG, Jaksic MM, Bebelis S, Neophytides SG (1996) In: Bockris JOM, Conway BE, White RE (eds) The electrochemical activation of catalysis, modern aspects of electrochemistry, vol 29. Kluwer Academic/Plenum Publishers, New York, pp 57–202

12.

Foti G, Bolzonella L, Comninellis C (2003) In: Vayenas CG, Conway BE, White ER (eds) Electrochemical promotion of catalysis, modern aspects of electrochemistry, vol 36. Kluwer Academic/Plenum Publishers, New York, pp 191–254

13.

Vayenas CG, Bebelis S, Pliangos C, Brosda S, Tsiplakides D (2001) Electrochemical activation of catalysis: promotion, electrochemical promotion and metal-support interactions. Kluwer Academic/Plenum Publishers, New York

14.

Lambert RM, Williams F, Palermo A, Tikhov MS (2000) Top Catal 13:91–98

15.

Harkness I, Lambert RM (1995) J Catal 152:211–214

16.

Cavalca CA, Haller GL (1998) J Catal 177:389–395

17.

Baltruschat H, Anastasijevic NA, Beltowska-Brzezinska M, Hambitzer G, Heitbaum J (1990) Berichte Bunsengesellschaft der Physikalischen Chemie 94:996–1000

18.

Ploense L, Salazar M, Gurau B, Smotkin ES (1997) J Am Chem Soc 119:1155–11550

19.

Vernoux P, Gaillard F, Bultel L, Siebert E, Primet M (2002) J Catal 208:412–421

20.

Vernoux P, Gaillard F, Karoum R, Billard A (2007) Appl Catal B Environ 73(2):73–83

21.

Dorado F, de Lucas-Consuegra A, Vernoux P, Valverde JL (2007) Appl Catal B Environ 73:42–50

22.

de Lucas-Consuegra A, Dorado F, Valverde JL, Karoum R, Vernoux P (2008) Catal Comm 9:17–20

23.

Pliangos C, Yentekakis LV, Ladas S, Vayenas CG (1996) J Catal 159:189–203

24.

Petrolekas PD, Balomenou S, Vayenas CG (1998) J Electrochem Soc 145:1202–1206

25.

Neophytides S, Tsiplakides D, Stonehart P, Jaksic M, Vayenas CG (1994) Nature (Lond) 370:45–49

26.

Pliangos C, Yentekakis IV, Papadakis VG, Vayenas CG, Verykios XE (1997) Appl Catal B Environ 14:161–173

27.

Pliangos C, Yentekakis IV, Verykios XE, Vayenas CG (1995) J Catal 154:124–136

28.

Baranova EA, Thursfield A, Brosda S, Foti G, Comninellis C, Vayenas CG (2005) Catal Lett 105(1–2):15–21

29.

Baranova EA, Thursfield A, Brosda S, Foti G, Comninellis C, Vayenas CG (2005) J Electrochem Soc 152(2):E40–E49

30.

Brosda S, Badas T, Vayenas CG (2008) Proceedings of the 2nd international conference on the electrochemical promotion of catalysis and its application (EPOCAP), Oleron Island, France, pp 52–57

31.

Dragoo L, Chiang CK, Franklin AD, Benthin J (1982) Solid State Ionics 7:249–255

32.

Bentzen JJ, Andersen NH, Polsen FW, Sorensen OT, Schram R (1988) Solid State Ionics 28/30:550–559

33.

Manning PS, Sirman JD, De Souza RA, Kilner JA (1997) Solid State Ionics 100:1–10

34.

Chen CC, Nasrallah MM, Anderson HU (1994) Solid State Ionics 70/71:101–108

35.

Bauerle JE (1969) J Phys Chem Solids 30:2657–2670

36.

Verkerk MJ, Burggraaf AJ (1983) J Electrochem Soc 130:76–84

37.

Winnubst AJA, Scharenborg AHA, Burggraaf AJ (1984) Solid State Ionics 14:319–327

38.

Sakurai K, Nagamoto H, Inoue H (1989) Solid State Ionics 35:405–410

39.

VanHassel BA, Boukamp BA, Burggraaf AJ (1991) Solid State Ionics 48:155–171 and 48:139–154

40.

Robertson NL, Michaels JN (1991) J Electrochem Soc 138(5):1494–1499

41.

Kuzin BL, Bronin DI (2000) Solid State Ionics 136/137:45–50

42.

Velle OJ, Norby T, Kofstad P (1990) Solid State Ionics 47:161–167

43.

Kek D, Mogensen M, Pejovnik S (2001) J Electrochem Soc 148/8:A878–A886

44.

Kaneko H, Nagai A, Taimatsu H (1989) Solid State Ionics 35:257–262

45.

Baranova EA, Foti G, Jotterand H, Comninellis C (2007) Top Catal 44/3:419–425

46.

Frantzis AD, Bebelis S, Vayenas CG (2000) Solid State Ionics 136/137:863–872

47.

Gerischer H (1951) Z Phys Chem 198:2286–2313

48.

Sluyters-Rehbach M, Sluyters JH (1970) Bard AJ (ed) Electrochemical chemistry, vol 4. Marcel Dekker. New York, p 68

49.

Sluyters-Rehbach M, Sluyters JH (1984) In: Yeager E et al (ed) Comprehensive treatise of electrochemistry, vol 9. Plenum, New York, p 274

50.

Boukamp BA, Bouwmeester JHM (2003) Solid State Ionics 157:29–33

51.

Boukamp BA, Verbraeken M, Blank DHA, Holtappels P (2006) Solid State Ionics 117:2539–2541

52.

Meland AK, Bedeaux D, Kjelstrup S (2005) J Phys Chem B 109:21380–21388

53.

Boukamp BA/UT 85-93, EQUIVALENT CIRCUIT Version 4.51/1993 IBM-CGA screen, AC immitance analysis system written by Bernard A. Boukamp, Faculty of Chemical Technology University of Twente, PO Box. 217, 7500 AE Enschede, The Netherlands, Copyright: B.A. Boukamp/UT 85-93

54.

Bard A, Faulkner LR (2001) Electrochemical methods: fundamentals and application, 2nd edn. Wiley, New York

55.

Bockris JOM, Reddy AKN (1970) Modern electrochemistry. Plenum Press, New York

56.

Freund HJ (2010) Chem Eur J 16:9384–9397

57.

Mutoro E, Koutsodontis C, Luerssen B, Brosda S, Vayenas CG, Janek J (2010) Appl Catal B Environ 100:328–337
About this article
Cite this article
Brosda, S., Badas, T. & Vayenas, C.G. Study of the Mechanism of the Electrochemical Promotion of Rh/YSZ Catalysts for C2H4 Oxidation Via AC Impedance Spectroscopy. Top Catal 54, 708 (2011). https://doi.org/10.1007/s11244-011-9679-9
Keywords
Rh catalyst-electrode

Ethylene oxidation

Electrochemical promotion

Effective double layer capacitance

AC impedance spectroscopy

Gerischer impedance