Abstract
The reduction of NO by ethylene in the presence of excess oxygen was investigated in a recently developed monolithic electropromoted reactor (MEPR). In this novel dismantlable monolithic-type electrochemically promoted catalytic reactor, thin (~40 nm) porous catalyst films are sputter-deposited on thin (0.25 mm) parallel solid electrolyte plates supported in the grooves of a ceramic monolithic holder and serve as electropromoted catalyst elements. Using Pt–Rh(1:1)/YSZ/Au-type catalyst elements, the 8-plate reactor operated with apparent Faradaic efficiency exceeding unity achieving significant and reversible enhancement in the rates of C2H4 and NO consumption in presence of up to 10% O2 in the feed at gas flow rates of 1,000 cc/min. The reactor, which is a hybrid between a monolithic catalytic reactor and a flat-plate solid oxide fuel cell, permits easy practical utilization of the electrochemical promotion of catalysis.
This is a preview of subscription content, log in to check access.
Access options
Buy single article
Instant access to the full article PDF.
US$ 39.95
Price includes VAT for USA
Subscribe to journal
Immediate online access to all issues from 2019. Subscription will auto renew annually.
US$ 199
This is the net price. Taxes to be calculated in checkout.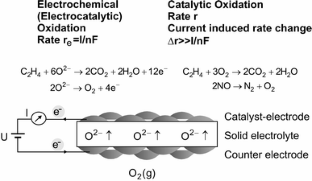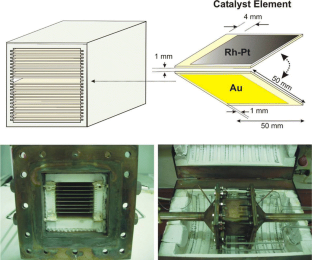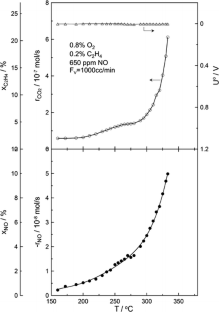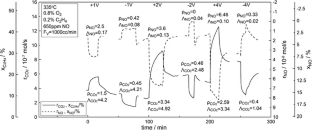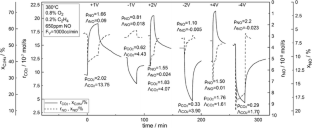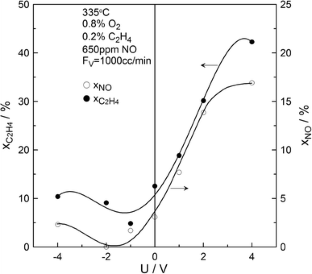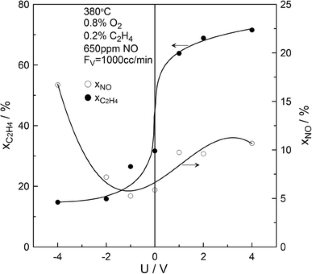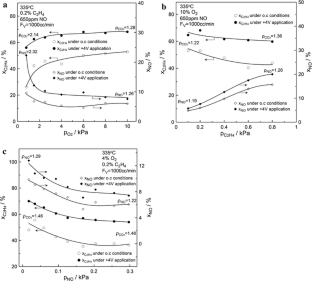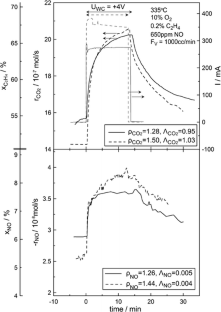 References
1.

Vayenas CG, Farr RD (1980) Science 208:593

2.

Di Cosimo R, Burrington JD, Grasselli RK (1986) J Catal 102:234

3.

Jiang Y, Yentekakis IV, Vayenas CG (1994) Science 264:1563

4.

Lintz H-G, Vayenas CG (1989) Angewandte Chemie Intern Ed Engl 28(6):708

5.

Vayenas CG, Bebelis S, Neophytides S, Yentekakis IV (1989) Appl Phys A 49:95

6.

Vayenas CG, Bebelis S, Ladas S (1990) Nature 343:625

7.

Lambert RM, Williams F, Palermo A, Tikhov MS (2000) Top Catal 13:91

8.

Foti G, Wodiunig S, Comninellis C (2000) Curr Top Electrochem 7:1

9.

Ploense L, Salazar M, Gurau B, Smotkin ES (1997) J Am Chem Soc (JACS) 119:11550

10.

Vernoux P, Gaillard F, Bultel L, Siebert E, Primet M (2002) J Catal 208:412

11.

Metcalfe I (2001) J Catal 199:247

12.

Sanchez C, Leiva E (2003) In: Vielstich W, Gasteiger H, Lamm A (eds) Handbook of fuel cells: fundamentals, technology and applications, vol 2. Wiley, England

13.

Vayenas CG, Bebelis S, Pliangos C, Brosda S, Tsiplakides D (2001) Electrochemical activation of catalysis: promotion electrochemical promotion and metal-support interactions. Kluwer Academic/Plenum Publishers, New York references therein

14.

Haller GL (2003) J Catal 216:12

15.

Vayenas C, Archonta D, Tsiplakides D (2003) J Electroanal Chem 554–555:301

16.

Kotsionopoulos N, Bebelis S (2005) J Appl Electrochem 35:1253

17.

Kokkofitis Ch, Karagiannakis G, Zisekas S, Stoukides M (2005) J Catal 234:476

18.

Balomenou S, Tsiplakides D, Katsaounis A, Thiemann-Handler S, Cramer B, Foti G, Comninellis Ch, Vayenas CG (2004) Appl Catal B 52:181

19.

Balomenou S, Tsiplakides D, Vayenas CG, Poulston S, Houel V, Collier P, Konstandopoulos A, Agrafiotis Ch (2007) Top Catal 44(3):481

20.

Vayenas CG, Debenedetti PG, Yentekakis Y, Hegedus LL (1985) Ind Eng Chem Fundamentals 24:316

21.

Vayenas CG, Brosda S, Pliangos C (2001) J Catal 203:329

22.

Pliangos C, Raptis C, Badas T, Vayenas CG (2000) Solid State Ionics 136/137:767

23.

Marwood M, Kaloyannis A, Vayenas CG (1996) Ionics 2:302

24.

Amiridis MD, Zhang T, Farrauto RJ (1996) Appl Catal B 10:203

25.

Burch R, Millington PJ, Walker AP (1994) Appl Catal B 4:65

26.

Pavulescu VI, Grange P, Delmon B (1998) Catal Today 46:233

27.

Fritz A, Pitchon V (1997) Appl Catal B 13:1

28.

Halkides TI, Kondarides DI, Verykios XE (2002) Catal Today 73:213

29.

Kondarides DI, Chafik T, Verykios XE (2000) J Catal 191:147

30.

Kotsifa A, Halkides TI, Kondarides DI, Verykios XE (2002) Catal Lett 79:113

31.

Macleod N, Isaac J, Lambert RM (2001) Appl Catal B 33:335

32.

Pliangos C, Yentekakis IV, Verykios XE, Vayenas CG (1995) J Catal 154:124

33.

Baranova EA, Thursfield A, Brosda S, Fóti G, Comninellis Ch, Vayenas CG (2005) J Electrochem Soc 152(2):E40

34.

Vayenas CG, Brosda S, Pliangos C (2003) J Catal 216:487

35.

Brosda S, Vayenas CG (2002) J Catal 208:38

36.

Brosda S, Vayenas CG, Wei J (2006) Appl Catal B: Environ 68:109

37.

Nicole J, Tsiplakides D, Pliangos C, Verykios XE, Comninellis Ch, Vayenas CG (2001) J Catal 204:23
Acknowledgement
This work was supported by TOYOTA.
About this article
Cite this article
Koutsodontis, C., Hammad, A., Lepage, M. et al. Electrochemical Promotion of NO Reduction by C2H4 in Excess O2 Using a Monolithic Electropromoted Reactor and Pt–Rh Sputtered Electrodes. Top Catal 50, 192 (2008). https://doi.org/10.1007/s11244-008-9110-3
Keywords
Electrochemical promotion

NEMCA

Monolithic Electropromoted Reactor

MEPR

NO reduction

Rhodium–Platinum catalyst electrodes

Yttria-stabilized Zirconia

Sputtered electrodes