Abstract
An unsymmetrical tetradentate Schiff base (H2L) was synthesized by the reaction of 3-methoxysalicylaldehyde, o-phenylenediamine, and salicylaldehyde in EtOH. H2L was characterized by single-crystallographic X-ray analysis. Its Co(II) and Mn(III) complexes ([CoL] and [MnLCl]) were prepared and immobilized on 3-aminopropyltriethoxysilane functionalized silica gel. The immobilized materials were found to be efficient catalysts for epoxidation of styrene in the presence of tert-BuOOH in acetonitrile at 40 °C. The catalysts can be reused several times without significant loss of performance.
Access options
Buy single article
Instant access to the full article PDF.
USD 39.95
Price excludes VAT (USA)
Tax calculation will be finalised during checkout.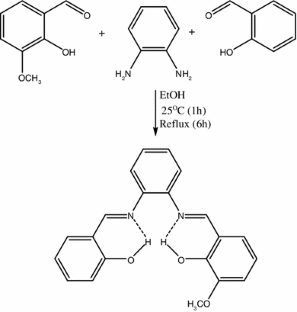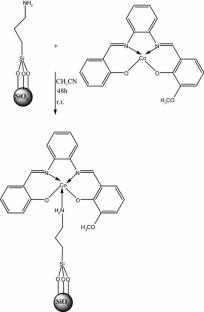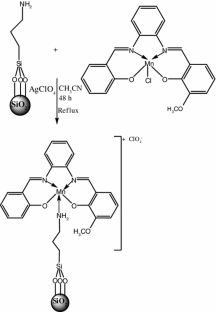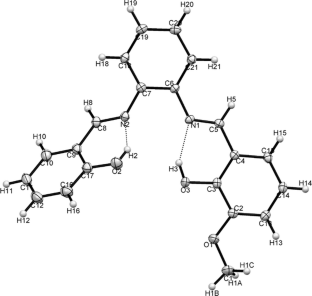 References
Nejo AA, Kolawole GA, Opoku AR, Muller C et al (2009) J Coord Chem 62:3411

Gowri S, Muthukumar M, Krishnaraj S, Viswanathamurthi P et al (2010) J Coord Chem 63:524

Kleij AW (2009) Eur J Inorg Chem 2:193

Kiatkowski E, Romanowski G, Nowicki W, Kiatkowski M et al (2003) Polyhedron 22:1009

Tümer M, Köksal H, Serin S (1999) Trans Met Chem 24:13

You ZL, Zhu HL (2004) Anorg Allg Chem 630:2754

Tümer M, Köksal H, Sener MK, Serin S (1999) Trans Met Chem 24:414

Samsel EG, Srinivasan K, Kochi J (1985) J Am Chem Soc 107:7606

O'Reilly RK, Gibson VC, White VJP, Williams DJ (2003) J Am Chem Soc 125:450

Zhou X, Shearer J, Rokita SE (2000) J Am Chem Soc 122:9046

Zhang W, Loebach JL, Wilson SR, Jacobsen EN (1990) J Am Chem Soc 112:2801

Shahrokhian S, Kamalzadeh Z, Bezaatpour A, Boghaei DM (2008) Sens Actuators B Chem 133:599

Salavati-Niasari M, Zamani E, Bazarganipour M (2007) Appl Clay Sci 38:9

Baleizao C, Gigante B, Das D, Alvaro M et al (2004) J Catal 223:106

Heitbaum M, Glorius F, Escher I (2006) Angew Chem Int Ed 45:4732

Li C, Zhang HD, Jiang DM, Yang QH (2007) Chem Commun 6:547

Davis ME (2002) Nature 417:813

Bruker APEX2 (Version 7.23A) and SAINT (Version 7.23A) (2007) Bruker AXS Inc., Madison, Wisconsin, USA

Sheldrick GM SHELXS-97 (1990) Acta Crystallogr A46:467

Sheldrick GM SHELXL-97 (1997) Universitat Göttingen

Spek AL, Platon (2005) A multipurpose crystallographic tool. Utrecht University, The Netherlands, Utrecht

Marshall MA, Mottola HA (1983) Anal Chem 55:2089

Li HB (2007) Acta Crystallogr E63:o972

Durran SE, Elsegood MRJ, Hammond SR, Smith MB (2007) Inorg Chem 46:2755

Chohan ZH, Pervez H, Khan KM, Rauf A et al (2004) J Enzym Inhib Med Chem 19:51

Deshmukh PS, Yaul AR, Bhojane JN, Aswar AS (2010) World Appl Sci J 9(11):1301

Demetgül C, Karakaplan M, Serin S, Diğrak M (2009) J Coord Chem 62(21):3544

Tumer M (2007) J Coord Chem 60:2051

Tumer M, Koksal H, Serin S (1999) Trans Met Chem 24:13

Demetgul C, Karakaplan M, Serin S (2008) Des Mon Polym 565:11

Das P, Borah M, Sarmah C, Gogoi PK et al (2010) J Coord Chem 63:1107

Das P, Silva AR, Carvalho AP, Pires J et al (2008) Colloid Surface A 329:190
Acknowledgments
The authors thank the Scientific and Technological Research Council (TÜBİTAK) for financial support (Project Number 109T416). Also, the authors are grateful to Anadolu University and the Medicinal Plants and Medicine research Centre of Anadolu University, Eskişehir, Turkey, for the use of X-ray Diffractometer.
Electronic supplementary material
Below is the link to the electronic supplementary material.
About this article
Cite this article
Durak, D., Delikanlı, A., Demetgül, C. et al. Crystal structure of an unsymmetrical Schiff base, immobilization of its cobalt and manganese complexes on a silica support, and catalytic studies. Transition Met Chem 38, 199–206 (2013). https://doi.org/10.1007/s11243-012-9678-0
Received:

Accepted:

Published:

Issue Date:

DOI: https://doi.org/10.1007/s11243-012-9678-0
Keywords
Styrene

Epoxidation

Schiff Base

TBHP

Schiff Base Complex