Abstract
Three novel vic-dioxime ligands containing the 1,8-diamino-3,6-dioxaoctane group, N,N′-(1,8-diamino-3,6-dioxaoctane)-p-tolylglyoxime (L1SL1H4), N,N′-(1,8-diamino-3,6-dioxaoctane)-phenylglyoxime (L2SL2H4), and N,N′-(1,8-diamino-3,6-dioxaoctane)-glyoxime (L3SL3H4) have been prepared from 1,8-diamino-3,6-dioxaoctane with anti-p-tolylchloroglyoxime, anti-phenylchloroglyoxime or anti-monochloroglyoxime. Polynuclear complexes [M(LxSLx)] n or [M(LxSLx)(H2O)] n (x = 1, 2 and 3), where M = CuII, CoII, and NiII, have been obtained with 1:1 metal/ligand ratio. The CuII and NiII poly-metal complexes of these ligands are proposed to be square planar, while also the prepared CoII complexes are proposed to be octahedral with two water molecules as axial ligands. The detection of H-bonding in the [Ni(L1SL1)] n , [Ni(L2SL2)] n and [M(L3SL3)(H2O)] n metal complexes by FT i.r. spectra revealed the square planar or octahedral [MN4·H2O)] n coordination of poly-nuclear metal complexes. [MN4] n coordination of the [Ni(L1SL1)] n and [Ni(L2SL2)] n complexes were also determined by 1H-n.m.r. spectroscopy. The ligands and poly-metal complexes were characterized by elemental analyses, FT-i.r., u.v.-vis., 1H and 13C-n.m.r. spectra, magnetic susceptibility measurements, molar conductivity, cyclic voltammetry, and differential pulse voltammetric (DPV) techniques.
Access options
Buy single article
Instant access to the full article PDF.
USD 39.95
Price excludes VAT (USA)
Tax calculation will be finalised during checkout.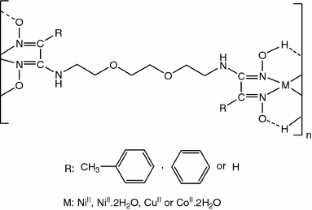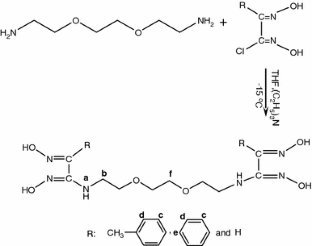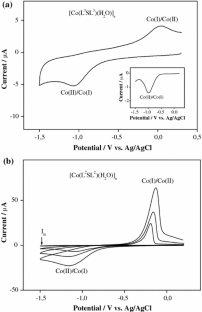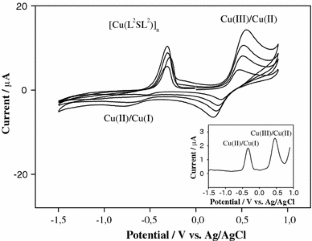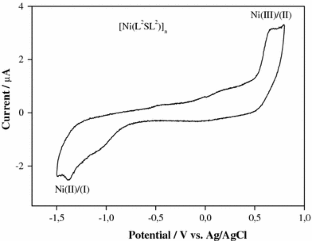 References
Vural US, Sevindir HC (1994) Macromol Rep A 31(Suppl 5):673

Mehrotra RC (1988) In: Wilkinson G, Gillard RD, McCleverty JA (eds) Comprehensive coordination chemistry, vol 2. Pergamon Press, New York, p 269

Chakravorty A (1974) Coord Chem Rev 13:1

Hendricks HM, Birker PJMWL, Vanrijn J, Veschoor GC, Reedijk J (1982) J Am Chem Soc 104:3067

Gagne RR, Allison JL, Gall RS, Koval CA (1997) J Am Chem Soc 99:7170

Dagdigian JV, Reed CA (1979) Inorg Chem 18:2623

Leonardo JP, Novotnik DP, Neirinckx RD (1986) J Nucl Med 27:1819

Dilwort JR, Parrott SJ (1998) Chem Soc Rev 27:43

Hall IH, Bastow KF, Warren AE, Barnes CR, Bouet GM (1999) Appl Organometal Chem 13:819

Lukevics E, Abele R, Fleisher M, Popelis J, Abale E (2003) J Mol Catal A-Chem 198:89

Sellman D, Utz J, Heinemann FW (1999) Inorg Chem 38:459

Laranleira MCM, Marusak RA, Lappin AG (2000) Inorg Chim Acta 186:300

Ohta K, Hisaghi R, Kejima MI, Yamamoto I, Kobayashi N (1998) J Mater Chem 8:1979

Kumar S, Singh R, Singh H (1992) J Chem Soc Perkin Trans 1:3049

Muller JG, Takeuchi KJ (1990) Inorg Chem 29:2185

Bond AM, Khalifa M (1988) Aust J Chem 41:1389

Brown BG (1973) Prog Inorg Chem 18:17

Özkaya AR, Okur AI, Gül A, Bekaroğlu Ö (1994) J Coord Chem 33:311

(a) Loret FL, Ruiz R, Cervera B, Castro I, Julve M, Faust J, Real JA, Sapina F, Journaux Y, Colin JC, Vandager M (1994) J Chem Soc Chem Commun 2615. (b) Luneau D, Oshio H, Okawa H Kida S (1990) J Chem Soc Dalton Trans 2283. (c) Kilic A, Tas E, Gumgum B, Yilmaz I (2007) J Coord Chem 60(11):1233

. Britzingen H, Titzmann R (1952) Ber Dtsch Chem Ges 85:345

Panzio G, Baldracco F (1930) Gazz Chim İtal 60:415

Earnshaw A (1968) Introduction to magnetochemistry. Acedemic Press, London, p 4

Gul A, Bekaroglu O (1983) J Chem Soc Dalton Trans 2537

Kilic A, Tas E, Gumgum B, Yilmaz I (2006) Trans Met Chem 31:645

Sevindir HC, Ersöz M, Mirzaoğlu R (1994) Synth React Inorg Metal-Org Chem 24(3):419

Kandaz M, Katmer O, Koca A (2006) Trans Met Chem 31:889

Gök Y, Kantekin H, Alp H, Ozdemir M (1995) Z Anorg Allg Chem 621:1237

(a) Kumar KN, Ramesh R (2005) Polyhedron 24:1885; (b) Temel H, İlhan S, Aslanoglu M, Kilic A, Tas E (2006) J Chin Chem Soc 53:1027

Ali SA, Soliman AA, Aboaly MM, Ramadan RM (2002) J Coord Chem 55:1161

Kandaz M, Koca A, Özkaya AR (2004) Polyhedron 23:1987

Gök Y, Bilgin A, Ertepinar H, Nisanoglu E (2000) Indian J Chem 39A:1280

Kilic A, Tas E, Gumgum B, Yilmaz I (2006) Chinese J Chem 24:1599

Sacconi L, Ciampolini M, Maffio F, Cavasino FP (1962) J Am Chem Soc 84:3245

Carlin RL (1965) Trans Met Chem, vol 1. Marcel Dekker, New York

Fraser C, Bosnich B (1994) Inorg Chem 33:338

(a) Lever ABP (1984) Inorganic electronic spectroscopy. Elsevier, Amsterdam; (b) Tas E, Kasumov VT, Sahin O, Ozdemir M (2002) Trans Met Chem 27:442

Larrow JF, Jacobsen EN, Gao Y, Hong Y, Nie X, Zepp CM (1994) J Org Chem 59:1939

(a) Maki G (1958) J Phys Chem 28:651; (b) Gary H, Ballhausen CJ (1963) J Am Chem Soc 85:260

(a) Ahsen V, Kürek A, Gül A, Bekaroğlu Ö (1990) J Chem Soc Dalton Trans 5; (b) Ahsen V, Bekaroğlu Ö (1985) Synth React Inorg Met-Org Chem 15:61; (c) Sing AN, Chakravorty A (1980) Inorg Chem 19:969

Cotton FA, Wilkinson G (1988) Advanced inorganic chemistry, 5th edn. Wiley-İnterscience Publication, p 725

Tas E, Cukurovali A, Kaya M (1998) J Coord Chem 44:109

Dutta RL (1981) Inorganic chemistry, part II, 2nd edn. The New Book Stall, Calcutta, p 386

Kilic A, Tas E, Gumgum B, Yilmaz I (2006) Polish J Chem 80:1967

Tas E, Ulusoy M, Guler M, Yilmaz I (2004) Trans Met Chem 29:180

Kandaz M, Yilmaz I, Keskin S, Koca A (2002) Polyhedron 21:825

Kandaz M, Coruhlu SZ, Yilmaz I, Ozkaya AR (2002) Trans Met Chem 27:877

Yilmaz I, Kandaz M, Özkaya AR, Koca A (2002) Monatsh Chem 133:609
Acknowledgments
This work have been supported, in part, by the Research Fund of Harran University (Sanliurfa, Turkey). This work has also been supported, in part, by the Turkish Academy of Sciences in the framework of the Young Scientist Award Program (TÜBA-GEBİP).
About this article
Cite this article
Kilic, A., Durgun, M., Tas, E. et al. Novel vic-dioxime ligands and their poly-metal complexes bearing 1,8-diamino-3,6-dioxaoctane: synthesis, characterization, spectroscopy and electrochemistry. Transition Met Chem 33, 29–37 (2008). https://doi.org/10.1007/s11243-007-9010-6
Received:

Accepted:

Published:

Issue Date:

DOI: https://doi.org/10.1007/s11243-007-9010-6
Keywords
Copper Complex

Molar Conductivity

Cyclic Voltammetric

Cathodic Peak Potential

Differential Pulse Voltammetric