Abstract
This paper discusses the hydrodynamic and thermal behaviours of a fully developed mixed convective flow of a viscous incompressible heat generating/absorbing fluid in a vertical tube filled with isotropic porous material having time-periodic boundary condition. The dimensionless governing equations of motion and energy subjected to the Boussinesq approximation and asymmetric heat conditions are solved analytically. Closed-form solutions are expressed in terms of modified Bessel function of first kind. The solutions obtained are graphically represented, and the effects of the dimensionless heat generation/absorption H, the dimensionless frequency \(\Omega \) and the Darcy number Da on the fluid flow are investigated. It is discovered that velocity is maximum at two different locations in the flow domain, one near the surface of the tube and another at the axis of the tube. The presence of the heat generation parameter is seen to enhance the temperature distribution and this is reflected as increase in the magnitude of the oscillation dimensionless velocity, whereas in the presence of heat absorption a reversed trend occurs.
Access options
Buy single article
Instant access to the full article PDF.
US$ 39.95
Tax calculation will be finalised during checkout.
Subscribe to journal
Immediate online access to all issues from 2019. Subscription will auto renew annually.
US$ 119
Tax calculation will be finalised during checkout.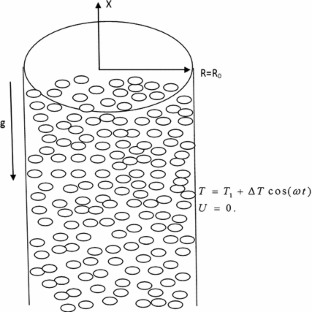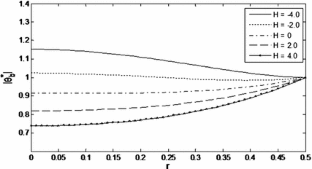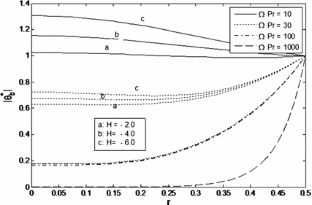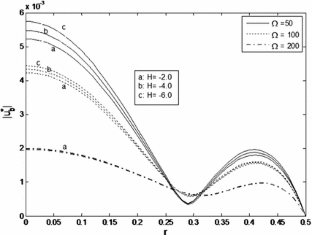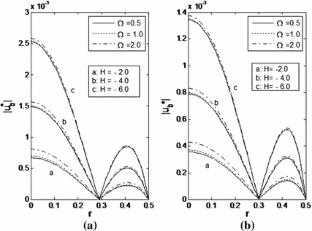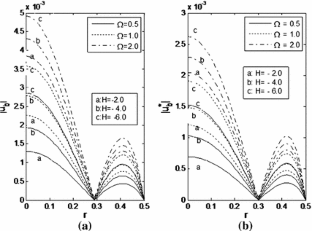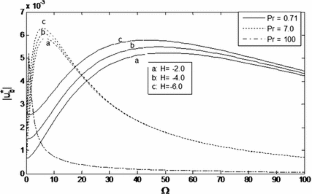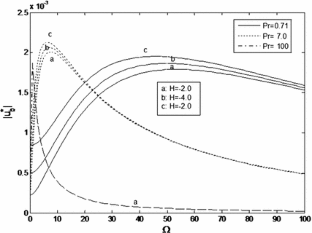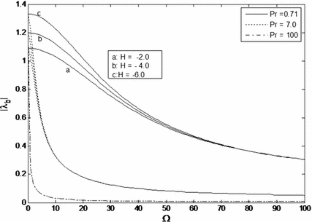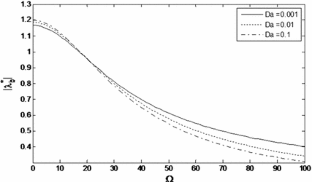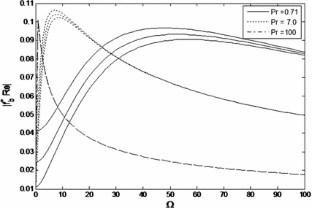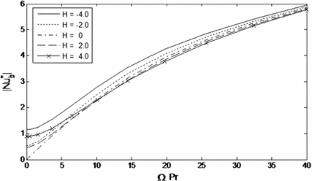 Abbreviations
A(t) :

Function of time

Da :

Darcy number

f :

Fanning friction factor

\(f_{a}\)

:

Steady dimensionless fanning friction factor

\(f_{b}\)

:

Oscillatory fanning friction factor

\(\mathbf g \)

:

Gravitational acceleration

Gr :

Grashof number

H :

Dimensionless heat generation parameter

i :

Imaginary unit

\(I_0\)

:

Modified Bessel function of first kind and order zero

\(I_1\)

:

Modified Bessel function of first kind and order one

k :

Thermal conductivity

K :

Permeability of the porous medium

p :

Pressure

P :

Difference between the pressure and the hydrostatic pressure

Pr :

Prandtl number

q :

Heat flux per unit area

\( Q_0\)

:

Dimensional heat generation coefficient

r :

Dimensionless radial coordinate

R :

Radial coordinate

\(R_{0}\)

:

Radius of the tube

Re :

Reynolds number

\(\mathfrak {R}e\)

:

Real part of a complex number

t :

Time

T :

Temperature

\(T_0\)

:

Mean temperature in a duct section

\(T_1\)

:

Mean wall temperature

u :

Dimensionless velocity

\(u^*,u^*_a,u^*_b\)

:

Dimensionless complex-valued function in Eq. (27)

\(\mathbf U \)

:

Fluid velocity

\(U_{0}\)

:

Reference velocity

X :

Longitudinal coordinate

\(\alpha \)

:

Thermal diffusivity

\(\beta \)

:

Volumetric coefficient of thermal expansion

\(\Delta T\)

:

Amplitude of the wall temperature oscillations

\(\gamma \)

:

=\(\dfrac{\nu _{{\hbox {eff}}}}{\nu }\)

\(\lambda \)

:

Dimensionless parameter

\(\lambda ,\lambda _a^*,\lambda _b^*\)

:

Dimensionless complex-valued function in Eq. (27)

\(\eta \)

:

Dimensionless parameter

\(\theta ,\theta _a^*,\theta _b^*\)

:

Dimensionless complex-valued function in Eq. (27)

\(\mu \)

:

Dynamic viscosity

\(\nu \)

:

Kinematic viscosity

\(\nu _{\hbox {eff}}\)

:

Effective kinematic viscosity

\(\Phi \)

:

Dimensionless heat flux

\(\Phi _a^*,\Phi _b^*\)

:

Dimensionless complex value function in Eq. (48)

\(\xi \)

:

Dimensionless parameter

\(\varrho \)

:

Density

\(\varrho _0\)

:

Density at \(T=T_0\)

\(\tau _w\)

:

Average wall shear stress

\(\omega \)

:

Frequency of the wall temperature oscillation

\(\Omega \)

:

Dimensionless frequency
References
Antohe, B.V., Lage, J.L.: Amplitude effect on convection induced by time periodic boundary condition. Int. J. Heat Mass Transf. 39, 1121–1133 (1996)

Anwar Beg, O., Makinde, O.D.: Viscoelastic flow and species transfer in a Darcian high-permeability channel. J. Pet. Sci. Eng. 76, 93–99 (2011)

Arpaci, V.S., Larsen, P.S.: Convection Heat Transfer. Prentice Hall Inc., Upper Saddle River (1984)

Aung, W., Worku, G.: Theory of fully developed combined convection including flow reversal. ASME J. Heat Transf. 108, 485–488 (1986)

Baker, I., Faw, R.E., Kulacki, F.A.: Post-accident heat removal part I: heat transfer within an internally heated non-boiling liquid layer. Nucl. Sci. Eng. 61, 222–230 (1976)

Barletta, A., Zanchini, E.: On the choice of the reference temperature for fully developed mixed convection in a vertical channel. Int. J. Heat Mass Transf. 42, 3169–3181 (1999)

Barletta, A., Zanchini, E.: Time-periodic laminar mixed convection in an inclined channel. Int. J. Heat Mass Transf. 46, 551–563 (2003)

Barletta, A., Rossi di Schio, E.: Mixed convection flow in a vertical circular duct with time-periodic boundary conditions: steady-periodic regime. Int. J. Heat Mass Transf. 47, 3187–3195 (2004)

Chambre, P.L.: Laminar boundary layer with distributed heat sources or sinks. Appl. Sci. Res. Sec. A 4, 39 (1957)

Chamkha, A.J.: Hydromagnetic three- dimensional free convection on a vertical stretching surface with heat generation or absorption. Int. J. Heat Fluid Flow 20, 84–92 (1999)

Cheng, C.H., Kou, S.H., Huang, W.H.: Flow reversal and heat transfer of fully developed mixed convection in vertical channels. J. Thermophys. Heat Transf. 4, 375–383 (1990)

Chinyoka, T., Makinde, O.D.: Analysis of non-Newtonian flow with reacting species in a channel filled with a saturated porous medium. J. Pet. Sci. Eng. 121, 1–8 (2014)

Chung, P.M., Anderson, A.D.: Unsteady laminar free convection. Trans. ASME J. Heat Mass Transf. 83, 473–478 (1961)

Delichatsios, M.A.: The SFPA handbook of fire protection engineering. In: Dinenno, P.J., et al. (eds.) Air Entrainment into Buoyant Jet Flames and Pool Fires, pp. 306–314. NFPA Publications, Quincy (1988)

Foraboschi, F.P., Federico, I.D.: Heat transfer in laminar flow of non-Newtonian heat generating fluids. Int. J. Heat Mass Transf. 7, 315 (1964)

Haddad, O.M., Al-Nimr, M.A., Abuzaid, M.A.: Effect of periodically oscillating driving force on basic micro flows in porous media. J. Porous Media 9(7), 695–707 (2006)

Haji-Sheikh, A., Vafai, K.: Analysis of flow and heat transfer in porous media embedded inside various shaped ducts. Int. J. Heat Mass Transf. 47, 1889–1905 (2004)

Ingham, D.B., Pop, I.: Transport Phenomena in Porous Media. Oxford Pergamon, Oxford (1998)

Inman, R.M.: Experimental study of temperature distribution in laminar tube flow of a fluid with internal heat generation. Int. J. Heat Mass Transf. 5, 1053 (1962)

Jha, B.K.: Transient free-convective flow in a vertical channel with heat sinks. Int. J. Appl. Mech. Eng. 6(2), 279–286 (2001)

Jha, B.K.: Free-convection flow through an annular porous medium. Heat Mass Transf. 41, 675–679 (2005)

Jha, B.K., Ajibade, A.O.: Free convective ow of heat generating/absorbing fluid between vertical porous plates with periodic heat input. Int. Commun. Heat Mass Transf. 36, 624–631 (2009)

Jha, B.K., Samaila, K.A., Ajibade, A.O.: Natural convection flow of heat generating/absorbing fluid near a vertical plate with ramped temperature. J. Encapsul. Adsorpt. Sci. (2012) doi:10.4236/jeas.2012.24009

Jha, B.K., Ajibade, A.O., Daramola, D.A.: Mixed convection flow in a vertical tube filled with porous material with time-periodic boundary condition: steady-periodic regime. Afr. Mat. 26, 529–543 (2014)

Jha, B.K., Daramola, D.A., Ajibade, A.O.: Mixed convection in an inclined channel filled with porous material having time-periodic boundary condition; steady-periodic regime. Transp. Porous Media 109(2), 495–512 (2015a)

Jha, B.K., Daramola, D.A., Ajibade, A.O.: Mixed convection in a vertical annulus filled with porous material having time-periodic boundary condition; steady-periodic regime. Meccanica (2015b). doi:10.1007/s11012-015-0328-4

Kazmierczak, M., Chinoda, Z.: Buoyancy-driven ow in an enclosure with time periodic boundary conditions. Int. J. Heat Mass Transf. 35, 1507–1518 (1992)

Kwak, H.S., Kvwahara, J.M., Hyun, J.M.: Resonant enhancement of natural convection heat transfer in a square enclosure. Int. J. Heat Mass Transf. 41, 2837–2846 (1998)

Lage, J.L., Bejan, A.: The resonance of natural convection in an enclosure heated periodically from the side. Int. J. Heat Mass Transf. 36, 2027–2038 (1993)

Lavine, A.S.: Analysis of fully developed opposing mixed convection between inclined parallel plates. Warme-und Stoffubertragung 23, 249–257 (1988)

Low, G.M.: Stability of compressible laminar boundary layer with internal heat sources or sinks. J. Aeronaut. Sci. 22, 329 (1955)

Makinde, O.D.: Thermal stability of a reactive viscous flow through a porous-saturated channel with convective boundary conditions. Appl. Therm. Eng. 29, 1773–1777 (2009a)

Makinde, O.D.: On the Chebyshev collocation spectral approach to stability of fluid flow in a porous medium. Int. J. Numer. Meth. Fluids 59, 791–799 (2009b)

Makinde, O.D., Chinyoka, T., Rundora, L.: Unsteady flow of a reactive variable viscosity non-Newtonian fluid through a porous saturated medium with asymmetric convective boundary conditions. Comput. Math. Appl. 62, 3343–3352 (2011)

Modejski, J.: Temperature distribution in channel flow with friction. Int. J. Heat Mass Transf. 6, 49 (1963)

Nanda, R.J., Sharma, V.P.: Free convection laminar boundary layer in oscillatory flow. J. Fluid Mech. 15, 419–428 (1963)

Nield, D.A., Bejan, A.: Convection in Porous Media, 4th edn. Springer, New-York (2013)

Nield, D.A., Kuznetsov, A.V., Xiong, M.: Thermally developing forced convection in a porous medium: parallel plate channel or circular tube with constant wall temperature. J. Porous Media. 7, 19–27 (2004)

Ostrach, S.: Laminar Natural Convection ow and Heat Transfer of Fluids With and Without Heat Sources in Channels with Constant with Constant Wall Temperature. NASA Tech. Note 2863 (1952)

Ostrach, S.: Combined Natural and Force Convection ow and Heat Transfer of Fluids With and Without Heat Sources in Channels with Linearly Varying Wall Temperatures. NACA, TN 3141 (1954)

Ozisik, M.N.: Heat Conduction, 2nd edn. Wiley, New York (1993)

Rossi di Schio, E., Celli, M., Pop, I.: Buoyant flow in a vertical fluid saturated porous annulus: Brinkman model. Int. J. Heat Mass Transf. 54, 1665–1670 (2011)

Rundora, L., Makinde, O.D.: Effects of suction/injection on unsteady reactive variable viscosity non-Newtonian fluid flow in a channel filled with porous medium and convective boundary conditions. J. Pet. Sci. Eng. 108, 328–335 (2013)

Sparrow, E., Cess, R.: Temperature dependent heat sources or sink in a stagnation point flow. Appli. Sci. Res. A 1, 185–197 (1961)

Sparrow, E.M., Gregg, J.L.: Newly quasi-steady free-convection heat transfer in gases. J. Heat Mass Transf. 82, 258–260 (1960)

Sundaravadivelu, K., Tso, C.P.: Influence of viscosity variations on the forced convection through two types of heterogeneous porous media with isoflux boundary conditions. Int. J. Heat Mass Transf. 46, 2329–2339 (2003)

Toor, H.: Heat transfer in forced convection with internal heat generation. J. Am. Inst. Chem. Eng. 4, 319 (1958)

Umavathi, J.C., Sultana, J.: Mixed convection flow in a vertical channel filled with porous medium with boundary conditions of the third kind with heat source/sink-Brinkman model. Int. J. Math. Arch. 4(1), 294–314 (2013)
About this article
Cite this article
Jha, B.K., Daramola, D. & Ajibade, A.O. Role of Heat Generation/Absorption on Mixed Convection Flow in a Vertical Tube Filled with Porous Material Having Time-Periodic Boundary Condition: Steady-Periodic Regime. Transp Porous Med 111, 681–699 (2016). https://doi.org/10.1007/s11242-015-0620-8
Received:

Accepted:

Published:

Issue Date:
Keywords
Tube

Mixed convection

Darcy

Heat generation/absorption

Porous material

Steady-periodic