Abstract
Cadmium (Cd) is a toxic heavy metal that negatively affects plant growth and physiology. Plants display multiple changes in physiological and biochemical events to cope with Cd toxicity. Iron (Fe) and zinc (Zn) resulted effective for enhancing plant growth under Cd stress. This paper is the first to study the interaction of Fe and Zn and their behavior with Cd in banana. Fe and Zinc at two concentrations (200 and 500 μM) were used in modulating Cd toxicity (500 μM) of micropropagated banana shoots. The results showed that Cd significantly decreased water content, photosynthetic pigments, flavonoids and total protein content. Conversely, ascorbic acid, proline, malondialdehyde and non-protein thiol protein concentrations were increased. Application of Fe and Zn at different concentrations mitigated Cd toxicity by maintaining chlorophyll and carotenoids, non-enzymatic antioxidants, total protein and non-protein thiol, suggesting a role of Fe and Zn in mediating banana shoots defense responses under Cd toxicity in vitro.
Key Message
This paper is the first to illustrate the interaction of iron and zinc with cadmium in banana, and it provides experimental evidence for the remarkable role of iron and zinc in the regulation of Cd stress in banan (Musa spp.) under in vitro condition.
Access options
Buy single article
Instant access to the full article PDF.
USD 39.95
Price excludes VAT (USA)
Tax calculation will be finalised during checkout.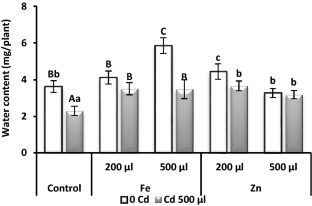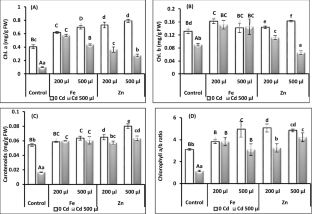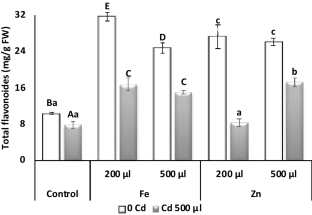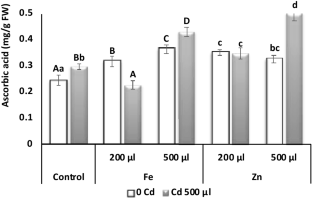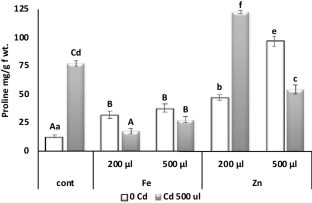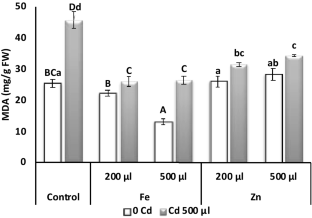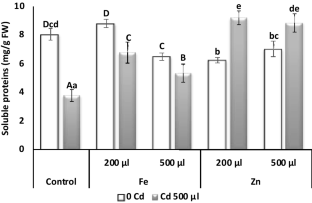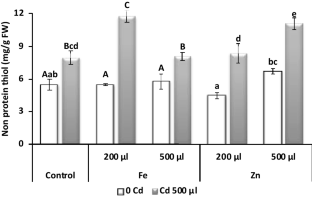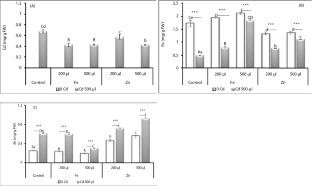 References
Adhikari T, Tel-Or E, Libal Y, Shenker M (2006) Effect of cadmium and iron on rice (Oryza sativa L.) plant in chelator-buffered nutrient solution. J Plant Nutr 29(11):1919–1940

Ahmad P, Ahanger MA, Alyemeni MN, Wijaya L, Egamberdieva D, Bhardwaj R, Ashraf M (2017) Zinc application mitigates the adverse effects of NaCl stress on mustard [Brassica juncea (L.) Czern & Coss] through modulating compatible organic solutes, antioxidant enzymes, and flavonoid content. J Plant Interact 12(1):429–437

Alam N, Anis M, Javed SB et al (2020) Stimulatory effect of copper and zinc sulphate on plant regeneration, glutathione-S-transferase analysis and assessment of antioxidant activities in Mucuna pruriens L. (DC). Plant Cell Tissue Organ Cult 141:155–166. https://doi.org/10.1007/s11240-020-01776-8

Allen SE (1989) Chemical analysis of ecological materials, 2nd edn. Blackwell, Oxford

Álvarez-Ayuso E, Otones V, Murciego A, Santa G-Sánchez A, Regina I (2013) Zinc, cadmium and thallium distribution in soils and plants of an area impacted by sphalerite-bearing mine wastes. Geoderma 207:25–34

Anjum SA, Tanveer M, Hussain S, Bao M, Wang L, Khan I, Shahzad B (2015) Cadmium toxicity in Maize (Zea mays L.): consequences on antioxidative systems, reactive oxygen species and cadmium accumulation. Environ Sci Pollut Res 22(21):17022–17030

Aravind P, Prasad MNV (2003) Zinc alleviates cadmium-induced oxidative stress in Ceratophyllum demersum L.: a free floating freshwater macrophyte. Plant Physiol Biochem 41:391–397

Aravind P, Prasad MNV (2005) Modulation of cadmium-induced oxidative stress in Ceratophyllum demersum by zinc involves ascorbate–glutathione cycle and glutathione metabolism. Plant Physiol Biochem 43(2):107–116

Aravind P, Prasad MNV, Malec P, Waloszek A, Strzałka K (2009) Zinc protects Ceratophyllum demersum L. (free-floating hydrophyte) against reactive oxygen species induced by cadmium. J Trace Elem Med Biol 23(1):50–60

Balashouri P (1995) Effect of zinc on germination, growth and pigment content and phytomass of Vigna radiata and sorghum. J Ecobiol 7:109–114

Balen B, Tkalec M, Šikić S, Tolić S, Cvjetko P, Pavlica M, Vidaković-Cifrek Ž (2011) Biochemical responses of Lemna minor experimentally exposed to cadmium and zinc. Ecotoxicology 20(4):815–826

Bari MA, Akther MS, Reza MA, Kabir AH (2019) Cadmium tolerance is associated with the root-driven coordination of cadmium sequestration, iron regulation, and ROS scavenging in rice. Plant Physiol Biochem 136:22–33

Bates LS, Waldren RP, Teare ID (1973) Rapid determination of free proline for water-stress studies. Plant Soil 39(1):205–207

Benáková M, Ahmadi H, Dučaiová Z, Tylová E, Clemens S, Tůma J (2017) Effects of Cd and Zn on physiological and anatomical properties of hydroponically grown Brassica napus plants. Environ Sci Pollut Res 24(25):20705–20716

Biyani K, Tripathi DK, Lee JH, Muneer S (2019) Dynamic role of iron supply in amelioration of cadmium stress by modulating antioxidative pathways and peroxidase enzymes in mungbean. AoB Plants. https://doi.org/10.1093/aobpla/plz005

Bonet A, Lelu-Walter MA, Faugeron C, Gloaguen V, Saladin G (2016) Physiological responses of the hybrid larch (Larix X eurolepis Henry) to cadmium exposure and distribution of cadmium in plantlets. Environ Sci Pollut Res 23(9):8617–8626

Cakmak I (2000) Tansley review no. 111 Possible roles of zinc in protecting plant cells from damage by reactive oxygen species. New Phytol 146(2):185–205

Chaney RL (2010) Cadmium and zinc. In: Hooda PS (ed) Trace elements in soils. John Wiley & Sons Ltd, Chichester, pp 409–440

Chang CC, Yang MH, Wen HM, Chern JC (2002) Estimation of total flavonoid content in propolis by two complementary colorimetric methods. J Food Drug Anal 10(3):178–182

Cherif J, Mediouni C, Ammar WB, Jemal F (2011) Interactions of zinc and cadmium toxicity in their effects on growth and in antioxidative systems in tomato plants (Solarium lycopersicum). J Environ Sci 23(5):837–844

Chibuike GU, Obiora SC (2014) Heavy metal polluted soils: effect on plants and bioremediation methods. Appl Environ Soil Sci 2014(1):1–12

Dad FP, W-u-D K, Tanveer M, Ramzani PMA, Shaukat R, Muktadir A (2020) Influence of iron-enriched biochar on Cd sorption, its ionic concentration and redox regulation of radish under cadmium toxicity. Agriculture 11:1. https://doi.org/10.3390/agricul-ture11010001

Das P, Samantaray S, Rout GR (1997) Studies on cadmium toxicity in plants: a review. Environ Pollut 98(1):29–36

Del Longo OT, González CA, Pastori GM, Trippi VS (1993) Antioxidant defences under hyperoxygenic and hyperosmotic conditions in leaves of two lines of maize with differential sensitivity to drought. Plant Cell Physiol 34:1023–1028

Eberhard S, Finazzi G, Wollman FA (2008) The dynamics of photosynthesis. Annu Rev Genet 42:463–515

Eissa MA (2016) Effect of sugarcane vinasse and EDTA on cadmium phytoextraction by two saltbush plants. Environ Sci Pollut Res 23(10):10247–10254

El-Mahdy MT, Elazab DS (2020) Impact of zinc oxide nanoparticles on pomegranate growth under in vitro conditions. Russ J Plant Physiol 67(1):162–167

El-Mahdy MT, Youssef M, Eissa MA (2018) Impact of in vitro cold stress on two banana genotypes based on physio-biochemical evaluation. S Afr J Bot 119:219–225

Elazab DS, Ahmed MAI, El-Mahdy MT, Ahmed A (2020) Citrus leafminer management: jasmonic acid versus efficient pesticides. J Plant Growth Regul. https://doi.org/10.1007/s00344-020-10147-8

Fahad S, Hussain S, Saud S, Hassan S, Shan D, Chen Y, Shah F (2015) Grain cadmium and zinc concentrations in maize influenced by genotypic variations and zinc fertilization. CLEAN–Soil, Air, Water 43(10):1433–1440

Farid M, Shakoor MB, Ehsan S, Ali S, Zubair M, Hanif MA (2013) Morphological, physiological and biochemical responses of different plant species to Cd stress. Int J Chem Biochem Sci 3:53–60

Fernández R, Fernández-Fuego D, Bertrand A, González A (2014) Strategies for Cd accumulation in Dittrichia viscosa (L.) Greuter: role of the cell wall, non-protein thiols and organic acids. Plant Physiol Biochem 78:63–70

Food and Agriculture Orgnization of the United Nations (2019) Banana market review, preliminary results

Gao L, Chang J, Chen R, Li H, Lu H, Tao L, Xiong J (2016) Comparison on cellular mechanisms of iron and cadmium accumulation in rice: prospects for cultivating Fe-rich but Cd-free rice. Rice 9(1):39

Hussain D, Haydon MJ, Wang Y, Wong E, Sherson SM, Young J, Cobbett CS (2004) P-type ATPase heavy metal transporters with roles in essential zinc homeostasis in Arabidopsis. Plant Cell 16(5):1327–1339

Jagota S, Dani H (1982) A new colorimetric technique for the estimation of vitamin C using Folin phenol reagent. Anal Biochem 127:178–182

Kaur H, Garg N (2017) Recent perspectives on cross talk between cadmium, zinc, and arbuscular mycorrhizal fungi in plants. J Plant Growth Regul 37:680–693

Kovács K, Kuzmann E, Vértes A, Lévai L, Cseh E, Fodor F (2010) Effect of cadmium on iron uptake in cucumber roots: a Mössbauer-spectroscopic study. Plant Soil 327(1–2):49–56

Lichtenthaler HK (1987) Chlorophylls and carotenoids: pigments of photosynthetic biomembra-nes. Methods Enzymol 148:350–382

Lin YF, Liang HM, Yang SY, Boch A, Clemens S, Chen CC, Yeh KC (2009) Arabidopsis IRT3 is a zinc-regulated and plasma membrane localized zinc/iron transporter. New Phytol 182(2):392–404

Lin D, Ouyang Y, Huang CH, Huang DY (2010) Characterization of heavy metals from banana farming soils. Clean: Soil, Air, Water 38:430–436. https://doi.org/10.1002/clen.201000020

Lowry OH, Rosebrough NJ, Farr AL, Randall RJ (1951) Protein measurement with the Folin phenol reagent. J Biol Chem 193(1):265–275

Matusova R, Cárach M, Labun P, Salaj T (2020) Physiological and structural responses of hybrid firs embryogenic tissue under cadmium stress. S Afr J Bot 131:240–249

McGrath SP, Zhao FJ (2003) Phytoextraction of metals and metalloids from contaminated soils. Curr Opin Biotechnol 14(3):277–282

Muradoglu F, Gundogdu M, Ercisli S, Encu T, Balta F, Jaafar HZ, Zia-Ul-Haq M (2015) Cadmium toxicity affects chlorophyll a and b content, antioxidant enzyme activities and mineral nutrient accumulation in strawberry. Biol Res 48:1–7

Murashige T, Skoog F (1962) A revised medium for rapid growth and bio-assays with tobacco tissue cultures. Physiol Plant 15(3):473–497

Murtaza G, Javed W, Hussain A, Qadir M, Aslam M (2017) Soil-applied zinc and copper suppress cadmium uptake and improve the performance of cereals and legumes. Int J Phytorem 19(2):199–206

Mwamba TM, Ali S, Ali B, Lwalaba JL, Liu H, Farooq MA, Zhou W (2016) Interactive effects of cadmium and copper on metal accumulation, oxidative stress, and mineral composition in Brassica napus. Int J Environ Sci Technol 13(9):2163–2174

Nada E, Ferjani BA, Ali R, Bechir BR, Imed M, Makki B (2007) Cadmium-induced growth inhibition and alteration of biochemical parameters in almond seedlings grown in solution culture. Acta Physiol Plant 29(1):57–62

Nedunchezhian N, Morales F, Abadia A, Abadia J (1997) Decline in photosynthetic electron transport activity and changes in thylakoid protein pattern in field grown iron deficient peach (Prunus persica L.). Plant Sci 129(1):29–38

Padmanabhan P, Shukla MR, Sullivan JA et al (2017) Iron supplementation promotes in vitro shoot induction and multiplication of Baptisia australis. Plant Cell Tissue Organ Cult 129:145–152. https://doi.org/10.1007/s11240-016-1165-4

Plaza S, Tearall KL, Zhao FJ, Buchner P, McGrath SP, Hawkesford MJ (2007) Expression and functional analysis of metal transporter genes in two contrasting ecotypes of the hyperaccumulator Thlaspi caerulescens. J Exp Bot 58(7):1717–1728

Qaswar M, Hussain S, Rengel Z (2017) Zinc fertilisation increases grain zinc and reduces grain lead and cadmium concentrations more in zinc-biofortified than standard wheat cultivar. Sci Total Environ 605:454–460

Qian H, Li J, Sun L, Chen W, Sheng GD, Liu W, Fu Z (2009) Combined effect of copper and cadmium on Chlorella vulgaris growth and photosynthesis-related gene transcription. Aquat Toxicol 94(1):56–61

Qiao X, Wang P, Shi G, Yang H (2015) Zinc conferred cadmium tolerance in Lemna minor L. via modulating polyamines and proline metabolism. Plant Growth Regul 77(1):1–9

Rao KM, Sresty TVS (2000) Antioxidative parameters in the seedlings of pigeonpea (Cajanus cajan (L.) Millspaugh) in response to Zn and Ni stresses. Plant Sci 157(1):113–128

Ren R, Li Z, Zhang L et al (2020) Enzymatic and nonenzymatic antioxidant systems impact the viability of cryopreserved Paeonia suffruticosa pollen. Plant Cell Tissue Organ Cult. https://doi.org/10.1007/s11240-020-01794-6

Rucińska-Sobkowiak R (2016) Water relations in plants subjected to heavy metal stresses. Acta Physiol Plant 38(11):257

Sánchez-Thomas R, Moreno-Sánchez R, García-García JD (2016) Accumulation of zinc protects against cadmium stress in photosynthetic Euglena gracilis. Environ Exp Bot 131:19–31

Sarwar N, Malhi SS, Zia MH, Naeem A, Bibi S, Farid G (2010) Role of mineral nutrition in minimizing cadmium accumulation by plants. J Sci Food Agric 90(6):925–937

Sarwar N, Bibi S, Ahmad M, Ok YS (2014) Effectiveness of zinc application to minimize cadmium toxicity and accumulation in wheat (Triticum aestivum L.). Environ Earth Sci 71(4):1663–1672

Sebastian A, Prasad MNV (2015) Operative photo assimilation associated proteome modulations are critical for iron-dependent cadmium tolerance in Oryza sativa L. Protoplasma 252(5):1375–1386

Shao G, Chen M, Wang W, Mou R, Zhang G (2007) Iron nutrition affects cadmium accumulation and toxicity in rice plants. Plant Growth Regul 53(1):33–42

Sharma SS, Dietz KJ (2006) The significance of amino acids and amino acid-derived molecules in plant responses and adaptation to heavy metal stress. J Exp Bot 57(4):711–726

Sharmila P, Kumari PK, Singh K, Prasad NVSRK, Pardha-Saradhi P (2017) Cadmium toxicity-induced proline accumulation is coupled to iron depletion. Protoplasma 254(2):763–770

Sheoran IS, Singh R (1993) Effect of heavy metals on photosynthesis in higher plants. In: Abrol YP, Mohanty P, Govindjee (eds) Photosynthesis: photoreactions to plant productivity. Springer, Dordrecht, pp 451–468. https://doi.org/10.1007/978-94-011-2708-0_18

Singh M, Kumar J, Singh M, Singh VP, Prasad SM, Singh M (2015) Adaptation strategies of plants against heavy metal toxicity: a short review. Biochem Pharmacol 4(2):161

Souri MK, Naiji M, Aslani M (2018) Effect of Fe-glycine aminochelate on pod quality and iron concentrations of bean (Phaseolus vulgaris L.) under lime soil conditions. Commun Soil Sci Plant Anal 49(2):215–224

SPSS (2013) IBM SPSS statistics for windows, version 22 0. IBM Corp, Armonk

Strosse H, Domergue R, Panis B, EscalantS J, Côte F (2003) Banana and plantain embryogenic cell suspensions. IPGRI, Montpellier, p 31

Su Y, Liu J, Lu Z, Wang X, Zhang Z, Shi G (2014) Effects of iron deficiency on subcellular distribution and chemical forms of cadmium in peanut roots in relation to its translocation. Environ Exp Bot 97:40–48

Touiserkani T, Haddad R (2012) Cadmium-induced stress and antioxidative responses in different Brassica napus cultivars. J Agric Sci Technol 14(4):929–937

Ullah S, Jafar K, Khizar H, Ahmed AE, Uzma S, Bofan Y, Yuehua M, Hongzheng W, Zhong-Hua T (2020) Comparative study of growth, cadmium accumulation and tolerance of three chickpea (Cicer arietinum L.) cultivars. Plants 9(3):310

Van Hoewyk D, Abdel-Ghany SE, Cohu CM, Herbert SK, Kugrens P, Pilon M, Pilon-Smits EA (2007) Chloroplast iron-sulfur cluster protein maturation requires the essential cysteine desulfurase CpNifS. Proc Natl Acad Sci 104(13):5686–5691

Vatansever R, Ozyigit II, Filiz E (2017) Essential and beneficial trace elements in plants, and their transport in roots: a review. Appl Biochem Biotechnol 181(1):464–482

Wu F, Zhang G (2002) Alleviation of cadmium-toxicity by application of zinc and ascorbic acid in barley. J Plant Nutr 25(12):2745–2761

Yoshihara S, Yamamoto K, Nakajima Y et al (2019) Absorption of zinc ions dissolved from zinc oxide nanoparticles in the tobacco callus improves plant productivity. Plant Cell Tissue Organ Cult 138:377–385. https://doi.org/10.1007/s11240-019-01636-0

Zhou J, Wan H, Qin S, He J, Lyu D, Li H (2016) Net cadmium flux and gene expression in relation to differences in cadmium accumulation and translocation in four apple rootstocks. Environ Exp Bot 130:95–105

Zhou J, Wan H, He J, Lyu D, Li H (2017) Integration of cadmium accumulation, subcellular distribution, and physiological responses to understand cadmium tolerance in apple rootstocks. Front Plant Sci 7(8):966
Additional information
Communicated by Maurizio Lambardi.
Publisher's Note
Springer Nature remains neutral with regard to jurisdictional claims in published maps and institutional affiliations.
About this article
Cite this article
Elazab, D.S., Abdel-Wahab, D.A. & El-Mahdy, M.T. Iron and zinc supplies mitigate cadmium toxicity in micropropagated banana (Musa spp.). Plant Cell Tiss Organ Cult 145, 367–377 (2021). https://doi.org/10.1007/s11240-021-02013-6
Received:

Revised:

Accepted:

Published:

Issue Date:

DOI: https://doi.org/10.1007/s11240-021-02013-6
Keywords