Abstract
Cryopreservation combined with in vitro culture offers a safe and cost-effective method to conserve germplasm. Conservation of Persea spp. has been limited to heterozygous somatic embryos that are not true-to-type. A method for shoot-tip cryopreservation is vital to preserve the exact gene pool of interest. For the first time cryopreservation protocols for mature shoot tips of two avocado cultivars (cvs) 'Velvick' and 'Reed', were established. In vitro shoots were subjected to two different optimised pre-treatments; (1) cv 'Velvick'—high sucrose (0.3 M) or (2) cv 'Reed'—low temperature (10 °C) incubation, over a 2-week period prior shoot tip dissection. Two different plant vitrification solutions, plant vitrification solution 2 (PVS2) and vitrification solution L (VSL) were tested at 0 °C for 0, 10, 20, 30 and 40 min. Vitrified shoots were evaluated for survival and regrowth at 2 and 8 weeks after vitrification treatment and either with or without liquid nitrogen exposure. The study revealed that the optimal exposure time for each cultivar varied with the cryoprotectant used. After liquid nitrogen cv 'Velvick' highest regrowth levels were observed with 20 min exposure to either PVS2 or VSL, however, vigorous plants were produced only from VSL treated shoots. In the case of cv 'Reed' highest regrowth levels were observed with 10 min exposure to PVS2 however only morphologically normal plants were recovered from VSL treated shoots.
Key message
Cryopreservation of avocado shoot tips was successful using PVS2 and VSL with both recording similar recovery rates for 'Velvick' and 'Reed'; although only vigorous and morphologically normal plants were developed from VSL treatments.
Access options
Buy single article
Instant access to the full article PDF.
US$ 39.95
Tax calculation will be finalised during checkout.
Subscribe to journal
Immediate online access to all issues from 2019. Subscription will auto renew annually.
US$ 119
Tax calculation will be finalised during checkout.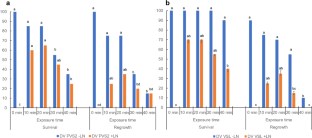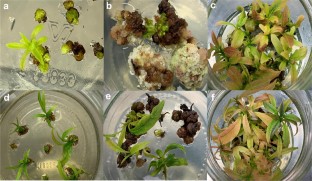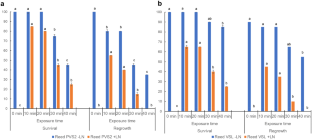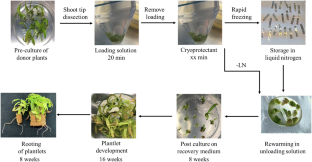 Abbreviations
ASA:

Ascorbic acid

cv/s:

Cultivar/s

DMSO:

Dimethyl sulfoxide

EG:

Ethylene glycol

LN:

Liquid nitrogen

min:

Minutes

PVS2:

Plant vitrification solution 2

VSL:

Vitrification solution L
References
Antony JJJ, Keng CL, Mahmood M, Subramaniam S (2013) Effects of ascorbic acid on PVS2 cryopreservation of Dendrobium Bobby Messina's PLBs supported with SEM analysis. Appl Biochem Biotechnol 171(2):315–329. https://doi.org/10.1007/s12010-013-0369x

Aronen TS, Krajnakova J, Häggman HM, Ryynänen LA (1999) Genetic fidelity of cryopreserved embryogenic cultures of open-pollinated Abies cephalonica. Plant Sci 142(2):163–172. https://doi.org/10.1016/S0168-9452(98)00244-1

Avocados Australia (2018) Facts at a Glance 2017/18 for the Australian avocado industry. Avocado Australia. Hort Innovation, Australia www.horticulture.com.au/globalassets/hort-innovation/resource-assets/av16006-avocado-facts-at-a-glance-2017-18.pdf. Accessed 10 Dec 2019

Azimi M, O'Brien C, Ashmore S, Drew R (2005) Cryopreservation of papaya germplasm. Acta Hortic 692:43–50. https://doi.org/10.17660/ActaHortic.2005.692.4

Bajji M, Kinet J-M, Lutts S (2002) The use of the electrolyte leakage method for assessing cell membrane stability as a water stress tolerance test in durum wheat. Plant Growth Regul 36(1):61–70. https://doi.org/10.1023/A:1014732714549

Benson EE, Harding K, Johnston JW (2007) Cryopreservation of shoot tips and meristems. In: Day JG, Stacey GN (eds) Cryopreservation and freeze-drying protocols. Methods in molecular biology. Humana Press, Totowa, pp 163–183

Ben-Ya'acov A, Michelson E (1995) Avocado rootstocks. In: Janick J (ed) Horticultural reviews, vol 17. Wiley, New York, pp 381–429

Ben-Ya'acov A, López López L, De La Cruz Torres E, Barrientos Priego AF (1992) A study of avocado germplasm resources, 1988–1990. II.Findings from the central part of México. In: Proceedings of Second World Avocado Congress, pp 543–544 www.avocadosource.com/WAC2/WAC2_p543pdf. Accessed 14 Feb 2020

Bergh B, Ellstrand N (1986) Taxonomy of the avocado. In: California Avocado Society 1986 Yearbook 70:135–146 https://www.avocadosource.com/cas_yearbooks/cas_70_1986/cas_1986. Accessed 14 Feb 2020

Best B (2015) Cryoprotectant toxicity: facts, issues, and questions. Rejuvenation Res 18(5):422–436. https://doi.org/10.1089/rej.2014.1656

Bettoni JC, Kretzschmar AA, Bonnart R, Shepherd A, Volk GM (2019) Cryopreservation of 12 Vitis species using apical shoot tips derived from plants grown in vitro. HortScience 54:976–981. https://doi.org/10.21273/HORTSCI13958-19

Caswell K, Tyler N, Stushnoff C (1986) Cold hardening of in vitro apple and saskatoon shoot cultures. HortScience 21(5):1207–1209

Chen H, Morrell PL, Ashworth VE, De La Cruz M, Clegg MT (2008) Tracing the geographic origins of major avocado cultivars. J Hered 100(1):56–65. https://doi.org/10.1093/jhered/esn068

Ciringer T, Martín C, Šajna N, Kaligarič M, Ambrožič-Dolinšek J (2018) Cryopreservation of an endangered Hladnikia pastinacifolia Rchb. by shoot tip encapsulation-dehydration and encapsulation-vitrification. In Vitro Cell & Dev Biol-Plant 54(6):565–575. https://doi.org/10.1007/s11627-018-9917-y

Condello E, Caboni E, Andrè E, Piette B, Druart P, Swennen R, Panis B (2011) Cryopreservation of apple in vitro axillary buds using droplet-vitrification. Cryo Lett 32(2):175–185

Crane JH, Balerdi CF, Maguire I (2007) Avocado growing in the Florida home landscape. Hort. Sci. Dept., Florida Coop. Ext. Serv., Inst. Food Agr. Sci., Univ. Florida. Circular 1034

Day JG, Harding KC, Nadarajan J, Benson EE (2008) Cryopreservation. In: Walker JM, Rapley R (eds) Molecular biomethods handbook, Springer Protocols Handbooks. Humana Press, Totowa, pp 917–947

Ding H, Chin YW, Kinghorn AD, D'Ambrosio SM (2007) Chemopreventive characteristics of avocado fruit. Semin Cancer Biol 17(5):386–394. https://doi.org/10.1016/j.semcancer.2007.04.003

Elliott Janet A (2013) Intracellular ice formation: the enigmatic role of cell-cell junctions. Biophys J 105(9):1935–1936. https://doi.org/10.1016/j.bpj.2013.10.001

Engelmann F (2011) Use of biotechnologies for the conservation of plant biodiversity. In Vitro Cell Dev Biol-Plant 47(1):5–16. https://doi.org/10.1007/s11627-010-9327-2

Engelmann F (2004) Plant cryopreservation: progress and prospects. In Vitro Cell Dev Biol Plant 40(5):427–433. https://doi.org/10.1079/IVP2004541

Feng C-H, Cui Z-H, Li B-Q, Chen L, Ma Y-L, Zhao Y-H, Wang Q-C (2013) Duration of sucrose preculture is critical for shoot regrowth of in vitro-grown apple shoot-tips cryopreserved by encapsulation-dehydration. Plant Cell Tiss Organ Cult 112(3):369–378. https://doi.org/10.1007/s11240-012-0245-3

Folgado R, Panis B (2019) Cryopreservation of Ashe magnolia shoot-tips by droplet-vitrification. Acta Hortic 1234:233–240. https://doi.org/10.17660/ActaHortic.2019.1234.31

Folgado R, Panis B, Sergeant K, Renaut J, Swennen R, Hausman J-F (2015) Unravelling the effect of sucrose and cold pretreatment on cryopreservation of potato through sugar analysis and proteomics. Cryobiology 71(3):432–441. https://doi.org/10.1016/j.cryobiol.2015.09.006

Fresh Plaza (2020) The world's 10 largest avocado exporters. In: Fresh Plaza. https://www.freshplaza.com/article/9165959/the-world-s-10-largest-avocado-exporters/. Accessed 8 Jan 2020

Fulgoni VL, Dreher M, Davenport AJ (2013) Avocado consumption is associated with better diet quality and nutrient intake, and lower metabolic syndrome risk in US adults: results from the National Health and Nutrition Examination Survey (NHANES) 2001–2008. Nutr J 12:1. https://doi.org/10.1186/1475-2891-12-1

Furnier G, Cummings M, Clegg M (1990) Evolution of the avocados as revealed by DNA restriction fragment variation. J Hered 81(3):183–188. https://doi.org/10.1093/oxfordjournals.jhered.a110963

Grapin A, Gallard A, Dorion N (2007) Cryopreservation at the 'Institut National d'Horticulture' of Angers: past, present and future. Adv Hortic Sci 21(4):255–257

Halmagyi A, Deliu C, Isac V (2010) Cryopreservation of Malus cultivars: comparison of two droplet protocols. Scientia Hortic 124(3):387–392. https://doi.org/10.1016/j.scienta.2010.01.012

Hirsh AG (1987) Vitrification in plants as a natural form of cryoprotection. Cryobiology 24(3):214–228. https://doi.org/10.1016/0011-2240(87)90024-1

Hiti Bandaralage, Jayeni Chathurika Amarathunga (2019). Micropropagation as an alternative for avocado clonal propagation. PhD Thesis, Queensland Alliance for Agriculture and Food Innovation, The University of Queensland. https://doi.org/10.14264/uql.2019.531

Hiti-Bandaralage J, Hayward A, O'Brien C, Gleeson M, Nak W, Mitter N (2019) Advances in avocado propagation for the sustainable supply of planting materials. In: Yahia E (ed) Achieving sustainable cultivation of tropical fruits. Burleigh Dodds Science Publishing, Cambridge, pp 215–238

Hughes Zak E, Mancera Ricardo L (2014) Molecular mechanism of the synergistic effects of vitrification solutions on the stability of phospholipid bilayers. Biophys J 106(12):2617–2624. https://doi.org/10.1016/j.bpj.2014.05.012

Kaczmarczyk A, Funnekotter B, Menon A, Phang PY, Al-Hanbali A, Bunn E, Mancera R (2012) Current issues in plant cryopreservation. In: Katov I (ed) Current frontiers in cryobiology. In Tech, Croatia, pp 417–438

Kaczmarczyk A, Shvachko N, Lupysheva Y, Hajirezaei M-R, Keller ERJ (2008) Influence of alternating temperature preculture on cryopreservation results for potato shoot tips. Plant Cell Rep 27(9):1551–1558. https://doi.org/10.1007/s00299-008-0574-1

Kalita V, Choudhury H, Kumaria S, Tandon P (2012) Vitrification-based cryopreservation of shoot-tips of Pinus kesiya Royle ex. Gord. Cryo Lett 33(1):58–68

Kaya E, Alves A, Rodrigues L, Jenderek M, Hernandez-Ellis M, Ozudogru A, Ellis D (2013) Cryopreservation of Eucalyptus genetic resources. Cryo Lett 34(6):608–618

Kim H-H, Lee Y-G, Shin D-J, Ko H-C, Gwag J-G, Cho E-G, Engelmann F (2009) Development of alternative plant vitrification solutions in droplet-vitrification procedures. Cryo Lett 30(5):320–334

Krezdorn A (1973) Influence of rootstock on cold hardiness of avocados. Proc Fla State Hort Soc 86:346–348

Liu Z (2019) In vitro propagation and cryopreservation of American chestnut [Castanea dentata (Marsh.) Borkh.] Dissertation, University of Guelph, Canada https://hdl.handle.net/10214/17496

Marković Z, Chatelet P, Peyrière A, Preiner D, Engelmann-Sylvestre I, Karoglan-Kontić J, Engelmann F (2013) Effect of proline pretreatment on grapevine shoot-tip response to a droplet-vitrification protocol. Am J Plant Sci 4(12):2414–2417. https://doi.org/10.4236/ajps.2013.412299

Mathew L, McLachlan A, Jibran R, Burritt DJ, Pathirana R (2018) Cold, antioxidant and osmotic pre-treatments maintain the structural integrity of meristematic cells and improve plant regeneration in cryopreserved kiwifruit shoot tips. Protoplasma 255(4):1065–1077. https://doi.org/10.1007/s00709-018-1215-3

Mickelbart MV, Arpaia ML (2002) Rootstock influences changes in ion concentrations, growth, and photosynthesis of 'Hass' Avocado trees in response to salinity. J Am Soc Hortic Sci 127(4):649–655. https://doi.org/10.21273/JASHS.127.4.649

O'Brien C, Hiti-Bandaralage J, Folgado R, Lahmeyer S, Hayward A, Folsom J, Mitter N (2020) A method to increase regrowth of vitrified shoot tips of avocado (Persea americana Mill.): first critical step in developing a cryopreservation protocol. Scientia Hortic 266:109305. https://doi.org/10.1016/j.scienta.2020.109305

O'Brien C, Hiti-Bandaralage J, Folgado R, Lahmeyer S, Hayward A, Mitter N (2018a) Developing a cryopreservation protocol for avocado (Persea americana Mill.) shoot tips. Cryobiology 85:171. https://doi.org/10.1016/j.cryobiol.2018.10.199

O'Brien C, Hiti-Bandaralage JCA, Hayward A, Mitter N (2018b) Avocado (Persea americana Mill.). In: Jain S, Gupta P (eds) Step wise protocols for somatic embryogenesis of important woody plants. Springer, Cham, pp 305–328

Palonen P, Junttila O (1999) Cold hardening of raspberry plants in vitro is enhanced by increasing sucrose in the culture medium. Physiol Plant 106(4):386–392. https://doi.org/10.1034/j.1399-3054.1999.106405x

Panis B, Piette B, Swennen R (2005) Droplet vitrification of apical meristems: a cryopreservation protocol applicable to all Musaceae. Plant Sci 168(1):45–55. https://doi.org/10.1016/j.plantsci.2004.07.022

Park SU, Kim HH (2015) Cryopreservation of sweet potato shoot tips using a droplet-vitrification procedure. Cryo Lett 36(5):344–352

Pathirana R, McLachlan A, Hedderley D, Panis B, Carimi F (2016) Pre-treatment with salicylic acid improves plant regeneration after cryopreservation of grapevine (Vitis spp.) by droplet vitrification. Acta Physiol Plant 38(1):12. https://doi.org/10.1007/s11738-015-2026-1

Pence VC (2014) Tissue cryopreservation for plant conservation: potential and challenges. Int J Plant Sci 175(1):40–45. https://doi.org/10.1086/673301

Reed BM (2012) 4. Are antioxidants a magic bullet for reducing oxidative stress during cryopreservation? Cryobiology 65(3):340. https://doi.org/10.1016/j.cryobiol.2012.07.005

Sakai A, Hirai D, Niino T (2008) Development of PVS-based vitrification and encapsulation–vitrification protocols. In: Reed BM (ed) Plant cryopreservation: a practical guide. Springer, New York, pp 33–57

Sakai A, Kobayashi S, Oiyama I (1990) Cryopreservation of nucellar cells of navel orange (Citrus sinensis Osb. Var. brasiliensis Tanaka) by vitrification. Plant Cell Rep 9(1):30–33. https://doi.org/10.1007/BF00232130

Sales-Campos H, Souza PR, Peghini BC, da Silva JS, Cardoso CR (2013) An overview of the modulatory effects of oleic acid in health and disease. Mini Rev Med Chem 13(2):201–210. https://doi.org/10.2174/1389557511313020003

Silva T, Ledesma N (2014) Avocado history, biodiversity and production. In: Nandwani D (ed) Sustainable horticultural systems. Springer, Cham, pp 157–205

Souza FVD, Kaya E, de Jesus VL, de Souza EH, de Oliveira Amorim VB, Skogerboe D, Matsumoto T, Alves AAC, da Silva Ledo CA, Jenderek MM (2016) Droplet-vitrification and morphohistological studies of cryopreserved shoot tips of cultivated and wild pineapple genotypes. Plant Cell Tiss Organ Cult 124(2):351–360. https://doi.org/10.1007/s11240-015-0899-8

Streczynski R, Clark H, Whelehan LM, Ang S-T, Hardstaff LK, Funnekotter B, Bunn E, Offord CA, Sommerville KD, Mancera RL (2019) Current issues in plant cryopreservation and importance for ex situ conservation of threatened Australian native species. Aust J Bot 67(1):1–15. https://doi.org/10.1071/BT18147

Suzuki M, Tandon P, Ishikawa M, Toyomasu T (2008) Development of a new vitrification solution, VSL, and its application to the cryopreservation of gentian axillary buds. Plant Biotechnol Rep 2(2):123. https://doi.org/10.1007/s11816-008-0056-5

Thomashow MF (1999) Plant cold acclimation: freezing tolerance genes and regulatory mechanisms. Ann Rev Plant Physiol Plant Mol Biol 50(1):571–599. https://doi.org/10.1146/annurev.arplant.50.1.571

Vargas VM (2008) Efecto fisiológico de brasinoeteroides y crioprotectores sobre yemas axilares de aguacate criollo (Persea americana Mill. Var. Drymifolia) producidas in vitro. Dissertation, Universidad Autónoma de Nayarit

Vidales-Fernandez I, Larios-Guzman A, Tapia-Vargas LM, Guillen-Andrade H, Villasenor-Ramirez F (2011) Criopreservación de germoplasma de aguacate. In Proceedings of VII World Avocado Congress Cairns, Australia, pp 673–679

Volk GM, Henk AD, Bonnart RM, Shepherd A, Gross BL (2014) Plant shoot tip response to treatment with plant vitrification solution #2. Acta Hortic 1039:81–84. https://doi.org/10.17660/ActaHortic.2014.1039.8

Vujović T, Sylvestre I, Ružić D, Engelmann F (2011) Droplet-vitrification of apical shoot tips of Rubus fruticosus L. and Prunus cerasifera Ehrh. Scientia Hortic 130(1):222–228. https://doi.org/10.1016/j.scienta.2011.06.049

Wang L, Bordi PL, Fleming JA, Hill AM, Kris-Etherton PM (2015) Effect of a moderate fat diet with and without avocados on lipoprotein particle number, size and subclasses in overweight and obese adults: a randomized, controlled trial. J Am Heart Assoc 4(1):e001355. https://doi.org/10.1161/JAHA.114.001355

Wang B, Wang RR, Cui ZH, Bi WL, Li JW, Li BQ, Ozudogru EA, Volk GM, Wang QC (2014) Potential applications of cryogenic technologies to plant genetic improvement and pathogen eradication. Biotechnol Adv 32(3):583–595. https://doi.org/10.1016/j.biotechadv.2014.03.003
Acknowledgements
The Queensland Alliance for Agriculture and Food Innovation (QAAFI) is a research institute of The University of Queensland (UQ), supported by the Queensland Government of Agriculture and Fisheries. Chris O'Brien is supported by an Australian Commonwealth Government Research Training Program (RTP) Scholarship and funding from The Huntington Library, Art Museum, and Botanical Gardens as well as funding from Advance Queensland Innovation Partnerships Project Avocado Tissue-Culture: From Lab-to-Orchard (AQIP06316-17RD2).
Ethics declarations
Conflict of interest
There are no conflict of interest.
Additional information
Publisher's Note
Springer Nature remains neutral with regard to jurisdictional claims in published maps and institutional affiliations.
Communicated by Qiao-Chun Wang.
Electronic supplementary material
Below is the link to the electronic supplementary material.
About this article
Cite this article
O'Brien, C., Hiti-Bandaralage, J.C.A., Folgado, R. et al. First report on cryopreservation of mature shoot tips of two avocado (Persea americana Mill.) rootstocks. Plant Cell Tiss Organ Cult 144, 103–113 (2021). https://doi.org/10.1007/s11240-020-01861-y
Received:

Accepted:

Published:

Issue Date:
Keywords
Avocado

Cryopreservation

PVS2

Shoot tips

Vitrification

VSL