Abstract
This study aimed to compare the in vitro effects of chitosan oligomers and polymer with commonly-used plant growth regulators (PGRs) on seed germination, protocorm formation, and organ development in Serapias vomeracea. The effects of N-acetylated (10%) chitosan oligomer mixture (CHI-OM) with a degree of polymerization (DP) between 2 and 15 (5, 10, 15, and 20 mg L−1) and chitosan polymer (CHI-P) with a DP of 70 were compared with commonly-used cytokinins [6-benzylaminopurine (BAP) and kinetin (KIN)], auxins [indole-3-acetic acid (IAA) and indole-3-butyric acid (IBA)], and jasmonic acid (JAS) at 0.25, 0.5, 1.0, and 2.0 mg L−1. The medium supplemented with CHI-P at 5 mg L−1 gave the highest seed germination rate, whereas JAS and CHI-OM triggered protocorm formation better than the all treatments tested. The JAS and IAA treatments resulted in intense browning of the roots. The CHI-P treatments at high concentrations and JAS treatments at moderate concentrations increased mean shoot length while the medium containing KIN at 0.5 mg L−1 induced root elongation significantly. The root elongation-inhibitory effect of chitosan was observed at the higher concentrations of CHI-OM, but the media containing 10 mg L−1 CHI-OM and 15 mg L−1 CHI-P triggered adventitious rooting. However, the highest tuberization success was found after 10 mg L−1 CHI-OM and 0.5 mg L−1 JAS treatments. Tuber development was achieved in the media supplemented with BAP and CHI-OM. This study suggested that well-characterized chitosan could be used as an alternative to JAS and BAP in orchid cultures.
Key message
Well-characterized chitosans at the right concentration induce similar effects with jasmonic acid and 6-benzylaminopurine in orchid cultures.
Access options
Buy single article
Instant access to the full article PDF.
US$ 39.95
Tax calculation will be finalised during checkout.
Subscribe to journal
Immediate online access to all issues from 2019. Subscription will auto renew annually.
US$ 119
Tax calculation will be finalised during checkout.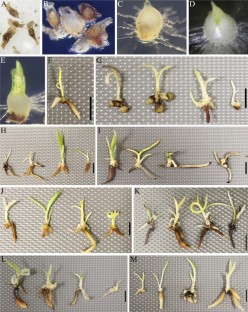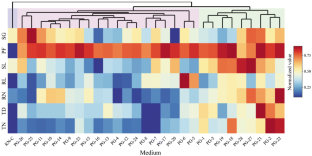 References
Acemi A, Özen F (2019) Optimization of in vitro asymbiotic seed germination protocol for Serapias vomeracea. EuroBiotech J 3(3):143–151. https://doi.org/10.2478/ebtj-2019-0017

Acemi A, Özen F, Kiran R (2013) In vitro propagation of Amsonia orientalis Decne from nodal segments of adult plants. Propag Ornam Plants 13(1):25–32

Acemi A, Türker-Kaya S, Özen F (2016) FT-IR spectroscopy based evaluation of changes in primary metabolites of Amsonia orientalis after in vitro 6-benzylaminopurine treatment. Not Bot Hort Agrobot 44(1):209–214. https://doi.org/10.15835/nbha44110194

Acemi A, Bayrak B, Çakır M, Demiryürek E, Gün E, El Gueddari NE, Özen F (2018) Comparative analysis of the effects of chitosan and common plant growth regulators on in vitro propagation of Ipomoea purpurea (L.) Roth from nodal explants. In Vitro Cell Dev Biol Plant 54:537–544. https://doi.org/10.1007/s11627-018-9915-0

Acemi A, Çobanoğlu Ö, Türker-Kaya S (2019) FTIR-based comparative analysis of glucomannan contents in some tuberous orchids, and effects of pre-processing on glucomannan measurement. J Sci Food Agric 99:3681–3686. https://doi.org/10.1002/jsfa.9596

Ahmadi B, Shariatpanahi ME (2015) Proline and chitosan enhanced efficiency of microspore embryogenesis induction and plantlet regeneration in Brassica napus L. Plant Cell Tissue Organ Cult 123:57–65. https://doi.org/10.1007/s11240-015-0814-3

Ahmadi F, Oveisi Z, Samani SM, Amoozgar Z (2015) Chitosan based hydrogels: characteristics and pharmaceutical applications. Res Pharm Sci 10(1):1–16

Bañuelos-Hernández KP, García-Nava JR, Leyva-Ovalle OR, Peña-Valdivia CB, Trejoa C, Ybarra-Moncada MC (2017) Chitosan coating effect on vase life of flowering stems of Heliconia bihai (L.) L. cv. Halloween. Postharvest Biol Technol 132:179–187. https://doi.org/10.1016/j.postharvbio.2017.05.009

Bayraktar M, Naziri E, Akgun IH, Karabey F, Ilhan E, Akyol B, Bedir E, Gurel A (2016) Elicitor induced stevioside production, in vitro shoot growth, and biomass accumulation in micropropagated Stevia rebaudiana. Plant Cell Tissue Organ Cult 127:289–300. https://doi.org/10.1007/s11240-016-1049-7

Bektaş E, Sökmen A (2016) In vitro seed germination, plantlet growth, tuberization, and synthetic seed production of Serapias vomeracea (Burmf) Briq. Turk J Bot 40(6):584–594. https://doi.org/10.3906/bot-1512-13

Chitarrini G, Zulini L, Masuero D, Vrhovsek U (2017) Lipid, phenol and carotenoid changes in 'Bianca' grapevine leaves after mechanical wounding: a case study. Protoplasma 254(6):2095–2106. https://doi.org/10.1007/s00709-017-1100-5

Corsi B, Riccioni L, Forni C (2015) In vitro cultures of Actinidia deliciosa (A Chev) CF Liang & AR Ferguson: a tool to study the SAR induction of chitosan treatment. Org Agric 5(3):189–198. https://doi.org/10.1007/s13165-014-0087-x

Da Costa CT, de Almeida MR, Ruedell CM, Schwambach J, Maraschin FS, Fett-Neto AG (2013) When stress and development go hand in hand: main hormonal controls of adventitious rooting in cuttings. Front Plant Sci 4:133. https://doi.org/10.3389/fpls.2013.00133

Das SN, Madhuprakash J, Sarma PVSRN, Purushotham P, Suma K, Manjeet K, Rambabu S, El Gueddari NE, Moerschbacher BM, Podile AR (2015) Biotechnological approaches for field applications of chitooligosaccharides (COS) to induce innate immunity in plants. Crit Rev Biotechnol 35(1):29–43. https://doi.org/10.3109/07388551.2013.798255

Dave A, Vaistij FE, Gilday AD, Penfield SD, Graham IA (2016) Regulation of Arabidopsis thaliana seed dormancy and germination by 12-oxo‐phytodienoic acid. J Exp Bot 67:2277–2284. https://doi.org/10.1093/jxb/erw028

David D, Gansau JA, Abdullah JO (2010) Effect of NAA and BAP on protocorm proliferation of borneo scented orchid, Vanda helvola. Asia–Pac J Mol Biol Biotechnol 18:221–224

Debeljak N, Regvar M, Dixon KW, Sivasithamparam K (2002) Induction of tuberisation in vitro with jasmonic acid and sucrose in an Australian terrestrial orchid, Pterostylis sanguinea. Plant Growth Regul 36:253–260. https://doi.org/10.1023/A:1016570319387

El-Miniawy SM, Ragab ME, Youssef SM, Metwally AA (2013) Response of strawberry plants to foliar spraying of chitosan. Res J Agric Biol Sci 9(6):366–372

Esitken A, Ercisli S, Eken C, Tay D (2004) Seed priming effect on symbiotic germination and seedling development of Orchis palustris Jacq. HortScience 39(7):1700–1701. https://doi.org/10.21273/HORTSCI.39.7.1700

Godo T, Komori M, Nakaoki E, Yukawa T, Miyoshi K (2010) Germination of mature seeds of Calanthe tricarinata Lindl an endangered terrestrial orchid, by asymbiotic culture in vitro. In Vitro Cell Dev Biol Plant 46:323–328. https://doi.org/10.1007/s11627-009-9271-1

Ha S, Vankova R, Yamaguchi-Shinozaki K, Shinozaki K, Tran LSP (2012) Cytokinins: metabolism and function in plant adaptation to environmental stresses. Trends Plant Sci 17:172–179. https://doi.org/10.1016/j.tplants.2011.12.005

Haebel S, Bahrke S, Peter MG (2007) Quantitative sequencing of complex mixtures of heterochitooligosaccharides by MALDI-linear ion trap mass spectrometry. Anal Chem 79(15):5557–5566. https://doi.org/10.1021/ac062254u

Jevšnik T, Luthar Z (2015) Successful disinfection protocol for orchid seeds and influence of gelling agent on germination and growth. Acta Agric Slov 105:95–102. https://doi.org/10.14720/aas.2015.105.1.10

Knudson L (1946) A new nutrient solution for germination of orchid seed. Am Orchid Soc Bull 15:214–217

Lopez-Moya F, Escudero N, Zavala-Gonzalez EA, Esteve-Bruna D, Blázquez MA, Alabadí D, Lopez-Llorca LV (2017) Induction of auxin biosynthesis and WOX5 repression mediate changes in root development in Arabidopsis exposed to chitosan. Sci Rep 7:16813. https://doi.org/10.1038/s41598-017-16874-5

Luan LQ, Ha VTT, Nagasawa N, Kume T, Yoshii F, Nakanishi TM (2005) Biological effect of irradiated chitosan on plants in vitro. Biotechnol Appl Biochem 41(1):49–57. https://doi.org/10.1042/BA20030219

Lulai EC, Suttle JC, Olson LL, Neubauer JD, Campbell LG, Campbell MA (2016) Wounding induces changes in cytokinin and auxin content in potato tuber, but does not induce formation of gibberellins. J Plant Physiol 191:22–28. https://doi.org/10.1016/j.jplph.2015.11.006

Malik SK, Chaudhury R, Kalia RK (2005) Rapid in vitro multiplication and conservation of Garcinia indica: a tropical medicinal tree species. Sci Hortic 106:539–553. https://doi.org/10.1016/j.scienta.2005.05.002

Mengatto L, Ferreyra MG, Rubiolo A, Rintoul I, Luna J (2013) Hydrophilic and hydrophobic interactions in cross-linked chitosan membranes. Mater Chem Phys 139(1):181–186. https://doi.org/10.1016/j.matchemphys.2013.01.019

Mohanty P, Paul S, Das MC, Kumaria S, Tandon P (2012) A simple and efficient protocol for the mass propagation of Cymbidium mastersii: an ornamental orchid of Northeast India. AoB Plants 2012:pls023. https://doi.org/10.1093/aobpla/pls023

Mondal MMA, Malek MA, Puteh AB, Ismail MR, Ashrafuzzaman M, Naher L (2012) Effect of foliar application of chitosan on growth and yield in okra. Aust J Crop Sci 6(5):918–921

Nge KL, Nwe N, Chandrkrachang S, Stevens WF (2006) Chitosan as a growth stimulator in orchid tissue culture. Plant Sci 170:1185–1190. https://doi.org/10.1016/j.plantsci.2006.02.006

Nongdam P, Tikendra L (2014) Establishment of an efficient in vitro regeneration protocol for rapid and mass propagation of Dendrobium chrysotoxum Lindl using seed culture. Sci World J. https://doi.org/10.1155/2014/740150

Ohta K, Taniguchi A, Konishi N, Hosoki T (1999) Chitosan treatment affects plant growth and flower quality in Eustoma grandiflorum. HortScience 34(2):233–234. https://doi.org/10.21273/HORTSCI.34.2.233

Pichyangkura R, Chadchawan S (2015) Biostimulant activity of chitosan in horticulture. Sci Hortic 196(30):49–65. https://doi.org/10.1016/j.scienta.2015.09.031

Pornpienpakdee P, Singhasurasak R, Chaiyasap P, Pichyangkura R, Bunjongrat R, Chadchawan S, Limpanavech P (2010) Improving the micropropagation efficiency of hybrid Dendrobium orchids with chitosan. Sci Hortic 124(4):490–499. https://doi.org/10.1016/j.scienta.2010.02.008

Prasertsongskun S, Chaipakdee W (2011) Effect chitosan on growth and development of Phalaenopsis cornucervi (Breda) Blume & Rchb.f. Khon Kaen University (KKU). Sci J 39(1):113–119

Quambusch M, Gruß S, Pscherer T, Winkelmann T, Bartsch M (2017) Improved in vitro rooting of Prunus avium microshoots using a dark treatment and an auxin pulse. Sci Hortic 220:52–56. https://doi.org/10.1016/j.scienta.2017.03.020

Restanto DP, Santoso B, Kriswanto B, Supardjono S (2016) The application of chitosan for protocorm like bodies (PLB) induction of orchid (Dendrobium sp.) in vitro. Agric Agric Sci Procedia 9:462–468. https://doi.org/10.1016/j.aaspro.2016.02.164

Schatz C, Viton C, Delair T, Pichot C, Domard A (2003) Typical physicochemical behaviors of chitosan in aqueous solution. Biomacromolecules 4:641–648. https://doi.org/10.1021/bm025724c

Sharma U, Kataria V, Shekhawat NS (2017) In vitro propagation, ex vitro rooting and leaf micromorphology of Bauhinia racemosa Lam: a leguminous tree with medicinal values. Physiol Mol Biol Plants 23(4):969–977. https://doi.org/10.1007/s12298-017-0459-2

Sood N, Baker WL, Coleman CI (2008) Effect of glucomannan on plasma lipid and glucose concentrations, body weight, and blood pressure: systematic review and meta-analysis. Am J Clin Nutr 88(4):1167–1175. https://doi.org/10.1093/ajcn/88.4.1167

Teixeira da Silva JA (2012) Jasmonic acid, but not salicylic acid, improves PLB formation of hybrid Cymbidium. Plant Tissue Cult Biotechnol 22(2):187–192. https://doi.org/10.3329/ptcb.v22i2.14209

Vander P, Vårum KM, Domard A, El Gueddari NE, Moerschbacher BM (1998) Comparison of the ability of partially N-acetylated chitosans and chitooligosaccharides to elicit resistance reactions in wheat leaves. Plant Physiol 118:1353–1359. https://doi.org/10.1104/pp.118.4.1353

Vårum KM, Anthonsen MW, Grasdalen H, Smidsrød O (1991) Determination of degree of N-acetylation and the distribution of N-acetyl groups in partially N-deacetylated chitins (chitosans) by high field NMR spectroscopy. Carbohydr Res 211(1):17–23. https://doi.org/10.1016/0008-6215(91)84142-2

Worrall D, Holroyd GH, Moore JP, Glowacz M, Croft P, Taylor JE, Paul ND, Roberts MR (2012) Treating seeds with activators of plant defence generates long-lasting priming of resistance to pests and pathogens. N Phytol 193(3):770–778. https://doi.org/10.1111/j.1469-8137.2011.03987.x

Yamazaki J, Miyoshi K (2006) In vitro asymbiotic germination of immature seed and formation of protocorm by Cephalanthera falcate (Orchidaceae). Ann Bot 98:1197–1206. https://doi.org/10.1093/aob/mcl223
Acknowledgements
The chitosan samples were supplied by Nour Eddine El Gueddari of the University of Münster, Münster, Germany. Nour Eddine El Gueddari passed away on February 8, 2018.
Additional information
Publisher's Note
Springer Nature remains neutral with regard to jurisdictional claims in published maps and institutional affiliations.
Communicated by Sergio J. Ochatt.
About this article
Cite this article
Acemi, A. Chitosan versus plant growth regulators: a comparative analysis of their effects on in vitro development of Serapias vomeracea (Burm.f.) Briq.. Plant Cell Tiss Organ Cult 141, 327–338 (2020). https://doi.org/10.1007/s11240-020-01789-3
Received:

Accepted:

Published:

Issue Date:
Keywords
Biopolymer

Orchidaceae

Phytohormones

Polymerization degree

Tuber development