Abstract
Mistletoes are semiparasite plants containing pharmaceutical proteins with applications in cancer treatment. Previous research has demonstrated that somaclonal variation can lead to the biosynthesis of novel proteins from mistletoe callus cultures. The protein content of Viscum album subsp. abietis tissues and biotechnologically propagated calluses, was analyzed to identify proteins with putative anticancer properties. In addition, evolutionary relations among linked species to Viscum were studied. Calluses were propagated from stem explants. The protein extracts mass spectra were processed with Proteome Discoverer and a search was performed using as reference the Uniprot V. album reviewed database. A phylogenetic tree was reconstructed using the LG amino acid substitution model by homologous sequences for Beta galactoside-specific lectin 2. The homology modeling of the Beta-galactoside-specific lectin 2 was carried out using Modeller software. Considerable differences were observed by comparing the protein content of the calluses and the maternal tissues. Four mistletoe lectins, six viscotoxins and the chitin binding lectin-cbML were identified within the species tissues. An in silico phylogenetic and structural study provides insights to the role of these lectins and the mechanism of semiparasite survival and evolution, towards a novel anticancer and immune system modulation pipeline. Callogenesis exhibited protein biosynthesis alterations and novel protein isoforms expression. Phyllogenetic analysis revealed evolutionary relations primarily within the Viscum genus and other species containing 2-ribosome inactivating proteins. The homology modeling of the mistletoe lectin 2 revealed possible structure related anticancer properties. In conclusion, mistletoe calluses were shown to possess a unique protein biosynthetic profile compared to donor plant tissues.
Key message
Protein identification within V. album tissues and calluses highlighted evolutionary relations in species containing 2-RIP lectins and proteins with putative anti-malignant properties.
Access options
Buy single article
Instant access to the full article PDF.
US$ 39.95
Tax calculation will be finalised during checkout.
Subscribe to journal
Immediate online access to all issues from 2019. Subscription will auto renew annually.
US$ 119
Tax calculation will be finalised during checkout.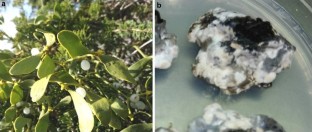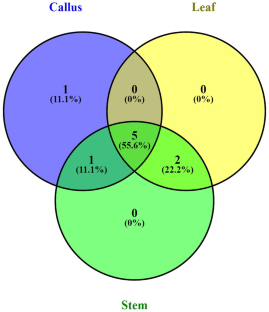 Abbreviations
2-RIPs:

2 Ribosome-inactivating proteins

BA:

Benzyl adenine

CAN:

Acetonitrile

DTE:

Dithiothreitol

FASP:

Filter aided sample preparation

FDR:

False discovery rate

IPG:

Immobilized pH gradient

LC-HRMS/MS:

Liquid chromatography-tandem high resolution mass spectrometry

ML:

Mistletoe lectin

MS:

Mass spectra

NAA:

1-Naphthaleneacetic acid

RT:

Room temperature
References
Abascal F, Zardoya R, Posada D (2005) ProtTest: selection of best-fit models of protein evolution. Bioinformatics 21(9):2104–2105. https://doi.org/10.1093/bioinformatics/bti263

Abdul W, Hajrah N, Sabir J, Al-Garni S, Sabir M, Kabli S, Saini K, Bora R (2018) Therapeutic role of Ricinus communis L. and its bioactive compounds in disease prevention and treatment. Asian Pac J Trop Med 11(3):177–185. https://doi.org/10.4103/1995-7645.228431

Ahmad M, Rasheed S, Falke S, Khaliq B, Perbandt M, Iqbal Choudhary M, Markiewicz W, Barciszewski J, Betzel C (2018) Crystal structure of mistletoe lectin I (ML-I) from Viscum album in complex with 4-N-furfurylcytosine at 2.85 Å resolution. Med Chem 14:754. https://doi.org/10.2174/1573406414666180524095946

Altschul SF, Gish W, Miller W, Myers EW, Lipman DJ (1990) Basic local alignment search tool. J Mol Biol 215(3):403–410. https://doi.org/10.1016/S0022-2836(05)80360-2

Barberaki M, Dermitzaki E, Margioris N, Theodosaki A, Grafakos M, Kintzios S (2015) Protein extracts from somaclonal mistletoe (Viscum Album L.) callus with increased tumor cytotoxic activity in vitro. Curr Bioact Compd 11:1–1. https://doi.org/10.2174/1573407211666150602215615

Barbu C (2012) Impact of White Mistletoe (Viscum album ssp abietis) Infection on Needles and Crown Morphology of Silver Fir (Abies alba Mill.). Notulae Botanicae Horti Agrobotanici Cluj-Napoca 40(2):152–158. https://doi.org/10.15835/nbha4027906

Becker H (1986) Botany of European Mistletoe (Viscum album L.). Oncology 43(Suppl 1):2–7. https://doi.org/10.1159/000226413

Benson DA, Karsch-Mizrachi I, Lipman DJ, Ostell J, Sayers EW (2011) GenBank. Nucleic Acids Res 39:D32–D37. https://doi.org/10.1093/nar/gkq1079

Boneberg E-M, Hartung T (2001) Mistletoe lectin-1 increases tumor necrosis factor-α release in lipopolysaccharide-stimulated whole blood via inhibition of interleukin-10 production. J Pharmacol Exp Ther 298(3):996–1000

Bueter CL, Specht CA, Levitz SM (2013) Innate sensing of chitin and chitosan. PLoS Pathog 9(1):e1003080. https://doi.org/10.1371/journal.ppat.1003080

Bussing A (2000) Mistletoe, the genus Viscum. J Nat Prod 64(9):1256–1257. https://doi.org/10.1021/np000751e

Bussing A (2008) Mistletoe extracts from the anthroposophical point of view. In: Beuth J, Moss RW (eds) Complementary oncology. Adjunctive methods in the treatment of cancer. Georg Thieme Verlag, Stuttgart, pp 197–2006

Coulon A, Mosbah A, Lopez A, Sautereau A-M, Schaller G, Urech K, Rougé P, Darbon H (2003) Comparative membrane interaction study of viscotoxins A3, A2 and B from mistletoe (Viscum album) and connections with their structures. Biochem J 374(1):71–78. https://doi.org/10.1042/BJ20030488

Efferth T (2019) Biotechnology applications of plant callus cultures. Engineering 5(1):50–59. https://doi.org/10.1016/j.eng.2018.11.006

Eggenschwiler J, von Balthazar L, Stritt B, Pruntsch D, Ramos M, Urech K, Rist L, Simões-Wüst AP, Viviani A (2007) Mistletoe lectin is not the only cytotoxic component in fermented preparations of Viscum album from white fir (Abies pectinata). BMC Complement Altern Med 7(1):14. https://doi.org/10.1186/1472-6882-7-14

Elluru S, Van Huyen J-PD, Delignat S, Prost F, Bayry J, Kazatchkine MD, Kaveri SV (2006) Molecular mechanisms underlying the immunomodulatory effects of mistletoe (Viscum album L.) extracts iscador. Arzneimittelforschung 56(06):461–466. https://doi.org/10.1055/s-0031-1296813

Fabbrini MS, Katayama M, Nakase I, Vago R (2017) Plant ribosome-inactivating proteins: progesses, challenges and biotechnological applications (and a few digressions). Toxins 9(10):314. https://doi.org/10.3390/toxins9100314

Gadadhar S, Karande AA (2013) Abrin immunotoxin: targeted cytotoxicity and intracellular trafficking pathway. PLoS ONE 8(3):e58304–e58304. https://doi.org/10.1371/journal.pone.0058304

Giudici M, Pascual R, de la Canal L, Pfüller K, Pfüller U, Villalaín J (2003) Interaction of viscotoxins A3 and B with membrane model systems: implications to their mechanism of action. Biophys J 85(2):971–981. https://doi.org/10.1016/S0006-3495(03)74536-6

Gondim ACS, Romero-Canelón I, Sousa EHS, Blindauer CA, Butler JS, Romero MJ, Sanchez-Cano C, Sousa BL, Chaves RP, Nagano CS, Cavada BS, Sadler PJ (2017) The potent anti-cancer activity of Dioclea lasiocarpa lectin. J Inorg Biochem 175:179–189. https://doi.org/10.1016/j.jinorgbio.2017.07.011

Guindon S, Dufayard J-F, Lefort V, Anisimova M, Hordijk W, Gascuel O (2010) New algorithms and methods to estimate maximum-likelihood phylogenies: assessing the performance of PhyML 3.0. Syst Biol 59(3):307–321. https://doi.org/10.1093/sysbio/syq010

Guzman-Rodriguez JJ, Ochoa-Zarzosa A, Lopez-Gomez R, Lopez-Meza JE (2015) Plant antimicrobial peptides as potential anticancer agents. Biomed Res Int 2015:11. https://doi.org/10.1155/2015/735087

Hajto T, Horváth A, Papp S (2016) Improvement of quality of life in tumor patients after an immunomodulatory treatment with standardized mistletoe lectin and arabinoxylan plant extracts. Int J Neurorehabil. https://doi.org/10.4172/2376-0281.1000205

Hartley MR, Chaddock JA, Bonness MS (1996) The structure and function of ribosome-inactivating proteins. Trends Plant Sci 1(8):252. https://doi.org/10.1016/1360-1385(96)10030-3

Hess B, Kutzner C, van der Spoel D, Lindahl E (2008) GROMACS 4: algorithms for highly efficient, load-balanced, and scalable molecular simulation. J Chem Theory Comput 4(3):435–447. https://doi.org/10.1021/ct700301q

Hoessli DC, Ahmad I (2008) Mistletoe lectins: carbohydrate-specific apoptosis inducers and immunomodulators. Curr Org Chem 12(11):918–925. https://doi.org/10.2174/138527208784892196

Huber R, Klein R, Berg PA, Lüdtke R, Werner M (2002) Effects of a lectin- and a viscotoxin-rich mistletoe preparation on clinical and hematologic parameters: a placebo-controlled evaluation in healthy subjects. J Altern Complement Med 8(6):857–866. https://doi.org/10.1089/10755530260511847

Hunter S, Jones P, Mitchell A, Apweiler R, Attwood TK, Bateman A, Bernard T, Binns D, Bork P, Burge S, de Castro E, Coggill P, Corbett M, Das U, Daugherty L, Duquenne L, Finn RD, Fraser M, Gough J, Haft D, Hulo N, Kahn D, Kelly E, Letunic I, Lonsdale D, Lopez R, Madera M, Maslen J, McAnulla C, McDowall J, McMenamin C, Mi H, Mutowo-Muellenet P, Mulder N, Natale D, Orengo C, Pesseat S, Punta M, Quinn AF, Rivoire C, Sangrador-Vegas A, Selengut JD, Sigrist CJA, Scheremetjew M, Tate J, Thimmajanarthanan M, Thomas PD, Wu CH, Yeats C, Yong S-Y (2012) InterPro in 2011: new developments in the family and domain prediction database. Nucleic Acids Res 40:D306–D312. https://doi.org/10.1093/nar/gkr948

Huson DH, Richter DC, Rausch C, Dezulian T, Franz M, Rupp R (2007) Dendroscope: an interactive viewer for large phylogenetic trees. BMC Bioinform 8:460–460. https://doi.org/10.1186/1471-2105-8-460

Itakura Y, Nakamura-Tsuruta S, Kominami J, Tateno H, Hirabayashi J (2017) Sugar-binding profiles of chitin-binding lectins from the hevein family: a comprehensive study. Int J Mol Sci 18(6):1160. https://doi.org/10.3390/ijms18061160

Janssen O, Scheffler A, Kabelitz D (1993) In vitro effects of mistletoe extracts and mistletoe lectins. Cytotoxicity towards tumor cells due to the induction of programmed cell death (apoptosis). Arzneimittelforschung 43(11):1221–1227. https://doi.org/10.1016/S0959-8049(97)89425-7

Kim M-S, Lee J, Lee K-M, Yang S-H, Sujinna C, Chung S-Y, Kim T-Y, Jeong W-H, Park R (2003) Involvement of hydrogen peroxide in mistletoe lectin-II-induced apoptosis of myeloleukemic U937 cells. Life Sci 73(10):1231–1243. https://doi.org/10.1016/S0024-3205(03)00418-1

Kintzios S, Barberaki M, Tourgielis P, Aivalakis G, Volioti A (2002) Preliminary evaluation of somaclonal variation for the in vitro production of new toxic proteins from Viscum album L. J Herbs Spices Med Plants 9(2–3):217–221. https://doi.org/10.1300/J044v09n02_31

Klein R, Classen K, Fischer S, Errenst M, Scheffler A, Stein M, Scheer G, Laue R (2002) Induction of antibodies to viscotoxins A1, A2, A3, and B in tumour patients during therapy with an aqueous mistletoe extract. Eur J Med Res 7(8):359–367

Klein R, Franz M, Wacker R, Classen K, Scheer R, Laue H, Stoeva S, Voelter W (2004) Demonstration of antibodies to the chitin-binding mistletoe lectin (CBML) in tumor patients before and during therapy with an aqueous mistletoe extract. Eur J Med Res 9(6):316–322

Knöpfl-Sidler F, Viviani A, Rist L, Hensel A (2005) Human cancer cells exhibit in vitro individual receptiveness towards different Mistletoe extracts. Pharmazie 60(6):448–454

Krauspenhaar R, Rypniewski W, Kalkura N, Moore K, DeLucas L, Stoeva S, Mikhailov A, Voelter W, Betzel C (2002) Crystallisation under microgravity of mistletoe lectin I from Viscum album with adenine monophosphate and the crystal structure at 1.9 A resolution. Acta Crystallogr Sect D 58(10 Part 1):1704–1707. https://doi.org/10.1107/S0907444902014270

Kroz M, Kienle GS, Feder G, Kaveri S, Rosenzweig S (2014) Mistletoe: from basic research to clinical outcomes in cancer and other indications. Evid-Based Complement Altern Med 2014:2. https://doi.org/10.1155/2014/987527

Lannoo N, Van Damme EJM (2014) Lectin domains at the frontiers of plant defense. Front Plant Sci 5:397–397. https://doi.org/10.3389/fpls.2014.00397

Laskowski RA, Rullmann JAC, MacArthur MW, Kaptein R, Thornton JM (1996) AQUA and PROCHECK-NMR: programs for checking the quality of protein structures solved by NMR. J Biomol NMR 8(4):477–486. https://doi.org/10.1007/BF00228148

Latosinska A, Vougas K, Makridakis M, Klein J, Mullen W, Abbas M, Stravodimos K, Katafigiotis I, Merseburger AS, Zoidakis J, Mischak H, Vlahou A, Jankowski V (2015) Comparative analysis of label-free and 8-Plex iTRAQ approach for quantitative tissue proteomic analysis. PLoS ONE 10(9):e0137048. https://doi.org/10.1371/journal.pone.0137048

Le SQ, Gascuel O (2008) An improved general amino acid replacement matrix. Mol Biol Evol 25(7):1307–1320. https://doi.org/10.1093/molbev/msn067

Lindahl E, Hess B, van der Spoel D (2001) GROMACS 3.0: a package for molecular simulation and trajectory analysis. Mol Model Annu 7(8):306–317. https://doi.org/10.1007/s008940100045

Lyu SY, Choi SH, Park WB (2002) Korean mistletoe lectin-induced apoptosis in hepatocarcinoma cells is associated with inhibition of telomerasevia mitochondrial controlled pathway independent of p53. Arch Pharmacal Res 25(1):93–101. https://doi.org/10.1007/bf02975269

Stein M, Schaller G, Pfueller G, Schietzel U, Büssing M (1999) Thionins from Viscum album L.: influence of the viscotoxins on the activation of granulocytes. Anticancer Res 19(2Α):1037–1042

Magrane M (2011) UniProt knowledgebase: a hub of integrated protein data. Database. https://doi.org/10.1093/database/bar009

Maletzki C, Linnebacher M, Savai R, Hobohm U (2013) Mistletoe lectin has a shiga toxin-like structure and should be combined with other Toll-like receptor ligands in cancer therapy. Cancer Immunol Immunother 62(8):1283–1292. https://doi.org/10.1007/s00262-013-1455-1

Marvibaigi M, Supriyanto E, Amini N, Abdul Majid FA, Jaganathan SK (2014) Preclinical and clinical effects of mistletoe against breast cancer. Biomed Res Int 2014:15. https://doi.org/10.1155/2014/785479

Mavrikou S, Tsekouras V, Karageorgou M-A, Moschopoulou G, Kintzios S (2019) Anticancer and biochemical effects of Viscum album L. protein extracts on HeLa cells. Plant Cell Tissue Organ Cult.https://doi.org/10.1007/s11240-019-01733-0

Melnick S (2006) Developmental therapeutics: review of biologically based complementary and alternative medicine (CAM) therapies for potential application in children with cancer-part II. J Pediatr Hematol Oncol 28(5):271–285. https://doi.org/10.1097/01.mph.0000212900.76523.16

Ochocka JR, Piotrowski A (2002) Biologically active compounds from European mistletoe (Viscum album L.). Can J Plant Pathol 24(1):21–28. https://doi.org/10.1080/07060660109506966

Odintsova T, Slezina P, Istomina MA (2018) Plant thionins: structure, biological functions and potential use in biotechnology. Vavilov J Genet Breed 22(6):667–675. https://doi.org/10.18699/VJ18.409

Ostermann T, Raak C, Büssing A (2009) Survival of cancer patients treated with mistletoe extract (Iscador): a systematic literature review. BMC Cancer 9(1):451. https://doi.org/10.1186/1471-2407-9-451

Pae HO, Oh GS, Kim NY, Shin MK, Lee HS, Yun YG, Oh H, Kim YM, Chung HT (2001) Roles of extracellular signal-regulated kinase and p38 mitogen-activated protein kinase in apoptosis of human monoblastic leukemia U937 cells by lectin-II isolated from Korean Mistletoe. In Vitro Mol Toxicol 14(2):99–106. https://doi.org/10.1089/10979330152560496

Patel S, Panda S (2014) Emerging roles of mistletoes in malignancy management. 3Biotech 4(1):13–20. https://doi.org/10.1007/s13205-013-0124-6

Peumans WJ, Van Damme EJM (2010) Evolution of plant ribosome-inactivating proteins. In: Lord JM, Hartley MR (eds) Toxic plant proteins. Springer, Berlin, pp 1–26

Peumans WJ, Verhaert P, Pfüller U, Van Damme EJM (1996) Isolation and partial characterization of a small chitin-binding lectin from mistletoe (Viscum album). FEBS Lett 396(2):261–265. https://doi.org/10.1016/0014-5793(96)01108-8

Romagnoli S, Fogolari F, Catalano M, Zetta L, Schaller G, Urech K, Giannattasio M, Ragona L, Molinari H (2003) NMR solution structure of viscotoxin C1 from Viscum album species coloratum ohwi: toward a structure—function analysis of viscotoxins. Biochemistry 42(43):12503–12510. https://doi.org/10.1021/bi034762t

Šali A, Potterton L, Yuan F, van Vlijmen H, Karplus M (1995) Evaluation of comparative protein modeling by MODELLER. Proteins Struct Funct Bioinform 23(3):318–326. https://doi.org/10.1002/prot.340230306

Sarpataki O, Sevastre B, Stan R, Olah N, Hanganu D, Bedecean I, Ionescu C, Marcus I (2014) Viscum album L. influence on the antioxidant enzymes activity in Ehrlich tumor cells in vivo. Bull Univ Agric Sci Vet Med Cluj-Napoca 71(1):198–203. https://doi.org/10.15835/buasvmcn-vm:71:1:10144

Schrader G, Apel K (1991) Isolation and characterization of cDNAs encoding viscotoxins of mistletoe (Viscum album). Eur J Biochem 198(3):549–553. https://doi.org/10.1111/j.1432-1033.1991.tb16049.x

Seifert G, Jesse P, Laengler A, Reindl T, Lüth M, Lobitz S, Henze G, Prokop A, Lode HN (2008) Molecular mechanisms of mistletoe plant extract-induced apoptosis in acute lymphoblastic leukemia in vivo and in vitro. Cancer Lett 264(2):218–228. https://doi.org/10.1016/j.canlet.2008.01.036

Sellis D, Vlachakis D, Vlassi M (2009) Gromita: a fully integrated graphical user interface to gromacs 4. Bioinform Biol insights 3:99–102. https://doi.org/10.4137/BBI.S3207

Silva MCC, Santana LA, Mentele R, Ferreira RS, de Miranda A, Silva-Lucca RA, Sampaio MU, Correia MTS, Oliva MLV (2012) Purification, primary structure and potential functions of a novel lectin from Bauhinia forficata seeds. Process Biochem 47(7):1049–1059. https://doi.org/10.1016/j.procbio.2012.03.008

Singh N, Brahma Saha C, Galun D, Kumar Upreti D, Bayry J, Kaveri S (2016) European Viscum album: a potent phytotherapeutic agent with multifarious phytochemicals, pharmacological properties and clinical evidence. RSC Adv. https://doi.org/10.1039/C5RA27381A

Słomińska-Wojewódzka M, Sandvig K (2013) Ricin and ricin-containing immunotoxins: insights into intracellular transport and mechanism of action in vitro. Antibodies 2(2):236–239. https://doi.org/10.3390/antib2020236

Stec B (2006) Plant thionins—the structural perspective. Cell Mol Life Sci 63(12):1370–1385. https://doi.org/10.1007/s00018-005-5574-5

Tabiasco J, Pont F, Fournié J-J, Vercellone A (2002) Mistletoe viscotoxins increase natural killer cell-mediated cytotoxicity. Eur J Biochem 269(10):2591–2600. https://doi.org/10.1046/j.1432-1033.2002.02932.x

Thompson JD, Gibson TJ, Higgins DG (2003) Multiple sequence alignment using ClustalW and ClustalX. Curr Protoc Bioinform.https://doi.org/10.1002/0471250953.bi0203s00

Tröger W, Galun D, Reif M, Schumann A, Stanković N, Milićević M (2014) Quality of life of patients with advanced pancreatic cancer during treatment with mistletoe: a randomized controlled trial. Deutsches Arzteblatt Int 111(29–30):493–502. https://doi.org/10.3238/arztebl.2014.0493

Urech K, Schaller G, Jäggy C (2006) Viscotoxins, Mistletoe lectins and their isoforms in Mistletoe (Viscum album L.) extracts iscador. Arzneimittelforschung 56(06):428–434. https://doi.org/10.1055/s-0031-1296808

Van Damme EJM, Lannoo N, Peumans WJ (2008) Plant lectins. In: Kader J-C, Delseny M (eds) Advances in botanical research. Academic Press, Cambridge, pp 107–209

van der Spoel D, Lindahl E, Hess B, Groenhof G, Mark E, Berendsen A (2005) GROMACS: fast, flexible, and free. J Comput Chem 26(16):1701–1718. https://doi.org/10.1002/jcc.20291

Venables NW, Ripley DB (2002) Modern applied statistics With S. Springer-Verlag, New York

Vergara-Barberán M, Lerma-García MJ, Nicoletti M, Simó-Alfonso EF, Herrero-Martínez JM, Fasoli E, Righetti PG (2017) Proteomic fingerprinting of mistletoe (Viscum album L.) via combinatorial peptide ligand libraries and mass spectrometry analysis. J Proteom 164:52–58. https://doi.org/10.1016/j.jprot.2017.05.025

Vicaş SI, Socaciu C (2008) The bilological activity of European mistletoe (Viscum album) extracts and their pharmaceutical impact. Bull Univ Agric Sci Vet Med Cluj-Napoca. https://doi.org/10.15835/buasvmcn-agr:1344

Voelter W, Wacker R, Franz M, Maier T, Stoeva S (2000) Complete structural characterization of a chitin-binding lectin from Mistletoe extracts. J für praktische Chem 342(8):812–818. https://doi.org/10.1002/1521-3897(200010)342:8<812::AID-PRAC812>3.0.CO;2-J

Voelter W, Wacker R, Stoeva S, Tsitsilonis R, Betzel C (2005) Mistletoe lectins, structure and function. Front Nat Prod Chem 1:149–162. https://doi.org/10.2174/1574089054583597

Walsh MJ, Dodd JE, Hautbergue GM (2013) Ribosome-inactivating proteins: potent poisons and molecular tools. Virulence 4(8):774–784. https://doi.org/10.4161/viru.26399

Wang J, Li J-l, Li J, Li J-x, Liu S-j, Huang L-q, Gao W-y (2017) Production of active compounds in medicinal plants: from plant tissue culture to biosynthesis. Chin Herb Med 9(2):115–125. https://doi.org/10.1016/S1674-6384(17)60085-6

Werthmann PG, Hintze A, Kienle GS (2017) Complete remission and long-term survival of a patient with melanoma metastases treated with high-dose fever-inducing Viscum album extract: a case report. Medicine 96(46):e8731–e8731. https://doi.org/10.1097/MD.0000000000008731

Wiśniewski JR, Zougman A, Nagaraj N, Mann M (2009) Universal sample preparation method for proteome analysis. Nat Methods 6:359. https://doi.org/10.1038/nmeth.1322

Zuber D (2004) Biological flora of central Europe: Viscum album L. Flora Morphol Distrib Funct Ecol Plants 199(3):181–203. https://doi.org/10.1078/0367-2530-00147

Zuber D, Widmer A (2000) Genetic evidence for host specificity in the hemi-parasitic Viscum album L. (Viscaceae). Mol Ecol 9(8):1069–1073. https://doi.org/10.1046/j.1365-294x.2000.00963.x
Ethics declarations
Conflict of interest
The authors declare that they have no conflict of interest.
Additional information
Publisher's Note
Springer Nature remains neutral with regard to jurisdictional claims in published maps and institutional affiliations.
Communicated by Silvia Moreno.
About this article
Cite this article
Tsekouras, V., Mavrikou, S., Vlachakis, D. et al. Proteome analysis of leaf, stem and callus in Viscum album and identification of lectins and viscotoxins with bioactive properties. Plant Cell Tiss Organ Cult 141, 167–178 (2020). https://doi.org/10.1007/s11240-020-01777-7
Received:

Revised:

Accepted:

Published:

Issue Date:
Keywords
Anticancer proteins

Callus

Mistletoe

Phyllogenetic tree

Proteome

Viscum album