Abstract
Improper post-harvest handling results in significant losses to cut rose flowers. The phytohormone ethylene plays a key role in the growth of rose and flower opening. In this study we isolated and characterized an Ethylene Response Factor (RhERF092) from rose (Rosa hybrida) cv. "Samantha" and investigated its role in flower opening and development. RhERF092 was originally detected in a microarray experiment with a significant increase in its expression in rose petals after 1 h of ethylene treatment. Sequence analysis showed the presence of a canonical AP2/EREBP domain and a C-terminus trans-activation domain. Phylogenetic analysis showed that RhERF092 is an orthologue of the Arabidopsis ERF1 (AT3G23240) belonging to subgroup IX of the ERF gene family. Confocal laser scanning microscopy showed RhERF092: GFP expression in the nucleus. Basal expression of RhERF092 is highest expression at stage 0 of flower opening which gradually decreases and remains constant till senescence. Ectopic expression of RhERF092 in Arabidopsis caused various ethylene-related aberrations in plant development including stunted growth, abortion of apical dominance, production of lateral tillers from rosette nodes, branches from the aerial nodes, and sterile inflorescence. Arabidopsis 35SRhERF092 plants were found to be sensitive to the ethylene precursor ACC with significantly reduced hypocotyl and root system with significant reduction in the expression of genes involved in cell proliferation, cell expansion and cell cycle such as ARGOS, ARGOS-LIKE, SIM, JAGGED, AN3, CYCD3-1, and CYCD3-2as compared to WT plants. Taken together these results indicate that RhERF092 regulates ethylene-specific responses in rose and Arabidopsis.
Key message
The rose Ethylene Response Factor RhERF092 is a transcription factor that regulates essential ethylene-related development of rose flowers and mediates abiotic stress responses in Arabidopsis.
Access options
Buy single article
Instant access to the full article PDF.
US$ 39.95
Tax calculation will be finalised during checkout.
Subscribe to journal
Immediate online access to all issues from 2019. Subscription will auto renew annually.
US$ 119
Tax calculation will be finalised during checkout.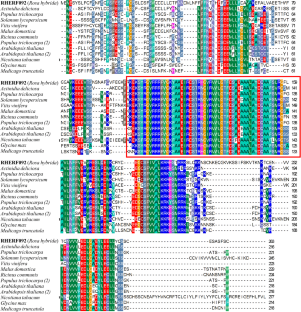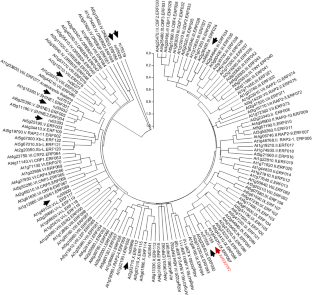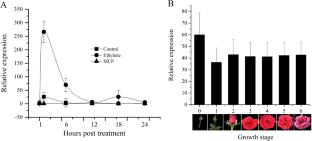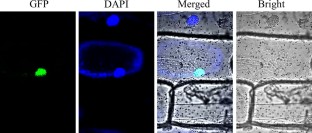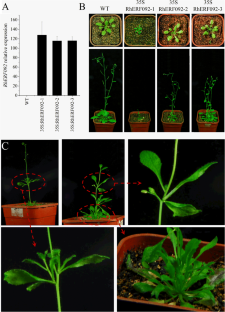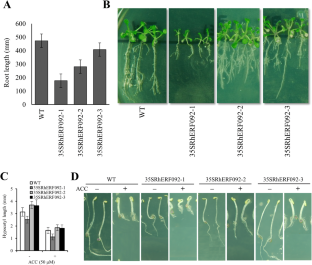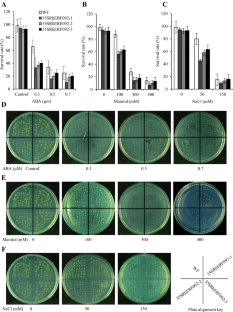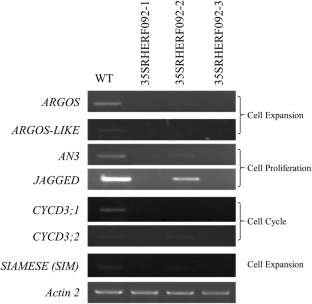 References
Abeles FB, Morgan PW, Saltveit ME Jr (2012) Ethylene in plant biology. Academic Press, San Diego

Alonso JM, Stepanova AN (2004) The ethylene signaling pathway. Science 306(5701):1513–1515. https://doi.org/10.1126/science.1104812

Arteca JM, Arteca RN (1999) A multi-responsive gene encoding 1-aminocyclopropane-1-carboxylate synthase (ACS6) in mature Arabidopsis leaves. Plant Mol Biol 39(2):209–219

Cassells A, Gahan PB (2006) Dictionary of plant tissue culture. CRC Press, Boca Raton

Clough SJ, Bent AF (1998) Floral dip: a simplified method for Agrobacterium-mediated transformation of Arabidopsis thaliana. Plant J 16(6):735–743

Constabel F, Shyluk JP (1994) Initiation, nutrition, and maintenance of plant cell and tissue cultures. In: Vasil IK, Thorpe TA (eds) Plant cell and tissue culture. Springer, Dordrecht, pp 3–15

Dietz K-J, Vogel MO, Viehhauser A (2010) AP2/EREBP transcription factors are part of gene regulatory networks and integrate metabolic, hormonal and environmental signals in stress acclimation and retrograde signalling. Protoplasma 245(1–4):3–14

Erpen L, Devi HS, Grosser JW, Dutt M (2018) Potential use of the DREB/ERF, MYB, NAC and WRKY transcription factors to improve abiotic and biotic stress in transgenic plants. Plant Cell Tissue Organ Cult (PCTOC) 132(1):1–25. https://doi.org/10.1007/s11240-017-1320-6

Fujimoto SY, Ohta M, Usui A, Shinshi H, Ohme-Takagi M (2000) Arabidopsis ethylene-responsive element binding factors act as transcriptional activators or repressors of GCC box–mediated gene expression. Plant Cell 12(3):393–404

Giovannoni JJ (2004) Genetic regulation of fruit development and ripening. Plant Cell 16(Suppl):S170–S180. https://doi.org/10.1105/tpc.019158

Gong Z, Lee H, Xiong L, Jagendorf A, Stevenson B, Zhu J-K (2002) RNA helicase-like protein as an early regulator of transcription factors for plant chilling and freezing tolerance. Proc Natl Acad Sci USA 99(17):11507–11512. https://doi.org/10.1073/pnas.172399299

Iordachescu M, Verlinden S (2005) Transcriptional regulation of three EIN3-like genes of carnation (Dianthus caryophyllus L. cv. Improved White Sim) during flower development and upon wounding, pollination, and ethylene exposure. J Exp Bot 56(418):2011–2018

Liu J, Li J, Wang H, Fu Z, Liu J, Yu Y (2010) Identification and expression analysis of ERF transcription factor genes in petunia during flower senescence and in response to hormone treatments. J Exp Bot 62(2):825–840. https://doi.org/10.1093/jxb/erq324

Ma N, Cai L, Lu W, Tan H, Gao J (2005) Exogenous ethylene influences flower opening of cut roses (Rosa hybrida) by regulating the genes encoding ethylene biosynthesis enzymes. Sci China C Life Sci 48(5):434–444

Ma N, Tan H, Liu X, Xue J, Li Y, Gao J (2006) Transcriptional regulation of ethylene receptor and CTR genes involved in ethylene-induced flower opening in cut rose (Rosa hybrida) cv. Samantha. J Exp Bot 57(11):2763–2773. https://doi.org/10.1093/jxb/erl033

McGrath KC, Dombrecht B, Manners JM, Schenk PM, Edgar CI, Maclean DJ, Scheible W-R, Udvardi MK, Kazan K (2005) Repressor- and activator-type ethylene response factors functioning in jasmonate signaling and disease resistance identified via a genome-wide screen of Arabidopsis transcription factor gene expression. Plant Physiol 139(2):949–959. https://doi.org/10.1104/pp.105.068544

Müller R, Sisler EC, Serek M (2000) Stress induced ethylene production, ethylene binding, and the response to the ethylene action inhibitor 1-MCP in miniature roses. Sci Hortic 83(1):51–59

Nakano T, Suzuki K, Fujimura T, Shinshi H (2006) Genome-wide analysis of the ERF gene family in Arabidopsis and rice. Plant Physiol 140(2):411–432

Ohmetakagi M, Shinshi H (1995) Ethylene-inducible DNA-binding proteins that interact with an ethylene-responsive element. Plant Cell 7(2):173–182. https://doi.org/10.1105/Tpc.7.2.173

Ohta M, Ohme-Takagi M, Shinshi H (2000) Three ethylene-responsive transcription factors in tobacco with distinct transactivation functions. Plant J 22(1):29–38. https://doi.org/10.1046/j.1365-313x.2000.00709.x

Ohta M, Matsui K, Hiratsu K, Shinshi H, Ohme-Takagi M (2001) Repression domains of Class II ERF transcriptional repressors share an essential motif for active repression. Plant Cell 13(8):1959–1968. https://doi.org/10.1105/tpc.010127

Park JM, Park C-J, Lee S-B, Ham B-K, Shin R, Paek K-H (2001) Overexpression of the tobacco Tsi1 gene encoding an EREBP/AP2-type transcription factor enhances resistance against pathogen attack and osmotic stress in tobacco. Plant Cell 13(5):1035–1046

Pei H, Ma N, Tian J, Luo J, Chen J, Li J, Zheng Y, Chen X, Fei Z, Gao J (2013a) An NAC transcription factor controls ethylene-regulated cell expansion in flower petals. Plant Physiol 163(2):775–791. https://doi.org/10.1104/pp.113.223388

Pei H, Ma N, Tian J, Luo J, Chen J, Li J, Zheng Y, Chen X, Fei Z, Gao J (2013b) An NAC transcription factor controls ethylene-regulated cell expansion in flower petals. Plant Physiol 163(2):775–791. https://doi.org/10.1104/pp.113.223388

Pesaresi P, Mizzotti C, Colombo M, Masiero S (2014) Genetic regulation and structural changes during tomato fruit development and ripening. Front Plant Sci 5:124. https://doi.org/10.3389/fpls.2014.00124

Ramanjulu S, Bartels D (2002) Drought- and desiccation-induced modulation of gene expression in plants. Plant Cell Environ 25(2):141–151

Ratcliffe OJ, Riechmann JL (2002) Arabidopsis transcription factors and the regulation of flowering time: a genomic perspective. Curr Issues Mol Biol 4:77–92

Sakuma Y, Liu Q, Dubouzet JG, Abe H, Shinozaki K, Yamaguchi-Shinozaki K (2002) DNA-binding specificity of the ERF/AP2 domain of Arabidopsis DREBs, transcription factors involved in dehydration- and cold-inducible gene expression. Biochem Biophys Res Commun 290(3):998–1009

Shinozaki K (2003) Cell signaling and gene regulation: global analyses of signal transduction and gene expression profiles. Curr Opin Plant Biol 6:405–409

Solano R, Stepanova A, Chao Q, Ecker JR (1998) Nuclear events in ethylene signaling: a transcriptional cascade mediated by ETHYLENE-INSENSITIVE3 and ETHYLENE-RESPONSE-FACTOR1. Genes Dev 12(23):3703–3714

Song C-P, Agarwal M, Ohta M, Guo Y, Halfter U, Wang P, Zhu J-K (2005) Role of an Arabidopsis AP2/EREBP-type transcriptional repressor in abscisic acid and drought stress responses. Plant Cell 17(8):2384–2396. https://doi.org/10.1105/tpc.105.033043

Tamura K, Dudley J, Nei M, Kumar S (2007) MEGA4: molecular evolutionary genetics analysis (MEGA) software version 4.0. Mol Biol Evol 24(8):1596–1599

Thompson JD, Gibson TJ, Higgins DG (2003) Multiple sequence alignment using ClustalW and ClustalX. Curr Protoc Bioinform. https://doi.org/10.1002/0471250953.bi0203s00

Tournier B, Sanchez-Ballesta MT, Jones B, Pesquet E, Regad F, Latché A, Pech J-C, Bouzayen M (2003) New members of the tomato ERF family show specific expression pattern and diverse DNA-binding capacity to the GCC box element. FEBS Lett 550(1–3):149–154. https://doi.org/10.1016/S0014-5793(03)00757-9

Tran L-SP, Urao T, Qin F, Maruyama K, Kakimoto T, Shinozaki K, Yamaguchi-Shinozaki K (2007) Functional analysis of AHK1/ATHK1 and cytokinin receptor histidine kinases in response to abscisic acid, drought, and salt stress in Arabidopsis. Proc Natl Acad Sci USA 104(51):20623–20628. https://doi.org/10.1073/pnas.0706547105

Van Berkel N (1986) Injurious effects of low ethylene concentrations on Chrysathemum molrifolium ramat. Working-party on Greenhouse Chrysanthemum, vol 197, pp 43–52

Van Doorn WG (2002) Effect of ethylene on flower abscission: a survey. Ann Bot 89(6):689–693

Wan C-Y, Wilkins TA (1994) A modified hot borate method significantly enhances the yield of high-quality RNA from cotton (Gossypium hirsutum L.). Anal Biochem 223(1):7–12

Wang A, Tan D, Takahashi A, Zhong Li T, Harada T (2007) MdERFs, two ethylene-response factors involved in apple fruit ripening. J Exp Bot 58(13):3743–3748. https://doi.org/10.1093/jxb/erm224

Woltering E, Van Hout M, Somhorst D, Harren F (1993) Roles of pollination and short-chain saturated fatty acids in flower senescence. Plant Growth Regul 12(1–2):1–10

Yamaguchi-Shinozaki K, Shinozaki K (2006) Transcription regulatory networks in cellular responses and tolerance to dehydration and cold stresses. Annu Rev Plant Biol 57(1):781–803. https://doi.org/10.1146/annurev.arplant.57.032905.105444

Yang H-J, Shen H, Chen L, Xing Y-Y, Wang Z-Y, Zhang J-L, Hong M-M (2002) The OsEBP-89 gene of rice encodes a putative EREBP transcription factor and is temporally expressed in developing endosperm and intercalary meristem. Plant Mol Biol 50(3):379–391. https://doi.org/10.1023/a:1019859612791

Zhong S, Chang C (2012) Ethylene signalling: the CTR1 protein kinase. In: McManus MT (ed) Annual plant reviews. The plant hormone ethylene, vol 44. Wiley-Blackwell, Hoboken, p 150
Acknowledgements
This work was supported by the National Natural Science Foundation of China, Grant No. 31372095 and Grant No. 31130048, and the 948 project (2011-G17) of the Ministry of Agriculture. We are thankful to Dr. Gao Junping, Dr. Hong Bo and Dr. Ma Nan for all their support for help during the experiments and also for critical review of the manuscript.
Ethics declarations
Conflict of interest
The authors declare that they have no conflict of interest.
Additional information
Publisher's Note
Springer Nature remains neutral with regard to jurisdictional claims in published maps and institutional affiliations.
Communicated by Sergio Rosales-Mendoza.
Electronic supplementary material
Below is the link to the electronic supplementary material.
About this article
Cite this article
Khan, M., Imtiaz, M., Hussain, A. et al. Isolation and functional characterization of an Ethylene Response Factor (RhERF092) from rose (Rosa hybrida). Plant Cell Tiss Organ Cult 140, 157–172 (2020). https://doi.org/10.1007/s11240-019-01719-y
Received:

Accepted:

Published:

Issue Date:
Keywords
Rose

Flower opening

Ethylene

RhERF092

Transcriptional factor