Abstract
Angelica sinensis (Oliv.) Diels is an edible and medicinal plant honored as "female ginseng". It is widely used as valuable traditional Chinese medicine for over 2000 years. In the present study, an efficient procedure has been developed for establishment of cell suspension culture and plant regeneration of Angelica sinensis (Oliv.) Diels. Friable Callus derived from hypocotyl was used to establish cell suspension culture. Dynamics of biomass, FA content and medium conductivity have been investigated during the growth cycle of the suspension culture. The maximum content of FA and biomass were both observed on the 16th day of the cultivation cycle. The effect of basic medium, inoculum density, initial pH, illumination and various concentrations of sucrose have been analyzed, to optimize biomass growth and FA production. The maximum biomass was obtained in ½MS medium. In response to various sucrose concentrations, cell cultures with 40 g/L sucrose produced the highest dry biomass, but the highest production of FA was obtained in medium with 30 g/L sucrose. The optimal inoculum density was 10.3925 g/L. Initial medium pH 5.0 was beneficial to biomass and FA accumulation. Illumination had no effect on biomass, but it was favorable for FA synthesis. Cells cultured over a year were transferred to ½MS medium supplemented with 10% coconut water showed embryoid formation at a frequency of 100%. The research results could provide technical support for large-scale production of cells and seedlings, genetic transformation and somatic hybridization in A. sinensis studies.
This is a preview of subscription content, log in to check access.
Access options
Buy single article
Instant access to the full article PDF.
US$ 39.95
Price includes VAT for USA
Subscribe to journal
Immediate online access to all issues from 2019. Subscription will auto renew annually.
US$ 199
This is the net price. Taxes to be calculated in checkout.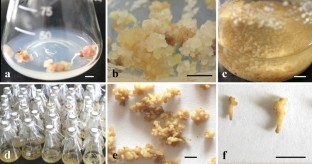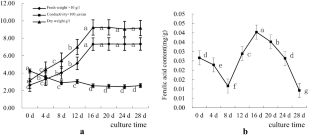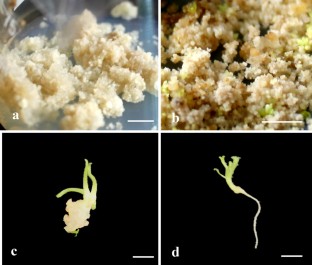 References
Abbas MS, El-Shabrawi HM, Soliman AS, Mai AS (2018) Optimization of germination, callus induction, and cell suspension culture of African locust beans Parkia biglobosa (Jacq.) Benth. J Genetic Biotechnol 16:191–201

Ali M, Abbasi BH, Ahmad N, Ali SS, Ali S, Ali GS (2016) Sucrose-enhanced biosynthesis of medicinally important antioxidant secondary metabolites in cell suspension cultures of Artemisia absinthium L. Bioprocess Biosyst Eng 39:1–10

Arias JP, Zapata K, Rojano B, Arias M (2016) Effect of light wavelength on cell growth, content of phenolic compounds and antioxidant activity in cell suspension cultures of Thevetia peruviana. J Photochem Photobiol B Biol 163:87–91

Baque MA, Lee EJ, Paek KY (2012) Sucrose regulated enhanced induction of anthraquinone, phenolics, flavonoids biosynthesis and activities of antioxidant enzymes in adventitious root suspension cultures of Morinda citrifolia (L.). Acta Physiol Plant 34:417–417

Bioprocess (2016) Sucrose-enhanced biosynthesis of medicinally important antioxidant secondary metabolites in cell suspension cultures of Artemisia absinthium L Biosys Eng 39:1–10

Cetin ES, Baydar NG (2016) Elicitor applications to cell suspension culture for production of phenolic compounds in grapevine. Tarim Bilimleri Dergisi 22:42–53

Chen XP, Li W, Xiao XF, Zhang LL, Liu CX (2013) Phytochemical and pharmacological studies on radix angelica sinensis. Chin J Nat Med 11:577–587

China Pharmacopoeia Commission (2015) Chinese Pharmacopoeia. Chemical Industry Press, China

Ganapathi S, Karg F (1990) Recent advances in indole alkaloid production by Catharanthus raseus (Periwinkle). J Exp Bot 41:259–267

Hattori T, Nakagawa S, Nakamura K (1990) High-level expression of tuberous root storage protein genes of sweet potato in stems of plantlets grown in vitro on sucrose medium. Plant Mol Biol 14:595–604

Hippolyte I, Marin B, Baccou JC, Jonard R (1992) Growth and rosmarinic acid production in cell suspension cultures of Salvia officinalis L Plant Cell Rep 11:109–112

Hook IL (2014) Danggui to Angelica sinensis root: are potential benefits to European women lost in translation? a review. J Ethnopharmacol 152:1–13

Huang B, Han L, Li S, Yan C (2015) Optimization of induction, subculture conditions, and growth kinetics of Angelica sinensis (Oliv.) Diels callus. Pharmacogn Mag 11:574–578

Karwasara VS, Dixit VK (2013) Culture medium optimization for camptothecin production in cell suspension cultures of Nothapodytes nimmoniana (J. Grah.) Mabberley. Plant Biotechnol Rep 7:357–369

Kashyap S, Kapoor N, Kale RD (2016) Coscinium fenestratum: callus and suspension cell culture of the endangered medicinal plant using vermicompost extract and coelomic fluid as plant tissue culture media. Am J Plant Sci 7:899–906

Kühn C, Hajirezaei MR, Fernie AR, Roessnertunali U, Czechowski T, Hirner B et al (2003) The sucrose transporter stsut1 localizes to sieve elements in potato tuber phloem and influences tuber physiology and development. Plant Physiol 131:102–113

Kurkdjian A, Morot-Gaudry JF, Wuilleme S, Lamant A, Jolivet E, Guern J (1981) Evidence for an action of fusicoccin on the vacuolar pH of Acer pseudoplatanus cells in suspension culture. Plant Sci Lett 23:233–243

Li Q, Tang M, Tan Y, Ma D, Wang Y, Zhang H (2016) Improved production of chlorogenic acid from cell suspension cultures of Lonicera macranthoids. Trop J Pharm Res 15:919–927

Lian ML, Chakrabarty D, Paek KY (2002) Effect of plant growth regulators and medium composition on cell growth and saponin production during cell-suspension culture of mountain ginseng (Panax ginseng, C. A. Mayer). J Plant Biol 45:201–206

Liu X, Yan Y, Liu Y, Mo T, Wang X, Song Y et al (2018) Cell culture establishment and regulation of two phenylethanoid glycosides accumulation in cell suspension culture of desert plant Cistanche tubulosa. Plant Cell Tissue Organ Cult 134:1–12

Martinez BC, Park CH (1993) Characteristics of batch suspension cultures of preconditioned Coleus blumei cells: sucrose effect. Biotechnol Prog 9:97–100

Modarres M, Esmaeilzadeh SB, Taghavizadeh MY (2018) Enhanced production of phenolic acids in cell suspension culture of Salvia leriifolia Benth. using growth regulators and sucrose. Cytotechnology 70:1–10

Murashige T, Skoog F (1962) A revised medium for rapid growth and bioassays with tobacco tissue cultures. Physiol Plant 15:473–497

Nagella P, Murthy HN (2010) Establishment of cell suspension cultures of Withania somnifera for the production of withanolide A. Bioresour Technol 101:6735–6739

Nalawade SM, Sagare AP, Lee CY, Kao CL, Tsay HS (2003) Studies on tissue culture of Chinese medicinal plant resources in Taiwan and their sustainable utilization. Bot Bull Acad Sin Taipei 44:79–98

Pacheco G, Garcia R, Lugato D, Vianna M, Mansur E (2012) Plant regeneration, callus induction and establishment of cell suspension cultures of Passiflora alata Curtis. Sci Hortic 144:42–47

Qi XJ, Chen RY, Wang W (2010) Cell suspension culture of Gentiana macrophylla (I). Chin Trad Herb Drugs 41:636–638

Rao SR, Ravishankar GA (2003) Plant cell cultures: chemical factories of secondary metabolites. Biotechnol Adv 20:101–153

Ryu DDY, Lee SO, Romani RJ (1990) Determination of growth rate for plant cell cultures: comparative studies. Biotechnol Bioeng 35:305–311

Sathish S, Venkatesh R, Safia N, Sathishkumar R (2018) Studies on growth dynamics of embryogenic cell suspension cultures of commercially important Indica rice cultivars ASD16 and Pusa basmati. Biotech 8:1–9

Sharma N, Gauchan DP, Dhakal A, Luitel A, Shakya S (2015) Establishment of regenerative callus, suspension system and molecular characterization of Stevia Rebaudiana Bertoni for the production of stevioside in In-vitro. Int J Res Appl Sci Eng Technol 3:133–143

Tsay HS, Huang HL (1998) Somatic embryo formation and germination from immature embryo-derived suspension-cultured cells of Angelica sinensis (Oliv.) Diels. Plant Cell Rep 17:670–674

Vasil V, Vasil IK (1982) Characterization of an embryogenic cell suspension culture derived from cultured inflorescences of Pennisetum americanum (Pearl millet, Gramineae). Am J Bot 69:1441–1449

Wang YC, Liu CZ, Zhao B, Ouyang F (2000) Kinetics and stoichiometry in suspension culture of Artemisia annua L. hairy root. Eng Chem Metall 21:42–46

Wang YQ, Ye QH, Zhu Y (2008) Preliminary study on the cell suspension culture of Eucommia ulmoides and secondary metabolite-chlorogenic acid. Guihaia 28:671–674

Wang J, Gao WY, Yin SS, Liu H, Wei CL (2012) Research progress in medicinal plant cell suspension culture. China J Chin Mater Med 37:3680–3683

Wu SJ, Ng LT, Lin CC (2004) Antioxidant activities of some common ingredients of traditional Chinese medicine, angelica sinensis, lycium barbarum and poria cocos. Phytother Res 18:1008–1012

Xu J, Liu C, Fang X, Feng P (1997) Effects of medium pH dectease on salidroside release and cell viability in cell suspension culture of Rhodiola sachalinensis. Acta Bot Sin 39:1022–1029

Zhang W, Seki M, Furusaki S, Middelberg APJ (1998) Anthocyanin synthesis, growth and nutrient uptake in suspension cultures of strawberry cells. J Ferment Bioeng 86:72–78

Zhang HY, Bi WG, Yu Y, Liao WB (2012) Angelica sinensis (Oliv.) Diels in china: distribution, cultivation, utilization and variation. Genetic Resour Crop Evol 59:607–613

Zhao Y, Sun J, Yu L, Chen P (2013) Chromatographic and mass spectrometric fingerprinting analyses of Angelica sinensis (Oliv.) Diels-derived dietary supplements. Anal Bioanal Chem 405:4477–4485
Acknowledgements
This work was supported by funds of the Twelfth Five-Year National Science and Technology Support Project of China (No. 2011BAI05B02).
Ethics declarations
Conflict of interest
We declare that this work was done by the authors named in this article and all liabilities pertaining to claims relating to the content of this article will be borne by the authors.
Additional information
Communicated by Jochen Kumlehn.
About this article
Cite this article
Zhang, Y.H., Lu, Y.Y., He, C.Y. et al. A method for cell suspension culture and plant regeneration of Angelica sinensis (Oliv.) Diels. Plant Cell Tiss Organ Cult 136, 313–322 (2019). https://doi.org/10.1007/s11240-018-1517-3
Received:

Accepted:

Published:

Issue Date:
Keywords
Angelica sinensis (Oliv.) Diels

Cell suspension culture

Ferulic acid

Sucrose

Inoculum density

Plant regeneration