Abstract
Many recombinant proteins have been produced successfully in a rice suspension-cultured expression system based on the αAmy3 promoter and signal peptide. Here, a transgenic rice cell line, H11, which can produce recombinant human serum albumin (rHSA) under conditions of sugar starvation, was cultured in various common rice-cell media, including MS, AA, and N6D, to determine the optimal medium for the production of rHSA in rice suspension-cultured cells. The yields of rHSA secreted into the N6D medium were 23.2 mg/L at an initial cell density of 3% and 49.6 mg/L at an initial cell density of 24%, which was 1.8-fold and twofold higher, respectively, than the yields obtained in MS. Moreover, the yield of rHSA was also twofold higher in N6D than in AA medium. Thus, rice suspension cells cultured in N6D medium had the highest rHSA productivity compared with MS and AA media. Proline is known to play roles in plant tolerance to stress. Consequently, we examined the effect of proline in N6D on rHSA production. A twofold increase in the concentration of proline in N6D increased the yield of rHSA to 32.3 mg/L at an initial cell density of 3% after 16 days, an increase of 39.2% compared with standard N6D. A beneficial effect of proline was also demonstrated on the production of recombinant mouse granulocyte-macrophage colony-stimulating factor from the G10 transgenic cell line. Our study showed that the supplementation of N6D with additional proline can promote the production of recombinant proteins in the αAmy3 promoter/signal peptide-based rice suspension-cultured system.
This is a preview of subscription content, log in to check access.
Access options
Buy single article
Instant access to the full article PDF.
US$ 39.95
Price includes VAT for USA
Subscribe to journal
Immediate online access to all issues from 2019. Subscription will auto renew annually.
US$ 199
This is the net price. Taxes to be calculated in checkout.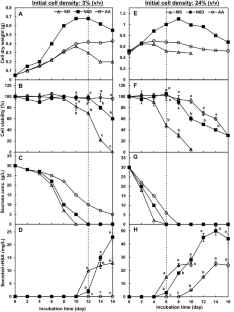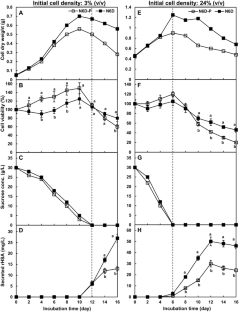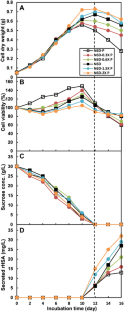 References
Chen MH, Liu LF, Chen YR, Wu HK, Yu SM (1994) Expression of α-amylases, carbohydrate metabolism, and autophagy in cultured rice cells is coordinately regulated by sugar nutrient. Plant J 6(5):625–636

Chen MH, Huang LF, Li HM, Chen YR, Yu SM (2004) Signal peptide-dependent targeting of a rice alpha-amylase and cargo proteins to plastids and extracellular compartments of plant cells. Plant Physiol 135(3):1367–1377

Cheon SH, Lee KH, Kwon JY, Choi SH, Song MN, Kim DI (2009) Enhanced delivery of siRNA complexes by sonoporation in transgenic rice cell suspension cultures. J Microbiol Biotechnol 19(8):781–786

Hayat S, Hayat Q, Alyemeni MN, Wani AS, Pichtel J, Ahmad A (2012) Role of proline under changing environments: a review. Plant Signal Behav 7(11):1456–1466

He Y, Ning T, Xie T, Qiu Q, Zhang L, Sun Y, Jiang D, Fu K, Yin F, Zhang W, Shen L, Wang H, Li J, Lin Q, Sun Y, Li H, Zhu Y, Yang D (2011) Large-scale production of functional human serum albumin from transgenic rice seeds. Proc Natl Acad Sci USA 108(47):19078–19083

Hellwig S, Drossard J, Twyman RM, Fischer R (2004) Plant cell cultures for the production of recombinant proteins. Nat Biotechnol 22(11):1415–1422

Hijazi M, Velasquez SM, Jamet E, Estevez JM, Albenne C (2014) An update on post-translational modifications of hydroxyproline-rich glycoproteins: toward a model highlighting their contribution to plant cell wall architecture. Front Plant Sci 5:395

Hong SY, Kwon TH, Jang YS, Kim SH, Yang MS (2006) Production of bioactive human granulocyte-colony stimulating factor in transgenic rice cell suspension cultures. Protein Expr Purif 47(1):68–73

Hong SY, Lee TS, Kim J, Jung JH, Choi CW, Kim TG, Kwon TH, Jang YS, Yang MS (2008) Tumor targeting of humanized fragment antibody secreted from transgenic rice cell suspension culture. Plant Mol Biol 68(4–5):413–422

Huang LF, Liu YK, Lu CA, Hsieh SL, Yu SM (2005) Production of human serum albumin by sugar starvation induced promoter and rice cell culture. Transgenic Res 14(5):569–581

Huang LF, Tan CC, Yeh JF, Liu HY, Liu YK, Ho SL, Lu CA (2015) Efficient secretion of recombinant proteins from rice suspension-cultured cells modulated by the choice of signal peptide. PLoS ONE 10(10):e0140812

Jung JW, Kim NS, Jang SH, Shin YJ, Yang MS (2016) Production and characterization of recombinant human acid alpha-glucosidase in transgenic rice cell suspension culture. J Biotechnol 226:44–53

Kim TG, Baek MY, Lee EK, Kwon TH, Yang MS (2008) Expression of human growth hormone in transgenic rice cell suspension culture. Plant Cell Rep 27(5):885–891

Kim T-G, Yang M-S, Moon J-H, Lee J-Y (2016) Production of monoclonal antibodies against 53-kDa protein of Porphyromonas gingivalis in transgenic rice cell suspension culture. Plant Cell Tissue Organ Cult 126(3):387–397

Kuo YC, Tan CC, Ku JT, Hsu WC, Su SC, Lu CA, Huang LF (2013) Improving pharmaceutical protein production in Oryza sativa. Int J Mol Sci 14(5):8719–8739

Lee SJ, Park CI, Park MY, Jung HS, Ryu WS, Lim SM, Tan HK, Kwon TH, Yang MS, Kim DI (2007) Production and characterization of human CTLA4Ig expressed in transgenic rice cell suspension cultures. Protein Expr Purif 51(2):293–302

Liu YK, Huang LF, Ho SL, Liao CY, Liu HY, Lai YH, Yu SM, Lu CA (2012) Production of mouse granulocyte-macrophage colony-stimulating factor by gateway technology and transgenic rice cell culture. Biotechnol Bioeng 109(5):1239–1247

Liu YK, Li YT, Lu CF, Huang LF (2015) Enhancement of recombinant human serum albumin in transgenic rice cell culture system by cultivation strategy. New Biotechnol 32(3):328–334

Lu CA, Lim EK, Yu SM (1998) Sugar response sequence in the promoter of a rice alpha-amylase gene serves as a transcriptional enhancer. J Biol Chem 273(17):10120–10131

Merlin M, Gecchele E, Capaldi S, Pezzotti M, Avesani L (2014) Comparative evaluation of recombinant protein production in different biofactories: the green perspective. Biomed Res Int 2014:136419

Murashige T, Skoog F (1962) A revised medium for rapid growth and bio assays with tobacco tissue cultures. Physiol Plant 15(3):473–497

Nam HJ, Kwon JY, Choi HY, Kang SH, Jung HS, Kim DI (2017) Production and purification of recombinant glucocerebrosidase in transgenic rice cell suspension cultures. Appl Biochem Biotechnol 181(4):1401–1415

Per TS, Khan NA, Reddy PS, Masood A, Hasanuzzaman M, Khan MI, Anjum NA (2017) Approaches in modulating proline metabolism in plants for salt and drought stress tolerance: phytohormones, mineral nutrients and transgenics. Plant Physiol Biochem 115:126–140

Schillberg S, Raven N, Fischer R, Twyman RM, Schiermeyer A (2013) Molecular farming of pharmaceutical proteins using plant suspension cell and tissue cultures. Curr Pharm Des 19(31):5531–5542

Su CF, Kuo IC, Chen PW, Huang CH, Seow SV, Chua KY, Yu SM (2012) Characterization of an immunomodulatory Der p2-FIP-fve fusion protein produced in transformed rice suspension cell culture. Transgenic Res 21(1):177–192

Szabados L, Savoure A (2010) Proline: a multifunctional amino acid. Trends Plant Sci 15(2):89–97

Toki S (1997) Rapid and efficient agrobacterium-mediated transformation in rice. Plant Mol Biol Rep 15(1):16–21

Torres E, Vaquero C, Nicholson L, Sack M, Stoger E, Drossard J, Christou P, Fischer R, Perrin Y (1999) Rice cell culture as an alternative production system for functional diagnostic and therapeutic antibodies. Transgenic Res 8(6):441–449

Toyofuku K, Umemura T, Yamaguchi J (1998) Promoter elements required for sugar-repression of the RAmy3D gene for alpha-amylase in rice. FEBS Lett 428(3):275–280

Wakasa Y, Takaiwa F (2013) The use of rice seeds to produce human pharmaceuticals for oral therapy. Biotechnol J 8(10):1133–1143

Yu SM, Kuo YH, Sheu G, Sheu YJ, Liu LF (1991) Metabolic derepression of alpha-amylase gene expression in suspension-cultured cells of rice. J Biol Chem 266(31):21131–21137
Acknowledgements
This work was supported by grants from Ministry of Science and Technology, R.O.C. (MOST105-2632-E-155-001 to Yu-Hong Wei and Li-Fen Huang, and MOST105-2311-B-182-002 to Yu-Kuo Liu) and Chang Gung Memorial Hospital (CMRPD2A0133 to Yu-Kuo Liu).
Ethics declarations
Conflict of interest
The authors have no conflicts of interest to declare.
Additional information
Communicated by Sergio J. Ochatt.
About this article
Cite this article
Liu, Y., Lu, C., Chang, J. et al. Optimization of the culture medium for recombinant protein production under the control of the αAmy3 promoter in a rice suspension-cultured cell expression system. Plant Cell Tiss Organ Cult 132, 383–391 (2018). https://doi.org/10.1007/s11240-017-1337-x
Received:

Accepted:

Published:

Issue Date:
Keywords
αAmy3

Human serum albumin

Mouse granulocyte-macrophage colony-stimulating factor

Proline

Rice suspension cell

Sugar starvation