Abstract
Ascorbate peroxidase (APX) plays an essential role in the antioxidant defense mechanism in the plant, serving in the ascorbate–glutathione cycle for the cellular H2O2 metabolism process. As the perennial plant, Panax ginseng Meyer encounters a lot of unfavorable growth conditions, and among them soil salinity significantly decreases the yield. Two APX genes from Panax ginseng were isolated and designated as PgAPX1 and PgAPX2, which are most similar with previously characterized cytosolic APX of Daucus carota and Spuriopimpinella brachycarpa, as revealed by sequence analysis of their deduced amino acid sequences. PgAPXs transcripts are most abundant in leaf tissue, whereas PgAPX1 expression level was higher compared to PgAPX2. Consistent with higher PgAPX1 expression during salt stress in ginseng, PgAPX1-overexpressing Arabidopsis lines (PgAPX1 ox) increased the germination rate and root length compared with wild-type (WT) under 200 mM NaCl stress treatment. Furthermore, higher chlorophyll content, relative water content, total APX activity, proline content, and lower H2O2 accumulation were shown in PgAPX1 ox plants compared to WT under 200 mM NaCl stress condition. Transcription analysis showed that PgAPX1 ox Arabidopsis lines were more salt-tolerant by upregulating the ion homeostasis mechanism.
Access options
Buy single article
Instant access to the full article PDF.
US$ 39.95
Tax calculation will be finalised during checkout.
Subscribe to journal
Immediate online access to all issues from 2019. Subscription will auto renew annually.
US$ 119
Tax calculation will be finalised during checkout.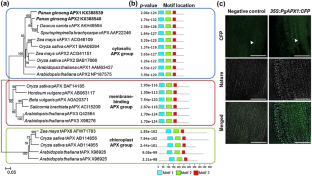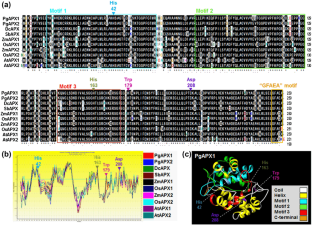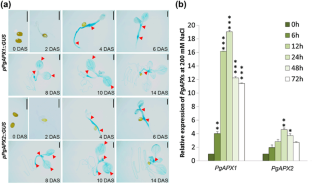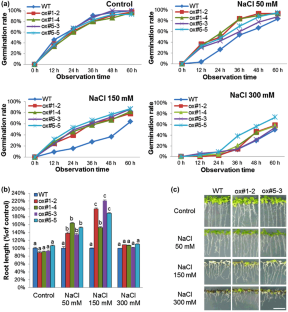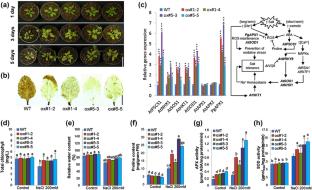 References
Abraham E, Rigo G, Szekely G, Nagy R, Koncz C, Szabados L (2003) Light-dependent induction of proline biosynthesis by abscisic acid and salt stress is inhibited by brassinosteroid in Arabidopsis. Plant Mol Biol 51:363–372

Agrawal GK, Jwa NS, Iwahashi H, Rakwal R (2003) Importance of ascorbate peroxidases OsAPX1 and OsAPX2 in the rice pathogen response pathways and growth and reproduction revealed by their transcriptional profiling. Gene 322:93–103

Apel K, Hirt H (2004) Reactive oxygen species: metabolism, oxidative stress, and signal transduction. Annu Rev Plant Biol 55:373–399

Ara N, Nakkanong K, Lv W, Yang J, Hu Z, Zhang M (2013) Antioxidant enzymatic activities and gene expression associated with heat tolerance in the stems and roots of two cucurbit species ("Cucurbita maxima" and "Cucurbita moschata") and their interspecific inbred line "Maxchata". Int J Mol Sci 14:24008–24028

Arnold K, Bordoli L, Kopp J, Schwede T (2006) The SWISS-MODEL workspace: a web-based environment for protein structure homology modeling. Bioinformatics 22:195–201

Asada K (1992) Ascorbate peroxidase—A hydrogen peroxide scavenging enzyme in plants. Physiol Plant 85:235–241

Ashraf M, Foolad MR (2013) Crop breeding for salt tolerance in the era of molecular markers and marker-assisted selection. Plant Breed 132:10–20

Badawi GH, Kawano N, Yamauchi Y, Shimada E, Sasaki R, Kubo A, Tanaka K (2004) Over-expression of ascorbate peroxidase in tobacco chloroplasts enhances the tolerance to salt stress and water deficit. Physiol Plant 121(2):231–238

Bailey TL, Boden M, Buske FA, Frith M, Grant CE, Clementi L, Ren J, Li WW, Noble WS (2009) MEME SUITE : tools for motif discovery and searching. Nuc Acids Res 37: 202–208

Banerjee A, Roychoudhury A (2015) WRKY proteins: signaling and regulation of expression during abiotic stress responses. Sci World J Article ID 807560, 1–17, 10.1155/2015/807560

Blokhina O, Virolainen E, Fagerstedt KV (2003) Antioxidants, oxidative damage and oxygen deprivation stress. Ann Bot 91:179–194

Bonifacio A, Martins MO, Ribeiro CW, Fontenele AV, Carvalho FE, Margis-Pinheiro M, Silveira JA (2011) Role of peroxidases in the compensation of cytosolic ascorbate peroxidase knockdown in rice plants under abiotic stress. Plant Cell Environ 34:1705–1722

Carillo P, Mastrolonardo G, Nacca F, Parisi D, Verlotta A, Fuggi A (2008) Nitrogen metabolism in durum wheat under salinity: accumulation of proline and glycine betaine. Funct Plant Biol 35:412–426

Carmody M, Crisp PA, d'Alessandro S, Ganguly D, Gordon M, Havaux M, Albrecht-Borth V, Pogson BJ (2016) Uncoupling high light responses from singlet oxygen retrograde signaling and spatial-temporal systemic acquired acclimation in Arabidopsis. Plant Physiol 171:1734–1749

Çelic A, Cullis P, Sutcliffe M, Sangar R, Raven E (2001) Engineering the active site of ascorbate peroxidase. Eur J Biochem 268:78–85

Chung IM, Lim JJ, Ahn MS, Jeong HN, An TJ, Kim SH (2016) Comparative phenolic compound profiles and antioxidative activity of the fruit, leaves, and roots of Korean ginseng (Panax ginseng Meyer) according to cultivation years. J Ginseng Res 40(1):68–75

Clough SJ, Bent AF (1998) Floral dip: a simplified method for Agrobacterium-mediated transformation of Arabidopsis thaliana. Plant J 16(6):735–743

D'Arcy-Lameta A, Ferrari-Iliou R, Contour-Ansel D, Pham-Thi AT, Zuily-Fodil Y (2006) Isolation and characterization of four ascorbate peroxidase cDNAs responsive to water deficit in cowpea leaves. Ann Bot 97:133–140

da Costa DS, Pereira CS, Teixeira J, Pereira S (2006) Isolation and characterisation of a cDNA encoding a novel cytosolic ascorbate peroxidase from potato plants (Solanum tuberosum L.). Acta. Physiol Plant 28(1):41–47

Dąbrowska GR, Kata AL, Goc A, Szechyńska-Hebda MA, Skrzypek ED (2007) Characteristics of the plant ascorbate peroxidase family. Acta Biol Cracow Ser Bot 49:7–17

Daudi A, Cheng Z, O'Brien JA, Mammarella N, Khan S, Ausubel FM, Bolwell GP (2012) The apoplastic oxidative burst peroxidase in Arabidopsis is a major component of pattern-triggered immunity. Plant Cell 24(1):275–287

Davenport RJ, Muñoz-Mayor AL, Jha D, Essah PA, Rus AN, Tester M (2007) The Na+ transporter AtHKT1; 1 controls retrieval of Na+ from the xylem in Arabidopsis. Plant Cell Environ 30(4):497–507

Davletova S, Rizhsky L, Liang H, Shengqiang Z, Oliver DJ, Coutu J, Shulaev V, Schlauch K, Mittler R (2005) Cytosolic ascorbate peroxidase 1 is a central component of the reactive oxygen gene network of Arabidopsis. Plant Cell 17:268–281

Diaz-Vivancos P, Barba-Espin G, Hernandez JA (2013a) Elucidating hormonal/ROS networks during seed germination: insights and perspectives. Plant Cell Rep 32:1491–1502

Diaz-Vivancos P, Faize M, Barba-Espin G, Faize L, Petri C, Hernández JA, Burgos L (2013b) Ectopic expression of cytosolic superoxide dismutase and ascorbate peroxidase leads to salt stress tolerance in transgenic plums. Plant Biotech J 11(8):976–985

Dietz KJ, Mittler R, Noctor G (2016) Recent progress in understanding the role of reactive oxygen species in plant cell signaling. Plant Physiol 171(3):1535–1539

Dunajska-Ordak K, Skorupa-Kłaput M, Kurnik K, Tretyn A, Tyburski J (2014) Cloning and expression analysis of a gene encoding for ascorbate peroxidase and responsive to salt stress in beet (Beta vulgaris). Plant Mol Biol Rep 32(1):162–175

Fryer MJ, Ball L, Oxborough K, Karpinski S, Mullineaux PM, Baker NR (2003) Control of Ascorbate Peroxidase 2 expression by hydrogen peroxide and leaf water status during excess light stress reveals a functional organisation of Arabidopsis leaves. Plant J 33:691–705

Gasteiger E, Hoogland C, Gattiker A, Duvaud S, Wilkins MR, Appel RD, Bairoch A (2005) Protein identification and analysis tools on the ExPASy server. In: John M. Walker (ed): The Proteomics protocols handbook. Humana Press, New York pp 571–607

Geourjon C, Deleage G (1995) SOPMA: significant improvements in protein secondary structure prediction by consensus prediction from multiple alignments. Comput Appl Biosci 11(6):681–684

Guan Q, Wu J, Yue X, Zhang Y, Zhu J (2013) A nuclear calcium-sensing pathway is critical for gene regulation and salt stress tolerance in Arabidopsis. PLoS Genet 9(8):1–16

Guo Z, Tan J, Zhuo C, Wang C, Xiang B, Wang Z (2014) Abscisic acid, H2O2 and nitric oxide interactions mediated cold-induced S-adenosylmethionine synthetase in Medicago sativa subsp. falcata that confers cold tolerance through up-regulating polyamine oxidation. Plant Biotechnol J 12:601–612

Gupta AS, Webb RP, Holaday AS, Allen RD (1993) Overexpression of superoxide dismutase protects plants from oxidative stress (induction of ascorbate peroxidase in superoxide dismutase-overexpressing plants). Plant Physiol 103(4):1067–1073

Hasegawa PM, Bressan RA, Zhu JK, Bohnert HJ (2000) Plant cellular and molecular responses to high salinity. Ann Rev Plant Biol 51(1):463–499

Hu L, Li H, Pang H, Fu J (2012) Responses of antioxidant gene, protein and enzymes to salinity stress in two genotypes of perennial ryegrass (Lolium perenne) differing in salt tolerance. J Plant Physiol 169:146–156

Hu Y, Chen L, Wang H, Zhang L, Wang F, Yu D (2013) Arabidopsis transcription factor WRKY8 functions antagonistically with its interacting partner VQ9 to modulate salinity stress tolerance. Plant J 74:730–745

Ishikawa T, Uchimiya H, Kawai-Yamada M (2013) The role of plant Bax inhibiator-1 in suppressing H2O2-induced cell death. Methods Enzymol 527:239–256

Jain M, Mathur G, Koul S, Sarin N (2001) Ameliorative effects of proline on salt stress-induced lipid peroxidation in cell lines of groundnut (Arachis hypogaea L.). Plant Cell Rep 20(5):463–468

Kim MK, Lee BS, In JG, Sun H, Yoon JH, Yang DC (2006) Comparative analysis of expressed sequence tags (ESTs) of ginseng leaf. Plant Cell Rep 25(6):599–606

Kim JU, Hyun DY, Kim YC, Lee JW, Jo IH, Kim DH, Kim HK, Sohn JK (2015) Effects of salt in soil condition on chlorophyll fluorescence and physiological disorder in Panax ginseng CA Meyer. Korean J Med Crop Sci 23(6):446–453

Kjaersgard IVH, Jespersen HM, Ostergaard L, Welinder KG (1997) From sequence analysis of three novel ascorbate peroxidases from Arabidopsis thaliana to structure, function and evolution of seven types of ascorbate peroxidase. Biochem J 326(2):305

Koshiba T (1993) Cytosolic Ascorbate Peroxidase in seedlings and leaves of Maize (Zea mays). Plant Cell Physiol 34(5):713–721

Kubo A, Saji H, Tanaka K, Tanaka K, Kondo N (1992) Cloning and sequencing of a cDNA encoding ascorbate peroxidase from Arabidopsis thaliana. Plant Mol Biol 18:691–701

Kyte J, Doolittle RF (1982) A simple method for displaying the hydropathic character of a protein. J Mol Biol 157:105–132

Lad L, Mewies M, Basrani J, Scrutton N, Raven E (2002) Role of histidine 42 in ascorbate peroxidase—kinetic analysis of the H42A and H42E variants. Eur J Biochem 269:3182–3192

Leonardis SD, Dipierro N, Dipierro S (2000) Purification and characterization of an ascorbate peroxidase from potato tuber mitochondria. Plant Physiol Biochem 38:773–779

Lescot M, Déhais P, Moreau Y, De Moor B, Rouzéi P, Rombauts S (2002) PlantCARE: a database of plant cis-acting regulatory elements and a portal to tools for in silico analysis of promoter sequences. Nuc Acids Res. Database issue 30(1):325–327

Lichtenthaler HK (1987) Chlorophyll fluorescence signatures of leaves during the autumnal chlorophyll breakdown. J Plant Physiol 131(1):101–110

Liu J, Zhu JK (1998) A calcium sensor homolog required for plant salt tolerance. Science 280:1943–1945

Liu J, Ishitani M, Halfter U, Kim CS, Zhu JK (2000) The Arabidopsis thaliana SOS2 gene encodes a protein kinase that is required for salt tolerance. Proc Natl Acad Sci USA 97:3730–3734

Liu Z, Baoi H, Cai J, Han J, Zhou L (2014) A novel thylakoid ascorbate peroxidase from Jatropha curcas enhances salt tolerance in transgenic tobacco. Int J Mol Sci 15:171–185

Livak KJ, Schmittgen TD (2001) Analysis of relative gene expression data using real-time quantitative PCR and the 2(– Delta Delta CT) method. Methods 25:402–408

Lu Z, Liu D, Liu S (2007) Two rice cytosolic ascorbate peroxidases differentially improve salt tolerance in transgenic Arabidopsis. Plant Cell Rep 26(10):1909–1917

Luo MB, Liu F (2011) Salinity-induced oxidative stress and regulation of antioxidant defense system in the marine macroalga Ulva prolifera. J Exp Mar Bio Ecol 409:223–228

Maruta T, Tanouchi A, Tamoi M, Yabuta Y, Yosimura K. Ishikawa T, Shigeoka S (2010) Arabidopsis chloroplastic ascorbate peroxidase isoenzymes play a dual role in photoprotection and gene regulation under photooxidative stress. Plant Cell Physiol 51(2): 190–200

Menezes-Benavente L, Teixeira FK, Kamei CLA, Margis-Pinheiro M (2004) Salt stress induces altered expression of genes encoding antioxidant enzymes in seedlings of a Brazilian indica rice (Oryza sativa L.). Plant Sci 166:323–331

Mishra P, Bhoomika K, Dubey RS (2013) Differential responses of antioxidative defense system to prolonged salinity stress in salt-tolerant and salt-sensitive India rice (Oryza sativa L.) seedlings. Protoplasma 250:3–19

Mittler R, Zilinskas BA (1991) Molecular cloning and nucleotide sequence analysis of a cDNA encoding pea cytosolic ascorbate peroxidase. FEBS Lett 289:257–259

Miyake C, Asada K (1992) Thylakoid-bound ascorbate peroxidase in spinach chloroplasts and photoreduction of its primary oxidation product monodehydroascorbate radicals in thylakoids. Plant Cell Physiol 33:541–553

Najami N, Janda T, Barriah W, Kayam G, Tal M, Guy M, Volokita M (2008) Ascorbate peroxidase gene family in tomato: Its identification and characterization. Mol Genet Genomics 279:171–182

Orvar BL, Ellis BE (1995) Isolation of a cDNA encoding cytosolic ascorbate peroxidase in tobacco. Plant Physiol 108(2):839–840

Ozyigit II, Filiz E, Vatansever R, Kurtoglu KY, Koc I, Öztürk MX, Anjum NA (2016) Identification and comparative analysis of H2O2-scavenging enzymes (ascorbate peroxidase and glutathione peroxidase) in selected plants employing bioinformatics approaches. Front Plant Sci. doi:10.3389/fpls.2016.00301

Parre E, Ghars MA, Leprince AS, Thiery L, Lefebvre D, Bordenave M, Richard L, Mazars C, Abdelly C, Savouré A (2007) Calcium signaling via phospholipase C is essential for proline accumulation upon ionic but not nonionic hyperosmotic stresses in Arabidopsis. Plant Physiol 144:503–512

Rosa SB, Caverzan A, Teixeira FK, Lazzarotto F, Silveira JA, Ferreira-Silva SL, Abreu-Neto J, Margis R, Margis-Pinheiro M (2010) Cytosolic APx knockdown indicates an ambiguous redox responses in rice. Phytochemistry 71:548–558

Sanchez-Barrena MJ, Martinez-Ripoll M, Zhu JK, Albert A (2005) The structure of the Arabidopsis thaliana SOS3: molecular mechanism of sensing calcium for salt stress response. J Mol Biol 345:1253–1264

Sarowar S, Kim EN, Kim YJ, Ok SH, Kim KD, Hwang BK, Shin JS (2005) Overexpression of a pepper ascorbate peroxidase-like 1 gene in tobacco plants enhances tolerance to oxidative stress and pathogens. Plant Sci 169:55–63

Sathiyaraj G, Lee OR, Parvin S, Khorolragchaa A, Kim YJ, Yang DC (2011) Transcript profiling of antioxidant genes during biotic and abiotic stresses in Panax ginseng CA Meyer. Mol Biol Rep 38(4):2761–2769

Shafi A, Chauhan R, Gill T, Swarnkar MK, Sreenivasulu Y, Kumar S, Kumar N, Shankar R, Ahuja PS, Singh AK (2015) Expression of SOD and APX genes positively regulates secondary cell wall biosynthesis and promotes plant growth and yield in Arabidopsis under salt stress. Plant Mol Biol 87:615–631

Shi H, Ishitani M, Kim C, Zhu JK (2000) The Arabidopsis thaliana salt tolerance gene SOS1 encodes a putative Na+/H+ antiporter. Proc Natl Acad Sci USA 97:6896–6901

Shigeoka S, Ishikawa T, Tamoi M, Miyagawa Y, Takeda T, Yabuta Y, Yoshimura K (2002) Regulation and function of ascorbate peroxidase isoenzymes. J Exp Bot 53:1305–1319

Singh N, Mishra A, Jha B (2014) Over-expression of the peroxisomal ascorbate peroxidase (SbpAPX) gene clonedfrom halophyte Salicornia brachiata confers salt and drought stress tolerance in transgenic tobacco. Mar Biotechnol 16:321–332

Sun WH, Duan M, Shu DF, Yang S et al (2010) Over-expression of StAPX in tobacco improves seed germination and increases early seedling tolerance to salinity and osmotic stresses. Plant Cell Rep 29:917–926

Tambussi EA, Nogues S, Araus JL (2005) Ear of durum wheat under water stress: water relations and photosynthetic metabolism. Planta 221:446–458

Teixeira FK, Menezes-Benavente L, Margis R, Margis-Pinheiro M (2004) Analysis of the molecular evolutionary history of the ascorbate peroxidase gene family: Inferences from the rice genome. J Mol Evol 59:761–770

Teixeira FK, Menezes-Benavente L, Galvão VC, Margis-Pinheiro M (2005) Multigene families encode the major enzymes of antioxidant metabolism in Eucalyptus grandis L. Genet. Mol Biol 28:529–538

Teixeira FK, Menezes-Benavente L, Galvão VC, Margis R, Margis-Pinheiro M (2006) Rice ascorbate peroxidase gene family encodes functionally diverse isoforms localized in different subcellular compartments. Planta 224:300–314

Tiwari V, Chaturvedi AK, Mishra A, Jha B (2013) The transcriptional regulatory mechanism of the peroxisomal ascorbate peroxidase (pAPX) gene cloned from an extreme halophyte, Salicornia brachiata. Plant Cell Physiol. doi:10.1093/pcp/pct172

Tsuda K, Somssich IE (2015) Transcriptional networks in plant immunity. New Phytol 206(3):932–947

Ulrich D, Aaron BS, Tomoaki H, Wei L, Guohua X, Julian IS (2014) Plant salt-tolerance mechanism. Trends Plant Sci 19(6):371–379

Venisse JS, Gullner G, Brisset MN (2001) Evidence for the involvement of an oxidative stress in the initiation of infection of pear by Erwinia amylovora. Plant Physiol 125:2164–2172

Verbruggen N, Hermans C (2008) Proline accumulation in plants: a review. Amino Acids 35(4):753–759

Wang Y, Wisniewski M, Meilan R, Cui M, Webb R, Fuchigami L (2005) Overexpression of cytosolic ascorbate peroxidase in tomato confers tolerance to chilling and salt stress. J Am Soc Hortic Sci 130(2):167–173

Webb RP, Allen RD (1995) Isolation and characterization of a cDNA for spinach cytosolic ascorbate peroxidase. Plant Physiol 108:1325

Wu G, Wang G, Ji J, Gao H, Guan W, Wu J, Guan C, Wang Y (2014) Cloning of a cytosolic ascorbate peroxidase gene from Lycium chinense Mill. and enhanced salt tolerance by overexpressing in tobacco. Gene 543:85–92

Yamaguchi K, Mori H, Nishimura M (1995) A novel isoenzyme of ascorbate peroxidase localized on glyoxysomal and leaf peroxisomal membranes in pumpkin. Plant Cell Physiol 36(6):1157–1162

Yan H, Li Q, Park SC, Wang X, Liu YJ, Zhang YG, Tang W, Kou M, Ma DF (2016) Overexpression of CuZnSOD and APX enhance salt stress tolerance in sweet potato. Plant Physiol Biochem 109:20–27

Yoshiba Y, Nanjo T, Miura S, Yamaguchi-Shinozaki K, Shinozaki K (1999) Stress-responsive and developmental regulation of ∆ 1-pyrroline-5-carboxylate synthetase 1 (P5CS1) gene expression in Arabidopsis thaliana. Biochem Biophys Res Commun 261(3):766–772

Yoshimura K, Yabuta Y, Ishikawa T, Shigeoka S (2000) Expression of spinach ascorbate peroxidase isoenzymes in response to oxidative stresses. Plant Physiol 123:223–234

Zhang H, Wang J, Nickel U, Allen RD, Goodman HM (1997) Cloning and expression of an Arabidopsis gene encoding a putative peroxisomal ascorbate peroxidase. Plant Mol Biol 34:967–971

Zhang Q, Cui MA, Xin XUE, Ming XU, Jing LI, Wu JX (2014) Overexpression of a cytosolic ascorbate peroxidase gene, OsAPX2, increases salt tolerance in Transgenic Alfalfa. J Integr Agric 13(11):2500–2507

Zhu JK (2001) Plant salt tolerance. Trends Plant Sci 6(2):66–71

Zimmermann P, Hirsch-Hoffmann M, Hennig L, Gruissem W (2004) GENEVESTIGATOR. Arabidopsis microarray database and analysis toolbox. Plant Physiol 136:2621–2632
Acknowledgements
This research was supported by a grant from the Basic Science Research Program through the National Research Foundation (NRF) funded by the Ministry of Education (2016R1A6A3A11931858), Republic of Korea (YJ Kim), as well as an iPET grant (112142-05-4-SB010) from the Korea Institute of Planning and Evaluation for Technology in Food, Agriculture, Forestry and Fisheries, Republic of Korea (DC Yang).
Ethics declarations
Conflict of interest
The authors declare that they have no conflict of interest.
Electronic supplementary material
Below is the link to the electronic supplementary material.
About this article
Cite this article
Sukweenadhi, J., Kim, YJ., Rahimi, S. et al. Overexpression of a cytosolic ascorbate peroxidase from Panax ginseng enhanced salt tolerance in Arabidopsis thaliana . Plant Cell Tiss Organ Cult 129, 337–350 (2017). https://doi.org/10.1007/s11240-017-1181-z
Received:

Accepted:

Published:

Issue Date:
Keywords
Oxidative stress

Ascorbate peroxidase

Salt stress

H2O2
Panax ginseng