Abstract
This is the first report on Agrobacterium rhizogenes-mediated transformation of Withania somnifera for expression of a foreign gene in hairy roots. We transformed leaf and shoot tip explants using binary vector having gusA as a reporter gene and nptII as a selectable marker gene. To improve the transformation efficiency, acetosyringone (AS) was added in three stages, Agrobacterium liquid culture, Agrobacterium infection and co-culture of explants with Agrobacterium. The addition of 75 μM AS to Agrobacterium liquid culture was found to be optimum for induction of vir genes. Moreover, the gusA gene expression in hairy roots was found to be best when the leaves and shoot tips were sonicated for 10 and 20s, respectively. Based on transformation efficiency, the Agrobacterium infection for 60 and 120 min was found to be suitable for leaves and shoot tips, respectively. Amongst the various culture media tested, MS basal medium was found to be best in hairy roots. The transformation efficiency of the improved protocol was recorded 66.5 and 59.5 % in the case of leaf and shoot tip explants, respectively. When compared with other protocols the transformation efficiency of this improved protocol was found to be 2.5 fold higher for leaves and 3.7 fold more for shoot tips. Southern blot analyses confirmed 1–2 copies of the gusA transgene in the lines W1-W4, while 1–4 transgene copies were detected in the line W5 generated by the improved protocol. Thus, we have established a robust and efficient A. rhizogenes mediated expression of transgene (s) in hairy roots of W. somnifera.
Access options
Buy single article
Instant access to the full article PDF.
USD 39.95
Price excludes VAT (USA)
Tax calculation will be finalised during checkout.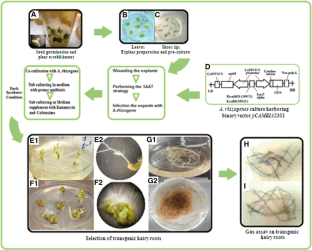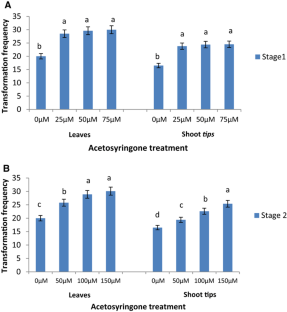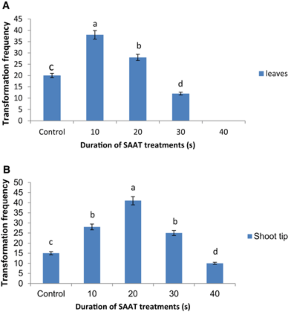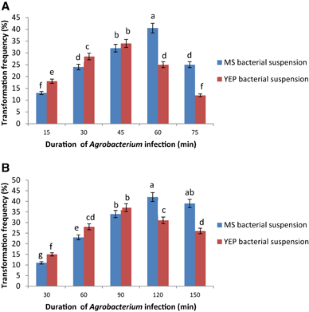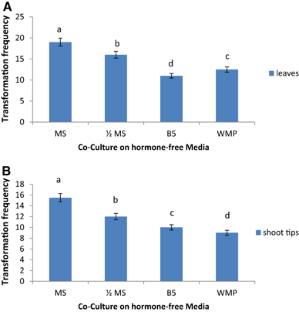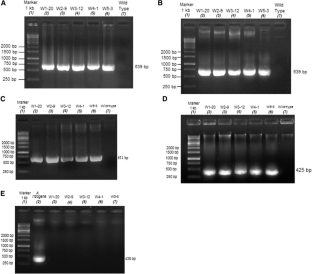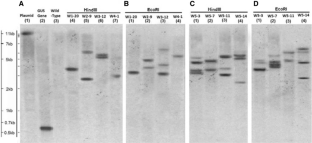 References
Adil M, Abbasi BH, Khan T (2015) Interactive effects of melatonin and light on growth parameters and biochemical markers in adventitious roots of W. somnifera L. Plant Cell Tissue Organ Cult 123:405–412

Andallu B, Radhika B (2000) Hypoglycemic, diuretic and hypocholesterolemic effect of winter cherry (W. somnifera, Dunal) root. Indian J Exp Biol 38:607–609

Ara T, Choudhary A (2014) Study on efficacy of two strains (ATCC 15834 and MTCC 532) of A. rhizogenes on hairy root induction of W. somnifera. IJBTR 1:1–8

Bhatia P, Rattan SIS, Cavallius J, Clark BFC (1987) W. somnifera (Ashwagandha) a so-called rejuvenator inhibits growth and macromolecular synthesis of human cells. Med Sci Res 15:515–516

Broothaerts W, Mitchell HJ, Weir B, Kaines S, Smith LM, Yang W, Jefferson RA (2005) Gene transfer to plants by diverse species of bacteria. Nature 433:629–633

Cao D, Hou W, Song S, Sun H, Wu C, Gao Y, Han T (2009) Assessment of conditions affecting A. rhizogenes-mediated transformation of soybean. PCTOC 96:45–52

Chaudhury K, Das S, Bandhyopadhyay M, Zalar A, Kollmann A, Jha S, Tepfer D (2009) Transgenic mimicry of pathogen attack stimulates growth and secondary metabolite accumulation. Trans Res 18:121–134

Christey MC (2001) Use of Ri-mediated transformation for production of transgenic plants. In Vitro Cell Dev Biol Plant 37: 687–700

Dellaporta SL, Wood J, Hicks JB (1983) A plant DNA mini preparation: version II. Plant Mol Biol Rep 1:19–21

Drake PMW, Madeira LD, Szeto TH, Ma JKC (2013) Transformation of Althaea officinalis L. by A. rhizogenes for the production of transgenic roots expressing the anti-HIV microbicide cyanovirin-N. Transgenic Res 22:1225–1229

Gaume A, Komarnytsky S, Borisjuk N, Raskin I (2003) Rhizosecretion of recombinant proteins from plant hairy roots. Plant Cell Rep 21:1188–1193

Gelvin SB (2000) Agrobacterium and plant genes involved in T-DNA transfer and integration. Annu Rev Plant Biol 51:223–256

Hamill JD, Parr AJ, Rhodes MJC, Robins RJ, Walton NJ (1987) New routes to plant secondary products. Bio Technology 5:800–804

Holsters M, De Waele D, Depicker A, Messens E, Van Montagu M, Schell J (1978) Transfection and transformation of Agrobacterium tumefaciens. Mol Gen Genet MGG 163:181–187

Husaini AM (2010) Pre-and post-agroinfection strategies for efficient leaf disk transformation and regeneration of transgenic strawberry plants. Plant Cell Rep 29:97–110

Jefferson RA, Kavanagh TA, Bevan MW (1987) GUS fusions: b-glucuronidase as a sensitive and versatile gene fusion marker in higher plants. EMBO J 6:3901–3907

Johny L, Conlan X, Cahill D, Adholeya A (2015) In vitro and in situ screening systems for morphological and phytochemical analysis of W. somnifera germplasms. Plant Cell Tissue Organ Cult 120:1191–1202

Khandjian EW (1987) Optimized hybridization of DNA blotted and fixed to nitrocellulose and nylon membranes. Nat Biotechnol 5:165–167

Kim SR, Sim JS, Ajjappala H, Kim YH, Hahn BS (2012) Expression and large-scale production of the biochemically active human tissue-plasminogen activator in hairy roots of oriental melon (Cucumis melo). J Biosci Bioeng 113:106–111

Kulkarni SK, Dhir A (2008) W. somnifera: an Indian ginseng. Prog Neuropsychopharmacol Biol Psychiatry 32:1093–1105

Kumar V, Sharma A, Prasad BCN, Gururaj HB, Ravishankar GA (2006) A. rhizogenes mediated genetic transformation resulting in hairy root formation is enhanced by ultrasonication and acetosyringone treatment. Electron J Biotech 9:349–357

Movahedi A, Zhang J, Amirian R, Zhuge Q (2014) An efficient Agrobacterium-mediated transformation system for poplar. Int J Mol Sci 15:10780–10793. doi:10.3390/ijms150610780

Murashige T, Skoog F (1962) A revised medium for rapid growth and bio assays with tobacco tissue cultures. Physiol Plant 15:473–497

Pandey V, Misra P, Chaturvedi P, Mishra MK, Trivedi PK Tuli R (2010) Agrobacterium tumefaciens-mediated transformation of W. somnifera (L.) Dunal: an important medicinal plant. Plant cell rep 29:133–141

Patel N, Patel P, Kendurkar SV, Thulasiram HV, Khan BM (2015) Overexpression of squalene synthase in W. somnifera leads to enhanced withanolide biosynthesis. Plant Cell Tissue Organ Cult 122:409–420

Pham NB, Schäfer H, Wink M (2012) Production and secretion of recombinant thaumatin in tobacco hairy root cultures. Biotechnol J 7:537–545

Rahman M, Rao AQ, Batool F, Azam S, Shahid AA, Husnain T (2012) Transgene copy number and phenotypic variations in transgenic basmati rice. J Anim Plant Sci 22:1004–1013

Ray S, Ghosh B, Jha S (1996) Withanolide production by root cultures of W. somnifera transformed with Agrobacterium tumefaciens. Planta Med 62:571–573

Salzman RA, Fujita T, Zhu-Salzman K, Hasegawa PM, Bressan RA (1999) An improved RNA isolation method for plant tissues containing high levels of phenolic compounds or carbohydrates. Plant Mol Biol Rep 17: 11–17

Sangwan RS, Chaurasiya ND, Lal P, Misra L, Uniyal GC, Tuli R, Sangwan NS (2007) Withanolide A biogeneration in in vitro shoot cultures of Ashwagandha (W. somnifera Dunal), a main medicinal plant in Ayurveda. Chem Pharm Bull 55:1371–1375

Santarem ER, Trick HN, Essig JS, Finer JJ (1998) Sonication-assisted Agrobacterium-mediated transformation of soybean immature cotyledons: optimization of transient expression. Plant Cell Rep 17:752–759

Sharafi A, Sohi HH, Mousavi A, Azadi P, Razavi K, Ntui VO (2013) A reliable and efficient protocol for inducing hairy roots in Papaver bracteatum. PCTOC 113:1–9

Sharafi A, Sohi HH, Azadi P, Sharafi AA (2014a) Hairy root induction and plant regeneration of medicinal plant Dracocephalum kotschyi. Physiol Mol Biol Plant 20:257–262

Sharafi A, Sohi HH, Mirzaee H, Azadi P (2014b) In vitro regeneration and Agrobacterium mediated genetic transformation of Artemisia aucheri Boiss. Physiol Mol Biol Plant 20:487–494

Sivanandhan G, Selvaraj N, Ganapathi A, Manickavasagam M (2014a) An efficient hairy root culture system for W. somnifera. African J Biotech 13:4141–4147

Sivanandhan G, Selvaraj N, Ganapathi A, Manickavasagam M (2014b) Improved production of withanolides in shoot suspension culture of W. somnifera (L.) Dunal by seaweed extracts. Plant Cell Tissue Organ Cult 119:221–225

Sivanandhan G, Dev GK, Theboral J, Selvaraj N, Ganapathi A, Manickavasagam M (2015) Sonication, vacuum infiltration and thiol compounds enhance the Agrobacterium-mediated transformation frequency of W. somnifera (L.) Dunal. PloS One 10(4):e0124693

Southern EM (1975) Detection of specific sequences among DNA fragments separated by gel electrophoresis. J Mol Biol 98:503–517

Thilip C, Raju CS, Varutharaju K, Aslam A, Shajahan A (2015) Improved A. rhizogenes-mediated hairy root culture system of W. somnifera (L.) Dunal using sonication and heat treatment. Biotech 5:949–956

Trick HN, Finer JJ (1997) SAAT: sonication-assisted Agrobacterium-mediated transformation. Transgenic Res 6:329–336

Udayakumar R, Kasthurirengan S, Mariashibu TS, Rayan JJS, Ganapathi A, Kim SC, Kim JJ, Choi CW (2014) Agrobacterium- mediated genetic transformation of W. somnifera using nodal explants. Acta Physiol Plant 36:1969–1980

Varghese S, Keshavachandran R, Baby B, Nazeem PA (2014) Genetic transformation in ashwagandha (W. somnifera (L.) Dunal) for hairy root induction and enhancement of secondary metabolites. J Trop Agric 52:39–46

Wongsamuth R, Doran PM (1997) Production of monoclonal antibodies by tobacco hairy roots. Biotechnol Bioeng 54:401–415

Woods RR, Geyer BC, Mor TS (2008) Hairy-root organ cultures for the production of human acetylcholinesterase. BMC Biotechnol 8:95

Zhou L, Wang J, Yang C (1998) Progress on plant hairy root culture and its chemistry. 1. Induction and culture of plant hairy roots. Nat Prod Res Dev 10:87–95 (in Chinese with an English abstract)
Acknowledgments
We acknowledge the Iranian Ministry of Science, Research and Technology (MSRT) Scholarships for Iranian students abroad from the Iranian Government received by SMD. We thank the Department of Agricultural Biotechnology, Assam Agricultural University for providing laboratory facilities to do gene cloning, Agrobacterium transformation works. We would also like to thank Institute of Microbial Technology (IMTECH), Chandigarh for the bacterial strains.
Author contributions
SMD and SA performed bacterial transformations. Under the guidance of SA, SMD conducted the experiments for hairy roots transformation. SK helped SMD with southern blots. SMD and MD were responsible for data analyses. SMD and MD wrote the manuscript. All the authors agree with the contents of the manuscript.
About this article
Cite this article
Dehdashti, S.M., Acharjee, S., Kianamiri, S. et al. An efficient Agrobacterium rhizogenes-mediated transformation protocol of Withania somnifera . Plant Cell Tiss Organ Cult 128, 55–65 (2017). https://doi.org/10.1007/s11240-016-1081-7
Received:

Accepted:

Published:

Issue Date:

DOI: https://doi.org/10.1007/s11240-016-1081-7
Keywords