Abstract
This study was conducted to investigate the in vitro influence of ethylene on shoot branching and leaf yellowing in the rose cultivar Tineke by using different compounds that regulate ethylene inhibition and stimulation. Aminoethoxy vinyl glycine (AVG), silver thiosulfate (STS), and sodium nitroprusside (SNP) caused enhanced apical shoot initiation and reduced leaf yellowing, via inhibition of ethylene production, in the following order: AVG > SNP > STS. In contrast, the addition of 1-aminocyclopropane-1-carboxylic acid (ACC) or 3-indoleacetic acid (IAA) stimulated ethylene production and had greater negative effects on the studied parameters than the control; the negative effects of IAA were further confirmed in combination with AVG, STS, or SNP. The effects of ethylene on apical shoot initiation and leaf yellowing in Tineke were confirmed in another rose cultivar, Innocence. Hence, this study provides strong support for the hypothesis that ethylene-inhibiting agents have beneficial effects on apical shoot initiation and reduction of leaf yellowing in other rose cultivars.
This is a preview of subscription content,
to check access.
Access this article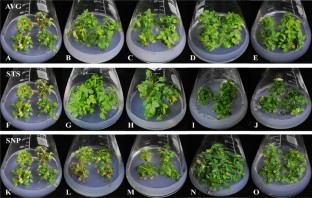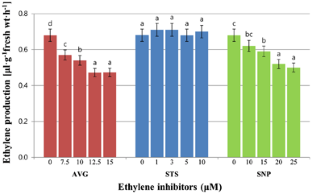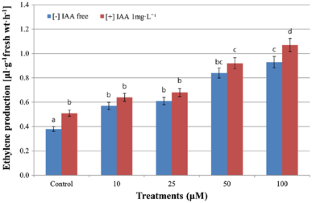 Similar content being viewed by others
References
Bogaert I, Van Cauter S, Prinsen E, Doležal K, Werbrouck S (2006) New aromatic cytokinin can make the difference. Acta Hortic 725:265–270

Burgos L, Alburquerque N (2003) Low kanamycin concentration and ethylene inhibitors improve adventitious regeneration from apricot leaves. Plant Cell Rep 21:1167–1174

Chae SC, Kim HH, Park SU (2012) Ethylene inhibitors enhance shoots organogenesis of gloxinia (Sinningia speciosa). Sci World J 2012:859381

Dubois LAM, de Vries DP (1995) Prolongation of vase life of cut roses via introduction of genes coding for antibacterial activity, somatic embryogenesis and Agrobacterium mediated transformation. Acta Hort 405:205–209

Gaspar T, Kevers C, Bouillenne H, Maziere Y, Barbe JP (1989) Ethylene production in relation to rose micropropagation through axillary budding. In: Clijsters M (ed) De proft physiological aspects of ethylene production in lower and higher plants, (pp 303–312)

Horn WAH (1992) Micropropagation of rose (Rosa L). In: Bajaj YPS (ed) Biotechnology in agriculture and forestry vol 20 high-tech and micropropagation IV. Germany, Springer, pp 320–342

Hsia C, Korban S (1996) Organogenesis and somatic embryogenesis in callus cultures of Rosa hybrida and Rosa chinensis minima. Plant Cell Tissue Organ Cult 44:1–6

Kevers C, Boyer N, Courduroux JC, Gasper T (1992) The influence of ethylene on proliferation and growth of rose shoot culture. Plant Cell Tissue Organ Cult 28:175–181

Kumar S, Dudley J (2007) Bioinformatics for biologists in the genomics era. Bioinformatics. doi:10.1093/bioinformatics/btm239

Martinez MT, Vieitez AM, Corredoira E (2015) Improved secondary embryo production in Quercus alba and Quercus rubra by activated charcoal, silver thiosulphate and sucrose: influence of embryogenic explant used for subculture. Plant Cell Tissue Organ Cult 121:531–546

Mekers O, Meiresonne L, Meneve I (1984) Ethylene production inhibitors can improve in vitro propagation of roses. Med Fac Landbouww Rijksuniv Gent 49/3b:1144–1939

Murashige I, Skoog F (1962) A revised medium for rapid growth and bioassys with tobacco tissue culture. Plant Physiol 15:473–497

Naing AH, Min JS, Han JS, Lim SH, Lim KB, Kim CK (2014) Factors influencing in vitro shoot regeneration from leaf segments of Chrysanthemum. C R Biol 337:383–390

Naing AH, Park KI, Chung MY, Lim KB, Kim CK (2015) Optimization of factors affecting efficient shoot regeneration in Chrysanthemum cv. Shinma. Braz J Bot. doi:10.1007/s40415-015-0143-0

Pati PK, Sharma M, Sood A, Ahuja PS (2004) Direct shoot regeneration from leaf explants of R. damascena Mill. In Vitro Cell Dev Biol Plant 40:192–195

Pati PK, Rath SP, Sharma M, Sood A, Ahuja PS (2006) In vitro propagation of rose—a review. Biotechnol Adv 24:94–114

Podwyszyńska M, Goszczyńska D (1998) Effect of inhibitors of ethylene biosynthesis and action, as well as calcium and magnesium on rose shoot rooting, shoot-tip necrosis and leaf senescence in vitro. Acta Physiol Plant 20:91–98

Reid MS, Paull JL, Farhoomand MB, Kofranek AM, Staby GL (1980) Pulse treatments with the silver thiosulphate complex extend the vase life of cut carnations. J Am Soc Hort Sci 105:25–27

Rosu A, Skirvin RM, Bein A, Norton MA, Kushad M (1995) The development of putative adventitious shoots from a chimeral thornless rose (Rosa multiflora thunb. ex J. Murr.) in vitro. J Hort Sci 70:901–907

Schum A, Hofmann K, Ghalib N, Tawfik A (2001) Factors affecting protoplast isolation and plant regeneration in Rosa spp. Gartenbauwiss 66:115–122

Sgamma T, Thomas B, Muleo R (2015) Ethylene inhibitor silver nitrate enhances regeneration and genetic transformation of Prunus avium (L.) cv Stella. Plant Cell Tissue Organ Cult 120:79–88

Songstad DD, Duncan DR, Widholm JM (1988) Effect of 1-aminocycopropane-1-carboxilic acid, silver nitrate, and norbornadiene on plant regeneration from maize callus cultures. Plant Cell Rep 7:262-265

Tian C, Chen Y, Zhao X, Zhao L (2008) Plant regeneration through protocorm-like bodies induced from rhizoids using leaf explants of Rosa spp. Plant Cell Rep 27:823–831

Widholm JM (1988) Effect of 1-aminocycopropane-1-carboxilic acid, silver nitrate, and norbornadiene on plant regeneration from maize callus cultures. Plant Cell Rep 7:262–265

Würschum T, Tucker MR, Maurer HP, Leiser WL (2015) Ethylene inhibitors improve efficiency of microspore embryogenesis in hexaploid triticale. Plant Cell Tissue Organ Cult 122:751–757

Xu J, Yin H, Wang W, Mi Q, Liu X (2009) Effects of sodium nitroprusside on callus induction and shoot regeneration in micropropagated Dioscorea opposite. Plant Growth Regul 59:279–285

Zhu S, Zhou J (2007) Effect of nitric oxide on ethylene production in strawberry fruit during storage. Food Chem 100:1517–1522
Additional information
Aung Htay Naing and Jun Seong Park contributed equally as first authors.
About this article
Cite this article
Park, J.S., Naing, A.H. & Kim, C.K. Effects of ethylene on shoot initiation, leaf yellowing, and shoot tip necrosis in roses. Plant Cell Tiss Organ Cult 127, 425–431 (2016). https://doi.org/10.1007/s11240-016-1066-6
Received:

Accepted:

Published:

Issue Date:

DOI: https://doi.org/10.1007/s11240-016-1066-6
Keywords