Abstract
The effect of antioxidants applied in one step of a cryopreservation protocol by encapsulation–dehydration on recovery and genetic stability of mint shoot tips has been studied. Glutathione (0.16 or 0.24 mM), ascorbic acid (0.28 or 0.43 mM) and α-tocopherol (vitamin E) were added to the preculture medium (0.3 M sucrose). DNA was extracted from three different types of samples: leaves from shoots, callus at the base of shoots and callus. RAPD and AFLP markers were used to assess the genetic stability. The use of antioxidants did not improve recovery after cryopreservation. One of the genotypes, 'MEN 198', showed higher percentage of stable samples than the other one, 'MEN 186' (56 vs. 37 %; considering all treatments and types of explant). The use of vitamin E improved the percentage of stable samples with respect to control treatment (no antioxidant) in 'MEN 186'. No differences in the percentages of stable samples were observed among cryopreserved and non-cryopreserved (treated similarly without immersion in liquid nitrogen) plant material. Recovered shoots of both genotypes showed higher stability (76–80 % stable samples) than callus samples (14–22 %).
This is a preview of subscription content,
to check access.
Access this article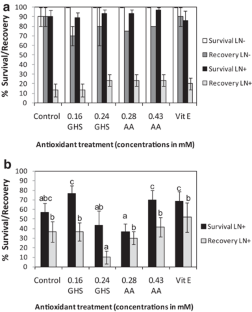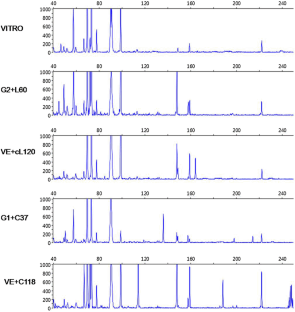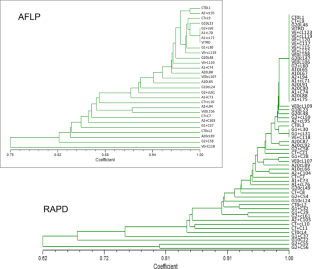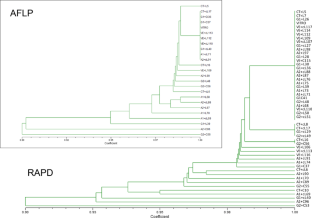 Similar content being viewed by others
References
Agresti A (2002) Categorical data analysis. Wiley, New Jersey

Alscher RG, Hess JL (1993) Antioxidants in higher plants. CRC Press, Boca Raton

Al-Zahim MA, Ford-Lloyd BV, Newbury HJ (1999) Detection of somaclonal variation in garlic (Allium sativum L.) using RAPD and cytological analysis. Plant Cell Rep 18:473–477

Arora A, Sairam RK, Srivastava GC (2002) Oxidative stress and antioxidative systems in plants. Curr Sci 82: 1227–1273

Bhattacharjee S (2011) Sites of generation and physicochemical basis of formation of reactive oxygen species in plant cells. In: Gupta SD (ed) Reactive oxygen species and antioxidants in higher plants. Science Publishers, Enfield, 1–30

Chua SP, Normah MN (2011) Effect of preculture, PVS2 and vitamin C on survival of recalcitrant Nephelium ramboutan-ake shoot tips after cryopreservation by vitrification. CryoLetters 32:506–515

Engelmann F, Gonzalez-Arnao MT, Wu Y, Escobar R (2008) The development of encapsulation dehydration. In: Reed BM (ed) Plant cryopreservation: a practical guide. Springer, New York, 59–92

Fabre J, Dereuddre J (1990) Encapsulation–dehydration: a new approach to cryopreservation of Solanum shoot tips. CryoLetters 11:413–426

Gawel NJ, Jarret RL (1991) A modified CTAB DNA extraction procedure of Musa and Ipomoea. Plant MolBiol Rep 9: 262–266

Gill SS, Tuteja N (2010) Reactive oxygen species and antioxidant machinery in abiotic stress tolerance in crop plants. Plant Physiol Biochem 48: 909–930

Hosseini SM, Forouzanfar M, Hajian M, Asgari V, Abedi P, Hosseini L, Ostadhosseini S, Moulavi F, Langrroodi MS, Sadeghi H, Bahramian H, Eghbalsaied Sh, Nasr-Esfahani MH (2009) Antioxidant supplementation of culture medium during embryo development and/or after vitrification-warming; which is the most important? J Assist Reprod Genet 26:355–364

Imlay JA (2003) Pathways of oxidative damage. Ann Rev Microbiol 57:395–418

Jaccard P (1908) Nouvelles recherché sur la distribution florale. Bull Soc Vaud Sci Nat 44:223–270

Johnston JW, Harding K, Benson EE (2007) Antioxidant status and genotypic tolerance of Ribes in vitro cultures to cryopreservation. Plant Sci 172:524–534

Kopeika J, Thornhill A, Khalaf Y (2015) The effect of cryopreservation on the genome of gametes and embryos: principles of cryobiology and critical appraisal of the evidence. Hum Reprod Update 21:209–277

Kovalchuk I (2011) Multiple roles of radicals in plants. In: Gupta SD (ed) Reactive oxygen species and antioxidants in higher plants. Science Publishers, Enfield, 31–44

Lynch PT, Siddika A, Johnston JW, Trigwella SM, Mehraa A, Benelli C, Lambardi M, Benson EE (2011) Effects of osmotic pretreatments on oxidative stress, antioxidant profiles and cryopreservation of olive somatic embryos. Plant Sci 181:47–56

Martín C, Cervera MT, González-Benito ME (2011) Genetic stability analysis of chrysanthemum (Chrysanthemum × morifolium Ramat) after different stages of an encapsulation–dehydration cryopreservation protocol. J Plant Physiol 168:158–166

Martín C, Kremer C, González I, González-Benito ME (2015) Influence of the cryopreservation technique, recovery medium and genotype on genetic stability of mint cryopreserved shoot tips. Plant Cell Tissue Organ Cult 122:185–195

Miñano HS, Ibáñez MA, González-Benito ME, Martín C (2014) Sequential study of the genetic stability of callus and regenerated shoots in chrysanthemum. Propag Ornam Plants 14:57–67

Munthali MT, Newbury HJ, Ford-Lloyd BV (1996) The detection of somaclonal variants of beet using RAPD. Plant Cell Rep 15:474–478

Murashige T, Skoog F (1962) A revised medium for rapid growth and bio assays with tobacco tissue cultures. Physiol Plant 15:473–497

Reed BM (2014) Antioxidants and cryopreservation, the new normal? Acta Hortic 1039: 41–48

Ren L, Zhang D, Jiang X-N, Gai Y, Wang W-M, Reed BM, Shen X-H (2013) Peroxidation due to cryoprotectant treatment is a vital factor for cell survival in Arabidopsis cryopreservation. Plant Sci 212:37–47

Rohlf FJ (1992) NTSYS-PC: numerical taxonomy and multivariate analysis system. Exeter Software, New York

Sakai A (2004) Plant cryopreservation. In: Fuller B, Lane N, Benson EE (eds) Life in the frozen state. CRC Press, London, 329–345

Salvi ND, George L, Eapen S (2001) Plant regeneration from leaf base callus of turmeric and random amplified polymorphic DNA analysis of regenerated plants. Plant Cell Tissue Organ Cult 66:113–119

Sambrook J, Fritsch EF, Maniatis T (1989) Molecular cloning: a laboratory manual, 2nd edn. Cold Spring Harbor Laboratory Press, New York

Senula A, Keller J, Sanduijav T, Yohannes T (2007) Cryopreservation of cold-acclimated mint (Mentha spp.) shoot tips using a simple vitrification protocol. CryoLetters 28:1–12

Sershen VB, Pammenter NW, Berjak P (2012) Cryo-tolerance of zygotic embryos from recalcitrant seeds in relation to oxidative stress—a case study on two amaryllid species. J Plant Physiol 169:999–1011

Teixeira AS, González-Benito ME, Molina-García AD (2014) Determination of glassy state by cryo-SEM and DSC in cryopreservation of mint shoot tips by encapsulation–dehydration. Plant Cell Tissue Organ Cult 119:269–280

Uchendu EE, Leonard SW, Traber MG, Reed BM (2010a) Vitamins C and E improve regrowth and reduce lipid peroxidation of blackberry shoot tips following cryopreservation. Plant Cell Rep 29:25–35

Uchendu EE, Muminova M, Gupta S, Reed BM (2010b) Antioxidant and anti-stress compounds improve regrowth of cryopreserved Rubus shoot tips. In Vitro Cell Dev Biol Plant 46:386–393

Uchendu EE, Shukla MR, Reed BM, Saxena PK (2013) Melatonin enhances the recovery of cryopreserved shoot tips of American elm (Ulmusamericana L.) J Pineal Res 55:435–442

Uchendu EE, Shukla MR, Reed BM, Saxena PK (2014) An efficient method for cryopreservation of St John's Wort and tobacco: role of melatonin. Acta Hortic 1039:233–241

Van den Ende W, Valluru R (2009) Sucrose, sucrosyl oligosaccharides, and oxidative stress: scavenging and salvaging? J Exp Bot 60:9–18

Vos P, Hogers R, Bleeker M, Reijans M, van de Lee T, Hornes M et al (1995) AFLP: a new technique for DNA fingerprinting. Nucleic Acids Res 23:4407–4414

Wang ZC, Deng XX (2004) Cryopreservation of shoot-tips of citrus using vitrification: effect of reduced form of glutathione. CryoLetters 25:43–50

Whitaker C, Beckett RP, Minibayeva FV, Kranner I (2010) Production of reactive oxygen species in excised, desiccated and cryopreserved explants of Trichilia dregeana Sond. S Afr J Bot 76:112–118

Xu J, Liu Q, Jia M, Liu Y, Li B, Shi Y (2014) Generation of reactive oxygen species during cryopreservation may improve Lilium × siberia pollen viability. In Vitro Cell Dev Biol Plant 50:369–375
Acknowledgments
This research was supported by the Spanish Government project AGL2010-21989-C02-01. C.K. is supported by a grant from Universidad Politécnica de Madrid. Technical support from C. Sansegundo, M. Huertas and C. Ruiz is appreciated.
Author Contributions
MEG-B: experiment design with special emphasis in the cryopreservation studies, manuscript writing. CK: performance of cryopreservation experiments and part of genetic analysis, partially manuscript writing. MAI: statistical analysis. CM: experiment design with special emphasis in the genetic studies, part of the genetic analysis, manuscript writing.
About this article
Cite this article
González-Benito, M.E., Kremer, C., Ibáñez, M.A. et al. Effect of antioxidants on the genetic stability of cryopreserved mint shoot tips by encapsulation–dehydration. Plant Cell Tiss Organ Cult 127, 359–368 (2016). https://doi.org/10.1007/s11240-016-1056-8
Received:

Accepted:

Published:

Issue Date:

DOI: https://doi.org/10.1007/s11240-016-1056-8
Keywords