Abstract
Agrobacterium rhizogenes mediated "hairy root cultures" of the renowned bio-sweetener producing plant—Stevia rebaudiana, were generated to explore their yet undetected biosynthetic potentials concerning the low calorie diterpene glycoside—stevioside. Four stable rhizoclones were studied under light and dark conditions showing better growth under dark. Two of these rhizoclones revealed substantially higher photosynthetic pigment accumulation under light. Evidently, capitalization on the available inter-clonal variability first time showed the stevioside synthesizing exclusivity in the SRA4 rhizoclone under light condition, while the rest failed. The dualities of the glycoside synthesizing power amongst the two photosynthetically active rhizoclones were resolved through quantitative RT-PCR analysis of UGT85C2 gene showing positive expression in the stevioside producing rhizoclone. These findings elucidated the decisive role of UGT85C2 in combination with photosynthetic proficiency of the studied hairy root cultures in regulating the biosynthetic pathway of S. rebaudiana.
Access options
Buy single article
Instant access to the full article PDF.
US$ 39.95
Tax calculation will be finalised during checkout.
Subscribe to journal
Immediate online access to all issues from 2019. Subscription will auto renew annually.
US$ 119
Tax calculation will be finalised during checkout.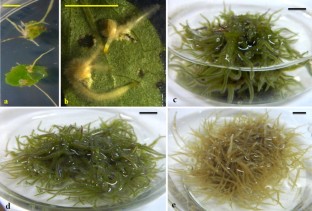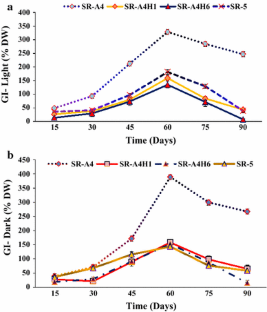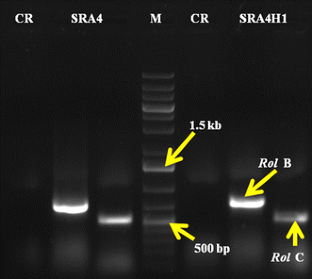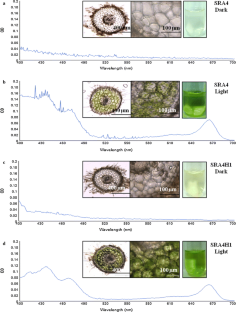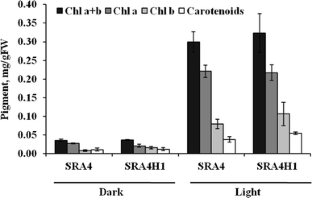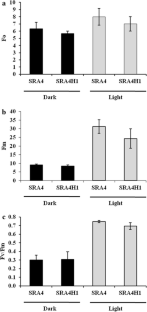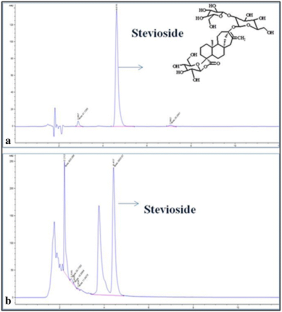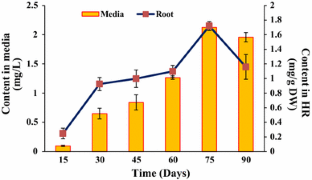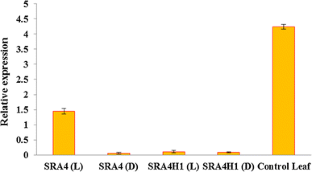 References
Bakkali AT, Jaziri M, Foriers A, Heyden YV, Vanhaelen M, Homes J (1997) Lawsone accumulation in normal and transformed cultures of henna, Lawsonia inermis. Plant Cell Tissue Org Cult 51:83–87

Bondarev N, Reshetnyak O, Nosov A (2001) Peculiarities of diterpenoid steviol glycoside production in in vitro cultures of Stevia rebaudiana Bertoni. Plant Sci 161:155–163

Brandle JE, Telmer PG (2007) Steviol glycoside biosynthesis. Phytochemistry 68:1855–1863

Cai Z, Kastell A, Knorr D, Smetanska I (2012) Exudation: an expanding technique for continuous production and release of secondary metabolites from plant cell suspension and hairy root cultures. Plant Cell Rep 31:461–477

Das A, Golder AK, Das C (2015) Enhanced extraction of rebaudioside-A: experimental, response surface optimization and prediction using artificial neural network. Ind Crops Prod 65:415–421

Flores HE, Dai Y, Cuello JL, Mendoza LEM, Vargas VML (1993) Green Roots: photosynthesis and photoautotrophy in an underground plant organ. Plant Physiol 101:363–371

Fu X, Yin ZP, Chen JG, Shangguan XC, Wang X, Zhang QF, Peng DY, Key J (2015) Production of chlorogenic acid and its derivatives in hairy root cultures of Stevia rebaudiana. J Agric Food Chem 63:262–268

Gangopadhyay M, Sircar D, Mitra A, Bhattacharya S (2008) Hairy root culture of Plumbago indica as a potential source for plumbagin. Biol Plant 52:533–537

Gantait S, Das A, Mandal N (2015) Stevia: a comprehensive review on ethnopharmacological properties and in vitro regeneration. Sugar Tech 17:95–106

Gasmalla MAA, Yang R, Hua X (2014) Stevia rebaudiana Bertoni: an alternative sugar replacer and its application in food industry. Food Eng Rev 6:150–162

Gonzalez IA, Campos MS, Ordonez YM, Ancona DB (2014) Stevia rebaudiana Bertoni: a potential adjuvant in the treatment of diabetes mellitus. CyTA J Food 12:218–226

Guleria P, Masand S, Yadava SK (2014) Overexpression of SrUGT85C2 from Stevia reduced growth and yield of transgenic Arabidopsis by influencing plastidial MEP pathway. Gene 539:250–257

Gupta P, Sharma S, Saxena S (2014) Effect of Salts (NaCl and Na2CO3) on callus and suspension culture of Stevia rebaudiana for steviol glycoside production. Appl Biochem Biotechnol 172:2894–2906

Gupta R, Pandey P, Singh S, Singh DK, Saxena A, Luqman S, Bawankule DU, Banerjee S (2015) Advances in Boerhaavia diffusa hairy root technology: a valuable pursuit for identifying strain sensitivity and up-scaling factors to refine metabolite yield and bioactivity potentials. Protoplasma. doi:10.1007/s00709-015-0875-5

Halder M, Jha S (2015) Enhanced trans-resveratrol production in genetically transformed root cultures of Peanut (Arachis hypogaea L.). Plant Cell Tissue Organ. doi:10.1007/s11240-015-0914-0

Hashemi SM, Naghavi MR (2015) Production and gene expression of morphinan alkaloids in hairy root culture of Papaver orientale L. using abiotic elicitors. Plant Cell Tissue Organ Cult. doi:10.1007/s11240-015-0927-8

Hobbs SLA, Kpodar P, DeLong CMO (1990) The effect of T-DNA copy number, position and methylation on reporter gene expression in tobacco transformants. Plant Mol Biol 15:851–864

Hwang SJ (2006) Rapid in vitro propagation and enhanced stevioside accumulation in Stevia rebaudiana Bert. J Plant Biol 49:267–270

Inomata S, Yokoyama M, Gozu Y, Shimizu T, Yanagi M (1993) Growth pattern and ginsenoside production of Agrobacterium transformed Panax ginseng roots. Plant Cell Rep 12:681–686

Jadeja RP, Tadhani MB, Rema S, Parekh LJ (2005) Qualitative studies on the production of stevioside in in vitro callus culture of Stevia rebaudiana Bertoni. Tomul LI, s. II a. Biologie vegetala 139–140

Janarthanam B, Gopalakrishnan M, Sekar T (2010) Secondary metabolite production in callus cultures of Stevia rebaudiana Bertoni. Bangladesh J Sci Ind Res 45:243–248

Joint FAO/WHO Expert Committee on Food Additives (JECFA) Meeting WHO, Food and Agriculture Organization of the United Nations (2009) (Sixty ninth report) 50–54

Khalil SA, Zamir R, Ahmad N (2014) Selection of suitable propagation method for consistent plantlets production in Stevia rebaudiana (Bertoni). Saudi J Biol Sci 21:566–573

Kino-Oka M, Nagatome H, Taya M (2001) Characterization and application of plant hairy roots endowed with photosynthetic functions. Adv Biochem Eng Biotechnol 72:186–218

Kumar H, Kaul K, Bajpai-Gupta S, Kaul VK, Kumar S (2012) A comprehensive analysis of fifteen genes of steviol glycosides biosynthesis pathway in Stevia rebaudiana (Bertoni). Gene 492:276–284

Kumari M, Chandra S (2014) Stevia rebaudiana: beyond sweetness. In: Handbook of medicinal plants and their bioactive compounds, pp 11–26

Ladygin VG, Bondarev NI, Semenova GA, Smolov AA, Reshetnyak OV, Nosov AM (2008) Chloroplast ultrastructure, photosynthetic apparatus activities and production of steviol glycosides in Stevia rebaudiana in vivo and in vitro. Biol Plant 52:9–16

Lichtenthaler HK, Buschmann C (2001) Chlorophylls and carotenoids: measurement and characterization by UV-VIS spectroscopy. In: Wrolstad RE, Acree TE, An H, Decker EA, Penner MH, Reid DS, Schwartz SJ, Shoemaker CF, Sporns P (eds) Current protocols in food analytical chemistry (CPFA). Wiley, New York, pp F4.3.1–F4.3.8

Liu CZ, Guo C, Wang Y, Ouyang F (2002) Effect of light irradiation on hairy root growth and artemisinin biosynthesis of Artemisia annua L. Process Biochem 38:581–585

Luwanska A, Perz A, Mankowska G, Wielgus K (2015) Application of in vitro stevia (Stevia rebaudiana Bertoni) cultures in obtaining steviol glycoside rich material. Herba Pol 61:50–63

Michalec-Warzecha Z, Pistelli L, D'Angiolillo F, Libik-Konieczny M (2016) Establishment of highly efficient Agrobacterium rhizogenes-mediated transformation for Stevia rebaudiana Bertoni explants. Acta Biol Cracoviensia Ser Bot. doi:10.1515/abcsb-2016-0003

Mohamed AAA, Ceunen S, Geuns JMC, Ende W, Ley M (2011) UDP-dependent glycosyltransferases involved in the biosynthesis of steviol glycosides. J Plant Physiol 168:1136–1141

Nayak P, Sharma M, Behera SN, Thirunavoukkarasu M, Chand PK (2015) High-performance liquid chromatographic quantification of plumbagin from transformed rhizoclones of Plumbago zeylanica L.: inter-clonal variation in biomass growth and plumbagin production. Appl Biochem Biotechnol 175:1745–1770

Ono NN, Tian L (2011) Review: the multiplicity of hairy root cultures: prolific possibilities. Plant Sci 180:439–446

Pandey P, Kaur R, Singh S, Chattopadhyay SK, Srivastava SK, Banerjee S (2014) Long-term stability in biomass and production of terpene indole alkaloids by hairy root culture of Rauvolfia serpentina and cost approximation to endorse commercial realism. Biotechnol Lett 36:1523–1528

Pandey H, Pandey P, Singh S, Gupta R, Banerjee S (2015) Production of anti-cancer triterpene (betulinic acid) from callus cultures of different Ocimum species and its elicitation. Protoplasma 252:647–655

Papageorgiou GC, Govindjee (eds) (2004) Chlorophyll a fluorescence: a signature of photosynthesis. Advances in photosynthesis and respiration. Springer Science & Business Media, Berlin, pp 1–42

Petit A, Berkaloff A, Tempe J (1986) Multiple transformation of plant cells by Agrobacterium may be responsible for the complex organization of T-DNA in crown gall and hairy root. Mol Gen Genet 202:388–393

Philippe RN, Mey MD, Anderson J, Ajilkumar PK (2014) Biotechnological production of natural zero-calorie sweeteners. Curr Opin Biotechnol 26:155–161

Piwowarczyk B, Tokarz K, Kaminska I (2016) Responses of grass pea seedlings to salinity stress in in vitro culture conditions. Plant Cell Tissue Organ Cult 124:227–240

Potrykus I (1990) Gene transfer to cereals: an assessment. Nat Biotechnol 8:535–542

Reis RV, Borges APPL, Chierrito TPC, de Souto ER, de Souza LM, Iacomini M, de Oliveira AJB, Goncalves RAC (2011) Establishment of adventitious root culture of Stevia rebaudiana Bertoni in a roller bottle system. Plant Cell Tissue Organ Cult 106:329–335

Sheludko Y, Gerasymenko I (2013) Biosynthetic potential of hairy roots for production of new natural products. In: Chandra S et al (eds) Biotechnology for medicinal plants. Springer, Berlin, pp 241–262. doi:10.1007/978-3-642-29974-2_10

Sivanesan I, Jeong BR (2008) Induction and establishment of adventitious and hairy root cultures of Plumbago zeylanica L. Afr J Biotechnol 20:5294–5300

Sivaram L, Mukundan U (2003) In vitro culture studies on Stevia rebaudiana. In Vitro Cell Dev Biol Plant 39:520–523

Taware AS, Mukadam DS, Chavan AM, Taware SD (2010) Comparative studies of in vitro and in vivo grown plants and callus of Stevia rebaudiana (Bertoni). Int J Integr Biol 9:10–15

Yamazaki T, Flores HE, Shimomura K, Yoshihira K (1991) Examination of steviol glucosides production by hairy root and shoot cultures of Stevia rebaudiana. J Nat Prod 54:986–992

Yang Y, Wang S, Han Y, Yuan H, Gu C, Wang Z (2015) Environmental cues induce changes of steviol glycosides contents and transcription of corresponding biosynthetic genes in Stevia rebaudiana. Plant Physiol Biochem 86:174–180

Yoshimatsu K, Satake M, Shimomura K (1990) Determination of cardinolides in hairy root cultures of Digitalis lantana by enzyme linked immunoassay. J Nat Prod 53:1498–1502

Zehra M, Banerjee S, Naqvi AA, Kumar S (1998) Variation in the growth and alkaloid production capability of the hairy roots of Hyoscyamus albus, H. muticus and their somatic hybrid. Plant Sci 136:93–99
Acknowledgments
The authors wish to express their sincere gratitude to Prof. A. K. Tripathi, Director, CSIR-CIMAP, for providing the facilities to carry out this research. HP, SSP and SS are thankful to Council of Scientific and Industrial Research (CSIR, New Delhi, India) and PP to Department of Science and Technology (DST, New Delhi, India), for financial supports in the form of fellowships. Sincere thanks are also due to Mr. Vinay Pandey and Mr. Teraiya Darshak R. for their skillful guidance in HPLC. Further acknowledgement also goes to the Academy of Scientific and Innovative Research (AcSIR-CIMAP). This work is carried out under an in-house project (OLP-16).
Additional information
Harshita Pandey and Pallavi Pandey have contributed equally to this work.
About this article
Cite this article
Pandey, H., Pandey, P., Pandey, S.S. et al. Meeting the challenge of stevioside production in the hairy roots of Stevia rebaudiana by probing the underlying process. Plant Cell Tiss Organ Cult 126, 511–521 (2016). https://doi.org/10.1007/s11240-016-1020-7
Received:

Accepted:

Published:

Issue Date:
Keywords
Hairy root

Photosynthetic pigment

Stevia rebaudiana

Stevioside

qRT-PCR

UGT85C2 gene