Abstract
Reported Agrobacterium transformation efficiency of indica rice shoot apices varied from 0.4 to 13.8 %. In order to improve the transformation efficiency, modification of transformation protocols through heat and hydrolytic enzyme treatments on rice shoot apices were carried out. Transient expression study using reporter genes revealed that shoot apices heat treated for 3 min at 42 °C during bacterial immersion showed improved GFP (63.0 %) and GUS (42.5 %) expressions per plant as compared to standard protocol (34.0 % GFP and 36.25 % GUS). Shoot apices pre-treated with hydrolytic enzymes containing macerase, pectinase and cellulase at concentration ratio of 1:1:1 (w/v) also demonstrated high percentage of transient GFP (40.0 %) and GUS (35.0 %) expressions per plant. PCR analyses further confirmed the presence of GFP and GUS genes in the transformants. Stable expressions of GFP and GUS were also obtained in multiple shoots of regenerated shoot apices after 4 weeks of culturing in shoot proliferation media without hygromycin. In conclusion, the transformation efficiencies were improved significantly when heat (15.83 %) and hydrolytic enzymes (16.67 %) were applied as individual treatments as compared to the standard transformation method which only accounted for 5.83 %.
Access options
Buy single article
Instant access to the full article PDF.
US$ 39.95
Tax calculation will be finalised during checkout.
Subscribe to journal
Immediate online access to all issues from 2019. Subscription will auto renew annually.
US$ 119
Tax calculation will be finalised during checkout.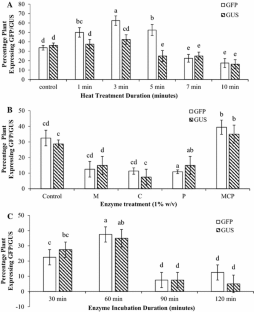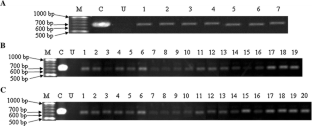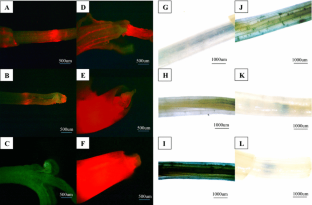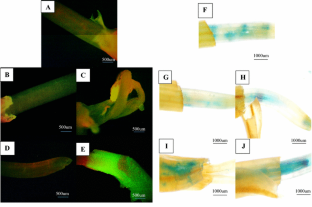 References
Alam I, Sharmin SA, Naher MK, Alam MJ, Anisuzzaman M, Alam MF (2013) Elimination and detection of viruses in meristem-derived plantlets of sweetpotato as a low-cost option toward commercialization. Biotech 3(2):153–164

Arockiasamy S, Ignacimuthu S (2007) Regeneration of transgenic plants from two indica rice (Oryza sativa L.) cultivars using shoot apex explants. Plant Cell Rep 26:1745–1753

Badoni A, Chauhan JS (2009) Effect of growth regulators on meristem-tip development and in vitro multiplication of potato cultivar 'Kufri Hilmalini'. Nat Sci 7(9):31–34

Bairu MW, Aremu AO, Staden J (2010) Somaclonal variation in plants: causes and detection methods. Plant Growth Reg 63(2):147–173

Balsiger S, Ragaz C, Baron C, Balsiger S, Ragaz C, Baron C, Narberhaus F (2004) Replicon specific regulation of small heat shock genes in Agrobacterium tumefaciens. J Bacteriol 186(20):6824–6829

Brencic A, Winans SC (2005) Detection of and response to signals involved in host-microbe interactions by plant-associated bacteria. Microbiol Mol Biol Rev 69(1):155–194

Cantu D, Vicente AR, Labavitch JM, Bennett AB, Powell ALT (2008) Strangers in the matrix: plant cell walls and pathogen susceptibility. Trends Plant Sci 13(11):610–617

Chen X, Equi R, Baxter H, Berk K, Han J, Agarwal S, Zale J (2010) A high-throughput transient gene expression system for switchgrass (Panicum virgatum L.) seedlings. Biotechnol Biofuels 3:9

Fook CWK, Lai KS, Wong MY, Maziah M (2015) Efficient regeneration and Agrobacterium mediated transformation protocol for recalcitrant indica rice (Oryza sativa L.). Emir J Food Agric 27(11):837–848

Gamborg OL (2002) Plant tissue culture biotechnology milestones. In Vitro Cell Dev Biol 38:84–92

Gurel S, Gurel E, Kaur R, Wong J, Meng L, Tan H-Q, Lemaux PG (2009) Efficient, reproducible Agrobacterium-mediated transformation of sorghum using heat treatment of immature embryos. Plant Cell Rep 28(3):429–444

Hiei Y, Komari T (2006) Improved protocols for transformation of indica rice mediated by Agrobacterium tumefaciens. Plant Cell Tiss Org Cult 85:271–283

Ishida Y, Hiei Y, Komari T (2007) Agrobacterium-mediated transformation of maize. Nat Protoc 2(7):1614–1621

Jefferson RA, Kavanagh TA, Bevan MW (1987) GUS fusions: β-glucuronidase as a sensitive and versatile gene fusion marker in higher plants. EMBO J 6:3901–3907

Karakaş Ö (2011) Assessment of barley (Hordeum vulgare L.) mature embryos for Agrobacterium-mediated transformation. J Appl Biol Sci 5(1):55–58

Keegstra K (2010) Plant cell walls. Plant Physiol 154(2):483–486

Kumar V, Sharma A, Narasimha Prasad BC, Bhaskar Gururaj H, Aswathanarayana Ravishankar G (2006) Agrobacterium rhizogenes mediated genetic transformation resulting in hairy root formation is enhanced by ultrasonication and acetosyringone treatment. Electron J Biotechnol 9(4):350–357

Lai KS, Yusoff K (2013) Production of tENDO1 in stably transformed tobacco cell cultures for mismatch detection. Plant Cell Tiss Organ Cult 114:287–294

Lai KS, Yusoff K, Maziah M (2013) Functional ectodomain of the hemagglutinin neuraminidase protein is expressed in transgenic tobacco cellas as a candidate vaccine against Newcastle disease virus. Plant Cell Tiss Organ Cult 112:117–121

Liu Z, Jacobs M, Schaff DA, Cullen CAMC (2001) ChvD, a chromosomally encoded ATP binding cassette transporter-homologous protein involved in regulation of virulence gene expression in Agrobacterium tumefaciens. J Bacteriol 183(11):3310–3317

Murashige T, Skoog F (1962) A revised medium for rapid growth and bio-assays with tobacco tissue cultures. Physiol Plant 15(3):473–497

Padua VLM, Ferreira RP, Meneses L, Uchoa N, Margis-Pinheiro M, Mansur E (2001) Transformation of Brazillian elite indica-type rice (Oryza sativa L.) by electroporation of shoot apex explants. Plant Mol Biol Report 19:55–64

Patel M, Dewey RE, Qu R (2013) Enhancing Agrobacterium tumefaciens-mediated transformation efficiency of perennial ryegrass and rice using heat and high maltose treatments during bacterial infection. Plant Cell Tiss Org Cult 114(1):19–29

Staub J, Bacher K, Poetter K (1996) Sources of potential error in the application of random polymorphic DNAs in cucumber. Hort Sci 32:262–266

Su S, Stephens BB, Alexandre G, Farrand SK (2006) Lon protease of the alpha-proteobacterium Agrobacterium tumefaciens is required for normal growth, cellular morphology and full virulence. Microbiology 152(4):1197–1207

Sujatha M, Vijay S, Vasavi S, Veera Reddy P, Chander Rao S (2012) Agrobacterium-mediated transformation of cotyledons of mature seeds of multiple genotypes of sunflower (Helianthus annuus L.). Plant Cell Tiss Org Cult 110(2):275–287

Tee CS, Maziah M (2005) Optimization of biolistic bombardment parameters for Dendrobium Sonia 17 calluses using GFP and GUS as the reporter system. Plant Cell Tiss Org Cult 80:77–89

Tsai Y-L, Wang M-H, Gao C, Klüsener S, Baron C, Narberhaus F, Lai E-M (2009) Small heat shock protein HspL is induced by VirB protein(s) and promotes VirB/D4-mediated DNA transfer in Agrobacterium tumefaciens. Microbiology 155(10):3270–3280

Tsai Y-L, Chiang Y-R, Narberhaus F, Baron C, Lai E-M (2010) The small heat-shock protein HspL is a VirB8 chaperone promoting type IV secretion-mediated DNA transfer. J Biol Chem 285(26):19757–19766

Tsai Y-L, Chiang Y-R, Wu C-F, Narberhaus F, Lai E-M (2012) One out of four: hspL but no other small heat shock protein of Agrobacterium tumefaciens acts as efficient virulence promoting VirB8 chaperone. PLoS ONE 7(11):e49685

Vrbová M, Tejklová E, Smýkalová I, Smýkal P, Vinklárková P, Griga M, Větrovcová M (2008) The comparison of genetic transformation approaches in flax (Linum Usitatissimum L.) for improved heavy metal tolerance and accumulation. In 4th European Bioremediation Conference, 3rd Sept-6th Sept (pp. 5–8). Chania, Crete, Greece

Wang S, Takahashi H, Hiroyuki K, Kawakatsu T, Fujiyama K, Takaiwa F (2013) Transgenic rice seeds accumulating hypoallergenic Birch pollen allergen Bet v 1 generate giant protein bodies. Plant Cell Physiol 1(1):1–17

Weber S, Friedt W, Landes N, Molinier J, Himber C, Rousselin P, Hahne G, Horn R (2003) Improved Agrobacterium-mediated transformation of sunflower (Helianthus annuus L.): assessment of macerating enzymes and sonication. Plant Cell Rep 21(5):475–482

Wu Z, Zhang M, Wang L, Tu Y, Zhang J, Xie G, Zou W, Li F, Guo K, Li Q, Gao C, Peng L (2013) Biomass digestibility is predominantly affected by three factors of wall polymer features distinctive in wheat accessions and rice mutants. Biotechnol Biofuels 6(1):183

Yong WTL, Janna OA, Maziah M (2009) Agrobacterium-mediated transformation of Melastoma malabathricum and Tibouchina semicandra with sense and antisense dihydroflavonol-4 reductase (DFR) genes. Plant Cell Tiss Org Cult 96:59–67

Yookongkaew N, Srivatanakul M, Narangajavana J (2007) Development of genotype independent regeneration system for transformation of rice (Oryza sativa ssp. indica). J Plant Res 120(2):237–245
Acknowledgments
The authors would like to thank National LRGS Food Security Programme: Enhancing Sustainable Rice Production through Innovative Research 2011–2016 for the research funding and Graduate Research Fellowship (UPM-GRF) for the scholarship.
Electronic supplementary material
Below is the link to the electronic supplementary material.
About this article
Cite this article
Clement, W., Lai, K.S., Wong, M.Y. et al. Heat and hydrolytic enzymes treatment improved the Agrobacterium-mediated transformation of recalcitrant indica rice (Oryza sativa L.). Plant Cell Tiss Organ Cult 125, 183–190 (2016). https://doi.org/10.1007/s11240-015-0926-9
Received:

Accepted:

Published:

Issue Date:
Keywords
Agrobacterium

Heat

Hydrolytic enzymes

Rice

Shoot apices