Abstract
Few studies have been conducted on the links between histological and hormonal variation during shoot regeneration. Therefore, we investigated this link in strawberry (Fragaria × ananassa cv. 'Honeoye'). Main plant growth regulators were measured using reverse-phase liquid chromatography–tandem mass spectrometry. Histological observations were conducted to understand the pattern of adventitious shoot regeneration from the leaf segments. After 14 days of dark culture, a mean shoot regeneration frequency of 94.7 % was obtained on MS medium supplemented with 2.0 mg L−1 thidiazuron, 30 g L−1 sucrose, and 6 g L−1 agar (pH 5.9). During shoot regeneration, indole acetic acid (IAA) concentrations increased, abscisic acid (ABA) decreased, and gibberellic acid (GA3) and zeatin showed peaks. The results could be correlated with the cell division and differentiation that occurred during shoot regeneration. Histological observation showed that the adventitious shoots were derived from subepidermal cells and the epidermal cells of the midrib near the cut. The meristemoids, primordia and shoots were formed sequentially on day 6, day 12, and day 18 after culture. During the meristemoids formation on day 6 after culture, IAA rapidly increased from 1.49 to 1.72 ng g−1 fresh weight (Fw), ABA rapidly decreased from 52.61 to 13.47 ng g−1 Fw, and zeatin increased from 1.68 to 5.98 ng g−1 Fw. During primordia formation on day 12 after culture, IAA rapidly increased to 1.88 ng g−1 Fw, ABA rapidly decreased to 2.69 ng g−1 Fw, GA3 peaked at 73.91 ng g−1 Fw, and zeatin peaked at 7.69 ng g−1 Fw. Our results suggested that the histological variations were consistent with the plant hormonal changes during shoot regeneration, and that changes in hormone concentration could be used as a reference to characterize the mode of shoot regeneration.
Access options
Buy single article
Instant access to the full article PDF.
US$ 39.95
Tax calculation will be finalised during checkout.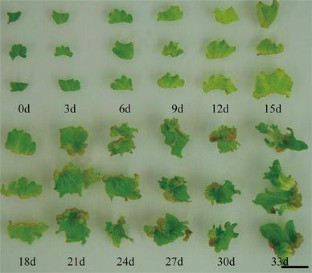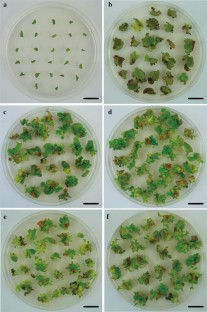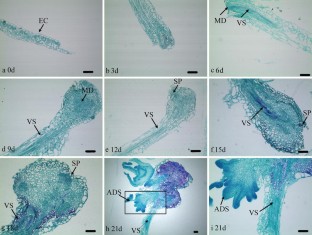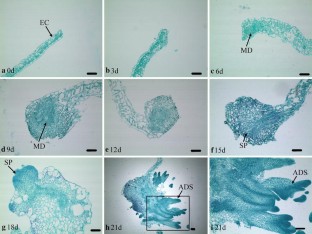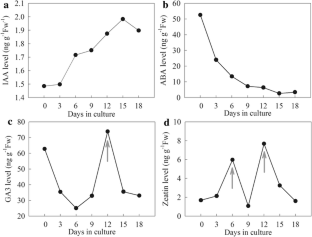 Abbreviations
ABA:

Abscisic acid

GA3 :

Gibberellic acid

HgCl2 :

Mercuric chloride

BA:

6-benzyladenine

IBA:

Indole-3-butyric acid

TDZ:

Thidiazuron

IAA:

Iindole-3-acetic acid

BSAA:

3-Benzo[b]selenienyl acetic acid

IPA:

N6(2-isopentenyl)adenosine

2IP:

N6(2-isopentenyl)adenine
References
Anderson MJ, Cribble NA (1998) Partitioning the variation among spatial, temporal and environmental components in a multivariate data set. Aust J Ecol 23(2):158–167. doi:10.1111/j.1442-9993.1998.tb00713.x

Barceló M, El-Mansouri I, Mercado J, Quesada M, Pliego Alfaro F (1998) Regeneration and transformation via Agrobacterium tumefaciens of the strawberry cultivar Chandler. Plant Cell Tissue Organ Cult 54(1):29–36. doi:10.1023/a:1006031527413

Charrière F, Sotta B, Miginiac É, Hahne G (1999) Induction of adventitious shoots or somatic embryos on in vitro cultured zygotic embryos of Helianthus annuus: variation of endogenous hormone levels. Plant Physiol Biochem 37(10):751–757. doi:10.1016/S0981-9428(00)86688-7

Ċosiċ T, Motyka V, Raspor M, Savić J, Cingel A, Vinterhalter B, Vinterhalter D, Trávníčková A, Dobrev P, Bohanec B, Ninković S (2015) In vitro shoot organogenesis and comparative analysis of endogenous phytohormones in kohlrabi (Brassica oleracea var. gongylodes): effects of genotype, explant type and applied cytokinins. Plant Cell Tissue Organ Cult 121(3):741–760. doi:10.1007/s11240-015-0742-2

De Klerk G-J, Arnholdt-Schmitt B, Lieberei R, Neumann K-H (1997) Regeneration of roots, shoots and embryos: physiological, biochemical and molecular aspects. Biol Plant 39(1):53–66. doi:10.1023/A:1000304922507

Dobránszki J, Teixeira da Silva JA (2010) Micropropagation of apple—a review. Biotechnol Adv 28(4):462–488. doi:10.1016/j.biotechadv.2010.02.008

El Mansouri I, Mercado JA, Valpuesta V, López-Aranda JM, Pliego-Alfaro F, Quesada MA (1996) Shoot regeneration and Agrobacterium-mediated transformation of Fragaria vesca L. Plant Cell Rep 15(8):642–646. doi:10.1007/BF00232469

Farrow S, Emery R (2012) Concurrent profiling of indole-3-acetic acid, abscisic acid, and cytokinins and structurally related purines by high-performance-liquid-chromatography tandem electrospray mass spectrometry. Plant Methods 8(1):1–18. doi:10.1186/1746-4811-8-42

Gruchała A, Korbin M, Żurawicz E (2004) Conditions of transformation and regeneration of 'Induka' and 'Elista' strawberry plants. Plant Cell Tissue Organ Cult 79(2):153–160. doi:10.1007/s11240-004-0655-y

Guo B, Stiles A, Liu C-Z (2013) Changes in endogenous hormones and oxidative burst as the biochemical basis for enhanced shoot organogenesis in cold-treated Saussurea involucrata explants. Acta Physiol Plant 35(1):283–287. doi:10.1007/s11738-012-1052-5

Haddadi F, Aziz MA, Kamaladini H, Ravanfar SA (2013) Thidiazuron-and zeatin-induced high-frequency shoot regeneration from leaf and shoot-tip explants of strawberry. HortTechnology 23(3):276–281

Jin W, Wang Y, Wang H (2014) Adventitious shoot regeneration from leaves of apple rootstock 'Pingyitiancha'(Malus hupehensis var. pinyiensis) and genetic fidelity of regenerated plantlets using SSR markers. Can J Plant Sci 94(8):1345–1354. doi:10.4141/CJPS2013-357

Jones OP, Waller B, Beech MG (1988) The production of strawberry plants from callus cultures. Plant Cell Tissue Organ Cult 12(3):235–241. doi:10.1007/bf00034364

Landi L, Mezzetti B (2006) TDZ, auxin and genotype effects on leaf organogenesis in Fragaria. Plant Cell Rep 25(4):281–288. doi:10.1007/s00299-005-0066-5

López-Carbonell M, Jáuregui O (2005) A rapid method for analysis of abscisic acid (ABA) in crude extracts of water stressed Arabidopsis thaliana plants by liquid chromatography—mass spectrometry in tandem mode. Plant Physiol Biochem 43(4):407–411. doi:10.1016/j.plaphy.2005.02.006

Mandal AKA, Gupta SD (2001) Direct shoot organogenesis and plant regeneration in safflower. In Vitro Cell Dev Biol Plant 37(1):50–54. doi:10.1007/s11627-001-0010-5

Murashige T, Skoog F (1962) A revised medium for growth and rapid bioassays with tobacco tissue cultures. Physiol Plant 15(1):473–497. doi:10.1111/j.1399-3054.1962.tb08052.x

Nehra NS, Chibbar RN, Kartha KK, Datla RS, Crosby WL, Stushnoff C (1990a) Genetic transformation of strawberry by Agrobacterium tumefaciens using a leaf disk regeneration system. Plant Cell Rep 9(6):293–298. doi:10.1007/BF00232854

Nehra NS, Stushnoff C, Kartha KK (1990b) Regeneration of plants from immature leaf-derived callus of strawberry (Fragaria × ananassa). Plant Sci 66(1):119–126. doi:10.1016/0168-9452(90)90176-O

Pan X, Welti R, Wang X (2010) Quantitative analysis of major plant hormones in crude plant extracts by high-performance liquid chromatography—mass spectrometry. Nat Protoc 5(6):986–992. doi:10.1038/nprot.2010.37

Passey A, Barrett K, James D (2003) Adventitious shoot regeneration from seven commercial strawberry cultivars (Fragaria × ananassa Duch.) using a range of explant types. Plant Cell Rep 21(5):397–401. doi:10.1007/s00299-002-0530-4

Paulraj S, Lopez-Villalobos A, Yeung E (2014) Abscisic acid promotes shoot regeneration in Arabidopsis zygotic embryo explants. In Vitro Cell Dev Biol Plant 50(5):627–637. doi:10.1007/s11627-014-9624-2

Pereira A, Bertoni B, Appezzato-da-Glória B, Araujo AB, Januário A, Lourenço M, França S (2000) Micropropagation of Pothomorphe umbellata via direct organogenesis from leaf explants. Plant Cell Tissue Organ Cult 60(1):47–53. doi:10.1023/a:1006409807719

Petri C, Scorza R (2010) Factors affecting adventitious regeneration from in vitro leaf explants of 'Improved French' plum, the most important dried plum cultivar in the USA. Ann Appl Biol 156(1):79–89. doi:10.1111/j.1744-7348.2009.00364.x

San B, Li Z, Hu Q, Reighard GL, Luo H (2015) Adventitious shoot regeneration from in vitro cultured leaf explants of peach rootstock Guardian® is significantly enhanced by silver thiosulfate. Plant Cell Tissue Organ Cult 120(2):757–765. doi:10.1007/s11240-014-0645-7

Sorvari S, Ulvinen S, Hietaranta T, Hiirsalmi H (1993) Preculture medium promotes direct shoot regeneration from micropropagated strawberry leaf disks. HortScience 28(1):55–57

Takagi H, Sugawara S, Saito T, Tasaki H, Yuanxue L, Kaiyun G, Han D-S, Godo T, Nakano M (2011) Plant regeneration via direct and indirect adventitious shoot formation and chromosome-doubled somaclonal variation in Titanotrichum oldhamii (Hemsl.) Solereder. Plant Biotechnol Rep 5(2):187–195. doi:10.1007/s11816-011-0172-5

Trivedi R (2014) In vitro regeneration of groundnut: changes in antioxidative enzymes and histological studies. J Agric Sci 59(1):63–73. doi:10.2298/JAS1401063T

Varshney A, Sangapillai R, Patil M, Johnson TS (2011) Histological evidence of morphogenesis from various explants of Jatropha curcas L. Trees 25(4):689–694. doi:10.1007/s00468-011-0546-x

Vatankhah E, Niknam V, Ebrahimzadeh H (2014) Histological and biochemical parameters of Crocus sativus during in vitro root and shoot organogenesis. Biol Plant 58(2):201–208. doi:10.1007/s10535-013-0388-z

Wang H, Alburquerque N, Burgos L, Petri C (2011) Adventitious shoot regeneration from hypocotyl slices of mature apricot (Prunus armeniaca L.) seeds: a feasible alternative for apricot genetic engineering. Sci Hortic 128(4):457–464. doi:10.1016/j.scienta.2011.02.020

Werner T, Motyka V, Laucou V, Smets R, Van Onckelen H, Schmülling T (2003) Cytokinin-deficient transgenic Arabidopsis plants show multiple developmental alterations indicating opposite functions of cytokinins in the regulation of shoot and root meristem activity. Plant Cell 15(11):2532–2550. doi:10.1105/tpc.014928

Yin S, Jin W, Wang P, Meng F, Han Z (2003) Efects of thidiazuron (TDZ) on inducing adventitious shoot of strawberry in Vitro. J Agric Biotechnol 1(4):379–382 (In Chinese with English abstrct)

Yin Z, Zhao B, Bi W, Chen L, Wang Q (2013) Direct shoot regeneration from basal leaf segments of Lilium and assessment of genetic stability in regenerants by ISSR and AFLP markers. In Vitro Cell Dev Biol Plant 49(3):333–342. doi:10.1007/s11627-013-9501-4
Acknowledgments
This study was funded by Beijing Innovation of Science and Technology (KJCX20140202), Young Foundation of Beijing Academy of Agriculture and Forestry Sciences (QNJJ201507), National High Technology Research and Development Program of China (2011AA100204), Beijing Nova program (Z121105002512036), and Nonprofit research project (20120307501-4). We are grateful to B.A. Hong Zhang and Mingming Zhao for their useful techniques throughout the experiments.
Electronic supplementary material
Below is the link to the electronic supplementary material.
Adventitious shoot regeneration derived from subepidermal cells of the midrib near the cut in transverse sections of leaf explants of 'Honeoye' by histological observation. a A leaf explant at the time of culture initiation (day 0). b A leaf explant on day 3 of culture. Some subepidermal cells on the adaxial side had dedifferentiated; these cells contained dense cytoplasm and a conspicuous nucleus. c The meristemoids (MD) and vascular structures (VS) formed on day 6 of culture. d A leaf explant on day 9 of culture. e The shoot primordium (SP) appeared on day 12 of culture. f A leaf explant on day 15 of culture. g A leaf explant on day 17 of culture. h, i A leaf explant on day 18 of culture, adventitious shoots (ADS) included in the square are enlarged in i. j–o Leaf explants on day 21 of culture, ADS and VS included in the squares are enlarged in k, l, n, o. EC epidermal cells. Bars = 100 μm. (TIFF 40805 kb)
Adventitious shoot regeneration derived from epiderma cells of the midrib near the cut in transverse sections of leaf explants of 'Honeoye' by histological observation. a A leaf explant at the time of culture initiation (day 0). b A leaf explant on day 3 of culture. c The meristemoids (MD) formed on day 6 of culture. d A leaf explant on day 9 of culture. e A leaf explant on day 12 of culture. f The shoot primordium (SP) appeared on day 15 of culture. g A leaf explant on day 17 of culture. h, i A leaf explant on day 18 of culture, adventitious shoots (ADS) included in the square are enlarged in i. j–o Leaf explants observed on day 21 of culture, ADS included in the squares are enlarged in k, l, n, o. EC epidermal cells. Bars = 100 μm. (TIFF 40551 kb)
a–g HPLC–MS/MS spectras of ABA during adventitious shoot regeneration of 'Honeoye' leaves. (EPS 29078 kb)
About this article
Cite this article
Wang, H., Li, M., Yang, Y. et al. Histological and endogenous plant growth regulators changes associated with adventitious shoot regeneration from in vitro leaf explants of strawberry (Fragaria × ananassa cv. 'Honeoye'). Plant Cell Tiss Organ Cult 123, 479–488 (2015). https://doi.org/10.1007/s11240-015-0851-y
Received:

Accepted:

Published:

Issue Date:
Keywords
'Honeoye'

Leaf disk regeneration

Histology

Plant growth regulators

HPLC–MS/MS