Abstract
Although plant-based vaccines have many advantages, their use is limited by low expression of antigen genes in transgenic plants, which results in low immune responses and immune tolerance. To overcome this problem, Nicotiana benthamiana was used to produce the consensus domain III of dengue virus envelope glycoprotein (E) via agroinfiltration with a plant virus-based expression system. The binding of E glycoprotein to a receptor is important for dengue virus entry into host cells and results in human disease. Consensus domain III of dengue virus E glycoprotein (cEDIII) is immunogenic and can elicit neutralizing antibodies against all four serotypes of dengue virus. A DNA fragment encoding cEDIII and M cell-targeting ligand fused to cEDIII (cEDIII-Co1) were constructed in a viral vector and introduced into tobacco plant cells by Agrobacterium-mediated infiltration. The cEDIII and cEDIII-Co1 fusion proteins were detected in protein extracts from agroinfiltrated leaves by Western blot analysis. The plant-produced cEDIII and cEDIII-Co1 fusion proteins composed 5.2 and 4.8 mg/g of dry weight of leaf tissues, respectively. These results suggest that the high expression of dengue virus cEDIII in plants with a plant virus-based expression system can overcome the low expression level to improve the feasibility of plant-based vaccines.
Access options
Buy single article
Instant access to the full article PDF.
US$ 39.95
Tax calculation will be finalised during checkout.
Subscribe to journal
Immediate online access to all issues from 2019. Subscription will auto renew annually.
US$ 119
Tax calculation will be finalised during checkout.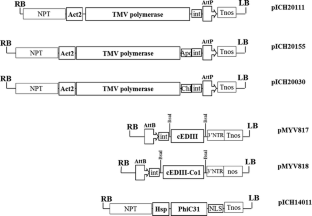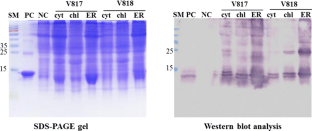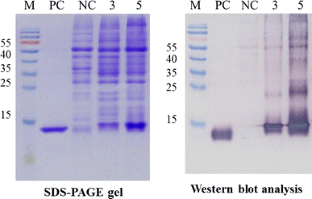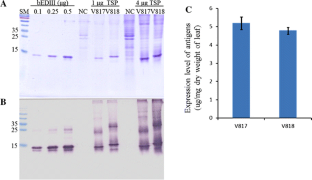 References
Arakawa T, Chong DK, Merritt JL, Langridge WH (1997) Expression of cholera toxin B subunit oligomers in transgenic potato plants. Transgenic Res 6:403–413

Arakawa T, Yu J, Chong DK, Hough J, Engen PC, Langridge WH (1998) A plant-based cholera toxin B subunit-insulin fusion protein protects against the development of autoimmune diabetes. Nat Biotechnol 16:934–938

Chen Q, He J, Phoolcharoen W, Mason HS (2011) Geminiviral vectors based on bean yellow dwarf virus for production of vaccine antigens and monoclonal antibodies in plants. Hum Vaccin 7:331–338

Chiang CY, Liu SJ, Tsai JP, Li YS, Chen MY, Liu HH, Chong P, Leng CH, Chen HW (2011) A novel single-dose dengue subunit vaccine induces memory immune responses. PLoS One 6:e23319

Crill WD, Roehrig JT (2001) Monoclonal antibodies that bind to domain III of dengue virus E glycoprotein are the most efficient blockers of virus adsorption to Vero cells. J Virol 75:7769–7773

Fischer R, Vaquero-Martin C, Sack M, Drossard J, Emans N, Commandeur U (1999) Towards molecular farming in the future: transient protein expression in plants. Biotechnol Appl Biochem 30:113–116

Horn ME, Woodard SL, Howard JA (2004) Plant molecular farming: systems and products. Plant Cell Rep 22:711–720

Huang KJ, Yang YC, Lin YS, Huang JH, Liu HS, Yeh TM, Chen SH, Liu CC, Lei HY (2006) The dual-specific binding of dengue virus and target cells for the antibody-dependent enhancement of dengue virus infection. J Immunol 176:2825–2832

Hurrelbrink RJ, McMinn PC (2003) Molecular determinants of virulence: the structural and functional basis for flavivirus attenuation. Adv Virus Res 60:1–42

Kim MY, Yang MS, Kim TG (2009) Expression of dengue virus E glycoprotein domain III in non-nicotine transgenic tobacco plants. Biotechnol Bioprocess Eng 14:725–730

Kim SH, Seo KW, Kim J, Lee KY, Jang YS (2010a) The M cell-targeting ligand promotes antigen delivery and induces antigen-specific immune responses in mucosal vaccination. J Immunol 185:5787–5795

Kim TG, Kim MY, Yang MS (2010b) Cholera toxin B subunit-domain III of dengue virus envelope glycoprotein E fusion protein production in transgenic plants. Protein Expr Purif 74:236–241

Kim MY, Yang MS, Kim TG (2012) Expression of a consensus dengue virus envelope protein domain III in transgenic callus of rice. Plant Cell Tissue Organ Cult 109:509–515

Kim TG, Kim MY, Huy NX, Kim SH, Yang MS (2013a) M cell-targeting ligand and consensus dengue virus envelope protein domain III fusion protein production in transgenic rice calli. Mol Biotechnol 54:880–887

Kim SH, Jung DI, Yang IY, Jang SH, Kim J, Truong TT, Pham TV, Truong NU, Lee KY, Jang YS (2013b) Application of an M-cell-targeting ligand for oral vaccination induces efficient systemic and mucosal immune responses against a viral antigen. Int Immunol 25:623–632

Kim MY, Chung ND, Yang MS, Kim TG (2013c) Expression of a cholera toxin B subunit and consensus dengue virus envelope protein domain III fusion gene in transgenic rice callus. Plant Cell Tissue Organ Cult 112:311–320

Lau OS, Sun SS (2009) Plant seeds as bioreactors for recombinant protein production. Biotechnol Adv 27:1015–1022

Leng CH, Liu SJ, Tsai JP, Li YS, Chen MY, Liu HH, Lien SP, Yueh A, Hsiao KN, Lai LW, Liu FC, Chong P, Chen HW (2009) A novel dengue vaccine candidate that induces cross-neutralizing antibodies and memory immunity. Microbes Infect 11:288–295

Maclean J, Koekemoer M, Olivier AJ, Stewart D, Hitzeroth II, Rademacher T, Fischer R, Williamson AL, Rybicki EP (2007) Optimization of human papillomavirus type 16 (HPV-16) L1 expression in plants: comparison of the suitability of different HPV-16 L1 gene varients and different cell-compartment localization. J Gen Virol 88:1460–1469

Marillonnet S, Thoeringer C, Kandzia R, Klimyuk V, Gleba Y (2005) Systemic Agrobacterium tumefaciens-mediated transfection of viral replicons for efficient transient expression in plants. Nat Biotechnol 23:718–723

Modis Y, Ogata S, Clements D, Harrison SC (2004) Structure of the dengue virus envelope protein after membrane fusion. Nature 427:313–319

Mukhopadhyay S, Kuhn RJ, Rossmann MG (2005) A structural perspective of the flavivirus life cycle. Nat Rev Microbiol 3:13–22

Murrell S, Wu SC, Butler M (2011) Review of dengue virus and the development of a vaccine. Biotechnol Adv 29:239–247

Neutra MR, Kozlowski PA (2006) Mucosal vaccines: the promise and the challenge. Nat Rev Immunol 6:148–158

Saejung W, Fujiyama K, Takasaki T, Ito M, Hori K, Malasit P, Watanabe Y, Kurane I, Seki T (2007) Production of dengue 2 envelope domain III in plant using TMV-based vector system. Vaccine 25:6646–6654

Takahashi I, Nochi T, Yuki Y, Kiyono H (2009) New horizon of mucosal immunity and vaccines. Curr Opin Immunol 21:352–358

Tremblay R, Wang D, Jevnikar AM, Ma S (2010) Tobacco, a highly efficient green bioreactor for production of therapeutic proteins. Biotechnol Adv 28:214–221

Wahala WM, Kraus AA, Haymore LB, Accavitti-Loper MA, de Silva AM (2009) Dengue virus neutralization by human immune sera: role of envelope protein domain III-reactive antibody. Virology 15:103–113

Wydro M, Kozubek E, Lehmann P (2006) Optimization of transient Agrobacterium-mediated gene expression system in leaves of Nicotiana benthamiana. Acta Biochim Pol 53:289–298
Acknowledgments
This paper was supported by a research fund from Chonbuk National University in 2014 and by the National Research Foundation (NRF-2014K1B1A1073861) funded by Korean Ministry of Science, ICT and Future Planning.
About this article
Cite this article
Kim, MY., Jang, YS., Yang, MS. et al. High expression of consensus dengue virus envelope glycoprotein domain III using a viral expression system in tobacco. Plant Cell Tiss Organ Cult 122, 445–451 (2015). https://doi.org/10.1007/s11240-015-0781-8
Received:

Accepted:

Published:

Issue Date:
Keywords
Dengue virus

Plant-based vaccine

Plant viral expression systems

Consensus domain III