Abstract
Agroinfiltration is an Agrobacterium-mediated transient assay for the analysis of gene function and genetic modification in leaves, flowers and fruit tissues of various plants, and transient RNAi-induced silencing by agroinfiltration has been developed in leaves and fruits of several plant species. Here we report the establishment of a transient hairpin RNAi-induced silencing system for colour modification assay in floral tissues of Dendrobium Sonia 'Earsakul', a tropical hybrid orchid with purple and white bi-coloured flowers. Portions of the D. Sonia 'Earsakul' anthocyanin-related genes chalcone synthase (DseCHS-B) and dihydroflavonol 4-reductase (DseDFR) which are required for anthocyanin synthesis, were cloned into the hairpin-based RNAi vectors, pSTARGATE and pWATERGATE, under the control of the maize ubiquitin and Arabidopsis Rubisco small subunit (ARbcS) promoters, respectively. Characterisation of DseCHS-B and DseDFR expression profiles revealed that their expression was developmentally regulated in the flower and associated with flower pigmentation. Transient RNA silencing of DseCHS-B and DseDFR in the floral tissues of D. Sonia 'Earsakul' was induced by delivering 436-bp DseCHS-B and 470-bp DseDFR hairpin RNAs (hpRNAs) into the sepals and petals of flower buds at early developmental stages using agroinfiltration. Impaired anthocyanin accumulation and reduction of endogenous mRNAs of the corresponding targets were observed in the infiltrated areas of the sepals and petals. Silencing of the endogenous DseCHS-B and DseDFR mRNAs was highly effective at the early stages of mRNA synthesis and anthocyanin accumulation. This transient silencing system is a prototype for modification of the anthocyanin biosynthetic pathway in D. Sonia Earsakul and other orchids through gene suppression.
Access options
Buy single article
Instant access to the full article PDF.
USD 39.95
Price excludes VAT (USA)
Tax calculation will be finalised during checkout.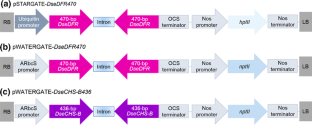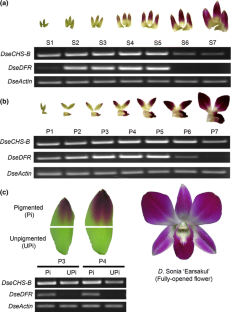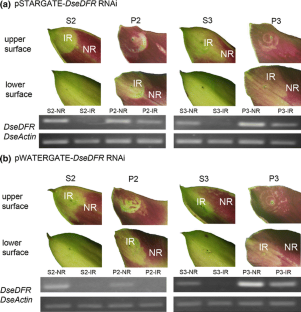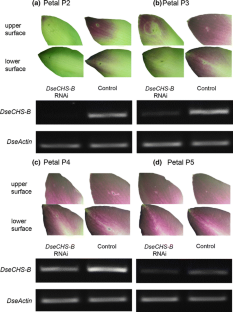 References
Bakhsh A, Husnain T (2012) Endeavours of RuBisCO small subunit promoter as a tool of green tissue specific expression. Czech J Genet Plant Breed 48:1–9

Bernacki S, Karimi M, Hilson P, Robertson N (2010) Virus-induced gene silencing as a reverse genetics tool to study gene function. In: Hennig L, Köhler C (eds) Plant developmental biology, vol 655. Methods in molecular biology. Humana Press, New York, pp 27–45

Bernard P, Gabarit P, Bahassi EM, Couturier M (1994) Positive-selection vectors using the F plasmid ccdB killer gene. Gene 148:71–74

Bernstein E, Caudy AA, Hammond SM, Hannon GJ (2001) Role for a bidentate ribonuclease in the initiation step of RNA interference. Nature 409:363–366

Bertazzon N, Raiola A, Castiglioni C, Gardiman M, Angelini E, Borgo M, Ferrari S (2012) Transient silencing of the grapevine gene VvPGIP1 by agroinfiltration with a construct for RNA interference. Plant Cell Rep 31:133–143

Chai D, Yu H (2007) Recent advances in transgenic orchid production. Orchid Sci Biotechnol 1:34–39

Christensen A, Quail P (1996) Ubiquitin promoter-based vectors for high-level expression of selectable and/or screenable marker genes in monocotyledonous plants. Transgenic Res 5:213–218

Durbin M, McCaig B, Clegg M (2000) Molecular evolution of the chalcone synthase multigene family in the morning glory genome. In: Doyle J, Gaut B (eds) Plant molecular evolution. Springer, Netherlands, pp 79–92

Fukusaki E, Kawasaki K, Kajiyama S, An CI, Suzuki K, Tanaka Y, Kobayashi A (2004) Flower color modulations of Torenia hybrida by downregulation of chalcone synthase genes with RNA interference. J Biotechnol 111:229–240

Goodin MM, Zaitlin D, Naidu RA, Lommel SA (2008) Nicotiana benthamiana: its history and future as a model for plant–pathogen interactions. Mol Plant Microbe Interact 21:1015–1026

Grotewold E (2006) The genetics and biochemistry of floral pigments. Annu Rev Plant Biol 57:761–780

Han YY, Ming F, Wang W, Wang JW, Ye MM, Shen DL (2006) Molecular evolution and functional specialization of chalcone synthase superfamily from Phalaenopsis orchid. Genetica 128:429–438

Hoffmann T, Kalinowski G, Schwab W (2006) RNAi-induced silencing of gene expression in strawberry fruit (Fragaria x ananassa) by agroinfiltration: a rapid assay for gene function analysis. Plant J 48:818–826

Holton TA, Cornish EC (1995) Genetics and biochemistry of anthocyanin biosynthesis. Plant Cell 7:1071–1083

Hsieh MH, Lu HC, Pan ZJ, Yeh HH, Wang SS, Chen WH, Chen HH (2013) Optimizing virus-induced gene silencing efficiency with Cymbidium mosaic virus in Phalaenopsis flower. Plant Sci 201–202:25–41

Katsumoto Y, Fukuchi-Mizutani M, Fukui Y, Brugliera F, Holton TA, Karan M, Nakamura N, Yonekura-Sakakibara K, Togami J, Pigeaire A, Tao G-Q, Nehra NS, Lu C-Y, Dyson BK, Tsuda S, Ashikari T, Kusumi T, Mason JG, Tanaka Y (2007) Engineering of the rose flavonoid biosynthetic pathway successfully generated blue-hued flowers accumulating delphinidin. Plant Cell Physiol 48:1589–1600

Kościańska E, Kalantidis K, Wypijewski K, Sadowski J, Tabler M (2005) Analysis of RNA silencing in agroinfiltrated leaves of Nicotiana benthamiana and Nicotiana tabacum. Plant Mol Biol 59:647–661

Kunu W, Thanonkeo S, Thanonkeo P (2012) Cloning and expression analysis of dihydroxyflavonol 4-reductase (DFR) in Ascocenda spp. Afr J Biotechnol 11:12702–12709

Liau CH, You SJ, Prasad V, Hsiao HH, Lu JC, Yang NS, Chan MT (2003) Agrobacterium tumefaciens-mediated transformation of an Oncidium orchid. Plant Cell Rep 21:993–998

Liew CF, Goh CJ, Loh CS, Lim SH (1998) Cloning and characterization of full-length cDNA clones encoding chalcone synthase from the orchid Bromheadia finlaysoniana. Plant Physiol Biochem 36:647–656

Lin X, Xiao M, Luo Y, Wang J, Wang H (2013) The effect of RNAi-induced silencing of FaDFR on anthocyanin metabolism in strawberry (Fragaria x ananassa) fruit. Sci Hortic 160:123–128

Ma H, Pooler M, Griesbach R (2009) Anthocyanin regulatory/structural gene expression in Phalaenopsis. J Am Soc Hortic Sci 134:88–96

Men S, Ming X, Liu R, Wei C, Li Y (2003) Agrobacterium-mediated genetic transformation of a Dendrobium orchid. Plant Cell Tissue Organ Cult 75:63–71

Miki D, Itoh R, Shimamoto K (2005) RNA silencing of single and multiple members in a gene family of rice. Plant Physiol 138:1903–1913

Mudalige-Jayawickrama RG, Champagne MM, Hieber AD, Kuehnle AR (2005) Cloning and characterization of two anthocyanin biosynthetic genes from Dendrobium orchid. J Am Soc Hortic Sci 130:611–618

Nakamura N, Fukuchi-Mizutani M, Miyazaki K, Suzuki K, Tanaka Y (2006) RNAi suppression of the anthocyanidin synthase gene in Torenia hybrida yields white flowers with higher frequency and better stability than antisense and sense suppression. Plant Biotechnol 23:13–17

Nakamura N, Fukuchi-Mizutani M, Fukui Y, Ishiguro K, Suzuki K, Suzuki H, Okazaki K, Shibata D, Tanaka Y (2010) Generation of pink flower varieties from blue Torenia hybrida by redirecting the flavonoid biosynthetic pathway from delphinidin to pelargonidin. Plant Biotechnol 27:375–383

Nakatsuka T, Nishihara M, Mishiba K, Yamamura S (2005) Temporal expression of flavonoid biosynthesis-related genes regulates flower pigmentation in gentian plants. Plant Sci 168:1309–1318

Nakatsuka T, Abe Y, Kakizaki Y, Yamamura S, Nishihara M (2007) Production of red-flowered plants by genetic engineering of multiple flavonoid biosynthetic genes. Plant Cell Rep 26:1951–1959

Nakatsuka T, Haruta KS, Pitaksutheepong C, Abe Y, Kakizaki Y, Yamamoto K, Shimada N, Yamamura S, Nishihara M (2008) Identification and characterization of R2R3-MYB and bHLH transcription factors regulating anthocyanin biosynthesis in gentian flowers. Plant Cell Physiol 49:1818–1829

Nan GL, Kuehnle AR (1995) Genetic transformation in Dendrobium (Orchid). In: Bajaj YPS (ed) Plant protoplasts and genetic engineering VI, vol 34. Biotechnology in agriculture and forestry. Springer, Berlin, pp 145–155

Nishihara M, Nakatsuka T, Yamamura S (2005) Flavonoid components and flower color change in transgenic tobacco plants by suppression of chalcone isomerase gene. FEBS Lett 579:6074–6078

Noda N, Aida R, Kishimoto S, Ishiguro K, Fukuchi-Mizutani M, Tanaka Y, Ohmiya A (2013) Genetic engineering of novel bluer-colored chrysanthemums produced by accumulation of delphinidin-based anthocyanins. Plant Cell Physiol 54:1684–1695

Ono E, Fukuchi-Mizutani M, Nakamura N, Fukui Y, Yonekura-Sakakibara K, Yamaguchi M, Nakayama T, Tanaka T, Kusumi T, Tanaka Y (2006) Yellow flowers generated by expression of the aurone biosynthetic pathway. Proc Natl Acad Sci USA 103:11075–11080

Orzaez D, Mirabel S, Wieland WH, Granell A (2006) Agroinjection of tomato fruits. A tool for rapid functional analysis of transgenes directly in fruit. Plant Physiol 140:3–11

Pinthong R, Sujipuli K, Ratanasut K (2014) Agroinfiltration for transient gene expression in floral tissues of Dendrobium Sonia 'Earsakul'. J Agric Technol 10:403–409

Pitakdantham W, Sutabutra T, Chiemsombat P, Pitaksutheepong C (2010) Isolation and characterization of chalcone synthase gene isolated from Dendrobium Sonia Earsakul. Pak J Biol Sci 13:1000–1005

Raffeiner B, Serek M, Winkelmann T (2009) Agrobacterium tumefaciens-mediated transformation of Oncidium and Odontoglossum orchid species with the ethylene receptor mutant gene etr1-1. Plant Cell Tissue Organ Cult 98:125–134

Rukavtsova EB, Alekseeva VV, Buryanov YI (2010) The use of RNA interference for the metabolic engineering of plants (review). Russ J Bioorg Chem 36:146–156

Rungruchkanont K, Ketsa S, Chatchawankanphanich O, van Doorn WG (2007) Endogenous auxin regulates the sensitivity of Dendrobium (cv. Miss Teen) flower pedicel abscission to ethylene. Funct Plant Biol 34:885–894

Saito R, Fukuta N, Ohmiya A, Itoh Y, Ozeki Y, Kuchitsu K, Nakayama M (2006) Regulation of anthocyanin biosynthesis involved in the formation of marginal picotee petals in Petunia. Plant Sci 170:828–834

Santos-Rosa M, Poutaraud A, Merdinoglu D, Mestre P (2008) Development of a transient expression system in grapevine via agro-infiltration. Plant Cell Rep 27:1053–1063

Schaffner AR, Sheen J (1991) Maize rbcS promoter activity depends on sequence elements not found in dicot rbcS promoters. Plant Cell 3:997–1012

Schwab W, Hoffmann T, Kalinowski G, PreuB A (2011) Functional genomics in strawberry fruit through RNAi-mediated silencing. Genes Genomes Genom 5:91–101

Shang Y, Schwinn KE, Bennett MJ, Hunter DA, Waugh TL, Pathirana NN, Brummell DA, Jameson PE, Davies KM (2007) Methods for transient assay of gene function in floral tissues. Plant Methods 3:1

Skipper M, Pedersen KB, Johansen LB, Frederiksen S, Irish VF, Johansen BB (2005) Identification and quantification of expression levels of three FRUITFULL-like MADS-box genes from the orchid Dendrobium thyrsiflorum (Reichb. f.). Plant Sci 169:579–586

Subramaniam S, Rathinam X (2010) Emerging factors that influence efficiency of T-DNA gene transfer into Phalaenopsis violacea orchid via Agrobacterium tumefaciens-mediated transformation system. Int J Biol 2:64–73

Tanaka Y, Brugliera F (2006) Flower colour. In: Annual plant reviews volume 20: flowering and its manipulation. Blackwell, Oxford, pp 199–239

Tanaka Y, Katsumoto Y, Brugliera F, Mason J (2005) Genetic engineering in floriculture. Plant Cell Tissue Organ Cult 80:1–24

Tanaka Y, Sasaki N, Ohmiya A (2008) Biosynthesis of plant pigments: anthocyanins, betalains and carotenoids. Plant J 54:733–749

Tee CS, Maziah M, Tan CS, Abdullah MP (2011) Selection of co-transformed Dendrobium Sonia 17 using hygromycin and green fluorescent protein. Biol Plant 55:572–576

Teixeira da Silva JA, Chin DP, Van PT, Mii M (2011) Transgenic orchids. Sci Hortic 130:673–680

To KY, Wang CK (2006) Molecular breeding of flower color. In: Teixeira da Silva JA (ed) Floriculture, ornamental and plant biotechnology, vol 1, 1 edn. Global Science Books, Ltd., UK, pp 300–310

Tsuda S, Fukui Y, Nakamura N, Katsumoto Y, Yonekura-Sakakibara K, Fukuchi-Mizutani M, Ohira K, Ueyama Y, Ohkawa H, Holton TA (2004) Flower color modification of Petunia hybrida commercial varieties by metabolic engineering. Plant Biotechnol 21:377–386

Tuteja JH, Clough SJ, Chan WC, Vodkin LO (2004) Tissue-specific gene silencing mediated by a naturally occurring chalcone synthase gene cluster in Glycine max. Plant Cell 16:819–835

Ueyama Y et al (2006) Molecular characterization of the flavonoid biosynthetic pathway and flower color modification of Nierembergia sp. Plant Biotechnol 23:19–24

Van Haute E, Joos H, Maes M, Warren G, Van Montagu M, Schell J (1983) Intergeneric transfer and exchange recombination of restriction fragments cloned in pBR322: a novel strategy for the reversed genetics of the Ti plasmids of Agrobacterium tumefaciens. EMBO J 2:411–417

Verwoerd TC, Dekker BM, Hoekema A (1989) A small-scale procedure for the rapid isolation of plant RNAs. Nucleic Acids Res 17:2362

Wang Y, Luo JP, Wu HQ, Jin H (2009) Conversion of protocorm-like bodies of Dendrobium huoshanense to shoots: the role of polyamines in relation to the ratio of total cytokinins and indole-3-acetic acidindole-3-acetic acid. J Plant Physiol 166:2013–2022

Watson JM, Fusaro AF, Wang M, Waterhouse PM (2005) RNA silencing platforms in plants. FEBS Lett 579:5982–5987

Whang S, Um W, Song IJ, Lim PO, Choi K, Park KW, Kang KW, Choi MS, Koo JC (2011) molecular analysis of anthocyanin biosynthetic genes and control of flower coloration by Flavonoid 3′,5′-Hydroxylase (F3′5′H) in Dendrobium moniliforme. J Plant Biol 54:209–218

Winkel-Shirley B (2001) Flavonoid biosynthesis. A colorful model for genetics, biochemistry, cell biology, and biotechnology. Plant Physiol Biochem 126:485–493

Wroblewski T, Tomczak A, Michelmore R (2005) Optimization of Agrobacterium-mediated transient assays of gene expression in lettuce, tomato and Arabidopsis. Plant Biotechnol 3:259–273

Yang Y, Li R, Qi M (2000) In vivo analysis of plant promoters and transcription factors by agroinfiltration of tobacco leaves. Plant J 22:543–551

Yasmin A, Debener T (2010) Transient gene expression in rose petals via Agrobacterium infiltration. Plant Cell Tissue Organ Cult 102:245–250

Yu H, Yang S, Goh C (2001) Agrobacterium-mediated transformation of a Dendrobium orchid with the class 1 knox gene DOH1. Plant Cell Rep 20:301–305

Zamore PD, Tuschl T, Sharp PA, Bartel DP (2000) RNAi: double-stranded RNA directs the ATP-dependent cleavage of mRNA at 21 to 23 nucleotide intervals. Cell 101:25–33

Zhou L, Wang Y, Peng Z (2011) Molecular characterization and expression analysis of chalcone synthase gene during flower development in tree peony (Paeonia suffruticosa). Afr J Biotechnol 10:1275–1284

Zottini M, Barizza E, Costa A, Formentin E, Ruberti C, Carimi F, Lo Schiavo F (2008) Agroinfiltration of grapevine leaves for fast transient assays of gene expression and for long-term production of stable transformed cells. Plant Cell Rep 27:845–853
Acknowledgments
This work was supported by Grants (P-10-11171) from the National Science and Technology Development Agency (NSTDA), Ministry of Science and Technology, and from Naresuan University, Thailand. We would like to give our sincere thanks to Dr. Orwan Chatchawankanphanich (National Center for Genetic Engineering and Biotechnology, Thailand) for providing A. tumefaciens strain EHA105. We are also grateful to Professor Dr. Duncan R. Smith (Institute of Molecular Biosciences, Mahidol University, Thailand) for English editing and scientific proofreading of this manuscript.
Additional information
Key message: The work describes the establishment of a transient hairpin RNAi-induced silencing system for colour modification assay using agroinfiltration in floral tissues of Dendrobium Sonia 'Earsakul'.
About this article
Cite this article
Ratanasut, K., Monmai, C. & Piluk, P. Transient hairpin RNAi-induced silencing in floral tissues of Dendrobium Sonia 'Earsakul' by agroinfiltration for rapid assay of flower colour modification. Plant Cell Tiss Organ Cult 120, 643–654 (2015). https://doi.org/10.1007/s11240-014-0632-z
Received:

Accepted:

Published:

Issue Date:

DOI: https://doi.org/10.1007/s11240-014-0632-z
Keyword
Agroinfiltration

Anthocyanin

Dendrobium

Flower colour

Gene silencing

Transient RNAi