Abstract
Improvement of biotic and abiotic stress tolerance without yield decrease has been a great challenge in vegetable breeding. Functional stacking of multiple resistant genes could potentially be an effective strategy against more different stress. Here, we report that constitutive co-expression of Arabidopsis thaliana homodomain-leucine zipper transcription factor Enhanced Drought Tolerance/HOMEODOMAIN GLABROUS11 (AtEDT1/HDG11) and Bacillus thuringiensis Cry2Aa2 was able to increase pepper drought tolerance and insect resistance. More importantly, fruit yield was improved under both normal and drought stress conditions. The improved tolerance to drought stress was associated with improved root system and reduced stomatal density. Compared to the non-transgenic control, the transgenic pepper plants also had higher levels of chlorophyll content, chlorophyll fluorescence (Fm/Fv), proline, soluble sugar, abscisic acid, and ROS scavenging capacity under dehydration stress conditions. The increased flower number, elevated fruit weight, and improved fruit number all contributed to the increased yield of transgenic pepper. In addition, bioassays showed that the transgenic plants were effective to control the Prodenia litura, producing a mortality rate of 81.3 % after 5 days of infection. Therefore, our study indicates that stacking of AtEDT1/HDG11 and Cry2Aa2 in pepper plants can improve drought tolerance and insect resistance, demonstrating application of AtEDT1/HDG11 and Cry2Aa2 has the potential to enhance drought tolerance and insect resistance.
Access options
Buy single article
Instant access to the full article PDF.
USD 39.95
Price excludes VAT (USA)
Tax calculation will be finalised during checkout.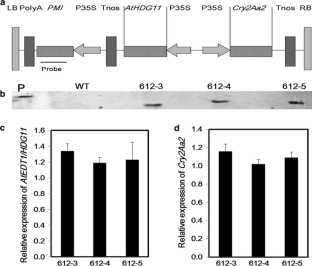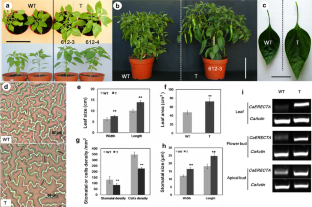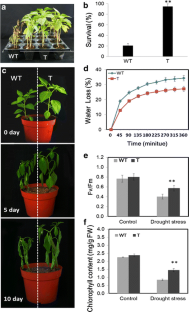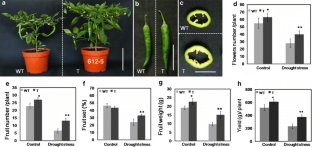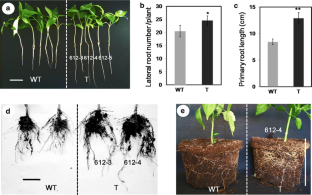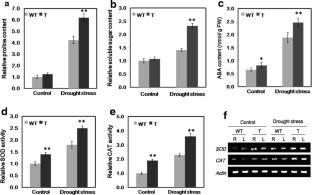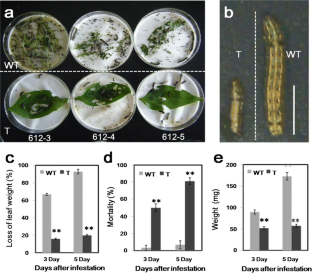 Abbreviations
ABA:

Abscisic acid

AtEDT1/HDG11 :

Enhanced Drought Tolerance1/HOMEODOMAIN GLABROUS11

CAT:

Catalase

FW:

Fresh weight

PCR:

Polymerase chain reaction

qRT-PCR:

Quantitative reverse transcription-polymerase chain reaction

RT-PCR:

Reverse transcription-polymerase chain reaction

ROS:

Reactive oxygen specie

SOD:

Superoxide dismutase

T:

Transgenic plant

WT:

Non-transgenic plant
References
Bakshi S, Saha B, Roy NK, Mishra S, Panda SK, Sahoo L (2012) Successful recovery of transgenic cowpea (Vigna unguiculata) using the 6-phosphomannose isomerase gene as the selectable marker. Plant Cell Rep 31:1093–1103

Bates L, Waldren R, Teare I (1973) Rapid determination of free proline for water-stress studies. Plant Soil 39:205–207

Brennan T, Frekel C (1977) Involvement of hydrogen peroxide in the regulation of senescence in pear. Plant Physiol 59:411–416

Cao J, Shelton AM, Earle ED (2008) Sequential transformation to pyramid two Bt genes in vegetable Indian mustard (Brassica juncea L.) and its potential for control of diamondback moth larvae. Plant Cell Rep 27:479–487

Chaves MM, Pereira JS, Maroco J, Rodrigues ML, Ricardo CPP, Osório ML, Carvalho I, Faria T, Pinheiro C (2002) How plants cope with water stress in the field? Photosynthesis and growth. Ann Bot 89:907–916

Cork A, Boo KS, Dunkelblum E, Hall DR, Jee-Rajunga K, Kehat M, Kong Jie E, Park KC, Tepgidagarn P, Xun L (1992) Female sex pheromone of oriental tobacco budworm, Helicoverpa assulta (Guenee) (Lepidoptera: Noctuidae): Identification and field testing. J Chem Ecol 18:403–418

Cutler SR, Rodriguez PL, Finkelstein RR, Abrams SR (2010) Abscisic acid: emergence of a core signaling network. Annu Rev Plant Biol 61:651–679

de Carvalho MHC (2008) Drought stress and reactive oxygen species. Plant Signal Behav 3:156–165

De Cosa B, Moar W, Lee S-B, Miller M, Daniell H (2001) Overexpression of the Bt Cry2Aa2 operon in chloroplasts leads to formation of insecticidal crystals. Nat Biotechnol 19:71–74

Ekanayake I, O'toole J, Garrity D, Masajo T (1985) Inheritance of root characters and their relations to drought resistance in rice. Crop Sci 25:927–933

Halpin C (2005) Gene stacking in transgenic plants—the challenge for 21st century plant biotechnology. Plant Biotechnol J 3:141–155

Hetherington AM, Woodward FI (2003) The role of stomata in sensing and driving environmental change. Nature 424:901–908

Inskeep WP, Bloom PR (1985) Extinction coefficients of chlorophyll a and b in N, N-dimethylformamide and 80 % acetone. Plant Physiol 77:483–485

Jeong JS, Kim YS, Baek KH, Jung H, Ha SH, Do Choi Y, Kim M, Reuzeau C, Kim JK (2010) Root-specific expression of OsNAC10 improves drought tolerance and grain yield in rice under field drought conditions. Plant Physiol 153:185–197

Jeong JS, Kim YS, Redillas MC, Jang G, Jung H, Bang SW, Choi YD, Ha SH, Reuzeau C, Kim JK (2013) OsNAC5 overexpression enlarges root diameter in rice plants leading to enhanced drought tolerance and increased grain yield in the field. Plant Biotechnol J 11:101–114

Ke DS, Wang AG, Sun GC, Dong LF (2002) The effect of active oxygen on the activity of ACC synthase induced by exogenous IAA. Acta Bot Sin 44:551–556

Kondo M, Murty MV, Aragones DV (2000) Characteristics of root growth and water uptake from soil in upland rice and maize under water stress. Soil Sci Plant Nutr 46:721–732

Kota M, Daniell H, Varma S, Garczynski SF, Gould F, Moar WJ (1999) Overexpression of the Bacillus thuringiensis (Bt) Cry2Aa2 protein in chloroplasts confers resistance to plants against susceptible and Bt-resistant insects. Proc Natl Acad Sci USA 96:1840–1845

Kulkarni M, Phalke S (2009) Evaluating variability of root size system and its constitutive traits in hot pepper (Capsicum annum L.) under water stress. Sci Hortic 120:159–166

Lee KH, Piao HL, Kim HY, Choi SM, Jiang F, Hartung W, Hwang I, Kwak JM, Lee IJ, Hwang I (2006) Activation of glucosidase via stress-induced polymerization rapidly increases active pools of abscisic acid. Cell 126:1109–1120

Makino A (2011) Photosynthesis, grain yield, and nitrogen utilization in rice and wheat. Plant Physiol 155:125–129

Masle J, Gilmore SR, Farquhar GD (2005) The ERECTA gene regulates plant transpiration efficiency in Arabidopsis. Nature 436:866–870

Morris DL (1948) Quantitative determination of carbohydrates with Dreywood's anthrone reagent. Science 107:254–255

Munshi A, Behra T, Singh G (2000) Correlation and path coefficient analysis in chilli. Indian J Hortic 57:157–159

Nakamura M, Katsumata H, Abe M, Yabe N, Komeda Y, Yamamoto KT, Takahashi T (2006) Characterization of the class IV homeodomain-leucine zipper gene family in Arabidopsis. Plant Physiol 141:1363–1375

Nelson DE, Repetti PP, Adams TR, Creelman RA, Wu J, Warner DC, Anstrom DC, Bensen RJ, Castiglioni PP, Donnarummo MG (2007) Plant nuclear factor Y (NF-Y) B subunits confer drought tolerance and lead to improved corn yields on water-limited acres. Proc Natl Acad Sci USA 104:16450–16455

Oh SJ, Kim YS, Kwon CW, Park HK, Jeong JS, Kim JK (2009) Overexpression of the transcription factor AP37 in rice improves grain yield under drought conditions. Plant Physiol 150:1368–1379

Ouyang SQ, Liu YF, Liu P, Lei G, He SJ, Ma B, Zhang WK, Zhang JS, Chen SY (2010) Receptor-like kinase OsSIK1 improves drought and salt stress tolerance in rice (Oryza sativa) plants. Plant J 62:316–329

Prohens J, Nuez F (2008) Handbook of plant breeding. Vegetables II: Fabaceae, Liliaceae, Solanaceae, and Umbelliferae. Springer Science, Berlin

Rao GU, Ben Chaim A, Borovsky Y, Paran I (2003) Mapping of yield-related QTLs in pepper in an interspecific cross of Capsicum annuum and C. frutescens. Theor Appl Genet 106(8):1457–1466

Shinozaki K, Yamaguchi-Shinozaki K (2007) Gene networks involved in drought stress response and tolerance. J Exp Bot 58:221–227

Shpak ED, McAbee JM, Pillitteri LJ, Torii KU (2005) Stomatal patterning and differentiation by synergistic interactions of receptor kinases. Science 309(5732):290–293

Tisné S, Barbier F, Granier C (2011) The ERECTA gene controls spatial and temporal patterns of epidermal cell number and size in successive developing leaves of Arabidopsis thaliana. Ann Bot 108(1):159–168

Torii KU, Mitsukawa N, Oosumi T, Matsuura Y, Yokoyama R, Whittier RF, Komeda Y (1996) The Arabidopsis ERECTA gene encodes a putative receptor protein kinase with extracellular leucine-rich repeats. Plant cell 8(4):735–746

Uchida N, Tasaka M (2013) Regulation of plant vascular stem cells by endodermis-derived EPFL-family peptide hormones and phloem-expressed ERECTA-family receptor kinases. J Exp Bot 64:5335–5343

Uga Y, Sugimoto K, Ogawa S, Rane J, Ishitani M, Hara N, Kitomi Y, Inukai Y, Ono K, Kanno N, Inoue H, Takehisa H, Motoyama R, Nagamura Y, Wu J, Matsumoto T, Takai T, Okuno K, Yano M (2013) Control of root system architecture by DEEPER ROOTING 1 increases rice yield under drought conditions. Nat Genet 45:1097–1102

van Zanten M, Snoek LB, Proveniers MC, Peeters AJ (2009) The many functions of ERECTA. Trends Plant Sci 14(4):214–218

Wallbraun M, Sonntag K, Eisenhauer C, Krzcal G, Wang YP (2009) Phosphomannose-isomerase (pmi) gene as a selectable marker for Agrobacterium-mediated transformation of rapeseed. Plant Cell Tissue Organ Cult 99:345–351

Weintraub PG, Kleitman S, Mori R, Shapira N, Palevsky E (2003) Control of the broad mite (Polyphagotarsonemus latus (Banks)) on organic greenhouse sweet peppers (Capsicum annuum L.) with the predatory mite, Neoseiulus cucumeris (Oudemans). Biol Control 27:300–309

Werner T, Nehnevajova E, Kollmer I, Novak O, Strnad M, Kramer U, Schmulling T (2010) Root-specific reduction of cytokinin causes enhanced root growth, drought tolerance, and leaf mineral enrichment in Arabidopsis and tobacco. Plant Cell 22:3905–3920

Xing HT, Guo P, Xia XL, Yin WL (2011) PdERECTA, a leucine-rich repeat receptor-like kinase of poplar, confers enhanced water use efficiency in Arabidopsis. Planta 234(2):229–241

Xu P, Cai XT, Wang Y, Xing L, Chen Q, Xiang CB (2014) HDG11 upregulates cell-wall-loosening protein genes to promote root elongation in Arabidopsis. J Exp Bot 65(15):4285–4295

Yamada M, Morishita H, Urano K, Shiozaki N, Yamaguchi-Shinozaki K, Shinozaki K, Yoshiba Y (2005) Effects of free proline accumulation in petunias under drought stress. J Exp Bot 56:1975–1981

Yang J, Zhang J, Wang Z, Zhu Q, Wang W (2001) Hormonal changes in the grains of rice subjected to water stress during grain filling. Plant Physiol 127:315–323

Yi D, Cui L, Wang L, Liu Y, Zhuang M, Zhang Y, Zhang J, Lang Z, Zhang Z, Fang Z (2013) Pyramiding of Bt cry1Ia8 and cry1Ba3 genes into cabbage (Brassica oleracea L. var. capitata) confers effective control against diamondback moth. Plant Cell Tissue Organ Cult 115(3):419–428

Yoo CY, Pence HE, Hasegawa PM, Mickelbart MV (2009) Regulation of transpiration to improve crop water use. Crit Rev Plant Sci 28:410–431

Yoo CY, Pence HE, Jin JB, Miura K, Gosney MJ, Hasegawa PM, Mickelbart MV (2010) The Arabidopsis GTL1 transcription factor regulates water use efficiency and drought tolerance by modulating stomatal density via transrepression of SDD1. Plant cell 22:4128–4141

Yu H, Chen X, Hong YY, Wang Y, Xu P, Ke SD, Liu HY, Zhu JK, Oliver DJ, Xiang CB (2008) Activated expression of an Arabidopsis HD-START protein confers drought tolerance with improved root system and reduced stomatal density. Plant Cell 20:1134–1151

Yu L, Chen X, Wang Z, Wang S, Wang Y, Zhu Q, Li S, Xiang CB (2013) Arabidopsis enhanced drought tolerance1/HOMEODOMAIN GLABROUS11 confers drought tolerance in transgenic rice without yield penalty. Plant Physiol 162:1378–1391

Zhang Y, Liu Y, Ren Y, Liu Y, Liang G, Song F, Bai S, Wang J, Wang G (2013) Overexpression of a novel Cry1Ie gene confers resistance to Cry1Ac-resistant cotton bollworm in transgenic lines of maize. Plant cell Tissue Organ Cult 115(2):151–158

Zhu JK (2002) Salt and drought stress signal transduction in plants. Annu Rev Plant Biol 53:247–273
Acknowledgments
This work was supported by the key project of Guangdong Science and Technology Section (2010A020102001) and Agricultural Section, The key project of Guangzhou Science and Technology Section (2011Y2-0001511BppZXbb3140003). We thank Prof CB- Xiang for providing the PCB2004C-HDG11 vector, XJ-Yin for providing resistance Prodenia litura larvae.
Additional information
Zhangsheng Zhu and Xiaoxia Xu have contributed equally to this work.
Electronic supplementary material
Below is the link to the electronic supplementary material.
About this article
Cite this article
Zhu, Z., Xu, X., Cao, B. et al. Pyramiding of AtEDT1/HDG11 and Cry2Aa2 into pepper (Capsicum annuum L.) enhances drought tolerance and insect resistance without yield decrease. Plant Cell Tiss Organ Cult 120, 919–932 (2015). https://doi.org/10.1007/s11240-014-0600-7
Received:

Accepted:

Published:

Issue Date:

DOI: https://doi.org/10.1007/s11240-014-0600-7
Keywords