Abstract
Grapevine (Vitis vinifera L.) was genetically modified with a construct containing a cDNA insert encoding the stilbene synthase gene (Vst1) from grapevine, under the control of the cauliflower mosaic virus 35S promoter in order to test the potential of over-production of resveratrol to protect plants from fungal attack. Southern blot hybridization and quantitative real-time PCR analysis demonstrated the presence and integration of one copy of exogenous DNA sequences in two grapevine-modified lines. Relative expression of the Vst1 gene in different modified lines was confirmed by using gene-specific quantitative real-time PCR. Compared to the control, the concentration of trans-resveratrol quantified by HPLC was up to 7.5 fold higher in the modified plants. The necrotic lesion size of leaves of intact modified plants inoculated by Botrytis cinerea B05.10 strain was consistently smaller and significantly different (p ≤ 0.05) than in control plants, showing that modified grapevine plants were more resistant to the pathogen than the control plants.
Access options
Buy single article
Instant access to the full article PDF.
US$ 39.95
Tax calculation will be finalised during checkout.
Subscribe to journal
Immediate online access to all issues from 2019. Subscription will auto renew annually.
US$ 119
Tax calculation will be finalised during checkout.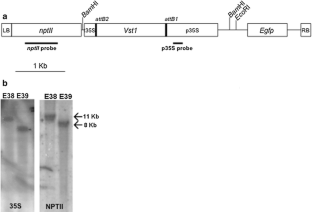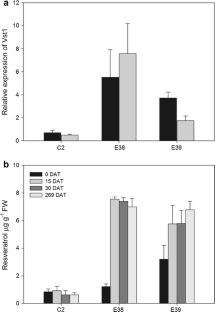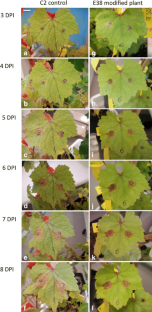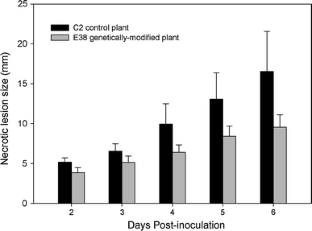 Abbreviations
GFP:

Green fluorescent protein

MS:

Murashige and Skoog (1962)

½ MSAC:

Half strength of MS macronutrients salts plus active charcoal

Vst1 :

Vitis stilbene synthase 1 gene

RT-qPCR:

Quantitative real-time PCR

CaMV35S (p35S):

Cauliflower mosaic virus 35S promoter
References
Adrian A, Jeandet P (2012) Effects of resveratrol on the ultrastructure of Botrytis cinerea conidia and biological significance in plant/pathogen interactions. Fitoterapia 83:1345–1350

Bavaresco L, Fregoni C (2001) Physiological role and molecular aspects of grapevine stilbenic compounds. In: Roubelakis-Angelakis KA (ed) Molecular biology and biotechnology of the grapevine. Kluwer Academic Pub, Dordrecht, pp 153–182

Bustin SA, Benes V, Garson JA, Hellemans J, Huggett J, Kubista M, Mueller R, Nolan T, Pfaffl MW, Shipley GL, Vandesompele J, Wittwer CT (2009) The MIQE guidelines: minimum information for publication of quantitative real-time PCR experiments. Clin Chem 55(4):611–622

Buttner P, Koch F, Voigt K, Quidde T, Risch S, Blaich R, Bruckner B, Tudzynski P (1994) Variations in ploidy among isolates of Botrytis cinerea: implications for genetic and molecular analyses. Curr Genet 25:445–450

Coutos-Thévenot P, Poinssot B, Bonomelli A, Yean H, Breda C, Buffars D, Esnault R, Hain R, Boulay M (2001) In vitro tolerance to Botrytis cinerea of grapevine 41B rootstock in transgenic plants expressing the stilbene synthase Vst1 gene under the control of a pathogen-inducible PR 10 promoter. J Exp Bot 52:901–910

Dabauza M, Velasco L (2012) Development of highly efficient genetic transformation protocols for table grape Sugraone and Crimson Seedless. In: Dunwell JM, Wetten AC (eds) Transgenic Plants: Methods and Protocols. Methods in Molecular Biology, 2nd edn, vol 847. Springer Science + Business Media, LLC, pp 227–235

Delaunois B, Cordelier S, Conreux A, Clément C, Jeandet P (2009) Molecular engineering of resveratrol in plants. Plant Biotechnol J 7:2–12

Dellaporta SL, Wood J, Hicks JB (1983) A plant DNA minipreparation: version II. Plant Mol Biol Rep 1(14):19–21

Dhekney SA, Li ZT, Zimmerman TW, Gray DJ (2009) Factors influencing genetic transformation and plant regeneration of Vitis. Am J Enol Vitic 60:285–292

Dhekney SA, Li ZT, Gray DJ (2011) Grapevines engineered to express cisgenic Vitis vinifera thaumatin-like protein exhibit fungal disease resistance. In Vitro Cell Dev Biol Plant 47:458–466

Douillet-Breuil AC, Jeandet P, Adrian M, Bessis R (1999) Changes in the phytoalexin content of various Vitis spp. in response to ultraviolet C elicitation. J Agric Food Chem 47:4456–4461

Dutt M, Li ZT, Dhekney SA, Gray DJ (2008) A co-transformation system to produce transgenic grapevines free of marker genes. Plant Sci 175:423–430

Fan C, Pu N, Wang X, Wang Y, Fang L, Xu W, Zhang J (2008) Agrobacterium-mediated genetic transformation of grapevine (Vitis vinifera L.) with a novel stilbene synthase gene from Chinese wild Vitis pseudoreticulata. Plant Cell Tissue Organ Cult 92:197–206

Fischer R, Budde I, Hain R (1997) Stilbene synthase gene expression causes changes in flower colour and male sterility in tobacco. Plant J 11:489–498

Flavell RB (1994) Inactivation of gene expression in plants as a consequence of specific sequence duplication. Proc Natl Acad Sci USA 91:3490–3496

Fornara V, Onelli E, Sparvoli F, Rossoni M, Aina R, Marino G et al (2008) Localization of stilbene synthase in Vitis vinifera L. during berry development. Protoplasma 233:83–93

Ghorbel R, Juárez J, Navarro L, Peña L (1999) Green fluorescent protein as a screenable marker to increase the efficiency of generating woody fruit plants. Theor Appl Genet 99:350–358

Giovinazzo G, d'Amico L, Paradisio A, Bollini R, Sparvoli F, DeGara L (2005) Antioxidant metabolite profiles in tomato fruit constitutively expressing the grapevine stilbene synthase gene. Plant Biotechnol J 3:57–69

Gutha LR, Casassa LF, Harbertson JF, Naidu RA (2010) Modulation of flavonoid biosynthetic pathway genes and anthocyanins due to virus infection in grapevine (Vitis vinifera L.) leaves. BMC Plant Biol 10:187. doi:10.1186/1471-2229-10-187

Hain R, Reif HJ, Krause E, Langebartels R, Kindl H, Vornam B, Wiese W, Schmelzer E, Schreier PH, Stöcker RH, Stenzel K (1993) Disease resistance results from foreign phytoalexin expression in a novel plant. Nature 361:153–156

Hanhineva K, Kokko H, Siljanen H, Rogachev I, Aharoni A, Kärenlampi SO (2009) Stilbene synthase gene transfer caused alterations in the phenylpropanoid metabolism of transgenic strawberry (Fragaria × ananassa). J Exp Bot 60(7):2093–2106

Hood EE, Gelvin SB, Melchers LS, Hoekema A (1993) New Agrobacterium helper plasmids for gene transfer to plants. Transgenic Res 2:208–218

Jaillon O, Aury JM, Noel B et al (2007) The grapevine genome sequence suggests ancestral hexaploidization in major angiosperm phyla. Nature 449:463–467

Jeandet P, Douillet AC, Debord S, Sbaghi M, Bessis R, Adrian M (2002) Phytoalexins from the Vitaceae: biosynthesis, phytoalexin gene expression in transgenic plants, antifungal activity, and metabolism. J Agric Food Chem 50:2731–2741. doi:10.1021/jf011429s

Karimi M, De Meyer B, Hilson P (2005) Modular cloning and expression of tagged fluorescent protein in plant cells. Trends Plant Sci 10(3):103–105

Kiselev KV, Tyunin AP, Manyakhin AY, Zhuravlev YN (2011) Resveratrol content and expression patterns of stilbene synthase genes in Vitis amurensis cells treated with 5-azacytidine. Plant Cell Tisse Organ Cult 105(1):65–72

Langcake P, McCarthy W (1979) The relationship of resveratrol production to infection of grapevine leaves by Botrytis cinerea. Vitis 18:244–253

Leckband G, Lörz H (1998) Transformation and expression of a stilbene synthase gene of Vitis vinifera L. in barley and wheat for increased fungal resistance. Theor Appl Genet 96:1004–1012

Lipp M, Brodmann P, Pietsch K, Pauwels J, Anklam E (1999) IUPAC collaborative trial study of a method to detect the presence of genetically modified organisms in soy beans and maize. J AOAC Int 82:923–928

López-Pérez AJ, Carreño J, Martinez-Cutillas A, Dabauza M (2005) High embryogenic ability and plant regeneration of table grapevine cultivars (Vitis vinifera L.) induced by activated charcoal. Vitis 44:79–85

López-Pérez AJ, Carreño J, Dabauza M (2006) Somatic embryo germination and plant regeneration of three grapevine cvs: effect of IAA, GA3 and embryo morphology. Vitis 45:141–143

López-Pérez AJ, Velasco L, Pazos-Navarro M, Dabauza M (2008) Development of highly efficient genetic transformation protocols for table grape Sugraone and Crimson Seedless at low Agrobacterium density. Plant Cell Tissue Organ Cult 94(2):189–199

Melchior F, Kindl H (1990) Grapevine stilbene synthase cDNA only slightly differing from chalcone synthase cDNA is expressed in Escherichia coli into a catalytically active enzyme. FEBS Lett 268:17–20

Murashige T, Skoog F (1962) A revised medium for rapid growth and bio-assays with tobacco tissue cultures. Physiol Plant 15:473–497

Nookaraju A, Agrawal D (2012) Enhanced tolerance of transgenic grapevines expressing chitinase and β-1,3-glucanase genes to downy mildew. Plant Cell Tissue Organ Cult 111(1):15–28

Pfaffl MW (2001) A new mathematical model for relative quantification in real-time RT-PCR. Nucleic Acids Res 29(9):e45

Roggero JP, García-Parrilla C (1995) Effects of ultraviolet irradiation on resveratrol and changes in resveratrol and various of its derivatives in the skins of ripening grapes. Sci Aliment 15:411–422

Rozen S, Skaletsky H (1999) Primer3 on the WWW for general users and for biologist programmers. In: Misener S, Krawetz SA (eds) Bioinformatics methods and protocols: methods in molecular biology, vol 132. Humana Press, Clifton, pp 365–386

Smith DA (1982) Toxicity of phytoalexins. In: Bailey JA, Mansfield JW (eds) phytoalexins. Blackie & Sons, Ltd., Glasgow, pp 218–252

Sparvoli F, Martin C, Scienza A, Gavazzi G, Tonelli C (1994) Cloning and molecular analysis of structural genes involved in flavonoid and stilbene biosynthesis in grape (Vitis vinifera L.). Plant Mol Biol 24:743–755

Stam M, Mol JNM, Kooter JM (1997) The silence of genes in transgenic plants. Ann Bot Lond 79:3–12

Vaucheret H, Beclin C, Elmayan T, Feuerbach F, Godon C, Morel JB, Mourrain P, Palauqui JC, Vernhettes S (1998) Transgene induced gene silencing in plants. Plant J 16:651–659

Velasco R, Zharkikh A, Troggio M, Cartwright DA, Cestaro A, Pruss D, Pindo M, FitzGerald LM, Vezzulli S et al (2007) High quality draft consensus sequence of the genome of a heterozygous grapevine variety. PLoS ONE 2:e1326

Wiese W, Vornam B, Krause E, Kindl H (1994) Structural organization and differential expression of three stilbene synthase genes located on a 13 kb grapevine DNA fragment. Plant Mol Biol 26:667–677

Zhu YJ, Agbayani R, Jazckson MC, Tang CS, Moore PH (2004) Expression of the grapevine stilbene synthase gene VST1 in papaya provides increased resistance against diseases caused by Phytophthora palmivora. Planta 12:807–812
Acknowledgments
We thank Dr. L. Peña for providing the EHA105 Agrobacterium strain, M. López-Romero, A. Palazón and V. Arnau for their excellent technical assistance and Dr. Walker for his critical review of the manuscript. This research was supported by the Instituto Murciano de Investigación y Desarrollo Agrario y Alimentario (IMIDA, PR06-002 Project) and by a fellowship provided by IMIDA to M. Pazos-Navarro. M. Dabauza, P. Flores and P. Hellín were co-supported by the European Social Fund and IMIDA.
About this article
Cite this article
Dabauza, M., Velasco, L., Pazos-Navarro, M. et al. Enhanced resistance to Botrytis cinerea in genetically-modified Vitis vinifera L. plants over-expressing the grapevine stilbene synthase gene. Plant Cell Tiss Organ Cult 120, 229–238 (2015). https://doi.org/10.1007/s11240-014-0598-x
Received:

Accepted:

Published:

Issue Date:
Keywords
Vst1

Stilbene

Trans-resveratrol

Quantitative RT-PCR

Grey mould

Fungal diseases