Abstract
Coriandrum sativum L. is an annual herb belonging to the family Umbelliferae. It is used as a spice plant in Indian subcontinent and it has several medicinal applications as well. In this present article, an efficient plant regeneration protocol from protoplasts via somatic embryogenesis was established and is reported. This is the first ever protoplast isolation study in Indian local coriander in which plant regeneration was achieved. Hypocotyl-derived embryogenic callus was used as a source of protoplast. The embryogenic callus suspension was prepared by transferring tissues onto rotary-agitated liquid Murashige and Skoog, added with 1.0 mg l−1 2,4-Dichlorophenoxyacetic acid (2,4-D) and 1.0 mg l−1 KIN (6-furfurylaminopurine). The suspension was digested with enzymatic solutions and a combination of cellulase (2.0 %), pectinase (1.0 %), macerozyme (0.02 %) and driselase (0.50 %) induced maximum yield of protoplasts (34.25 × 105). In 1.0 mg l−1 2,4-D + 1.0 mg l−1 KIN containing medium, protoplasts divided well and formed maximum number of microcolonies (14.30/test tube). The protoplast callus (PC) biomass grew well in solid medium. The protoplast embryogenic callus was rich in protein, proline and sugar compared to non-embryogenic PC. The protoplast originated callus later differentiated into somatic embryos. The somatic embryo morphology, scanning electron microscopy and histology of embryo origin and development were investigated and discussed in details in this present communication. In 1.0 mg l−1 2,4-D + 0.5 mg l−1 BA (6-Benzyladenine), maximum number of embryos were formed on microcallus (26.6/callus mass). The embryo matured and germinated into plantlets at a low to moderate rate, highest (31.3 %) embryo germination was observed in 1.0 mg l−1 BA + 0.5 mg l−1 α-Naphthalene acetic acid added medium. The entire process of regeneration took about 4–5 months' time for recovering plantlets from protoplasts.
Access options
Buy single article
Instant access to the full article PDF.
USD 39.95
Price includes VAT (USA)
Tax calculation will be finalised during checkout.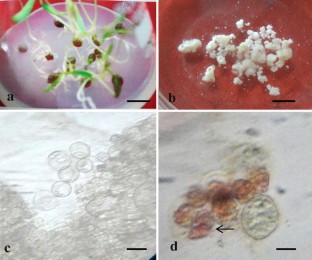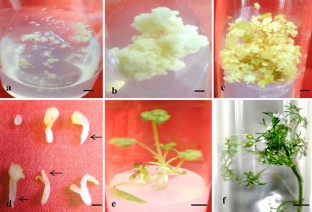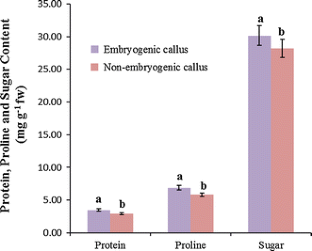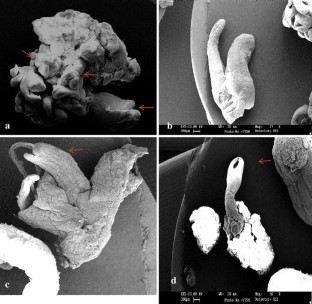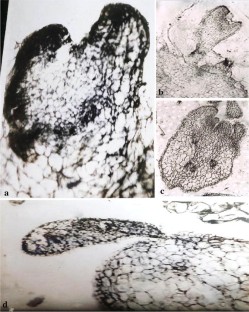 Abbreviations
2,4-D:

2,4-Dichlorophenoxyacetic acid

BA:

6-Benzyladenine

KIN:

6-Furfurylaminopurine

MS:

Murashige and Skoog

NAA:

α-Naphthalene acetic acid

PGR:

Plant growth regulator

SEM:

Scanning electron microscopy
References
Alhubaishi AA, Walkey DGA, Webb MJW, Bolland CJ, Cook AA (1987) A survey of horticultural plant virus diseases in the Yemen Arab Republic. FAO Plant Prot Bull 35:135–143

Assani A, Haicour R, Wenzel G, Foroughi-Wehr B, Bakry F, Cote FX, Ducreux G, Ambroise A, Grapin A (2002) Influence of donor material and genotype on protoplast regeneration in banana and plantain cultivars (Musa spp.). Plant Sci 162:355–362

Aziz ZA, Davey MR, Lowe KC, Power JB (2006) Isolation and culture of protoplasts from the medicinal plant Centella asiatica. Rev Bras Pl Med 8:105–109

Bates LS, Waldren RP, Teare ID (1973) Rapid determination of free proline for water stress studies. Plant Soil 39:205–207

Bhatnagar SS (1950) Coriandrum Linn. (Umbelliferae). In: Bhatnagar SS (ed) The wealth of India. A dictionary of indian raw materials and industrial products, raw materials, vol 2. Council of Scientific and Industrial Research, New Delhi, pp 347–350

Borgato L, Pisani F, Furini A (2007) Plant regeneration from leaf protoplasts of Solanum virginianum L. (Solanaceae). Plant Cell Tiss Org Cult 88:247–252

Bradford MM (1976) A rapid and sensitive method for measuring quantities of protein utilizing the principle of protein dye binding. Ann Biochem 72:248–253

Burns JA, Wetzstein HY (1995) Development and germination of pecan somatic embryos derived from liquid culture. In Vitro Cell Dev Biol-Plant 31:72–78

Cabasson C, Alvard D, Dambier D, Ollitrault P, Teisson C (1997) Improvement of Citrus somatic embryo development by temporary immersion. Plant Cell Tiss Organ Cult 50:33–37

Christina ENL, Arunika H (2010) Isolation of leaf protoplasts from the submerged aquatic monocot Aponogeton madagascariensis. Am J Pl Sci Biotech 4:6–11

Cislova LS (1988) Useful types of coriander (in Russian). Sel Semenovod (Moskva), 33

Cocking EC (1960) Enzymatic degradation of cell wall for protoplast formation. Nature 187:927–929

Das A, Mallick R (1989) Variation in 4C DNA content and chromosome characteristics in different varieties of Coriandrum sativum L. Cytologia 54:609–616

Davey MR, Anthony P, Power JB, Lowe JB (2005) Plant protoplast technology: current status. Acta Physiol Plant 27:117–129

Dey PM (1990) Methods in plant biochemistry, carbohydrates, vol 2. Academic Press, London

Diederichsen A (1996) Coriander (Coriandrum sativum L.). Promoting the conservation and use of underutilized and neglected crops, vol 3. Institute of Plant Genetics and Crop Plant Research, Gatersleben/International Plant Genetic Resources Institute, Rome

Dietert MF, Barron SA, Yoder OC (1982) Effects of genotype on in vitro culture in the genus Brassica. Plant Sci Lett 26:233–240

Dovzhenko A, Dal Bosco C, Meurer J, Koop HU (2003) Efficient regeneration from cotyledon protoplasts in Arabidopsis thaliana. Protoplasma 222:107–111

Dipak KP, Swati ND, Hardik PG, Rangitsinh VD, Ramachandra AV (2012) Cardio protective effects of C. sativum on isoproterenol induced myocardial necrosis in rats. Food Chem Toxicol 50:3120–3125

Duarte A, Ferreira S, Silva F, Domingue FC (2012) Synergistic activity of coriander oil and conventional antibiotics against Acinetobacter baumannii. Phytomedicine 19:236–238

Duquenne B, Eeckhaut T, Werbrouck S, Van Huylenbroeck J (2007) Effect of enzyme concentrations on protoplast isolation and protoplast culture of Spathiphyllum and Anthurium. Plant Cell Tiss Organ Cult 91:165–173

Ewa G, Marek S, Rafal B (2012) An improved protocol for plant regeneration from leaf and hypocotyl-derived protoplasts of carrot. Plant Cell Tiss Organ Cult 109:101–109

Fayez KA, Hassanein AM (2000) Chlorophyll synthesis retardation and ultra structural alterations to Solanum tuberosum chloroplasts in Solanum nigrum cells. Photosynthetica 38:37–44

Fiuk A, Rajkiewicz M, Rybczynski JJ (2003) In vitro culture of Gentiana kurroo (Royle). Biotech 3:267–274

Fock I, Collonnier C, Purwito A, Luisetti J, Souvannavong V, Vedel F, Servaes A, Ambroise A, Kodja H, Ducreux G, Sihachakr D (2000) Resistance to bacterial wilt in somatic hybrids between Solanum tuberosum and Solanum phureja. Plant Sci 160:165–176

Gaj MD (2004) Factors influencing somatic embryogenesis induction and plant regeneration with particular reference to Arabidopsis thaliana (L.) Heynh. J Plant Growth Regul 43:27–47

Girenko MM (1982) Initial material and basic trends in breeding of some uncommon species of vegetables. Bull VIR im Vavilova 120:33–37 (in Russian, English abstract)

Guo JM, Liu QC, Zhai H, Wang YP (2006) Regeneration of plants from Ipomoea cairica L. protoplasts and production of somatic hybrids between I. cairica L. and sweetpotato, I. batatas (L.) Lam. Plant Cell Tiss Organ Cult 87:321–327

Hall RD, Riksen-Bruinsma T, Weyens GJ, Rosquin IJ, Denys PN, Evans IJ, Lathouwers JE, Lefcbvre MP, Dunwell JM, van Tunen A, Krens FA (1996) A high efficiency technique for the generation of transgenic sugar beets from stomatal guard cells. Nat Biotechnol 14:1133–1138

Ilyas M (1980) Spices in India. Econ Bot 34:236–259

Ivanova KV, Stoletova EA (1990) The history of culture and intraspecific taxonomy of Coriandrum sativum L. Sb nau n tr prikl bot, gen i sel 133:26–40 (in Russian, English abstract)

Jeffery LD, Karl DH, Susanne L, Klaus H, Dierk S (1987) Parsley protoplasts retain differential responsiveness to u.v. light and fungal elicitor. EMBO J 6:2551–2556

Jiménez VM, Thomas C (2006) Participation of plant hormones in determination and progression of somatic embryogenesis. In: Mujib A, Samaj J (eds) Somatic embryogenesis. Springer-Verlag, Heidelberg, pp 103–118

Junaid A, Mujib A, Bhat MA, Sharma MP, Šamaj J (2007) Somatic embryogenesis and plant regeneration in Catharanthus roseus. Biol Plant 51:641–646

Kantharajah AS, Golegaonkar PJ (2004) Somatic embryogenesis in egg plant. Sci Hortic 99:107–117

Karami O, Deljao A, Pour AM (2007) Repetitive somatic embryogenesis in carnation in picloram supplemented media. Plant Growth Regul 51:33–39

Karamian R, Ebrahimzadeh H (2001) Plantlet regeneration from protoplast-derived embryogenic calli of Crocus cancellatus. Plant Cell Tiss Organ Cult 65:115–121

Kim SW, Seung CO, Dong SI, Liu JR (2003) Plant regeneration of rose (Rosa hybridia) from embryogenic cell-derived protoplasts. Plant Cell Tiss Organ Cult 73:15–19

Kohlenbach HW, Wenzel G, Hoffmann F (1982) Regeneration of Brassica napus plantlets in cultures from isolated protoplasts of haploid stem embryos as compared with leaf protoplasts. Zeitschrift Pflanzen Physiol 105:131–142

Li JS, Deng MX, Mao ZHI, Hong YU (2005) En-hanced anthocyanins synthesis in foliage plant Ca-ladium bicolor. Plant Cell Rep 23:716–720

Liu F, Ryschka U, Marthe F, Klocke E, Schumann G, Zhao H (2007) Culture and fusion of pollen protoplasts of Brassica oleracea L. var. italica with haploid mesophyll protoplasts of B. rapa L. ssp. pekinensis. Protoplasma 231:89–97

Lörincz K, Tyihák E (1965) Untersuchungen über die Terpenkomponenten im Verlaufe der Ontogenie des Korianders (Coriandrum sativum L.). Herba Hung 4:191–208 (in Russian, German abstract, Hungarian abstract)

Ma R, Ritala A, Caldentey KMO, Rischer H (2006) Development of in vitro techniques for the important medicinal plant Veratrum californicum. Planta Med 72:1142–1148

Mataiyoh JC, Maiyo ZC, Ngure RM, Chepkorir R (2009) Chemical composition and antibacterial activity of the essential oil of C.sativum. Food Chem 113:526–529

Mathias ME (1994) Magic, myth and medicine. Econ Bot 48:3–7

Mehpara M, Mujib A, Dipti T, Abdin MZ (2012) Protoplast isolation, culture and plant regeneration in Catharanthus roseus (L.) G. Don via somatic embryogenesis. Curr Biotechnol 1(3):217–226

Mizuhiro M, Kenichi Y, Ito K, Kadowaki S, Ohashi H, Mii M (2001) Plant regeneration from cell suspension-derived protoplasts of Primula malacoides and Pimula obconica. Plant Sci 160:1221–1228

Mujib A, Bandyopadhyay S, Jana BK, Ghosh PD (1996) Direct somatic embryogenesis and in vitro plant regeneration in Hippeastrum hybridum. Plant Tissue Cult 8:19–25

Mujib A, Banerjee S, Maqsood M, Ghosh PD (2013) Somatic embryogenesis of some member ornamental genera of Amaryllidaceae and allied families: the similarities and differences. The Open Hort J 6:9–18

Murashige T, Skoog F (1962) A revised medium for rapid growth and bioassay with tobacco tissue cultures. Physiol Plant 15:473–497

Nieves N, Segura-nieto M, Blanco MA, Sanchez M, Gonzales A, Gonzales JL, Castillo R (2003) Biochemical characterization of embryogenic and nonembryogenic calluses of sugarcane. In Vitro Cell Dev Biol-Plant 39:343–345

Oropeza M, Marcano AK, De Garcia E (2001) Proteins related in embryogenic potentials in callus and cell suspensions of sugarcane (Sacharrum sp.). In Vitro Cell Dev Biol-Plant 37:211–216

Pan ZG, Liu CZ, Murch SJ, El-Demerdash M, Saxena PK (2003) Plant regeneration from mesophyll protoplasts of the Egyptian medicinal plants Artmesia judaica L. and Echinops spinosissimus Turra. Plant Sci 165:681–687

Paruthi IJ, Jain RK, Gupta DC (1987) A note on reaction of some spices to root knot nematode (Meloidogyne javanica). Haryana J Hortic Sci 16:154–155

Pongchawee K, Na-Nakorn U, Laamseejan S, Poompuang S, Phansiri S (2007) Protoplast isolation and culture of aquatic plant Cryptocoryne wendtii De Wit. Kasetsart J NatSci 41:300–310

Prakash V (1990) Leafy spices. CRC Press Inc, Boca Raton

Ramanayake SMSD, Wanniarachchi WAVR, Tennakoon TMA (2001) Axillary shoot proliferation and in vitro flowering in an adult giant bamboo, Dendrocalamus giganteus Wall. Ex Munro. In Vitro Cell Dev Biol-Plant 37:667–671

Shrestha BR, Tokuhara K, Mii M (2007) Plant regeneration from cell suspension-derived protoplasts of Phalaenopsis. Plant Cell Rep 26:719–725

Silva F, Ferreira S, Duarte A, Mendonca DI, Domingue FC (2011) Antifungal activity of C. sativum essential oil, its mode of action against candida species and potential synergism with amphotericin B. Phytomedicine 19:42–47

Slaby K, Havel L (1999) Conversion of somatic embryos of Picea abies (L.). Karst. Biologia 54:7–15

Soumendra NT, Subham D, Gungan G, Moumita A, Aniruddha M (2010) Therapeutic efficacies of C. sativum aqueous extract against metronidazole induced genotoxicity in Channa punctatus peripheral erythrocytes. Food Chem Toxicol 48:3458–3461

Sreelatha S, Padma PR, Umadevi M (2009) Protective effects of C. Sativum extract on carbon tetrarchloride induced hepatotoxicity in rats. Food Chem Toxicol 47:702–708

Te-Chato S, Hilae A, Moosikapala L (2005) Microcolony formation from embryogenic callus-derived protoplasts of oil palm. Songklanakarin J Sci Technol 27:685–691

Thomas TD (2009) Isolation, callus formation and plantlet regeneration from mesophyll protoplasts of Tylophora indica (Burm. f.) Merrill: an important medicinal plant. In Vitro Cell Dev Biol-Plant 45:591–598

Toben HM (1995) Die durch Pseudomonas syringae pv. coriandricola hervorgerufene Doldenwelke an Koriander, Charakterisierung des Erregers und Strategien zur Bekämpfung. Cuvillier Verlag, Göttingen

Vavilov NI (1992) The phyto-geographical basis for plant breeding—studies of the original material used for plant breeding. In: Dorofeev VF (ed) Origin and geography of cultivated plants. Cambridge University Press, Cambridge, pp 316–366

Yan CQ, Qian KX, Yan QS, Zhang XQ, Xue GP, Huangfu WG, Wu YF, Zhao YZ, Xue ZY, Huang J, Xu GZ, Wu P (2004) Use of asymmetric somatic hybridization for transfer of the bacterial blight resistance trait from Oryza meyeriana L. to O. sativa L. ssp. japonica. Plant Cell Rep 22:569–575

Yang X, Guo X, Zhang X, Nie Y, Jin S (2007) Plant regeneration from Gossypium davidsonii protoplasts via somatic embryogenesis. Biol Plant 51:533–537

Zohra F, Mujib A, Samar F, Arshi A, Umar S (2009) Callus induction, biomass growth, and plant regeneration in Digitalis lanata Ehrh.: influence of plant growth regulators and carbohydrates. Turk J Bot 33:393–405
Acknowledgments
The authors are thankful to University Grant Commission (UGC) and Department of Botany, Hamdard University (Jamia Hamdard) for receiving facilities of various kinds. The first author also acknowledges the help, rendered by M.Sc and Ph.D students.
About this article
Cite this article
Mujib, A., Tonk, D. & Ali, M. Plant regeneration from protoplasts in Indian local Coriandrum sativum L.: scanning electron microscopy and histological evidences for somatic embryogenesis. Plant Cell Tiss Organ Cult 117, 323–334 (2014). https://doi.org/10.1007/s11240-014-0442-3
Received:

Accepted:

Published:

Issue Date:
Keywords
Coriandrum sativum

Protoplasts

Enzymatic digestion

Micro-colony

Somatic embryos

Scanning electron microscopy

Histology