Abstract
Perilla frutescens is a medicinal plant that produces various bioactive compounds, including unsaturated fatty acids and phenolic compounds such as rosmarinic acid (α-O-caffeoyl-3, 4 -dihydroxyphenylacetic acid, RA). Tyrosine aminotransferase (TAT) catalyzes the first step in the tyrosine-derived branch of RA biosynthesis, and TAT is presumed to have a role in RA accumulation. Here, we report the isolation of full-length TAT cDNA (designated PfTAT) from P. frutescens. Sequence analysis revealed that PfTAT contained 1,535 bp long and an open reading frame of 1,233 bp encoding 411 amino acid residues. Analysis of PfTAT genomic DNA revealed 7 exons and 5 introns. The 5′ flanking sequence of PfTAT was also cloned, and a group of putative cis-acting elements such TATA box, CAAT box, TC-rich repeats and G box were identified. Quantitative real-time PCR analysis indicated that constitutive expression of PfTAT in leaves was much higher than in roots and stems. A vector was constructed containing the PfTAT gene derived by the cauliflower mosaic virus 35S promoter. Transgenic P. frutescens overexpressing PfTAT was obtained with an Agrobacterium tumefaciens-mediated transformation system and overexpression was confirmed by PCR and Southern blot. PfTAT mRNA expression in transgenic plant lines measured by real-time quantitative PCR was 2–3 times greater than PfTAT expression in the untransformed plant line. Also, enhanced gene expression corresponded to significantly increased RA in PfTAT-transgenic lines, as quantified by HPLC. Our data emphasize the importance of PfTAT in the production of RA in P. frutescens.
Access options
Buy single article
Instant access to the full article PDF.
US$ 39.95
Tax calculation will be finalised during checkout.
Subscribe to journal
Immediate online access to all issues from 2019. Subscription will auto renew annually.
US$ 119
Tax calculation will be finalised during checkout.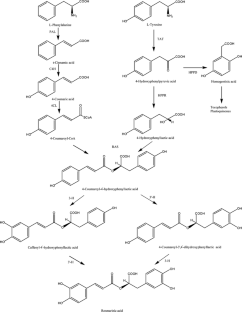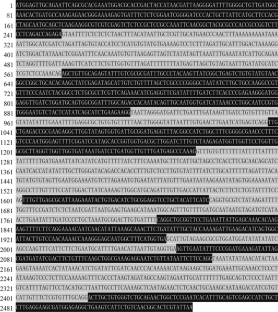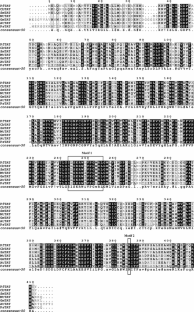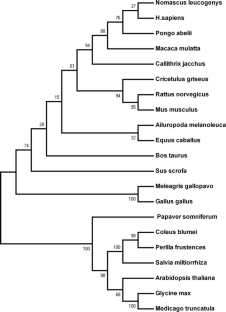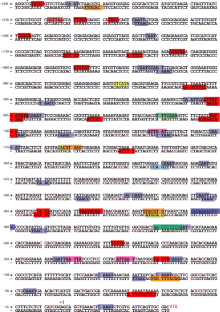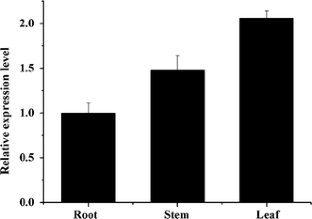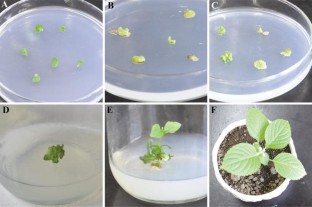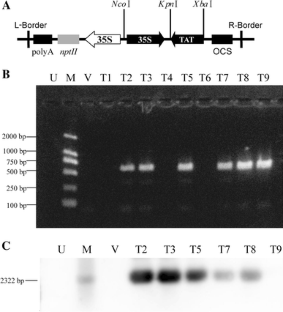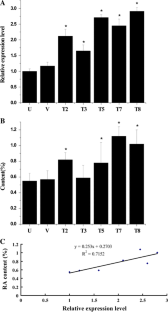 References
Barberini S, Savona M, Raffi D, Leonardi M, Pistelli La, Stochmal A, Vainstein A, Pistelli Lu, Ruffoni B (2013) Molecular cloning of SoHPPR encoding a hydroxyphenylpyruvate reductase, and its expression in cell suspension cultures of Salvia officinalis. Plant Cell Tiss Organ Cult. doi:10.1007/s11240-013-0300-8

Berger A, Meinhard J, Petersen M (2006) Rosmarinic acid synthase is a new member of the superfamily of BAHD acyltransferases. Planta 224:1503–1510

Chen H, Chen F (2000) Effect of yeast elicitor on the secondary metabolism of Ti-transformed Salvia miltiorrhiza cell suspension cultures. Plant Cell Rep 19:710–717

Cochrane FC, Davin LB, Lewis NG (2004) The Arabidopsis phenylalanine ammonia lyase gene family: kinetic characterization of the four PAL isoforms. Phytochemistry 65:1557–1564

De-Eknamkul W, Ellis BE (1987) Tyrosine aminotransferase: the entry-point enzyme of the tyrosine-derived pathway in rosmarinic acid biosynthesis. Phytochemistry 26:1941–1946

Furtado MA, Almdida LC, Furtado RA, Cunha WR, Tavares DC (2008) Antimutagenicty of rosmarinic acid in Swiss mice evaluated by the micronucleus assay. Mutat Res 657:150–154

Huang SS, Zheng RL (2006) Rosmarinic acid inhibits angiogenesis and its mechanism of action in vitro. Cancer Lett 239:271–280

Huang B, Duan Y, Yi B, Sun L, Lu B, Yu X, Sun H, Zhang H, Chen W (2008a) Characterization and expression profiling of cinnamate 4-hydrosylase gene from Salvia miltiorrhiza in RA biosynthesis pathway. Russ J Plant Physiol 55:390–399

Huang B, Yi B, Duan Y, Sun L, Yu X, Guo J, Chen W (2008b) Characterization and expression profiling of tyrosine aminotransferase gene from Salvia miltiorrhiza (Dan-shen) in rosmarinic acid biosynthesis pathway. Mol Biol Rep 35:601–612

Huang N, Hauck C, Yum MY, Rizshsky L, Widrlechner MP, McCoy JA, Murphy PA, Dixon PM, Nikolau BJ, Birt DF (2009) Rosmarinic acid in Prunella vulgaris ethanol extract inhibits lipopolysaccharide-induced prostaglandin E2 and nitric oxide in RAW 267.7 mouse macrophages. J Agr Food Chem 57:10579–10589

Hücherig S, Petersen M (2012) RNAi suppression and overexpression studies of hydroxyphenylp- yruvate reductase (HPPR) and rosmarinic acid synthase (RAS) genes related to rosmarinic acid biosynthesis in hairy root cultures of Coleus blumei. Plant Cell Tiss Organ Cult. doi:10.1007/s11240-012-0277-8

Ishikura N (1981) Anthocyanins and flavones in leaves and seeds of Perilla plant. Agric Biol Chem 45:1855–1860

Kenneth J, Thomas D (2001) Analysis of relative gene expression data using real-time quantitative PCR and the 2−△△CT method. Methods 25:402–408

Kim KH, Janiak V, Petersen M (2004) Purification, cloning and functional expression of hydroxyphenylpyruvate reductase involved in rosmarinic acid biosynthesis in cell cultures of Coleus blumei. Plant Mol Biol 54:311–323

Kim EK, Lee SJ, Lim BO, Jeon YJ, Song MD, Park TK (2008) Antioxidative and neuroprotective effects of enzymatic extracts from leaves of Perilla frutescens var. japonica. Food Sci Biotechnol 17:279–286

Kozak M (1981) An analysis of 5′-noncoding sequence from 699 vertebrate messenger RNAs. Nucl Acids Res 9:5233–5252

Lee J, Jung E, Koh J, Kim YS, Park D (2008) Effect of rosmarinic acid on atopic dermatitis. J Dermatol 35:768–771

Lee JH, Baek IY, Kang NS, Jung CS, Lee MH, Park KY, Ha TJ (2009) Optimization of extraction conditions and comparison of rosmarinic and caffeic acids from leaves of Perilla frutescens varieties. Food Sci Biotechnol 18:928–931

Li M, Li H, Jiang H, Pan X, Wu G (2008) Establishment of an Agrobacteriuim- mediated cotyledon disc transformation method for Jatropha curcas. Plant Cell Tiss Organ Cult 92:173–181

Li CL, Bai YC, Chen H, Zhao HX, Shao JR, Wu Q (2012) Cloning, characterization and functional analysis of a phenylalanine ammonia-lyase gene (FtPAL) from Fagopyrum tataricum Gaertn. Plant Mol Biol Rep 30:1172–1182

Liu GT, Zhang TM, Wang BE, Wang YW (1992) Protective action of seven natural phenolic compounds against peroxidative damage to biomembranes. Biochem Pharmacol 43:147–152

Ma X, Yu C, Tang S, Guo S, Zhang R, Wang Y, Zhu A, Zhu S, Xiong H (2010) Genetic transformation of the bast fiber plant ramie (Boehmeria nivea Gaud.) via Agrobacteriuim tumefaciens. Plant Cell Tiss Organ Cult 100:165–174

Michael W (2001) A new mathematical model for relative quantification in real-time RT-PCR. Nucl Acid Res 29:2002–2007

Mizukami H, Ellis BE (1991) Rosmarinic acid formation and differential expression of tyrosine aminotransferase isoforms in Anchusa officinalis cell suspension cultures. Plant Cell Rep 10:321–324

Mizukami H, Tabira Y, Ellis BE (1993) Methyl jasmonate-induced rosmarinic acid biosynthesis in Lithospermum erythrorhizon cell suspension cultures. Plant Cell Rep 12:706–709

Molgaard P, Ravn H (1988) Evolutionary aspects of caffeoyl ester distribution in dicotyledons. Phytochemistry 27:2411–2421

Nakazawa T, Ohsawa K (2000) Metabolites of orally administered Perilla frutescens extract in rats and humans. Biol Pharm Bull 23:122–127

Petersen M, Simmonds MSJ (2003) Rosmarinic acid. Phytochemistry 62:121–125

Petersen M, Hausler E, Karwatzki B, Meinhard J (1993) Proposed biosynthetic pathway for rosmarinic acid in cell cultures of Coleus blumei Benth. Planta 189:10–14

Petersen M, Abdullah Y, Benner J, Eberle D, Gehlen K, Hücherig S, Janiak V, Kim KH, Sander M, Weitzel C, Wolters S (2009) Evolution of rosmarinic acid biosynthesis. Phytochemistry 70:1663–1679

Razzaque A, Ellis BE (1977) Rosmarinic acid production in Coleus cell cultures. Planta 137:287–291

Rogers SO, Bendich AJ (1985) Extraction of DNA from milligram amounts of fresh, herbarium and mummified tissues. Plant Mol Biol 5:69–76

Silva TER, Cidade LC, Alvim FC, Cascardo JCM, Costa MGC (2009) Studies on genetic transformation of Theobroma cacao L.: evaluation of different polyamines and antibiotics on somatic embryogenesis and the efficiency of uidA gene transfer by Agrobacteriuim tumefaciens. Plant Cell Tiss Organ Cult 99:287–298

Song J, Wang Z (2009) Molecular cloning, expression and characterization of a phenylalanine ammonia-lyse gene (SmPAL1) from Salvia miltiorrhiza. Mol Biol Rep 36:939–952

Song J, Wang Z (2011) RNAi-mediated suppression of the phenylalanine ammonia- lyase gene in Salvia miltiorrhiza causes abnormal phenotypes and a reduction in rosmarinic acid biosynthesis. J Plant Res 124:183–192

Tamura K, Dudley J, Nei M, Kumar S (2007) MEGA4: molecular evolutionary genetics analysis (MEGA) software version 4.0. Mol Biol Evol 24(8):1596–1599

Travella S, Ross SM, Harden J, Everett C, Snape JW, Harwood WA (2005) A comparison of transgenic barley lines produced by particle bombardment and Agrobacteriuim-mediated techniques. Plant Cell Rep 23:780–789

Vogelsang K, Schneider B, Petersen M (2006) Production of rosmarinic acid and a new rosmarinic acid 3′-O-beta-d-glucoside in suspension cultures of the hornwort Anthoceros agrestis Paton. Planta 223:369–373

Weitzel C, Petersen M (2011) Cloning and characterisation of rosmarinic acid synthase from Melissa officinalis L. Phytochemistry 72:572–578

Xiao Y, Gao S, Di P, Chen J, Chen W, Zhang L (2009) Methyl jasmonate dramatically enhances the accumulation of phenolic acids in Salvia miltiorrhiza hairy root cultures. Physiol Plant 137:1–9

Xiao Y, Zhang L, Gao S, Saechao S, Di P, Chen J, Chen W (2011) The c4 h, tat, hppr and hppd genes prompted engineering of rosmarinic acid biosynthetic pathway in Salvia miltiorrhiza hairy root cultures. PLoS One 6(12):e29713

Zeng S, Liu Y, Zou C, Huang W, Wang Y (2013) Cloning and characterization of phenylalanine ammonia-lyase in medicinal Epimedium species. Plant Cell Tiss Organ Cult. doi:10.1007/s11240-012-0265-z
About this article
Cite this article
Lu, X., Hao, L., Wang, F. et al. Molecular cloning and overexpression of the tyrosine aminotransferase (TAT) gene leads to increased rosmarinic acid yield in Perilla frutescens . Plant Cell Tiss Organ Cult 115, 69–83 (2013). https://doi.org/10.1007/s11240-013-0341-z
Received:

Accepted:

Published:

Issue Date:
Keywords
Perilla frutescens
PfTAT

cDNA cloning

Overexpression

Rosmarinic acid