Abstract
A simple and rapid protocol was established for repetitive somatic embryogenesis and subsequent plant regeneration in two important Brassica oleracea varieties, cabbage and cauliflower. Direct regeneration of somatic embryos (SEs) was achieved from immature zygotic embryos cultured on B5 plant growth regulator (PGR)-free (B5-0) induction medium and on B5 medium supplemented with 1 mg l−1 2,4-dichlorophenoxyacetic acid (2,4-D) (B5-D). Zygotic embryos of both cabbage and cauliflower at the cotyledonary (C) stage (1.8 mm long) incubated on B5-0 medium displayed the highest embryo-forming capacities (EFCs) of 11.84 and 11.95, respectively. Secondary somatic embryos (SSEs) appeared on the cabbage and cauliflower's primary embryos at a high frequency (83.3 and 87.5 %, respectively), and this process continued in a repetitive way on PGR-free Murashige and Skoog (MS-0) medium. The embryogenic potential of the cultures with a gradual diminution was maintained for 10 months (ten cycles). A total of 20 % of the mature SSEs from cabbage and 55 % from cauliflower spontaneously regenerated plantlets on MS-0 medium. The addition of 1 mg l−1 6-benzyladenine (BA) or 6-furfurylaminopurine (Kin) in the regeneration medium significantly improved somatic embryo conversion into plantlets by up to 56 % in cabbage and 79 % in cauliflower. Regenerated plants acclimated successfully to ex vitro conditions and displayed morphological and reproductive characteristics similar to seed-derived plants. Effective recurrent somatic embryogenesis may be an appropriate practical solution for clonal propagation and genetic modifications of cabbage and cauliflower.
Access options
Buy single article
Instant access to the full article PDF.
USD 39.95
Price includes VAT (USA)
Tax calculation will be finalised during checkout.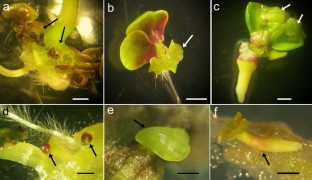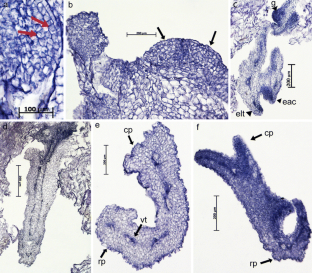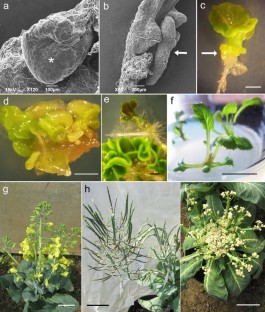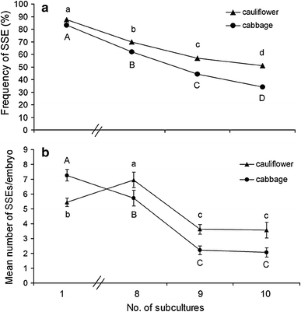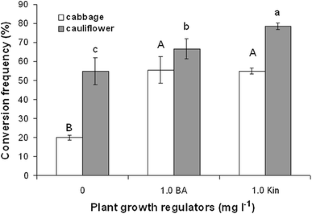 Abbreviations
PGR:

Plant growth regulator

BA:

6-Benzyladenine

Kin:

6-Furfurylaminopurine

2,4-D:

2,4-Dichlorophenoxyacetic acid

B5:

Gamborg's mineral solution

MS:

Murashige and Skoog's mineral solution
References
Abdollahi MR, Ghanzanfari P, Corral-Martínez P, Moieni A, Seguí-Simarro JM (2012) Enhancing secondary embryogenesis in Brassica napus by selecting hypocotyl-derived embryos and using plant-derived smoke extract in culture medium. Plant Cell Tiss Organ Cult 110:307–315

Aslam FN, MacDonald MV, Loudon P, Ingram DS (1990) Rapid-cycling Brassica species: inbreeding and selection of B. campestris for anther culture ability. Ann Bot 65:557–566

Baillie AMR, Epp DJ, Hucheson D, Keller WA (1992) In vitro culture of isolated microspores and regeneration of plants in Brassica campestris. Plant Cell Rep 11:234–237

Bhalla P, de Weerd N (1999) In vitro propagation of cauliflower, Brassica oleracea var. botrytis for hybrid seed production. Plant Cell Tiss Org Cult 56:89–95

Burbulis N, Kupriene R (2005) Induction of somatic embryos on in vitro cultured zygotic embryos of spring Brassica napus. Acta Univers Latviensis 691:137–143

Cardoza V, Stewart CN Jr (2004) Brassica biotechnology: progress in cellular and molecular biotechnology. In Vitro Cell Dev Biol Plant 40:542–551

Chikkala VRN, Nugent GD, Dix PJ, Stevenson TW (2009) Regeneration from leaf explants and protoplasts of Brassica oleracea var. botrytis (cauliflower). Sci Hortic 119:330–334

Choi PS, Soh WY, Liu JR (1996) Somatic embryogenesis and plant regeneration in cotyledonary explant cultures of Chinese cabbage. Plant Cell Tiss Org Cult 44:253–256

Choi PS, Min SR, Ahn MY, Soh WY, Liu JR (1998) Somatic embryogenesis and plant regeneration in immature zygotic embryo, ovule, and anther filament cultures of Chinese cabbage. Sci Hortic 72:151–155

Deane CR, Fuller MP, Dix PJ (1997) Somatic embryogenesis in cauliflower (Brassica oleracea var. botrytis). Cruciferae Newslett 19:43–44

Dhanalakshmi S, Lakshmanan KK (1992) In vitro somatic embryogenesis and plant regeneration in Clitoria ternatea. J Exp Bot 43:213–219

Elhiti M, Tahir M, Gulden RH, Khamiss K, Stasolla C (2010) Modulation of embryo-forming capacity in culture through the expression of Brassica genes involved in the regulation of the shoot apical meristem. J Exp Bot 61:4069–4085

Gaj MD (2001) Direct somatic embryogenesis as a rapid and efficient system for in vitro regeneration of Arabidopsis thaliana (L.) Heynh. Plant Cell Tiss Org Cult 64:39–46

Gamborg O, Miller R, Ojima K (1968) Nutrient requirement suspensions cultures of soybean root cells. Exp Cell Res 50:151–158

Gharyal PK, Maheshwari SC (1981) In vitro differentiation of somatic embryoids in a leguminous tree—Albizzia lebbeck L. Naturwissenschaften 68:379–380

Jin RG, Liu YB, Tabashnik BE, Borthakur D (2000) Development of transgenic cabbage (Brassica oleracea var. capitata) for insect resistance by Agrobacerium tumefaciens-mediated transformation. In vitro Cell Dev Biol Plant 36:231–237

Koh WL, Loh CS (2000) Direct somatic embryogenesis, plant regeneration and in vitro flowering in rapid-cycling Brassica napus. Plant Cell Rep 19:1177–1183

Leroy XJ, Leon K, Charles G, Branchard M (2000) Cauliflower somatic embryogenesis and analysis of regenerant stability by ISSRs. Plant Cell Rep 19:1102–1107

Loh CS, Ingram DS, Hanke DE (1983) Cytokinins and the regeneration of plantlets from secondary embryoids of winter oilseed rape, Brassica napus ssp. oleifera. New Phytol 95:349–358

Luo Y, Koop HU (1997) Somatic embryogenesis in cultured immature zygotic embryos and leaf protoplasts of Arabidopsis ecotypes. Planta 202:387–396

Mordhorst AP, Hartog MV, El Tamer MK, Laux T, de Vries SC (2002) Somatic embryogenesis from Arabidopsis shoot apical meristem mutants. Planta 214:829–836

Munshi MK, Roy PK, Kabir MH, Ahmed G (2007) In vitro regeneration of cabbage (Brassica oleracea L. var. capitata) through hypocotyls and cotyledon culture. Plant Tiss Cult Biotech 17:131–136

Murashige T, Skoog F (1962) A revised medium for rapid growth and bioassays with tobacco tissue culture. Physiol Plant 15:473–497

Ni DA, Wang LJ, Ding CH, Xu ZH (2001) Auxin distribution and transport during embryogenesis and seed germination of Arabidopsis. Cell Res 11:273–278

Nugent GD, Coyne S, Nguyen TT, Kavanagh TA, Dix PJ (2006) Nuclear and plastid transformation of Brassica oleracea var. botrytis (cauliflower) using PEG-mediated uptake of DNA into protoplasts. Plant Sci 170:135–142

Pareek LK, Chandra N (1978) Somatic embryogenesis in leaf callus from cauliflower (Brassica oleracea var. botrytis). Plant Sci Lett 11:311–316

Paul A, Sharma SR, Sresty TVS, Devi S, Bala S, Kumar PS, Saradhi PP, Frutos R, Altosaar I, Kumar PA (2005) Transgenic cabbage (Brassica oleracea var. capitata) resistant to Diamondback moth (Plutella xylostella). Ind J Biotech 4:72–77

Pavlović S, Vinterhalter B, Mitić N, Adžić S, Pavlović N, Zdravković M, Vinterhalter D (2010) In vitro shoot regeneration from seedling explants in Brassica vegetables: red cabbage, broccoli, savoy cabbage and cauloflower. Arch Biol Sci Belgrade 59:311–317. http://archonline.bio.bg.ac.rs

Qin Y, Li HL, Guo YD (2007) High-frequency embryogenesis, regeneration of broccoli (Brassica oleracea var. italica) and analysis of genetic stability by RAPD. Sci Hortic 111:203–208

Radchuk VV, Blume YB, Ryschka U, Shumann G, Klocke E (2000) Regeneration and transformation of some cultivars of headed cabbage. Russ J Plant Physiol 47:400–406

Raemakers CJJM, Jacobsen E, Visser RGF (1995) Secondary somatic embryogenesis and application in plant breeding. Euphytica 81:93–107

Rafat A, Aziz MA, Rashid AA, Abdullah SNA, Kamaladini H, Sirchi MHT, Javadi MB (2010) Optimization of Agrobacterium tumefaciens-mediated transformation and shoot regeneration after co-cultivation of cabbage (Brassica oleracea subsp. capitata) cv. KY Cross with AtHSP101 gene. Sci Hortic 124:1–8

Sato T, Nishio T, Hirai M (1989) Plant regeneration from isolated microspore cultures of Chinese cabbage (Brassica campestris ssp. Pekinensis). Plant Cell Rep 8:486–488

Singh J, Upadhyay AK, Bahadur A, Singh B, Singh KP, Rai M (2006) Antioxidant phytochemicals in cabbage (Brassica oleracea L. var capitata). Sci Hortic 108:233–237

Siong PK, Taha RM, Rahiman FA (2011) Somatic embryogenesis and plant regeneration from hypocotyls and leaf explants of Brassica oleracea var. botrytis (cauliflower). Acta Biol Cracov 53:26–31

Smith DL, Krikorian AD (1989) Release of somatic embryogenic potential from excised zygotic embryos of carrot and maintenance of proembryonic cultures in hormone-free medium. Am J Bot 76:1832–1843

Sretenović-Rajičić T, Ninković S, Uzelac B, Vinterhalter B, Vinterhalter D (2007) Effects of plant genotype and bacterial strain on Agrobacterium tumefaciens-mediated transformation of Brassica oleracea L. var. capitata. Russ J Plant Physiol 54:653–658

Su YH, Zhao XY, Liu YB, Zhang CL, O'Neill S, Zhang ZS (2009) Auxin-induced WUS expression is essential for embryonic stem cell renewal during somatic embryogenesis in Arabidopsis. Plant J 59:448–460

Turgut K, Barghchi M, Scott R (1998) Efficient shoot regeneration and somatic embryogenesis from immature cotyledons of Brassica napus L. Plant Breed 117:503–504

Vinterhalter D, Sretenović-Rajičić T, Vinterhalter B, Ninković S (2007) Genetic transformation of Brassica oleracea vegetables. Transg Plant J 1:340–355

Williams EG, Maheswaran G (1986) Somatic embryogenesis: factors influencing coordinated behaviour of cells as an embryogenic group. Ann Bot 5:443–462

Winarto B, Teixeira da Silva JA (2011) Microspore culture protocol for Indonesian Brassica oleracea. Plant Cell Tiss Organ Cult 107:305–315

Yang JL, Seong ES, Kim MJ, Ghmire BK, Kang WH, Chang YY, Cheng HL (2010) Direct somatic embryogenesis from pericycle cells of broccoli (Brassica oleracea L. var. italica) root explants. Plant Cell Tiss Org Cult 100:49–58

Zdravković-Korać S, Milojević J, Tubić L, Ćalić-Dragosavac D, Mitić N, Vinterhalter B (2010) Somatic embryogenesis and plant regeneration from root sections of Allium schoenoprasum L. Plant Cell Tiss Org Cult 101:237–244

Zegzouti R, Arnould MF, Favre JM (2001) Histological investigation of the multiplication step in secondary somatic embryogenesis of Quercus robur L. Ann Forest Sci 58:681–690
Acknowledgments
The present work was supported by the Ministry of Education, Science and Technological Development of the Republic of Serbia (Grant No. ON173015 and TR31059).
About this article
Cite this article
Pavlović, S., Vinterhalter, B., Zdravković-Korać, S. et al. Recurrent somatic embryogenesis and plant regeneration from immature zygotic embryos of cabbage (Brassica oleracea var. capitata) and cauliflower (Brassica oleracea var. botrytis). Plant Cell Tiss Organ Cult 113, 397–406 (2013). https://doi.org/10.1007/s11240-012-0279-6
Received:

Accepted:

Published:

Issue Date:
Keywords
Cabbage

Cauliflower

Immature zygotic embryos

Recurrent somatic embryogenesis

Regeneration