Abstract
Anti-colorectal cancer mAb CO17-1A (IgG2a) recognizes the antigen GA733, which is highly expressed on the surface membrane of human colorectal carcinoma cells. In this study, a transgenic tobacco system for the production of mAb CO17-1A was developed. The mAb construct included a KDEL sequence, an endoplasmic reticulum (ER) retention signal attached to the C-terminus of the heavy chain, to target accumulation of mAb into ER. An immunoblot showed significantly enhanced levels of expression of the plant-derived mAbK (mAbPK) CO17-1A compared to mAbP CO17-1A mAb without the KDEL sequence. An ELISA assay using human colorectal carcinoma cells confirmed that expression of mAbPK was also significantly higher than that of mAbP. Glycosylation analysis revealed that mAbP had plant-specific glycans; whereas, mAbPK primarily had oligomannose glycans. FACS showed that the Fc domains of both mAbPK and mammalian-derived mAb (mAbM) had similar binding activity to the FcγRI receptor (CD64). However, the Fc domains of the mAbP had slightly lower binding activity to the FcγRI receptor than both mAbPK and mAbM. The antibody-dependent cell cytotoxicity of mAbPK, against human colorectal cancer cells, was as efficient as mAbM; whereas mAbP was very low. These results suggest that KDEL localized and accumulated mAbP in the ER and eventually enhanced the expression of mAbP with oligomannose glycan and similar anti-cancer biological activity to the parental mAbM.
Access options
Buy single article
Instant access to the full article PDF.
USD 39.95
Price includes VAT (USA)
Tax calculation will be finalised during checkout.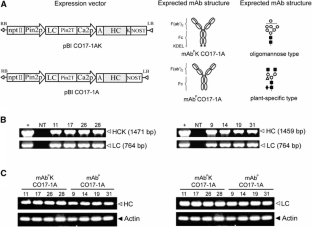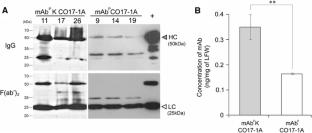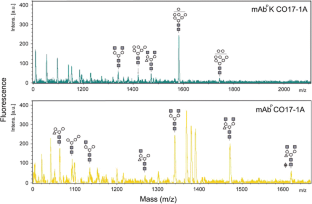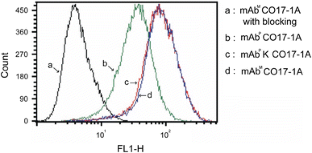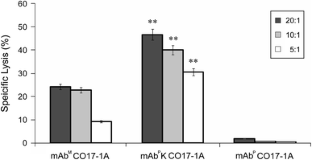 Abbreviations
ADCC:

Antibody-dependent cell cytotoxicity

ER:

Endoplasmic reticulum

FACS:

Fluorescense activated cell sorting

mAb:

Monoclonal antibody
References
Balen B, Krsnik RM (2007) N-glycosylation of recombinant therapeutic glycoproteins in plant systems. Food Technol Biotechnol 45:1–10

Bellucci M, Alpini A, Paolocci F, Cong L, Arcioni S (2000) Accumulation of maize c-zein and c-zein: KDEL to high levels in tobacco leaves and differential increase of BiP synthesis in transformants. Theor Appl Genet 101:796–804

Bortesi L, Rossato M, Schuster F, Raven N, Stadlmann J, Avesani L, Falorni A, Bazzoni F, Bock R, Schillberg S, Pezzotti M (2009) Viral and murine interleukin-10 are correctly processed and retain their biological activity when produced in tobacco. BMC Biotechnol 19:9–22

Brodzik R, Glogowska M, Bandurska K, Okulicz M, Deka D, Ko K, Linden JVD, Leusen JHW, Pogrebnyak N, Golovkin M, Steplewski Z, Koprowski H (2006) Plant-derived anti-Lewis Y mAb exhibits biological activities for efficient immunotherapy against human cancer cells. Proc Natl Acad Sci USA 103:8804–8809

Conrad U, Fiedler U (1998) Compartment-specific accumulation of recombinant immunoglobulins in plant cells: an essential tool for antibody production and immunomodulation of physiological functions and pathogen activity. Plant Mol Biol 38:101–109

De Neve M, De Buck S, De Wilde C, Van Houdt H, Strobbe I, Jacobs A, Van Montagu M, Depicker A (1999) Gene silencing results in instability of antibody production in transgenic plants. Mol Gen Genet 260:582–592

Faye L, Chrispeels MJ (1988) Common antigenic determinants in the glycoproteins of plants, molluscs and insects. Glycoconjugate J 5:245–256

Gomord V, Denmat LA, Fitchette LAC, Béatrice SJ, Hawes C, Faye L (1997) The C-terminal HDEL sequence is sufficient for retention of secretory proteins in the endoplasmic reticulum (ER) but promotes vacuolar targeting of proteins that escape the ER. Plant J 11:313–325

Helenius A, Aebi M (2001) Intracellular functions of N-finked glycans. Science 291:2364–2369

Jamal A, Ahn MH, Song M, Oh EY, Hong J, Choo YK, Ko K, Han YS, Oh SH, Linden JVD, Jeanette HWL, Ko K (2009) Biological validation of plant-derived anti-human colorectal cancer monoclonal antibody CO17-1A. Hybridoma 28:7–12

Kamo K, Aebig J, Guaragna MA, James C, Hsu H, Jordan R (2012) Gladiolus plants transformed with single-chain variable fragment antibodies to cucumber mosaic virus. Plant Cell Tiss Organ Cult 110:13–21

Kermode AR (1996) Mechanisms of intracellular protein transport and targeting in plant cells. Plant Sci 15:285–423

Ko K, Norelli JL, Reynoird JP, Boresjza-Wysocka E, Brown SK, Aldwinckle HS (2000) Effect of untranslated leader sequence of AMVRNA4 and signal peptide of pathogenesis-related protein 1b on attacin gene expression, and resistance to fire blight in transgenic apple. Biotechnol Lett 22:373–381

Ko K, Tekoah Y, Rudd PM, Harvey DJ, Dwek RA, Spitsin S, Hanlon CA, Rupprecht C, Dietzschold B, Golovkin M, Koprowski H (2003) Function and glycosylation of plant-derived antiviral monoclonal antibody. Proc Natl Acad Sci USA 100:8013–8018

Ko K, Steplewski Z, Glogowska M, Koprowski H (2005) Inhibition of tumor growth by plant-derived mAb. Proc Natl Acad Sci USA 102:7026–7030

Koprowski H (2005) Vaccines and sera through plant biotechnology. Vaccine 23:1757–1763

Koprowski H, Steplewski Z, Mitchell K, Herlyn M, Herlyn D, Fuhrer P (1979) Colorectal carcinoma antigens detected by hybridoma antibodies. Somatic Cell Genet 5:957–971

Laemmli UK (1970) Cleavage of structural proteins during assembly of the head of bacteriophage T4. Nature 227:680–685

Laroy W, Contreras R, Callewaert N (2006) Glycome mapping on DNA sequencing equipment. Nat Protoc 1:397–405

Lee KJ, Jung JH, Lee JM, So Y, Kwon O, Callewaert N, Kang HA, Ko K, Oh DB (2009) High-throughput quantitative analysis of plant N-glycan using a DNA sequencer. Biochem Biophys Res Commun 380:223–229

Lerouge P, Marion CM, Rayon C, Fischette-Lainé AC, Gomord V, Faye L (1998) N-Glycoprotein biosynthesis in plants: recent developments and future trends. Plant Mol Biol 38:31–48

Liebman MA, Roche MI, Williams BR, Kim J, Pageau SC, Sharon J (2007) Antibody treatment of human tumor xenografts elicits active anti-tumor immunity in nude mice. Immunol Lett 114:16–22

Linnenbach AJ, Wojcierowski J, Wu SA, Pyrc JJ, Ross AH, Dietzschold B, Speicher D, Koprowski H (1989) Sequence investigation of the major gastrointestinal tumor-associated antigen gene family, GA733. Proc Natl Acad Sci USA 86:27–31

Ma JK, Hikmat BY, Wycoff K, Vine ND, Chargelegue D, Yu L, Hein MB, Lehner T (1998) Characterization of a recombinant plant monoclonal secretory antibody and preventive immunotherapy in humans. Nat Med 4:601–606

Martı′nez CA, Giulietti AM, Talou JR (2011) Expression of a KDEL-tagged dengue virus protein in cell suspension cultures of Nicotiana tabacum and Morinda citrifolia. Plant Cell Tiss Organ Cult 107:91–100

Pagny S, Bouissonnie F, Sarkar M, Follet-Gueye ML, Driouich A, Schachter H, Faye L, Gomord V (2003) Structural requirements for Arabidopsis β1,2-xylosyltransferase activity and targeting to the Golgi. Plant J 33:189–203

Petruccelli S, Otegui MS, Lareu F, Dinh OT, Fitchette AC, Circosta A, Rumbo M, Bardor M, Carcamo R, Gomord V, Beachy RN (2006) A KDEL-tagged monoclonal antibody is efficiently retained in the endoplasmic reticulum in leaves, but is both partially secreted and sorted to protein storage vacuoles in seeds. Plant Biotechnol J 4:511–527

Pires AS, Rosa S, Castanheira S, Fevereiro P, Abranches R (2012) Expression of a recombinant human erythropoietin in suspension cell cultures of Arabidopsis, tobacco and Medicago. Plant Cell, Tissue Organ Cult. doi:10.1007/s11240-012-0141-x

Schillberg S, Fischer R, Eman NS (2003) Molecular farming of recombinant antibodies in plants. Cell Mol Life Sci 60:433–445

Sharp JM, Doran PM (2001) Characterization of monoclonal antibody fragments produced by plant cells. Biotechnol Bioeng 73:338–347

Sriraman R, Bardor M, Sack M, Vaquero C, Faye L, Fischer R, Finnern R, Lerouge P (2004) Recombinant anti-hCG antibodies retained in the endoplasmic reticulum of transformed plants lack core-xylose and core-alpha(1,3)-fucose residues. Plant Biotechnol J 2:279–287

Stoger E, Sack M, Fischer R, Christou P (2002) Plantibodies: applications, advantages and bottlenecks. Curr Opin Biotechnol 13:161–166

Strassburg CP, Kasai Y, Seng BA, Miniou P, Zaloudik J, Herlyn D, Koprowski H, Linnenbach AJ (1992) Baculovirus recombinant expressing a secreted form of a transmembrane carcinoma-associated antigen. Cancer Res 52:815–821

Tacket CO, Taylor RK, Losonsky G, Lim Y, Nataro JP, Kaper JB, Levine MM (1998) Investigation of the roles of toxin-coregulated pili and mannose-sensitive hemagglutinin pili in the pathogenesis of Vibrio cholerae O139 infection. Infect Immun 66:692–695

Tekoah Y, Ko K, Koprowski H, Harvey DJ, Wormald MR, Dwek RA, Rudd PM (2004) Controlled glycosylation of therapeutic antibodies in plants. Arch Biochem Biophy 426:266–278

Triguero A, Cabrera G, Cremata JA, Yuen CT, Wheeler J, Ramírez NI (2005) Plant-derived mouse IgG monoclonal antibody fused to KDEL endoplasmic reticulum-retention signal is N-glycosylated homogeneously throughout the plant with mostly high-mannose-type N-glycans. Plant Biotechnol J 3:449–457

Umana P, Jean-Mairet J, Moudry R, Amstutz H, Bailey JE (1999) Engineered glycoforms of an antineuroblastoma IgG1 with optimized antibody-dependent cellular cytotoxic activity. Nat Biotechnol 17:176–180

Van Ree R, Cabanes-Macheteau M, Akkerdaas J, Milazzo JP, Loutelier-Bourhis C, Rayon C, Villalba M, Koppelman S, Aalberse R, Rodriguez R, Faye L, Lerouge P (2000) β(1,2)-xylose and α(1,3)-fucose residues have a strong contribution in IgE binding to plant glycoallergens. J Biol Chem 275:11451–11458

Wilson IBH, Altmann F (1998) Structural analysis of N-glycans from allergenic grass, ragweed and tree pollens: core α1,3-linked fucose and xylose present in all pollens examined. Glycoconj J 15:1055–1070

Zeitlin L, Olmsted SS, Moench TR, Co MS, Martinell BJ, Paradkar VM, Russell DR, Queen C, Cone RA, Whaley KJ (1998) A humanized monoclonal antibody produced in transgenic plants for immunoprotection of the vagina against genital herpes. Nat Biotechnol 16:1361–1364
Acknowledgments
The authors wish to thank Dr. Hilary Koprowski for suggestions and expertise. This research was supported by a grant from the Korean Rural Development Administration (Code# PJ007492); Korea Institute of Planning and Evalution for Technology of Food, Agriculture, Forestry and Fisheries (iPET-Code# 111096-03-1-SB010); the Next-Generation BioGreen 21 Program (SSAC, grant# PJ00906), Rural Development Administration.
About this article
Cite this article
So, Y., Lee, KJ., Kim, DS. et al. Glycomodification and characterization of anti-colorectal cancer immunotherapeutic monoclonal antibodies in transgenic tobacco. Plant Cell Tiss Organ Cult 113, 41–49 (2013). https://doi.org/10.1007/s11240-012-0249-z
Received:

Accepted:

Published:

Issue Date:
Keywords
ADCC

Anti-cancer antibody

Glycosylation

Oligomannose

Transgenic plant

Human colorectal carcinoma