Abstract
Somatic embryogenesis in scutella of wheat (Triticum aestivum L.) is a well documented phenomenon and it has been shown through transcriptome analysis that genes involved in antioxidant responses, particularly in glutathione (GSH) biosynthesis, participate in the process. Thus, we investigated the influence of post-transcriptional silencing (PTGS) of the glutathione biosynthesis genes GSH1 and GSH2 on somatic embryogenesis in wheat. We found that PTGS of either of the target genes drastically inhibits callus regeneration and overall efficiency of transformation, in a similar manner as the GSH biosynthetic inhibitor buthionine sulfoximine. Supplementing the medium with glutathione did not overcome the observed low efficiency of wheat transformation. Furthermore, of the small number of obtained transformants, none exhibited altered GSH1 and GSH2 levels of transcription. Thus, it is concluded that GSH is essential for somatic embryogenesis and, as a consequence, it is difficult to regenerate wheat plants with silenced GSH1 and GSH2 genes.
Access options
Buy single article
Instant access to the full article PDF.
USD 39.95
Price includes VAT (USA)
Tax calculation will be finalised during checkout.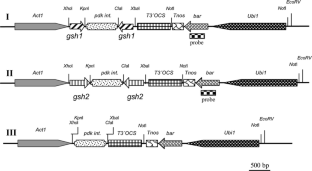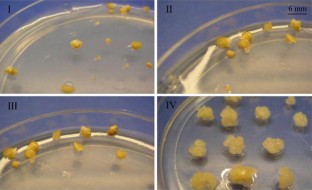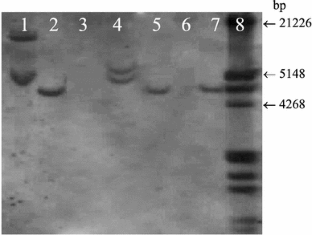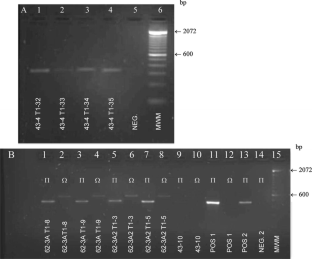 Abbreviations
PTGS:

post-transcriptional gene silencing

GSH:

Glutathione

BSO:

Buthionine sulfoximine

GST:

Glutathione S-transferase

MS:

Murashige and Skoog

2, 4-D:

2,4-Dichlorophenoxyacetic acid

PPT:

DL-Phosphinothricin

PCR:

Polymerase Chain Reaction
References
Ahloowalia BS (1982) Plant regeneration from callus culture in wheat. Crop Sci 22:405–410. doi:10.2135/cropsci1982.0011183X002200020047x

Ball L, Accotto GP, Bechtold U, Creissen G, Funck D, Jimenez A, Kular A, Leyland N, Mejia-Carranza J, Reynolds H (2004) Evidence for a direct link between glutathione biosynthesis and stress defense gene expression in Arabidopsis. Plant Cell 16:2448–2462. doi:10.1105/tpc.104.022608

Barker RF, Idler KB, Thompson DV, Kemp JD (1983) Nucleotide sequence of the T-DNA region from the Agrobacterium tumefaciens octopine Ti plasmid pti15955. Plant Mol Biol 2:335–350. doi:10.1007/BF01578595

Bashandy T, Guilleminot J, Vernoux T, Caparros-Ruiz D, Ljung K, Meyer Y, Reichheld JP (2010) Interplay between the NADP-linked thioredoxin and glutathione systems in Arabidopsis auxin signaling. Plant Cell 22:376–391. doi:10.1105/tpc.109.071225

Cairns NG, Pasternak M, Wachter A, Cobbett CS, Meyer AJ (2006) Maturation of Arabidopsis seeds is dependent on glutathione biosynthesis within the embryo. Plant Physiol 141:446–455. doi:10.1104/pp.106.077982

Christensen A, Sharrock R, Quail P (1992) Maize Poly-Ubiquitin Genes: structure, thermal perturbation of expression and transcript splicing, and promoter activity following transfer to protoplasts by electroporation. Plant Mol Biol 18:675–689

Cobbett CS, May MJ, Howden R, Rolls B (1998) The glutathione-deficient, cadmium-sensitive mutant, cad2-1, of Arabidopsis thaliana is deficient in γ-glutamylcysteine synthetase. Plant J 16:73–78. doi:10.1046/j.1365-313x.1998.00262.x

Dalakouras A, Tzanopoulou M, Tsagris M, Wassenegger M, Kalantidis K (2011) Hairpin transcription does not necessarily lead to efficient triggering of the RNAi pathway. Transgenic Res 20:293–304

Davletova S, Mészáros T, Miskolczi P, Oberschall A, Török K, Magyar Z, Dudits D, Deák M (2001) Auxin and heat shock activation of a novel member of the calmodulin like domain protein kinase gene family in cultured alfalfa cells. J Exp Bot 52:215–221. doi:10.1093/jexbot/52.355.215

Dellaporta S, Wood J, Hicks J (1983) A plant DNA minipreparation: version 2. Plant Mol Biol Rep 1:19–22. doi:10.1007/BF02712670

Depicker A, Stachel S, Dhaese P, Zambryski P, Goodman H (1982) Nopaline synthase: transcript mapping and DNA sequence. J Mol Appl Genet 1:561–573

Diaz Vivancos P, Dong Y, Ziegler K, Markovic J, Pallardó F, Pellny T, Verrier P, Foyer C (2010a) Recruitment of glutathione into the nucleus during cell proliferation adjusts whole-cell redox homeostasis in Arabidopsis thaliana and lowers the oxidative defence shield. Plant J 64:825–838. doi:10.1111/j.1365-313X.2010.04371.x

Diaz Vivancos P, Wolff T, Markovic J, Pallardó F, Foyer C (2010b) A nuclear glutathione cycle within the cell cycle. Biochem J 431:169–178. doi:10.1042/BJ20100409

Dron M, Clouse S, Dixon R, Lawton M, Lamb C (1988) Glutathione and fungal elicitor regulation of a plant defense gene promoter in electroporated protoplasts. Proc. Natl. Acad. Sci. USA 85:6738–6742

Foyer CH, Noctor G (2011) Ascorbate and glutathione: the heart of the redox hub. Plant Physiol 155:2–18. doi:10.1104/pp.110.167569

Galland R, Randoux B, Vasseur J, Hilbert J (2001) A glutathione s-transferase cDNA identified by Mrna diferential display is upregulated during somatic embryogenesis in Cichorium. Biochim Biophys Acta 1522:212–216. doi:10.1016/S0167-4781(01)00314-1

He DG, Yang YM, Bertram J, Scott KJ (1990) The histological development of the regenerative tissue derived from cultured immature embryos of wheat (Triticum aestivum L.). Plant Sci 68:103–111. doi:10.1016/0168-9452(90)90158-K

Hiratake J, Irie T, Tokutake N, Oda J (2002) Recognition of a cysteine sustrate by E. coli γ-glutamylcysteine synthetase probed by sulfoximine-based transition-state analogue inhibitors. Biosci Biotechnol Biochem 66:1500–1514. doi:10.1271/bbb.66.1500

Howden R, Andersen C, Goldsbrough P, Cobbett C (1995) A Cadmium-sensitive, glutathione-deficient mutant of Arabidopsis thaliana. Plant Physiol 107:1067–1073. doi:10.1104/pp.107.4.1067

Kitamiya E, Suzuki S, Sano T, Nagata T (2000) Isolation of two genes that were induced upon the initiation of somatic embryogenesis on carrot hypocotyls by high concentrations of 2,4-D. Plant Cell Rep 19:551–557. doi:10.1007/s002990050772

Koprivova A, Mugford ST, Kopriva S (2010) Arabidopsis root growth dependence on glutathione is linked to auxin transport. Plant Cell Rep 29:1157–1167. doi:10.1007/s00299-010-0902-0

McEllroy D, Rothenberg M, Reece K, Wu R (1990) Characterization of the rice (Oryza sativa) Actin gene family. Plant Mol Biol 15:257–268. doi:10.1007/BF00036912

Murashige T, Skoog F (1962) A revised medium for rapid growth and bioassays with tobacco tissue cultures. Physiol Plant 15:473–497. doi:10.1111/j.1399-3054.1962.tb08052.x

Namasivayam P (2007) Acquisition of embryogenic competence during somatic embryogenesis. Plant Cell Tiss Org Cult 90:1–8. doi:10.1007/s11240-007-9249-9

Nehra NS, Chibbar RN, Leung N, Caswell K, Mallard C, Steinhauer L, Baga M, Kartha KK (1994) Self-fertile transgenic wheat plants regenerated from isolated scutellar tissues following microprojectile bombardment with two distinct gene constructs. Plant J 5:285–297. doi:10.1046/j.1365-313X.1994.05020285.x

Noctor G, Mhamdi A, Chaouch S, Han YI, Neukermans J, Marquez-Garcia B, Queval G, Foyer C (2012) Glutathione in plants: an integrated overview. Plant Cell Environ 35:454–484. doi:10.1111/j.1365-3040.2011.02400.x

Ozias-akins P, Vasil I (1982) Plant regeneration from cultured immature embryos and inflorescences Triticum aestivum L. (wheat): evidence for somatic embryogenesis. Protoplasma 110:95–105. doi:10.1007/BF01281535

Pasternak T, Potters G, Caubergs R, Jansen M (2005) Complementary interactions between oxidative stress and auxins control plant growth responses at plant, organ, and cellular level. J Exp Bot 56:1991–2001. doi:10.1093/jxb/eri196

Pellegrineschi A, Fennell S, McLean S, Brito RM, Velázquez L, Salgado M, Olivares JJ, Hernandez R, Hoisinngton D (1999) Wheat transformation in CIMMYT: a description of a service laboratory. In Vitro Cell Dev Biol 35:43–49. doi:10.1007/s11626-999-0042-4

Pellegrineschi A, Noguera LM, Skovmand B, Brito RM, Velazquez L, Salgado MM, Hernandez R, Warburton M, Hoisington D (2002) Identification of highly transformable wheat genotypes for mass production of fertile transgenic plants. Genome 45:421–430. doi:10.1139/g01-154

Pfaffl M, Horgan G, Dempfle L (2002) Relative expression software tool (REST) for group-wise comparison and statistical analysis of relative expression results in real-time PCR. Nucleic Acids Res 30:e36. doi:10.1093/nar/30.9.e36

Reichheld JP, Khafif M, Riondet C, Droux M, Bonnard G, Meyer Y (2007) Inactivation of thioredoxin reductases reveals a complex interplay between thioredoxin and glutathione pathways in Arabidopsis development. Plant Cell 19:1851–1865. doi:10.1105/tpc.107.050849

Rosche E, Chitty J, Westhoff P, Taylor WC (1998) Analysis of promoter activity for the gene encoding pyruvate orthophosphate dikinase in stably transformed C4 Flaveria species. Plant Physiol 117:821–829. doi:10.1104/pp.117.3.821

Rouhier N, Lemaire SD, Jacquot JP (2008) The role of glutathione in photosynthetic organisms: emerging functions for glutaredoxins and glutathionylation. Ann Rev Plant Biol 59:143–166

Saghai-Maroof MA, Soliman KM, Jorgensen RA, Allard RW (1984) Ribosomal DNA spacer length polymorphism in barley: Mendelian inheritance, chromosomal location and population dynamics. Proc Natl Acad Sci USA 81:8014–8018

Sanità di Toppi L, Lambardi M, Pazzagli L, Cappugi G, Durante M, Gabbrielli R (1998) Response to cadmium in carrot in vitro plants and cell suspension cultures. Plant Sci 137:119–129. doi:10.1016/S0168-9452(98)00099-5

Singla B, Tyagi AK, Khurana JP, Khurana P (2007) Analysis of expression profile of selected genes expressed during auxin-induced somatic embryogenesis in leaf base system of wheat. Plant Mol Biol 65:677–692. doi:10.1007/s11103-007-9234-z

Stephenson T, McIntyre C, Collet C, Xue G (2007) Genome-wide identification and expression analysis of the NF-Y family of transcription factors in Triticum aestivum. Plant Mol Biol 65:77–92. doi:10.1007/s11103-007-9200-9

Sun L, Wu Y, Su S, Liu H, Yang G, Li S, Shan X, Yuan Y (2012) Differential gene expression during somatic embryogenesis in the maize (Zea mays L.) inbred line H99. Plant Cell Tiss Org Cult 109:271–286. doi:10.1007/s11240-011-0093-6

Thompson C, Movva N, Tizard R, Crameri R, Davies J, Lauwereys M, Botterman J (1987) Characterization of the herbicide-resistance gene bar from Streptomyces hygroscopicus. EMBO J 6:2519–2523

Tyburski J, Tretyn A (2010) Glutathione and glutathione disulfide affect adventitious root formation and growth in tomato seedling cuttings. Acta Physiol Plant 32:411–417. doi:10.1007/s11738-009-0418-9

Vain P, Keen N, Murillo J, Rathus C, Nemes C, Finer J (1993) Development of the particle inflow gun. Plant Cell Tiss Org Cult 33:237–246. doi:10.1007/BF02319007

Vernoux T, Wilson R, Seeley K, Reichheld J, Muroy S, Brown S, Maughan S, Cobbett C, Van Montagu M, Inzé D (2000) The root meristemless/cadmium sensitive gene defines a glutathione: dependent pathway involved in initiation and maintenance of cell division during postembryonic root development. Plant Cell 12:97–110. doi:10.1105/tpc.12.1.97

Wesley SV, Helliwell CA, Smith NA, Wang M, Rouse DT, Liu Q, Gooding PS, Singh SP, Abbott D, Stoutjesdijk PA, Robinson SP, Gleave AP, Green AG, Waterhouse PM (2001) Construct design for efficient, effective and high-throughput gene silencing in plants. Plant J 27:581–590. doi:10.1046/j.1365-313X.2001.01105.x

Xiang C, Oliver D (1998) Glutathione metabolic genes coordinately respond to heavy metals and jasmonic acid in Arabidopsis. Plant Cell 10:1539–1550. doi:10.1105/tpc.10.9.1539

Xiang C, Werner BL, Christensen EM, Oliver DJ (2001) The biological functions of glutathione revisited in Arabidopsis transgenic plants with altered glutathione levels. Plant Physiol 126:564–574. doi:10.1104/pp.126.2.564

Yanagida M, Mino M, Iwabuchi M, Ogawa K (2004) Reduced glutathione is a novel regulator of vernalization-induced bolting in the rosette plant Eustoma grandiflorum. Plant Cell Physiol 45:129–137. doi:10.1093/pcp/pch030
Acknowledgments
The authors wish to thank Dr. C. Foyer for the critical reading of this manuscript. This work was funded by project AEGR 3425 from Instituto Nacional de Tecnología Agropecuaria (INTA), Argentina.
About this article
Cite this article
Bossio, E., Díaz Paleo, A., del Vas, M. et al. Silencing of the glutathione biosynthetic pathway inhibits somatic embryogenesis in wheat. Plant Cell Tiss Organ Cult 112, 239–248 (2013). https://doi.org/10.1007/s11240-012-0228-4
Received:

Accepted:

Published:

Issue Date:
Keywords
Antioxidant response

Glutathione biosynthetic pathway

Post transcriptional gene silencing

Somatic embryogenesis

ROS mediators of somatic embryogenesis

Wheat