Abstract
Recently, the use of plants for the production of recombinant proteins has been well demonstrated with promising outcomes. In this study, an efficient Nicotiana tabacum L. cv. Bright Yellow 2 (BY-2) cells system expressing the ectodomain of hemagglutinin-neuraminidase (eHN) protein from Newcastle disease virus (NDV) strain AF2240 was established. Transgenic tobacco BY-2 cell cultures expressing the immunogenic eHN protein were generated and the translation efficiency of eHN protein was enhanced using the 5′-untranslated region of Nicotiana tabacum alcohol dehydrogenase gene (NtADH 5′-UTR) under the control of strong cauliflower mosaic virus (CaMV 35S) promoter. Transgenic lines verified by real-time PCR showed high level of eHN mRNA transcripts and immunoblotting confirmed the presence of 66 kD eHN protein. The eHN protein was stably produced in an average of 0.2–0.4 % total soluble protein. Green fluorescent protein-tagged eHN protein was expressed and localized at the cytosol of BY-2 cell. All mice receiving purified eHN protein from transgenic tobacco BY-2 cells produced specific anti-NDV antibodies. We concluded that plant made eHN elicit immune response and can serve as candidate vaccine against NDV.
Access options
Buy single article
Instant access to the full article PDF.
US$ 39.95
Tax calculation will be finalised during checkout.
Subscribe to journal
Immediate online access to all issues from 2019. Subscription will auto renew annually.
US$ 119
Tax calculation will be finalised during checkout.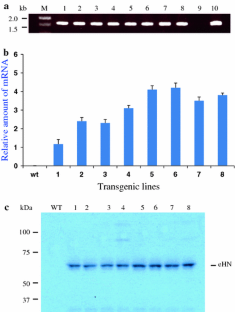 Abbreviations
eHN:

Ectodomain of hemagglutinin-neuraminidase

GFP:

Green fluorescent protein

LS:

Linsmaier and Skoog

NtADH 5′-UTR:

5′-Untranslated region of Nicotiana tabacum alcohol dehydrogenase gene

NDV:

Newcastle disease virus
References
Berinstein A, Rovere CV, Asurmendi S, Gómez E, Zanetti F, Zabal O, Tozzini A, Grand DC, Toboga O, Calmante G, Barrios H, Hopp E, Carillo E (2005) Mucosal and systemic immunization elicited by Newcastle disease virus (NDV) transgenic plants as antigens. Vaccine 23:5583–5589

Faye L, Boulaflous A, Benchabane M, Gomord V, Michaud D (2005) Protein modifications in plant secretory pathway: current status and practical implications in molecular pharming. Vaccine 23:1770–1778

Girard L, Bastin M, Courtois D (2004) Expression of the human milk protein sCD14 in tobacco plant cell culture. Plant Cell Tissue Organ Cult 78:253–260

Gómez E, Zoth SC, Asurmendi S, Rovere CV, Berinstein A (2009) Expression of hemagglutinin-neuraminidase glycoprotein of Newcastle disease virus in agroinfiltrated Nicotiana benthamiana plants. J Biotechnol 144:337–340

Haasen D, Kohler C, Neuhaus G, Merkle T (1999) Nuclear export of proteins in plants: AtXPO1 is the export receptor for leucine-rich nuclear export signals in Arabidopsis thaliana. Plant J 20:695–705

Hahn BS, Jeon IS, Jung YJ, Kim JB, Parl JS, Ha SH, Kim KH, Kim HM, Yang JS, Kim YH (2007) Expression of hemagglutinin-neuraminidase protein of Newcastle disease virus in transgenic tobacco. Plant Biotechnol Rep 1:85–92

Ko K, Koprowski H (2005) Plant biopharming of monoclonal antibodies. Virus Res 111:93–100

Martínez CA, Giulietti AM, Rodríguez Talou J (2011) Expression of a KDEL-tagged dengue virus protein in cell suspension cultures of Nicotiana tabacum and Morinda citrifolia. Plant Cell Tissue Organ Cult 107:91–100

Matsui T, Hori M, Shizawa N, Nakayama H, Shinmyo A, Yoshida K (2006) High-efficiency secretory production of peroxidase C1a using vesicular transport engineering in transgenic tobacco. J Biosci Bioeng 102:102–109

Matsui T, Asao H, Ki M, Sawada K, Kato K (2009) Transgenic lettuce producing a candidate protein for vaccine against edema disease. Biosci Biotechnol Biochem 73:1628–1634

Nakayama H, Yoshida K, Ono H, Murooka Y, Shinmyo A (2000) Ectoine, the compatible solute of Halomonas elongata, confers hyperosmotic tolerance in cultured tobacco cells. Plant Physiol 122:1239–1246

Obembe OO, Popoola JO, Leelavathi S, Reddy SV (2010) Advances in plant molecular farming. Biotechnol Adv 29:210–222

Ong HKA, Ali AM, Omar AR, Yusoff K (2000) Cloning and expression of the HN gene from velogenic viscerotropic Newcastle disease virus strain AF2240 in Sf9 insect cells. Cytotechnology 32:243–251

Pires AS, Rosa S, Castanheira S, Fevereiro P, Abranches R (2012) Expression of a recombinant human erythropoietin in suspension cultures of Arabidopsis, tobacco and Medicago. Plant Cell Tissue Organ Cult. doi:10.1007/s11240-012-0141-x

Satoh J, Kato K, Shinmyo A (2004) The 5′-untranslated region of the tobacco alcohol dehydrogenase gene functions as an effective translational enhancer in plant. J Biosci Bioeng 98:1–8

Soria-Guerra RE, Moreno-Fierros L, Roslaes-Mendoza S (2011) Two decades of plant-based candidates vaccine: a review of the chimeric protein approaches. Plant Cell Rep 30:1367–1382

Sorrentino A, Schillberg S, Fisher R, Rao R, Porta R, Mariniello L (2005) Recombinant human tissue transglutaminase produced into tobacco suspension cell cultures is active and recognizes autoantibodies in the serum of coeliac patients. Int J Biochem Cell Biol 37:842–851

Sun QY, Ding LW, Lomomossoff GP, Sun YB, Luo M, Li CQ, Jiang L, Xu ZF (2011) Improved expression and purification of recombinant human serum albumin from transgenic tobacco suspension culture. J Biotechnol 155:164–172

Urreta I, Oyanguren I, Castanón S (2011) Tobacco as biofactory for biologically active hPL production: a human hormone with the potential applications in type-1 diabetes. Transgenic Res 20:721–733

Wong SK, Tan WS, Omar AR, Tan CS, Yusoff K (2009) Immunogenic properties of recombinant ectodomian of Newcastle disease virus hemagglutinin-neuraminidase protein expressed in Escherichia coli. Act Virol 53:35–41

Yusoff K, Tan WS (2001) Newcastle disease virus: macromolecules and opportunities. Avian Pathol 30:439–455
Acknowledgments
Authors are thankful to the members of plant biotechnology and virology laboratories in UPM for their technical support.
About this article
Cite this article
Lai, K.S., Yusoff, K. & Mahmood, M. Functional ectodomain of the hemagglutinin-neuraminidase protein is expressed in transgenic tobacco cells as a candidate vaccine against Newcastle disease virus. Plant Cell Tiss Organ Cult 112, 117–121 (2013). https://doi.org/10.1007/s11240-012-0214-x
Received:

Accepted:

Published:

Issue Date:
Keywords
Hemagglutinin-neuraminidase

Newcastle disease virus

NtADH 5′-UTR

Plant-based vaccine