Abstract
Camelina [Camelina sativa (L.) Crantz], a member of the Brassicaceae family, has a unique oil profile that has potential both for biofuels and as a food crop. It is essential to have a doubled haploidy protocol in order to enhance breeding of this crop for prairie conditions as well as improve the yield and quality characteristics. Microspore-derived embryos have been produced from Camelina sativa. Buds 1–3 mm in length were selected for culture. The microspores were isolated and purified in full-strength B5 extraction medium and cultured in NLN medium with 12.5% sucrose and 12.5% polyethylene glycol 4000 (PEG) without glutamine, at a density of 10,000 microspores per mL. Glutamine was added to the cultures 72 h after extraction to give a final concentration of 0.8 g/L. The microspore cultures were maintained at 24°C in the dark. After 28 days embryos were observed and these were regenerated to plants and selfed seed was produced. The highest embryogenic frequency achieved was 38 microspore-derived embryos from 100,000 microspores.
Access options
Buy single article
Instant access to the full article PDF.
US$ 39.95
Tax calculation will be finalised during checkout.
Subscribe to journal
Immediate online access to all issues from 2019. Subscription will auto renew annually.
US$ 119
Tax calculation will be finalised during checkout.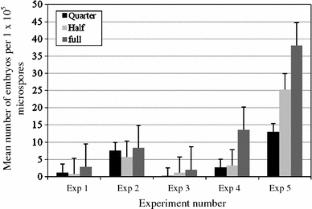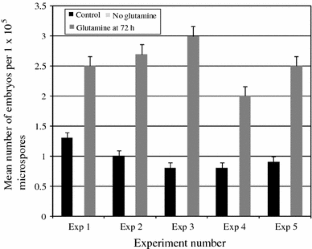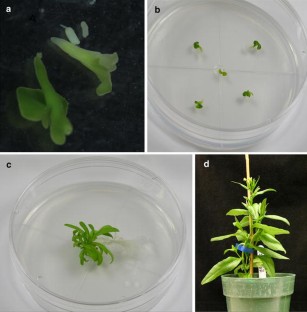 References
Barro F, Marti A (1999) Response of different genotypes of Brassica carinata to microspore culture. Plant Breed 118:79–81

Buchsenschutz-Nothdurft A, Schuster A, Friedt W (1998) Breeding for modified fatty acid composition via experimental mutagenesis in Camelina sativa (L.) Crtz. Ind Crop Prod 7:291–295

Chu CC (1978) The N6 medium and its applications to anther culture of cereal crops. In: Proc. Sym. Plant Tissue Culture. Science Press, Beijing, pp 45–50

Conn KL, Tewari JP, Dihiya JS (1988) Resistance to Alternaria brassicae and phytoalexin-elicitation in rapeseed and other crucifers. Plant Sci 56:21–25

Fan Z, Armstrong KC, Keller WA (1988) Development of microspores in vivo and in vitro in Brassica napus L. Protoplasma 147:191–199

Ferrie AMR (2003) Microspore culture of Brassica species. In: Maluszynski M, Kasha KJ, Forster BP, Szarejko I (eds) Doubled Haploid Production in Crop Plants. Kluwer Academic Publishers, Dordrecht, pp 205–215

Ferrie AMR, Keller WA (2007) Optimization of methods for using polyethylene glycol as a non-permeating osmoticum for the induction of microspore embryogenesis in the Brassicaceae. In Vitro Cell Dev Biol Plant 43:348–355

Ferrie AMR, Mollers C (2011) Haploids and doubled haploids in Brassica spp. for genetic and genomic research. Plant Cell Tiss Organ Cult 104:375–386

Ferrie AMR, Epp DJ, Keller WA (1995) Evaluation of Brassica rapa L. genotypes for microspore culture response and identification of a highly embryogenic line. Plant Cell Rep 14:580–584

Gamborg OL, Miller RA, Ojima K (1968) Nutrient requirements of suspension cultures of soybean root cells. Exp Cell Res 50:151–158

Gugel RK, Falk KC (2006) Agronomic and seed quality evaluation of Camelina sativa in western Canada. Can J Plant Sci 86:1047–1058

Hansen LN (1998) Intertribal somatic hybridization between rapid cycling Brassica oleracea L. and Camelina sativa (L.) Crantz. Euphytica 104:173–179

Jiang J, Zhao X, Tian W, Li T, Wang Y (2009) Intertribal somatic hybrids between Brassica napus and Camelina sativa with high linolenic acid content. Plant Cell Tiss Organ Cult 99:91–95

Kernan Z, Ferrie AMR (2006) Microspore embryogenesis and the development of a double haploidy protocol for cow cockle (Saponaria vaccaria). Plant Cell Rep 25:274–280

Kuginuki Y, Miyajima T, Masuda H, Hida K, Hirai M (1999) Highly regenerative cultivars in microspore culture in Brassica oleracea L. var. capitata. Breed Sci 49:251–256

Kuhlmann U, Foroughi-Wehr B (1989) Production of doubled haploid lines in frequencies sufficient for barley breeding programs. Plant Cell Rep 8:78–81

Kuvshinov V, Kanerva A, Koivu K, Pehu E, Kuvshinova S (2002) A transformation system in Camelina sativa. WO 02/38779

Kyo M, Harada H (1985) Studies on conditions for cell division and embryogenesis in isolated pollen culture in Nicotiana rustica. Plant Physiol 79:90–94

Kyo M, Harada H (1986) Control of the developmental pathway of tobacco pollen in vitro. Planta 168:427–432

Lichter R (1982) Induction of haploid plants from isolated pollen of Brassica napus. Z Pflanzenphysiol 105:427–434

Lionneton E, Beuret W, Delaitre C, Ochatt S, Rancillac M (2001) Improved microspore culture and doubled haploid plant regeneration in the brown condiment mustard (Brassica juncea). Plant Cell Rep 20:126–130

Narasimhula SB, Kirti PB, Bhatt SR, Prakash S, Chopra VL (1994) Intergeneric protoplast fusion between Brassica carinata and Camelina sativa. Plant Cell Rep 13:657–660

Nitsch JP, Nitsch C (1969) Haploid plants from pollen grains. Science 163:85–87

Phippen C, Ockendon DJ (1990) Genotype, plant, bud size and media factors affecting anther culture of cauliflowers (Brassica oleracea var. botrytis). Theor Appl Genet 79:33–38

Salisbury PA (1987) Blackleg resistance in weedy crucifers. Cruciferae Newsl 12:90

Schuster A, Friedt W (1998) Glucosinolate content and composition as parameters of quality of Camelina seed. Ind Crop Prod 7:297–302

Sigareva MA, Earle ED (1999) Camalexin induction in intertribal somatic hybrids between Camelina sativa and rapid-cycling Brassica oleracea. Theor Appl Genet 98:164–170

Tattersall A, Millam S (1999) Establishment and in vitro regeneration studies of the potential oil crop species Camelina sativa. Plant Cell Tiss Organ Cult 55:147–149

Thomas WTB, Forster BP, Gertsson B (2003) Doubled Haploids in Breeding. In: Maluszynski M, Kasha KJ, Forster BP, Szarejko I (eds) Doubled Haploid Production in Crop Plants. Kluwer Academic Publishers, Dordrecht, pp 337–349

Touraev A, Heberle-Bors E (2003) Anther and microspore culture in tobacco. In: Maluszynski M, Kasha KJ, Forster BP, Szarejko I (eds) Doubled Haploid Production in Crop Plants. Kluwer Academic Publishers, Dordrecht, pp 223–228

Vollmann J, Damboeck A, Baumgartner S, Ruckenbauer P (1997) Selection of induced mutants with improved linolenic content in camelina. Fett/Lipid 10:357–361

Zubr J (1997) Oil-seed crop: Camelina sativa. Ind Crop Prod 6:113–119
About this article
Cite this article
Ferrie, A.M.R., Bethune, T.D. A microspore embryogenesis protocol for Camelina sativa, a multi-use crop. Plant Cell Tiss Organ Cult 106, 495–501 (2011). https://doi.org/10.1007/s11240-011-9948-0
Received:

Accepted:

Published:

Issue Date:
Keywords
Camelina sativa

Doubled haploidy

Haploids

Microspore culture

Microspore embryogenesis