Abstract
The physiological and molecular processes controlling zygotic and somatic embryo development in angiosperms are mediated by a hierarchically organized program of gene expression. Despite the overwhelming information available about the molecular control of the embryogenic processes in angiosperms, little is known about these processes in gymnosperms. Here we describe the cloning and characterization of the expression pattern of the Araucaria angustifolia putative homolog of a SOMATIC EMBRYOGENESIS RECEPTOR-LIKE KINASE (SERK) gene family member, designated as AaSERK1. The Araucaria AaSERK1 gene encodes a leucine-rich repeat receptor-like kinase showing significant similarity to angiosperm homologs of SERK1, known to be involved in early somatic and zygotic embryogenesis. Accordingly, RT-PCR results showed that AaSERK1 is preferentially expressed in Araucaria embryogenic cell cultures. Additionally, in situ hybridization results showed that AaSERK1 transcripts initially accumulate in groups of cells at the periphery of the embryogenic calli and then are restricted to the developing embryo proper. Our results indicate that AaSERK1 might have a role during somatic embryogenesis in Araucaria, suggesting a potentially conserved mechanism, involving SERK-related leucine-rich repeat receptor-like kinases, in the embryogenic processes among all seed plants.
Access options
Buy single article
Instant access to the full article PDF.
US$ 39.95
Tax calculation will be finalised during checkout.
Subscribe to journal
Immediate online access to all issues from 2019. Subscription will auto renew annually.
US$ 119
Tax calculation will be finalised during checkout.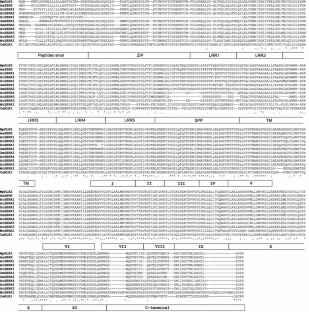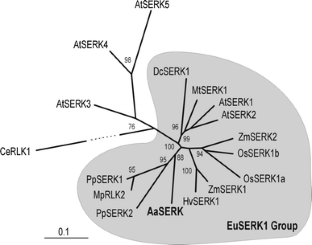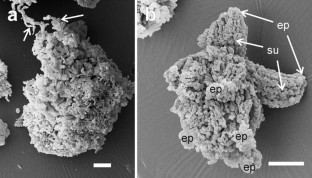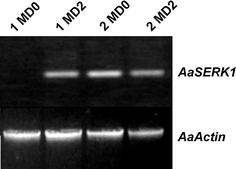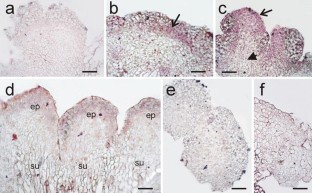 References
Altschul SF, Madden TL, Schäffer AA, Zhang J, Zhang Z, Miller W, Lipman DJ (1997) Gapped BLAST and PSI-BLAST: a new generation of protein database search programs. Nucleic Acids Res 25:3389–3402

Arquea F, Arce-Johnson P (2008) Identification of genes expressed during early somatic embryogenesis in Pinus radiata. Plant Physiol Biochem 46:559–568

Baudino S, Hansen S, Brettshneider R, Hecht VFG, Dresselhaus T, Lors H, Dumas C, Rogowsky PM (2001) Molecular characterization of two novel maiz LRR receptor-like kinase, which belong to the SERK gene family. Planta 213:1–10

Benková E, Ivanchenko MG, Friml J, Shishkova S, Dubrovsky JG (2009) A morphogenetic trigger: is there an emerging concept in plant developmental biology? Trends Plant Sci 14:189–193

Bowe LM, Gwénaële C, dePamphilis CW (2000) Phylogeny of seed plants based on all three genomic compartments: extant gymnosperms are monophyletic and Gnetales' closest relatives are conifers. Proc Natl Acad Sci USA 97:4092–4097

Cairney J, Pullman J (2007) The cellular and molecular biology of conifer embryogenesis. New Phytol 176:511–536

Cairney J, Xu N, Mackay J, Pullman J (2000) Transcript profiling: a tool to assess the development of conifer embryos. In Vitro Cel Dev Biol Plant 36:155–162

Cairney J, Zheng L, Cowels A et al (2006) Expressed sequence tags from loblolly pine embryos reveal similarities with angiosperm embryogenesis. Plant Mol Biol 62:485–501

Carman JG (1990) Embryogenic cells in plant tissue cultures: occurrence and behaviour. In vitro Cel Dev Biol Plant 26:746–753

Cerezo S, Mercado JA, Pliego-Alfaro F (2011) An efficient regeneration system via somatic embryogenesis in olive. Plant Cell Tiss Organ Cult 106:337–344

Chalupa V (1985) Somatic embryogenesis and plant regeneration from cultured immature and mature embryos of Picea abies (L.) Karst. Comm Inst For Cechosloveniae 14:57–63

Chandler J, Nardamann J, Werr W (2008) Plant development revolves around axes. Trends Plant Sci 13:78–84

De Silva V, Bostwick D, Burns KL et al (2008) Isolation and characterization of a molecule stimulatory to growth of somatic embryos from early stage female gametophyte tissue of loblolly pine. Plant Cell Rep 27:633–646

Devi BC, Narmathabai V (2011) Somatic embryogenesis in the medicinal legume Desmodium motorium (Houtt.) Merr. Plant Cell Tiss Organ Cult 106:409–418

Dornelas MC, Van Lammeren AA, Kreis M (2000) Arabidopsis thaliana SHAGGY-related protein kinases (AtSK11 and 12) function in perianth and gynoecium development. Plant J 21:419–429

Ewing B, Hillier L, Wendl MC, Green P (1998) Base-calling of automated sequencer traces using phred. I. Accuracy assessment. Genome Res 8:175–185

Finn RD, Tate J, Mistry J, Coggill PC, Sammut SJ, Hotz HR, Ceric G, Forslund K, Eddy SR, Sonnhammer EL, Bateman A (2008) The Pfam protein families database. Nucleic Acids Res 36(Database issue):D281–D288

Fischerova L, Fischer L, Vondrakova Z, Vagner M (2008) Expression of the gene encoding transcription factor PaVP1 differs in Picea abies embryogenic lines depending on their ability to develop somatic embryos. Plant Cell Rep 24:435–441

Guerra MP, Reis MS, Scheinede L, Silveira V (1999) Inventário dos Recursos Florestais da Mata Atlântica—Araucaria angustifolia (Bert.) O. Kuntze. Conselho Nacional da Reserva da Biosfera da Mata Atlântica, São Paulo

Gupta PK, Pullman G (1991) Method for reproducing coniferous plants by somatic embryogenesis using abscisic acid and osmotic potential variation, U.S. Patent No. 5,036,007

Hecht V, Vielle-Calzada JP, Hartog MV et al (2001) The Arabidopsis SOMATIC EMBRYOGENESIS RECEPTOR KINASE 1 gene is expressed in developing ovules and embryos and enhances embryogenic competence in culture. Plant Physiol 127:803–816

Heckel T, Werner K, Sheridan WF, Dumas C, Rogowsky PM (1999) Novel phenotypes and developmental arrest in early embryo specific mutants of maize. Planta 210:1–8

Hu H, Xiong L, Yang Y (2005) Rice SERK1 gene positively regulates somatic embryogenesis of cultured cell and host defense response against fungal infection. Planta 222:107–117

Huang X, Madan A (1999) CAP3: A DNA sequence assembly program. Genome Res 9:868–877

Jenik PD, Gillmor CS, Lukowitz W (2007) Embryonic patterning in Arabidopsis thaliana. Ann Rev Cel Dev Biol 23:207–236

Kong L, von Aderkas P (2011) A novel method of cryopreservation without a cryoprotectant for immature somatic embryos of conifer. Plant Cell Tiss Organ Cult 106:115–125

Larsson E, Sitbon F, Ljung K, Von Arnold S (2007) Inhibited polar auxin transport results in aberrant embryo development in Norway spruce. New Phytol 177:356–366

Lin HC, Morcillo F, Dussert S, Tranchant-Dubreuil C, Tregear JW, Tranbarger TJ (2009) Transcriptome analysis during somatic embryogenesis of the tropical monocot Elaeis guineensis: evidence for conserved gene functions in early development. Plant Mol Biol 70:173–192

Lin G-Z, Zhao X-M, Hong S-K, Lian Y-J (2011) Somatic embryogenesis and shoot organogenesis in the medicinal plant Pulsatilla koreana Nakai. Plant Cell Tiss Organ Cult 106:93–103

Lu J, Vahala J, Pappinen A (2001) Involvement of ethylene in somatic embryogenesis in Scots pine (Pinus sylvestris L.). Plant Cell Tiss Organ Cult 107:25–33

Nolan KE, Irwanto RR, Rose RJ (2003) Auxin up-regulates MtSERK 1 expression in both Medicago truncatula root forming and embryogenic cultures. Plant Physiol 133:218–230

Page RDM (1996) Treeview: an application to display phylogenetic trees on personal computers. Comput Appl Biosci 12:357–358

Palovaara J, Hakman I (2008) Conifer WOX-related homeodomain transcription factor, developmental consideration and expression dynamic of WOX2 during Picea abies somatic embryogenesis. Plant Mol Biol 66:533–549

Parimalan R, Venugopalan A, Giridhar P, RAvishankar GA (2011) Somatic embryogenesis and Agrobacterium-mediated transformation in Bixa orellana L. Plant Cell Tiss Organ Cult 105:317–328

Paul S, Dam A, Bhattacharyya A, Bandyopadhyay TK (2011) An efficient regeneration system via direct and indirect somatic embryogenesis for the medicinal tree Murraya koenigii. Plant Cell Tiss Organ Cult 105:271–283

Pérez-Núñez MT, Souza R, Sáenz L, Chan JL, Zúñiga-Aguilar JJ, Oropeza C (2009) Detection of a SERK-like gene in coconut and analysis of its expression during the formation of embryogenic callus and somatic embryos. Plant Cell Rep 28:11–19

Rensing SA, Lang D, Zimmer AD et al (2008) The Physcomitrella genome reveals evolutionary insights into the conquest of land by plants. Science 319:64–69

Saitou N, Nei M (1987) The neighbor-joining method: a new method for reconstructing phylogenetic trees. Mol Biol Evol 4:406–425

Salaj T, Matušíková I, Fráterová L, Piršelová B, Salaj J (2011) Regrowth of embryogenic tissues of Pinus nigra following cryopreservation. Plant Cell Tiss Organ Cult 106:55–61

Santa-Catarina C, Hanai LR, Dornelas MC, Viana AM, Floh EIS (2004) SERK gene homolog expression, polyamines and amino acids associated with somatic embryogenic competence of Ocotea catharinensis Mez. (Lauraceae). Plant Cell Tiss Organ Cult 79:53–61

Santos ALW, Silveira V, Steiner N, Vidor M, Guerra MP (2002) Somatic embryogenesis in Parana Pine Araucaria angustifolia (Bert.) O. Kuntze. Braz Arch Biol Technol 45:97–106

Santos MO, Romano E, Yotoko KSC, Tinoco MLP, Dias BBA, Aragao FJL (2005) Characterisation of the cacao somatic embryogenesis receptor-like kinase (SERK) gene expressed during somatic embryogenesis. Plant Sci 168:723–729

Sasaki G, Katoh K, Hirose N, Suga H, Kuma K, Miyata T, Su TH (2007) Multiple receptor-like kinase cDNAs from liverwort Marchantia polymorpha and two charophycean green algae, Closterium ehrenbergii and Nitella axillaris: extensive gene duplications and gene shuffling in the early evolution of streptophytes. Gene 401:135–144

Schellenbaum P, Jacques A, Maillot P, Bertsch C, Mazet F, Farine S, Walter B (2008) Characterization of VvSERK1, VvSERK2, VvSERK3 and VvL1L genes and their expression during somatic embryogenesis of grapevine (Vitis vinifera L.). Plant Cell Rep 27:1799–1809

Schmidt EDL, Guzzo F, Toonen MAJ, de Vries SC (1997) A leucine-rich repeat containing receptor-like kinase marks somatic plant cells competent to form embryos. Development 124:2049–2062

Sharma SK, Millam S, Hein I, Bryan GJ (2008) Cloning and molecular characterisation of a potato SERK gene transcriptionally induced during initiation of somatic embryogenesis. Planta 228:319–330

Shimada T, Hirabayashi T, Endo T, Fujii H, Kita M, Omura M (2005) Isolation and characterization of the somatic embryogenesis receptor-like kinase gene homologue (CitSERK1) from Citrus unshui Marc. Sci Hortic 103:233–238

Singla B, Khurana JP, Khurana P (2008) Characterization of three somatic embryogenesis receptor kinase genes from wheat, Triticum aestivum. Plant Cell Rep 27:833–843

Somleva MN, Schmidt EDL, de Vries SC (2000) Embryogenic cells in Dactylis glomerata L. (Poaceae) explants identified by cell tracking and by SERK expression. Plant Cell Rep 19:718–726

Stasolla C, Yeung EC (2003) Recent advances in conifer somatic embryogenesis: improving somatic embryo quality. Plant Cell Tiss Organ Cult 74:15–35

Stasolla C, Bozhkov PV, Chu TZ et al (2004) Variation in transcript abundance during somatic embryogenesis in gymnosperms. Tree Physiol 24:1073–1085

Stuessy TF (2004) A transitional-combinational theory for the origin of angiosperms. Taxon 53:3–16

Thomas C, Meyer D, Himber C, Steinmetz A (2004) Spatial expression of a sunflower SERK gene during induction of somatic embryogenesis and shoot organogenesis. Plant Physiol Biochem 42:35–42

Thompson JD, Higgins DG, Gibson TJ (1994) CLUSTAL W: improving the sensitivity of progressive multiple sequence alignment through sequence weighting, position-specific gap penalties and weight matrix choice. Nucleic Acids Res 22:4673–4680

Tucker MR, Araujo AC, Paech NA, Hecht V, Schmidt ED, Rossell JB, De Vries SC, Koltunow AM (2003) Sexual and apomictic reproduction in Hieracium subgenus pilosella are closely interrelated developmental pathways. Plant Cell 15:1524–1537

von Arnold S, Sabala I, Bozhkov P, Dyachok J, Filonova L (2002) Developmental pathways of somatic embryogenesis. Plant Cell Tiss Organ Cult 69:233–249

Yang JL, Niu YD, Yang CP, Liu GF, Li CH (2011) Induction of somatic embryogenesis from female flower buds of elite Schisandra chinensis. Plant Cell Tiss Organ Cult 106:391–399

Zhao P, Wang W, Sun M (2011) Characterization and expression pattern analysis of DcNAC gene in somatic embryos of Dendrobium candidum Wall Ex Lindl. Plant Cell Tiss Organ Cult 107:151–159
Acknowledgments
We thank EW Kitajima and FAO Tanaka at NAP/MEPA (ESALQ/USP) for keeping the electron microscope facility and SM Tsai (CENA/USP) for sequencing AaSERK1 clones. This work was supported by Fundação de Amparo à Pesquisa do Estado de São Paulo (FAPESP, Brazil); Coordenação de Aperfeiçoamento de Pessoal de Nível Superior (CAPES, Brazil) and Conselho Nacional de Desenvolvimento Científico e Tecnológico (CNPq, Brazil).
About this article
Cite this article
Steiner, N., Santa-Catarina, C., Guerra, M.P. et al. A gymnosperm homolog of SOMATIC EMBRYOGENESIS RECEPTOR-LIKE KINASE-1 (SERK1) is expressed during somatic embryogenesis. Plant Cell Tiss Organ Cult 109, 41–50 (2012). https://doi.org/10.1007/s11240-011-0071-z
Received:

Accepted:

Published:

Issue Date:
Keywords
Gene expression

SERK

Somatic embryogenesis

Araucaria angustifolia

Endangered tree species

Leucine-rich repeat receptor-like kinase