Abstract
Spanish red cedar (Cedrela odorata L.) is a tropical timber tree native to the Americas from southern Mexico to northern Argentina. Commercial plantations are scarce and, consequently, natural populations are overexploited. Traditional propagation practices for the establishment of large-scale plantations have had limited success in this species due to the relative scarcity of seeds, its broad genetic diversity and the lack of domesticated varieties. In vitro clonal propagation provides an effective method to overcome this situation and increase the yield of commercial plantations through the rapid multiplication of elite materials. Somatic embryogenesis (SE) is one of the most promising strategies for tree propagation due to the possibility of producing artificial seeds, the ability to store and rapidly mobilize germplasm and the opportunity for genetic manipulation. We report here the induction of indirect SE in C. odorata from calli derived from immature zygotic embryos after 12 weeks of culture. Macroscopic, histological, and scanning electron microscopic analyses of the calli revealed the presence of embryogenic cell clusters that formed cotyledonary embryos with clear bipolar structures and no vascular connections with the mother tissue. Different media preparations containing combinations of diverse auxins and cytokinins are known to have different effects on the type and frequency of embryogenic structures. Embryo conversion was achieved using an MS-based medium [Murashige T, Skoog F (1962) Physiol Plant 15:473–497, 1962] supplemented with abscisic acid, and transfer to soil was successful at a rate of 75%. The method described here provides a basis for optimizing the clonal propagation and genetic manipulation of this valuable species.
Access options
Buy single article
Instant access to the full article PDF.
US$ 39.95
Tax calculation will be finalised during checkout.
Subscribe to journal
Immediate online access to all issues from 2019. Subscription will auto renew annually.
US$ 119
Tax calculation will be finalised during checkout.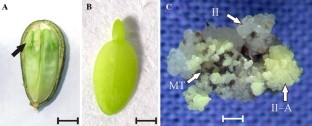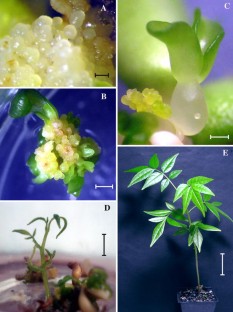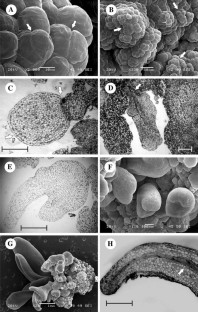 Abbreviations
ABA:

Abscisic acid

GA3 :

Gibberellic acid

IBA:

Indolebutyric acid

IZE:

Immature zygotic embryo

PGR:

Plant growth regulator

SE:

Somatic embryogenesis
References
Álvarez R, Ordás RJ (2007) Improved genetic transformation protocol for cork oak (Quercus suber L.). Plant Cell Tissue Organ Cult 91:45–52

Aquea F, Poupin MJ, Matus JT, Gebauer M, Medina C, Arce–Johnson P (2008) Synthetic seed production from somatic embryos of Pinus radiata. Biotechnol Lett 30:1847–1852

Bajaj YPS (1995) Somatic embryogenesis and its applications for crop improvement. In: Bajaj YPS (ed) Biotechnology in agriculture and forestry 30: somatic embryogenesis and synthetic seeds I. Springer, New York, pp 105–119

Blanc G, Michaux–Ferriere N, Teisson C, Lardet L, Carron MP (1999) Effects of carbohydrate addition on the induction of somatic embryogenesis in Hevea brasiliensis. Plant Cell Tissue Organ Cult 59:103–112

Cavers S, Navarro C, Lowe AJ (2004) Targeting genetic resource conservation in widespread species: a case study of Cedrela odorata L. For Ecol Manage 197:285–294

Cornelius JP, Watt A (2003) Genetic variation in a Hypsipyla-attacked clonal trial of Cedrela odorata under two pruning regimes. For Ecol Manag 183(1–3):341–349

de la Torre A, López C, Yglesias E, Cornelius JP (2008) Genetic (AFLP) diversity of nine Cedrela odorata populations in Madre de Dios, southern Peruvian Amazon. For Ecol Manag 255(2):334–339

Finer JJ (1994) Plant regeneration via embryogenic suspension cultures. In: Dixon RA, Gonzales RA (eds) Plant cell culture. A practical approach. Oxford University Press, Oxford, pp 99–125

Gonzalez–Rodríguez JA, Peña–Ramírez YJ (2007) Establishment of efficient protocols for massive propagation of tropical trees from Mesoamerica through somatic embryogenesis: Cedrela odorata, Swietenia macrophylla, Cybistax donell–smithii, Crescentia cujete and Cordia dodecandra. In: Proc 2nd IS Acclim Establish. Microprop Plants. Acta Hortic 748:229–234

ITTO (2010) Tropical timber market report, vol 15. International Tropical Timber Organization, Yokohama, Japan

IUCN (International Union for Conservation of Nature) (2004) Americas regional workshop on conservation and sustainable management of trees (Cedrela odorata) in IUCN red list of threatened species. Available at: http://www.redlist.org. Accessed 14 Aug, 2009

Jiménez VM (2005) Involvement of plant hormones and plant growth regulators on in vitro somatic embryogenesis. Plant Growth Regul 47:91–110

Lamb AFA (1968) Fast growing timbers of the lowland tropics, no. 2 Cedrela odorata L. Commonwealth Forestry Institute, University of Oxford, Oxford

Litz RE, Jarret RL (1991) Regeneración de plantas en el cultivo de tejidos: embriogénesis somática y organogénesis. In: Rocca WM, Mroginski LA (eds) Cultivo de tejidos en la agricultura: fundamentos y aplicaciones. Centro Internacional de Agricultura Tropical. Cali, Colombia, pp 143–171

Longman KA (1993) Rooting cuttings of tropical trees. Tropical trees: propagation and planting manuals, vol 1. Commonwealth Science Council, London

Maruyama E, Ishii K (1999) Somatic embryogenesis in big-leaf mahogany (Swietenia macrophylla king). In: Jain SM, Gupta PK, Newton RJ (eds) Somatic embryogenesis in woody plants. Forestry sciences. Kluwer, Dordrecht, p 355

Murashige T, Skoog F (1962) A revised medium for rapid growth and bio-assays with tobacco tissue cultures. Physiol Plant 15:473–497

Namasivayam P (2007) Acquisition of embryogenic competence during somatic embryogenesis. Plant Cell Tissue Organ Cult 90:1–8

Park YS (2002) Implementation of conifer somatic embryogenesis in clonal forestry: technical requirements and deployment considerations. Ann For Sci 59:651–656

Peña-Ramírez YJ, Juárez-Gómez J, Gómez-López L, Jerónimo-Pérez JL, García-Sheseña I, González-Rodríguez JA, Robert ML (2010) Multiple adventitious shoot formation in Spanish Red Cedar (Cedrela odorata L.) cultured in vitro using juvenile and mature tissues: an improved micropropagation protocol for a highly valuable tropical tree species. In Vitro Cell Dev Biol–Plant 46:149–160

Pennington TD, Styles BT (1975) A generic monograph of the Meliaceae. Blumea 22(3):419–540

Pinto G, Santos C, Neves L, Araújo C (2002) Somatic embryogenesis and plant regeneration in Eucalyptus globulus Labill. Plant Cell Rep 21:208–213

Pullman GS, Johnson S (2002) Somatic embryogenesis in loblolly pine (Pinus taeda L.): improving culture initiation rates. Ann For Sci 59:663–668

Pullman GS, Johnson S, Peter G, Cairney J, Xu N (2003) Improving loblolly pine somatic embryo maturation: comparison of somatic and zygotic embryo morphology, germination, and gene expression. Plant Cell Rep 21:747–758

Ravindra BM, Nataraja K (2007) Plant regeneration via somatic embryogenesis using secondary needles of mature trees of Pinus rouxburghii Sarg. Int J Bot 3(1):40–47

Rout GR (2005) In vitro somatic embryogenesis in callus cultures of Azadirachta indica A. Juss.—a multipurpose tree. J For Res 10:263–267

Shrikhande M, Thengane SR, Mascarenhas AF (1993) Somatic embryogenesis and plant regeneration in Azadirachta indica A. Juss In Vitro Cell Dev Biol 29:38–42

Titon M, Xavier A, Otoni WC, Motoike SY (2007) Efeito dos reguladores de crescimiento dicamba e picloram na embriogênese somática em Eucalyptus grandis. R Ávore, Viçosa–MG 31(3):417–426

Uddin MR, Dinus RJ, Webb DT (1990) Effects of different carbohydrates on maturation of Pinus taeda somatic embryos. In: 7th Int Congress Plant Tissue Cell Culture. Abstract B–127. Amsterdam, p 272

Vales T, Feng X, Ge L, Xu N, Cairney J, Pullman GS, Peter GF (2007) Improved somatic embryo maturation in loblolly pine by monitoring ABA-responsive gene expression. Plant Cell Rep 26:133–143

Vila SA, Rey HY, Mroginski LA (2007) Factors affecting somatic embryogenesis induction and conversion in "paradise tree" (Melia azedarach L.). J Plant Growth Regul 26:268–277

Vila SA, González HR, Rey HY, Mroginski LA (2009) Somatic embryogenesis and plant regeneration in Cedrela fissilis. Biol Plant 53:383–386

von Aderkas P, Bonga JM (2000) Influencing micropropagation and somatic embryogenesis in mature trees by manipulation of phase change, stress and culture environment. Tree Physiol 20:921–928

Yildirim T, Kaya Z, Işik K (2006) Induction of embryogenic tissue and maturation of somatic embryos in Pinus brutia ten. Plant Cell Tissue Organ Cult 87:67–76
Acknowledgments
We are indebted to CONACYT and CONAFOR for their financial support of this research through the project 10013-2003-CO3. ADH wishes to thank CONACYT for a student fellowship. IGS and AHE are grateful to ITSA, CICY and CONAFOR for their economic support of their research visits. YPR and JAGR wish to thank J. de Leon-Olarte, J. R. Baca-González, and G. Ramírez-Viveros their institutional support.
About this article
Cite this article
Peña-Ramírez, Y.J., García-Sheseña, I., Hernández-Espinoza, Á. et al. Induction of somatic embryogenesis and plant regeneration in the tropical timber tree Spanish red cedar [Cedrela odorata L. (Meliaceae)]. Plant Cell Tiss Organ Cult 105, 203–209 (2011). https://doi.org/10.1007/s11240-010-9853-y
Received:

Accepted:

Published:

Issue Date:
Keywords
Clonal forestry

Dicamba

Indirect somatic embryogenesis