Abstract
The present study describes the successful development of vacuum infiltration method in the oomycete-resistant wild Piper sp., Piper colubrinum, as a rapid transient method for expression of GUS (β-Glucuronidase) reporter gene and introduction of hairpin vector for endogenous gene silencing. The GUS reporter gene construct pCAMBIA 1305.2 was used as a positive control to test the efficiency of vacuum infiltration strategy. Agrobacteria (EHA 105) harbouring GUS binary vector were vacuum-infiltrated into young detached in vitro leaf explants, which showed detectable GUS gene activity within 4 days of infiltration. This paper also reports for the first time the application of transient gene silencing in P. colubrinum by the delivery of in vitro synthesized hairpin vector construct (pHELLSGATE) containing endogenous serine threonine protein kinase (STPK) gene homologue into in vitro shoots. Introduction of hairpin vectors for the STPK gene into in vitro plantlets by vacuum infiltration resulted in significant reduction in transcript accumulation of the endogenous gene. The results indicate that transient gene silencing could be used as a rapid, preliminary high-throughput tool for P. colubrinum functional genomics.
Access options
Buy single article
Instant access to the full article PDF.
USD 39.95
Price excludes VAT (USA)
Tax calculation will be finalised during checkout.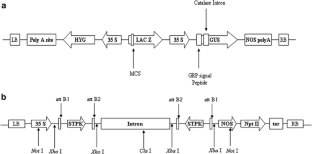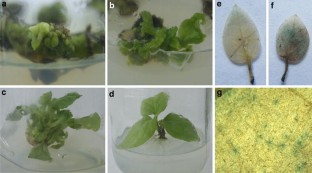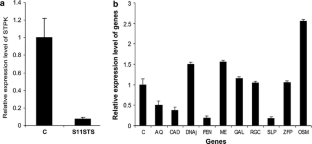 Abbreviations
BA:

6-Benzyladenine

GUS:

β-Glucuronidase

MMLV-RT:

Moloney murine leukemia virus reverse transcriptase

MS:

Murashige and Skoog

PCR:

Polymerase chain reaction

STPK:

Serine threonine protein kinase
References
An G, Ebert P, Mitra A, Ha S (1988) Binary vectors. In: Gelvin SB, Schilperoort RA (eds) Plant molecular biology manual. Kluwer, Drodrecht, pp A3/1–A3/19

Anand A, Rao CS (2000) Rapid in vitro propagation protocol for Piper barberi Gamble, a critically endangered plant. In Vitro Cell Dev Biol Plant 36:61–64

Barakat A, Bagniewska-Zadworna A, Choi A, Plakkat U, DiLoreto DS, Yellanki P, Carlson JE (2009) The cinnamyl alcohol dehydrogenase gene family in Populus: phylogeny, oganization, and expression. BMC Plant Biol 9:26–41

Bhat SR, Chandel KPS, Malik SK (1992) Plant regeneration from various explants of cultivated Piper species. Plant Cell Rep 14:398–402

Canche-Moo RLR, Ku-Gonzalez A, Burgeff C, Loyola-Vargas VM, Rodrı′guez-Zapata LC, Castano E (2006) Genetic transformation of Coffea canephora by vacuum infiltration. Plant Cell Tissue Organ Cult 84:373–377

Deák M, Horváth GV, Davletova S, Török K, Sass L, Vass I, Barna B, Király Z, Dudits D (1999) Plants ectopically expressing the iron binding protein, ferritin, are tolerant to oxidative damage and pathogens. Nat Biotechnol 17:192–196

Dicto J, Manjula S (2005) Identification of PR-5 gene homologue in Piper colubrinum Link by suppression subtractive hybridization. Curr Sci 88:624–627

Hardie DG (1999) Plant protein serine/threonine kinases: classification and functions. Annu Rev Plant Physiol Plant Mol Biol 50:97–131

Herrera-Estrella L, Simpson J, Martínez-Trujillo M (2004) Transgenic plants: an historical perspective. Methods Mol Biol 286:3–32

Jefferson RA, Kavanagh TA, Bevan MW (1987) GUS fusion: β-glucuronidase as a sensitive and versatile gene fusion marker in higher plants. EMBO J 6:3901–3907

Jorda L, Coego A, Conejero Vera P (1999) A genomic cluster containing four differentially regulated subtilisin-like processing protease genes is in tomato plants. J Biol Chem 274:2360–2365

Kapila J, De Rycke R, Van Montagu M, Angenon G (1997) An Agrobacterium-mediated transient gene expression system for intact leaves. Plant Sci 122:101–108

Kelkar SM, Krishnamurthy KV (1996) Adventitious shoot regeneration from root, internode, petiole and leaf explants of Piper colubrinum Link. Plant Cell Rep 17:721–725

Liu Z, Park B, Kanno A, Kameya T (2005) The novel use of a combination of sonication and vacuum infiltration in Agrobacterium-mediated transformation of kidney bean (Phaseolus vulgaris L.) with lea gene. Mol Breed 16:189–197

Nair RR, Dutta Gupta S (2006) High-frequency plant regeneration through cyclic secondary somatic embryogenesis in black pepper (Piper nigrum L.). Plant Cell Rep 24:699–707

Negrouk V, Eisner G, Lee H, Han K, Taylor D, Wong HC (2005) Highly efficient transient expression of functional recombinant antibodies in lettuce. Plant Sci 169:433–438

Ravindran PN, Nirmalbabu K, Sasikumar S, Krishnamurthy KS (2000) Botany and crop improvement of black pepper. In: Ravindran PN (ed) Black pepper Piper nigrum. Harwood, Singapore, pp 23–142

Romeis T (2001) Protein kinases in the plant defence response. Curr Opin Plant Biol 4:407–414

Sawers RJ, Farmer PR, Moffett P, Brutnell TP (2006) In planta transient expression as a system for genetic and biochemical analyses of chlorophyll biosynthesis. Plant Methods 2:15–25

Van der Hoorn RAL, Laurent F, Roth R, De Wit PJGM (2000) Agroinfiltration is a versatile tool that facilitates comparative analyses of Avr9/Cf-9-induced and Avr4/Cf-4-induced necrosis. Mol Plant-Microbe Interact 13:439–446

Vanaja T, Neema VP, Mammootty KP, Rajeshkumar R (2008) Development of a promising interspecific hybrid in black pepper (Piper nigrum L.) for Phytophthora foot rot resistance. Euphytica 161:437–445

Varsha Wesley S, Helliwell CA, Smith NA, Wang M, Rouse DT, Liu Q, Gooding PS, Singh SP, Abbott D, Stoutjesdijk PA, Robinson SP, Gleave AP, Green AG, Waterhouse PM (2000) Construct design for efficient, effective and highthroughput gene silencing in plants. Plant J 27:581–590

Voinnet O, Vain P, Angell S, Baulcombe DC (1998) Systemic spread of sequence-specific transgene RNA degradation in plants is initiated by localized introduction of ectopic promoterless DNA. Cell 95:177–187

Waterhouse PM, Helliwell CA (2003) Exploring plant genomes by RNA induced gene silencing. Nat Rev Genet 4:29–38

Whisson SC, Avrova AO, West PV, Jones JT (2005) A method for double-stranded RNA-mediated transient gene silencing in Phytophthora infestans. Mol Plant Path 6:153–163

Wroblewsky T, Tomczak A, Michelmore R (2005) Optimization of Agrobacterium -mediated transient assays of gene expression in lettuce, tomato and Arabidopsis. Plant Biotechnol J 3:259–273

Yang Y, Li R, Qi M (2000) In vivo analysis of plant promoters and transcription factors by agroinfiltration of tobacco leaves. Plant J 22:543–551

Yusuf A, Tyagi RK, Malik SK (2001) Somatic embryogenesis and plantlet regeneration from leaf segments of Piper colubrinum. Plant Cell Tissue Organ Cult 65:255–258
Acknowledgments
T.M. would like to acknowledge the Council for Scientific and Industrial Research, New Delhi, Government of India, for CSIR–Junior Research Fellowship, and M.S. gratefully acknowledges the Department of Biotechnology, Government of India, for financial support in the form of research grant. The authors also wish to acknowledge CSIRO, Australia for providing the pHELLSGATE vector.
Electronic supplementary material
Below is the link to the electronic supplementary material.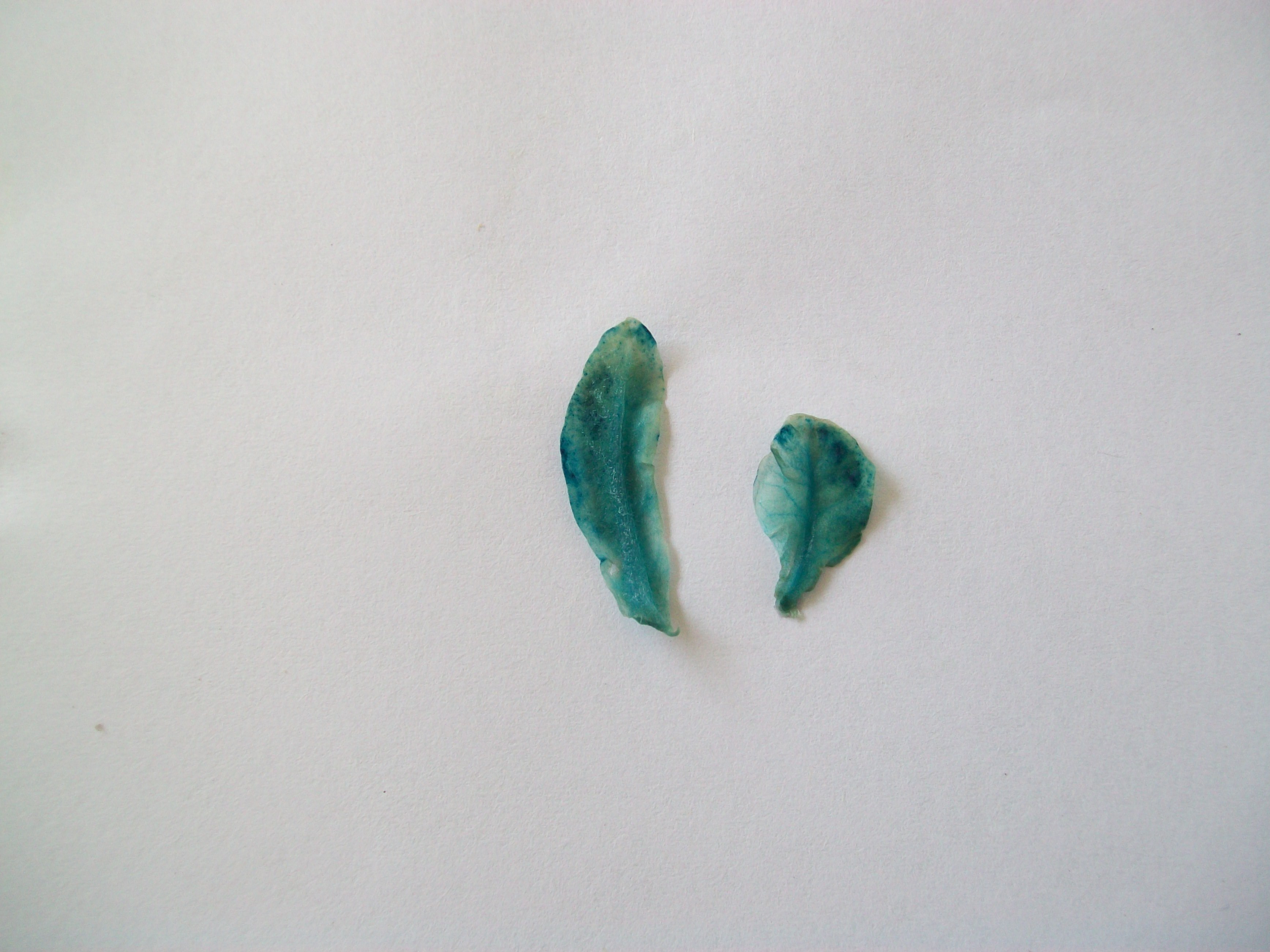 Result of control agroinfiltration experiment showing GUS expression in leaves of Nicotiana tabacum under identical experimental conditions (JPEG 1389 KB)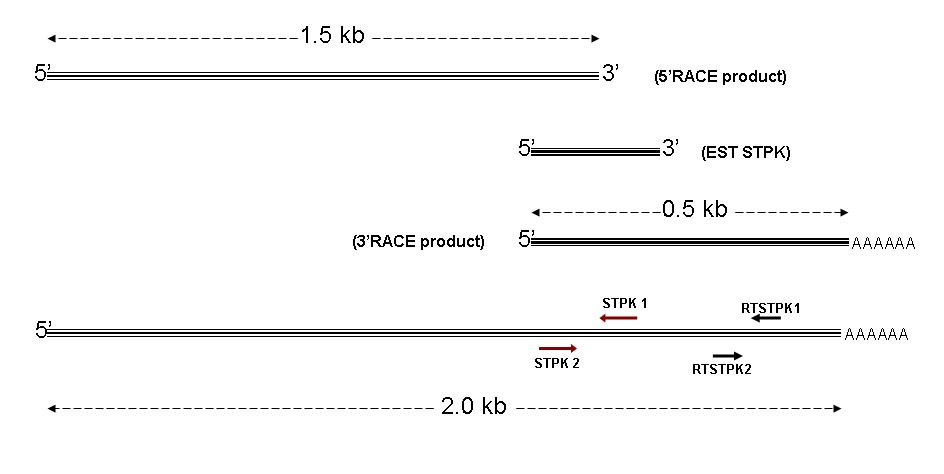 A diagrammatic representation of P.colubrinum STPK gene indicating the target sequence for silencing and the corresponding primer positions (JPEG 52 KB)
About this article
Cite this article
Mani, T., Manjula, S. Optimization of Agrobacterium-mediated transient gene expression and endogenous gene silencing in Piper colubrinum Link. by vacuum infiltration. Plant Cell Tiss Organ Cult 105, 113–119 (2011). https://doi.org/10.1007/s11240-010-9836-z
Received:

Accepted:

Published:

Issue Date:

DOI: https://doi.org/10.1007/s11240-010-9836-z
Keywords
Agrobacterium
GUS expression

Vacuum infiltration

Piper sp.