Abstract
Several synthetic plant growth regulators (PGRs), including prohexadione-calcium (ProCa), paclobutrazol (PBZ), and chlormequat chloride (CCC), known for their ability to inhibit gibberellin (GA) biosynthesis, were investigated for their influence on Populus tremula L. (aspen) shoots grown in vitro. Changes in plant growth induced by these inhibitors were compared to the effects of exogenous gibberellins (GA3 and GA4/7). All PGRs were added to the nutrient medium at concentrations of either 1 or 5 μM. Stem segments with and without apical buds were excised from in vitro-grown shoot culture, and these explants were incubated either in test tubes or Petri dishes. In the presence of 5 μM ProCa, shoot growth and rooting were inhibited when grown in test tubes, while shoots grown in Petri dishes exhibited strongly enhanced shoot and root growth. PBZ suppressed shoot development both in test tubes and Petri dishes, although 1 μM PBZ promoted adventitious root formation when shoots were grown in test tubes. Five micromolars CCC suppressed shoot and root development in test tubes, but promoted shoot growth in Petri dishes.
Access options
Buy single article
Instant access to the full article PDF.
USD 39.95
Price includes VAT (USA)
Tax calculation will be finalised during checkout.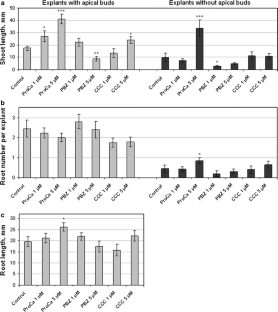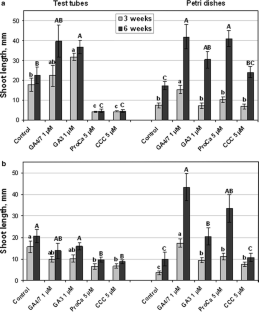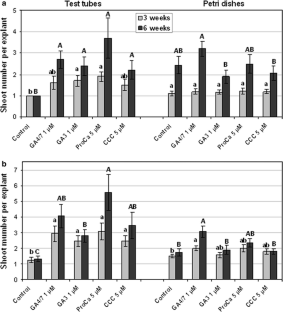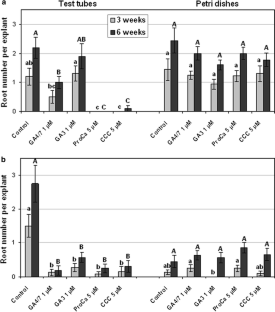 References
Benschop JJ, Bou J, Peeters AJM, Wagemaker N, Gühl K, Ward D, Hedden P, Moritz T, Voesenek LACJ (2006) Long-term submergence-induced elongation in Rumex palustris requires abscisic acid-dependent biosynthesis of gibberellin1. Plant Physiol 141:1644–1652

Clifford PE, Reid DM, Pharis RP (1983) Endogenous ethylene does not initiate but may modify geobending—a role for ethylene in autotropism. Plant Cell Environ 6(5):433–436

Elliott RC, Ross JJ, Smith JJ, Lester DR, Reid JB (2001) Feed-forward regulation of gibberellin deactivation in pea. J Plant Growth Regul 20:87–94

Fukao T, Bailey-Serres J (2008) Ethylene—a key regulator of submergence responses in rice. Plant Sci 175:43–51

González A, Arigita L, Majada J, Sánchez Tamés R (1997) Ethylene involvement in in vitro organogenesis and plant growth of Populus tremula L. Plant Growth Regul 22:1–6

Haver DL, Schuch UK (2001) Influence of root restriction and ethylene exposure on apical dominance of petunia (Petunia x hybrida Hort. Vilm.-Andr.). Plant Growth Regul 35:187–196

Haver DL, Schuch UK, Lovatt CJ (2003) Exposure of petunia seedlings to ethylene decreased apical dominance by reducing the ratio of auxin to cytokinin. J Plant Growth Regul 21:459–468

Hisamatsu T, Koshioka M, Kubota S, King RW (1998) Effect of gibberellin A4 and GA biosynthesis inhibitors on growth and flowering of stock [Matthiola incana (L.) R. Br.]. J Jpn Soc Hortic Sci 67:537–543

Jackson M (2007) Ethylene-promoted elongation: an adaptation to submergence stress. Ann Bot 101(2):229–248

Kane ME, Gilman EF (1991) In vitro propagation and bioassay systems for evaluating growth regulator effects on Myriophyllum species. J Aquat Plant Manage 29:29–32

McCown BH, Lloyd G (1981) Woody plant medium (WPM)—a mineral nutrient formulation for microculture of woody plant species. HortScience 16:453

Nelson ND, Hillis WE (1978) Ethylene and tension wood formation in Eucalyptus gomphocephala. Wood Sci Technol 12:309–315

Olszewski N, Sun T-p, Gubler F (2002) Gibberellin signaling: biosynthesis, catabolism and response pathways. Plant Cell 14(suppl.):S61–S80

Prasad TK, Cline MG (1987) The role of gravity in apical dominance. Plant Physiol 83:505–509

Rademacher W (2000) Growth retardants: effects on gibberellin biosynthesis and other metabolic pathways. Annu Rev Plant Physiol Plant Mol Biol 51:501–531

Rijnders JGHM, Yang Y-Y, Kamiya Y, Takahashi N, Barendse GWM, Blom CWPM, Voesenek LACJ (1997) Ethylene enhances gibberellin levels and petiole sensitivity in flooding-tolerant Rumex palustris but not in flooding intolerant R. acetosa. Planta 203:20–25

Rzewuski G, Sauter M (2008) Ethylene biosynthesis and signaling in rice. Plant Sci 175:32–42

Sanyal D, Bangerth F (1998) Stress induced ethylene evolution and its possible relationship to auxin-transport, cytokinin levels, and flower bud induction in shoots of apple seedlings and bearing apple trees. Plant Growth Regul 24:127–134

Srivastava LM (2002) Gibberellins. In: Srivastava LM (ed) Plant growth and development: hormones and enviroment. Academic Press, San Diego, pp 171–190

Voesenek LACJ, Banga M, Thier RH, Mudde CM, Harren FJM, Barendse GWM, Blom CWPM (1993) Submergence-induced ethylene synthesis, entrapment, and growth in two plant species with contrasting flooding resistances. Plant Physiol 103:783–791

Welch BL (1947) The generalization of "student's" problem when several different population variances are involved. Biometrika 34:28–35
About this article
Cite this article
Žiauka, J., Kuusienė, S. Different inhibitors of the gibberellin biosynthesis pathway elicit varied responses during in vitro culture of aspen (Populus tremula L.). Plant Cell Tiss Organ Cult 102, 221–228 (2010). https://doi.org/10.1007/s11240-010-9725-5
Received:

Accepted:

Published:

Issue Date:
Keywords
Chlormequat chloride

Gibberellin

Paclobutrazol

Petri dishes

Prohexadione-calcium

Test tubes