Abstract
The organogenic potential and antioxidant potential (1, 1-diphenyl-2-picrylhydrazyl-scavenging activity) of the medicinal plant Piper nigrum L. (black pepper) were investigated. Callus induction and shoot regeneration were induced from leaf explants of potted plants cultured on MS medium supplemented with different plant growth regulators. The best callogenic response was observed on explants cultured for 30 days on MS medium supplemented with either 0.5 or 1.5 mg l−1 6-benzyladenine (BA) + 1.0 mg l−1 α-naphthaleneacetic acid. Subsequent transfer of the callogenic explants onto MS medium supplemented with 1.5 mg l−1 BA + 1.0 mg l−1 gibberellic acid (GA3) achieved 85% shoot organogenesis after 30 days of culture. The maximum number (7.2) of shoots/explant was recorded for explants cultured in MS medium supplemented with 1.0 mg l−1 BA. Following the transfer of shoots to an elongation medium, the longest shoots (5.4 cm) were observed on MS medium supplemented with 1.0 mg l−1 BA + 1.0 mg l−1 GA3. The elongated shoots were rooted on MS medium supplemented with different concentrations of indole butyric acid. An assay of the antioxidant potential of the in vitro-grown tissues revealed that the antioxidant activity of the regenerated shoots was significantly higher than that of callus and the regenerated plantlets.
Access options
Buy single article
Instant access to the full article PDF.
US$ 39.95
Tax calculation will be finalised during checkout.
Subscribe to journal
Immediate online access to all issues from 2019. Subscription will auto renew annually.
US$ 119
Tax calculation will be finalised during checkout.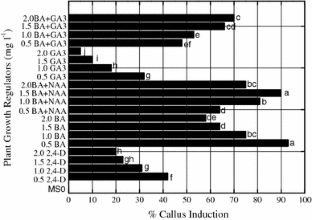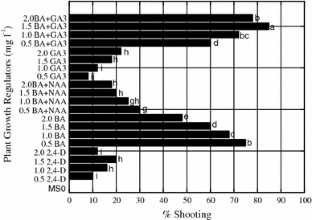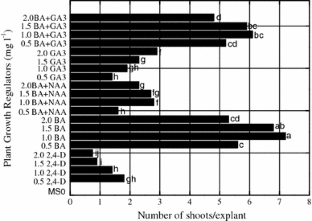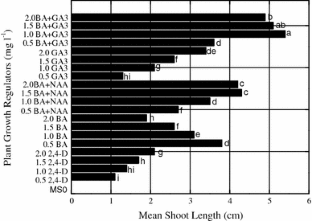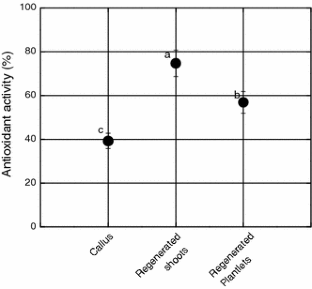 Abbreviations
BA:

6-Benzyladenine

2,4 D:

2,4 Dichlorophenoxyacetic acid

DPPH:

1, 1-Diphenyl-2-picrylhydrazyl

GA3 :

Gibberellic acid

IBA:

Indole butyric acid

MS0:

MS medium without plant growth regulators

NAA:

α-Naphthaleneacetic acid

PGRs:

Plant growth regulators
References
Abbasi BH, Saxena PK, Murch SJ, Liu CZ (2007) Echinacea biotechnology: challenges and opportunities. In Vitro Cell Dev Biol-Plant 43:481–492

Abbasi BH, Khan MA, Mahmood T, Ahmad M, Chaudhary MF, Khan MA (2010a) Shoot regeneration and free-radical scavenging activity in Silybum marianum L. Plant Cell Tissue Org Cult. doi 10.1007/s11240-010-9692-x

Abbasi BH, Ahmad N, Fazal H, Mahmood T (2010b) Conventional and modern propagation techniques in Piper nigrum. J Med Plant Res 4:007–012

Amarowicz R, Pegg RB, Rahimi-Moghaddan P, Barl B, Weil JA (2004) Free radical scavenging activity and antioxidant activity of selected plant species from the Canadian Prairies. Food Chem 84:551–562

Andarwulan N, Shetty K (1999) Phenolic content in differentiated tissue cultures of untransformed and Agrobacterium-transformed roots of Anise (Pimpinella anisum L.). J Agric Food Chem 47:1776–1780

Atak C, Celik O (2009) Micropropagation of Anthurium andraeanum from leaf explants. Pak J Bot 41:1155–1161

Aziz N, Mehmood MH, Mandukhal SR, Bashir S, Raoof S, Gilani AH (2009) Antihypertensive, antioxidant, antidyslipidemic and endothelial modulating activities of a polyherbal formulation (POL-10). Vascul Pharm 50:57–64

Bai YF, Xu H (2000) Protective action of piperine against experimental gastric ulcer. Acta Pharmacol Sin 21:357–359

Bhardwaj RK, Glaeser H, Becquemont L, Klotz U, Gupta SK, Fromm MF (2007) Piperine, a major constituent of black pepper, inhibits human P-glycoprotein and CYP3A4. J Pharmacol Exp Therapeut 302:645–650

Bhat SP, Chandel KPS, Malik SK (1995) Plant regeneration from various explants of cultivated Piper species. Plant Cell Rep 14:398–402

D'Hooge R, Pei YQ, Raes A, Lebrun P, Bogaert PP, De Deyn PP (1996) Anticonvulsant activity of piperine on seizures by excitatory amino acid receptior agonists. Arzneimittelforschung 46:557–560

Debnath SC (2009) A two-step procedure for adventitious shoot regeneration on excised leaves of lowbush blueberry. In Vitro Cell Dev Biol Plant 45:122–128

Eeswara JP, Allan EJ, Mordue J, Stuchbury T (1999) A procedure for sterilizing leaf explants collected from wild neem (Azadirachta indica) trees. J Natl Sci Found Sri Lanka 27:131–136

Gupta SK, Bansal P, Bhardwaj RK, Velpandian T (2000) Comparative anti-nociceptive, anti-inflammatory and toxicity profile of nimesulides vs nimesulide and piperine combination. Pharmacol Res 41:657–662

Joseph B, Joseph D, Philip VJ (1996) Plant regeneration from somatic embryos in black pepper. Plant Cell Tiss Organ Cult 47:87–90

Kapoor IPS, Singh B, Singh G, De Heluani CS, De Lampasona MP, Catalan CAN (2009) Chemistry and in vitro antioxidant activity of volatile oil and oleoresins of Black pepper (Piper nigrum). J Agric Food Chem 57:5358–5364

Kelkar SM, Krishnamurthy KV (1998) Adventitious shoot regeneration from root, internode, petiole and leaf explants of Piper colubrinum Link. Plant Cell Rep 17:721–725

Kelkar SM, Deboo GB, Krishnamurthy KV (1996) In vitro plant regeneration from leaf callus in Piper colubrinum link. Plant Cell Rep 14:398–402

Lee SA, Hong SS, Han XB, Hwang JS, Oh GJ, Lee KS, Lee MK, Hwang BY, Ro JS (2005) Piperine from the fruits of Piper nigrum with inhibitory effect on monoamine oxidase and antidepressant like activity. Chem Pharm Bull 53:832–835

Liu CZ, Murch SJ, El-Demerdash M, Saxena PK (2003) Regeneration of the Egyptian medicinal plant Artemisia judaica L. Plant Cell Rep 21:525–530

Lucchesinia M, Bertolib A, Mensuali-Sodic A, Pistelli L (2009) Establishment of in vitro tissue cultures from Echinacea angustifolia D.C. adult plants for the production of phytochemical compounds. Sci Hortic 122:484–490

Madhusudhanan K, Rahiman BA (2000) The effect of activated charcoal supplemented media browning of in vitro cultures of Piper species. Biol Plant 43:297–299

Magyar-Tabori K, Dobranszki J, da Silva JAT, Belley SM, Hudak I (2010) The role of cytokinins in shoot organogenesis in apple. Plant Cell Tiss Organ Cult. doi 10.1007/s11240-010-9696-6

Makunga NP, Jager AK, van Staden J (2003) Micropropagation of Thapsia garganica—a medicinal plant. Plant Cell Rep 21:967–973

Misharina TA, Terenina MB, Krikunova NI (2009) Antioxidant properties of essential oils. Appl Biochem Microbiol 45:642–647

Murashige T, Skoog F (1962) A revised medium for rapid growth and bioassays with tobacco tissue cultures. Physiol Plant 15:473–497

Nair RR, Gupta SD (2006) High-frequency plant regeneration through cyclic secondary somatic embryogenesis in black pepper (Piper nigrum L.). Plant Cell Rep 24:699–707

Philip VJ, Joseph D, Triggs GS, Dickinson NM (1992) Micropropagation of black pepper (Piper nigrum Linn) through shoot tip cultures. Plant Cell Rep 12:41–44

Rubluo M, Barroso M (1992). In vitro morphogenetic responses and cytokinin-auxin interaction for callus production in pepper. An Inst Biol Univ Nacional Autonoma Mexico Ser Bot 63(2):195–201

Selven-diran K, Singh JP, Krishnan KB, Saktisekaran D (2003) Cytoprotective effect of piperine against benzole [a]pyrene induced lung cancer with reference to lipid peroxidation and antioxidant system in Swiss albino mice. Fitoterapia 74:109–115

Shilpa K, Selvakkumar C, Senthil AK, Lakshmi BS (2010) In vitro root culture of Ocimum sanctum L. and evaluation of its free radical scavenging activity. Plant Cell Tiss Org Cult. doi 10.1007/s11240-009-9661-4

Singh G, Marimuthu P, Catalan C, de Lampasona MP (2004) Chemical antioxidant and antifungal activities of volatile oil of black pepper and its acetone extract. J Sci Food Agric 84:1878–1884

Singh R, Singh N, Saini BS, Rao HS (2008) In vitro antioxidant activity of pet ether extract of black pepper. Ind J Pharmacol 40:147–151

Topal U, Sasaki M, Goto M, Otles S (2008) Chemical compositions and antioxidant properties of essential oils from nine species of Turkish plants obtained by supercriticial carbon dioxide extraction and steam distillation. Int J Food Sci Nutr 59:619–634

Waje CK, Kim H-K, Kim K-S, Todoriki S, Kwon J-H (2008) Physicochemical and microbiological qualities of steamed and irradiated ground black pepper (Piper nigrum L.). J Agric Food Chem 56:4592–4596

Wattanathorn J, Chonpathompikunlert P, Muchimapura S, Priprem A, Tankamnerdthai O (2008) Piperine, the potential functional food for mood and cognitive disorders. Food Chem Technol 46:3106–3110
Acknowledgements
The authors acknowledge the support of Higher Education Commission (HEC) of Pakistan and University Research Fund (URF) of Quaid-i-Azam University (QAU), Islamabad, Pakistan.
About this article
Cite this article
Ahmad, N., Fazal, H., Abbasi, B.H. et al. Efficient regeneration and antioxidant potential in regenerated tissues of Piper nigrum L.. Plant Cell Tiss Organ Cult 102, 129–134 (2010). https://doi.org/10.1007/s11240-010-9712-x
Received:

Accepted:

Published:

Issue Date:
Keywords
Antioxidant

6-Benzyladenine

Gibberellic acid

Organogenesis

Piper nigrum